Navigating a workforce reduction is an emotional rollercoaster for not just your employees, but for you as well.
On one hand, you're concerned about the potential impact on your company reputation. On another, you're bothered about what comes next for your employees.
Outplacement services can help ease your worries.
So, what are outplacement services?
Outplacement services are professional services that assist employees who have been laid off or downsized in their transition to new employment. Outplacement services raise morale among both current and displaced employees, reminding them of how much your company cares about their workers and their welfare.
These services can improve your company reputation, boost employee morale, reduce legal risk, and provide a host of other benefits.
We'll explore some of these benefits and the services offered below.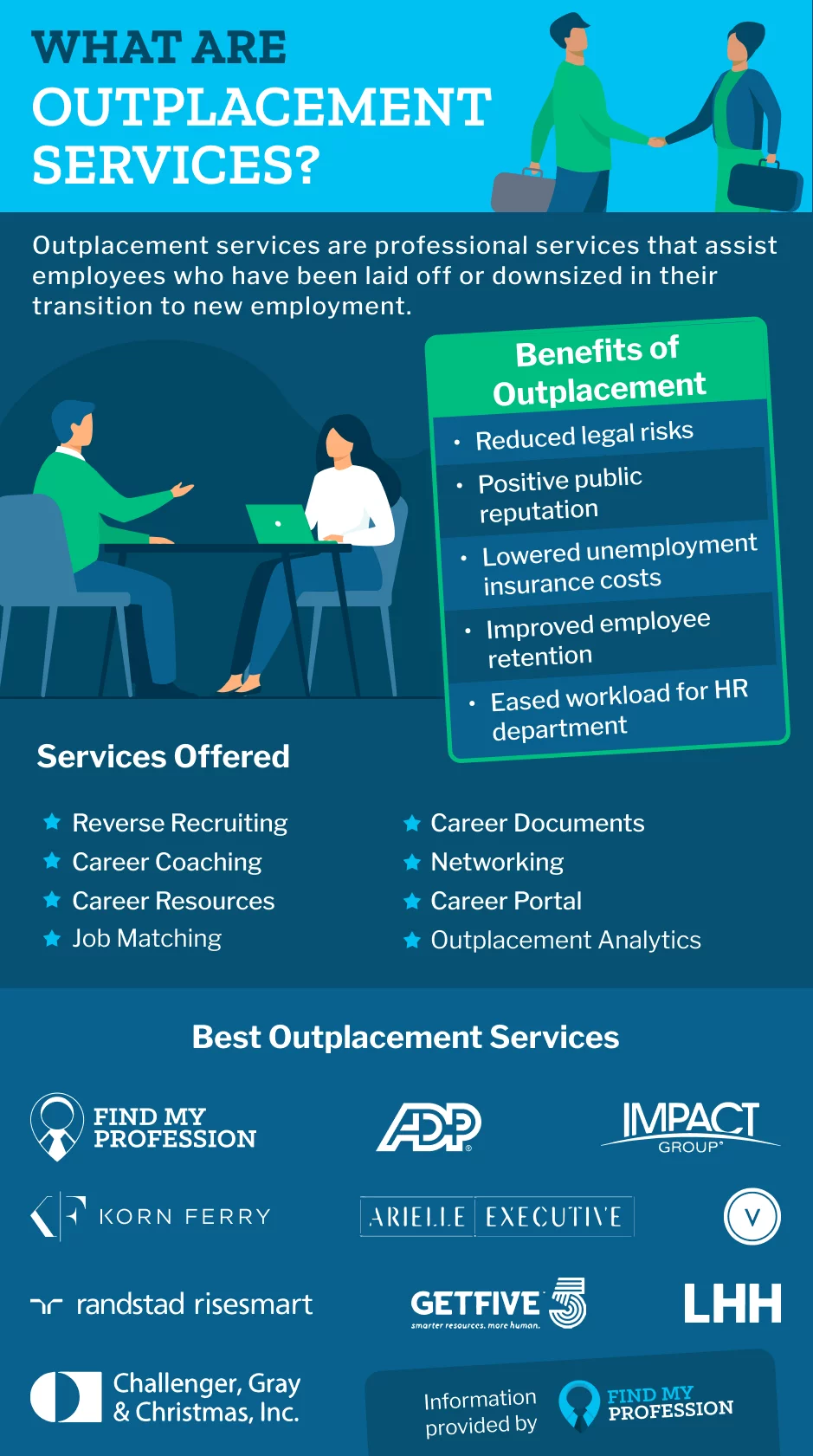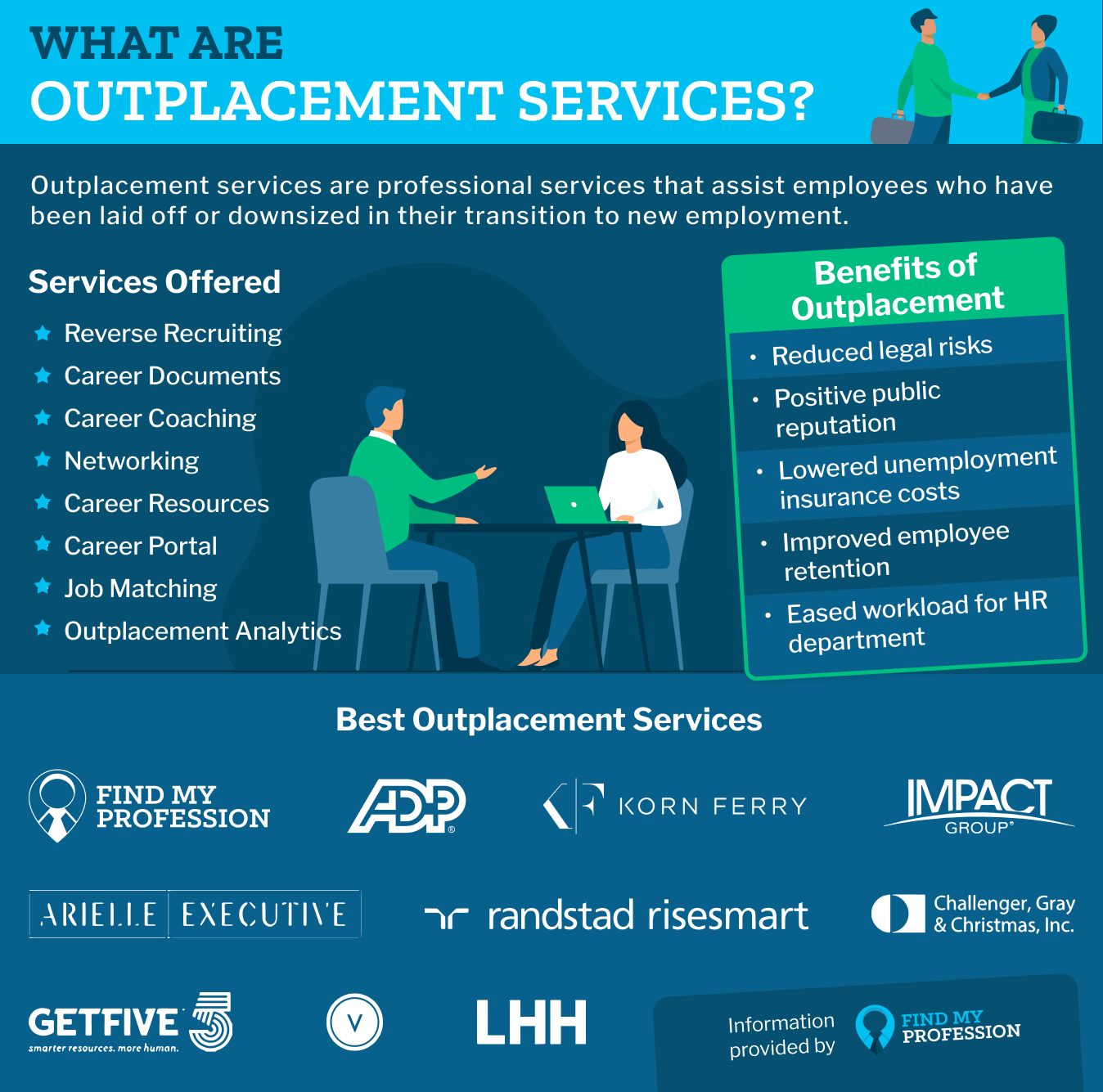 Benefits of Outplacement Services
Hiring an outplacement company is an investment that brings value not only to your departing employees, but your organization as well. Here are some of the benefits of outplacement services for your organization and displaced employees.
Reduced Legal Risk
By helping your displaced employees land their next roles faster, outplacement firms are able to reduce their dissatisfaction of being laid off and mitigate the risk of wrongful termination suits.
Some of the employees you dismiss can institute a wrongful termination lawsuit against your organization. This lawsuit can damage your reputation and add unnecessary expenses regardless of whether or not you win.
Positive Public Reputation
Layoffs are hard for you, but they're hard for the departing employees too. Hiring an outplacement firm to support them through the transition shows the public, stakeholders, and remaining employees that you put your workers first.
Employees who receive outplacement services are less likely to leave negative 1-star reviews on sites like Glassdoor. They are also less likely to speak negatively about your organization when talking to friends, family, and peers.
Lowered Unemployment Insurance Cost
Former employees can receive unemployment benefits for up to 30 weeks at your organization's expense. One way to reduce the impact of this financial burden is by hiring an outplacement agency to help said employees quickly find new jobs.
With this strategy, you can curb prolonged unemployment, reduce the amount of time former employees collect unemployment benefits, and save your company a lot of money.
Improved Employee Retention
Hiring an outplacement company serves as assurance that you're supportive of your employees. This can make them more loyal to your organization and increase overall employee retention.
Downsizing your workforce can lead to a 30% increase in employee turnover rate. This usually boils down to the remaining employees feeling betrayed and believing that you don't care about your staff.
Eased Workload for HR Department
From conducting exit interviews and managing severance packages, to ensuring that the layoffs comply with labor laws, your HR Department handles a considerable portion of the layoff process.
By providing transition support and resources for your departing employees, outplacement firms can lighten the workload of your HR department.
Benefits for Displaced Employees
In addition to the company benefits listed above, displaced employees will greatly benefit from outplacement services.
Laid off employees can secure employment faster, increase their job search productivity, learn new skills, connect with employment opportunities, and gain the confidence needed for their job search.
What Services Do Outplacement Firms Offer?
Outplacement services provide the support your departing employees need to take the next step in their careers. This support typically comes from recruiters, certified professional resume writers, and career coaches and can be broken down into the following services:
Reverse Recruiting: White-glove service where experts manage the entire job search process (finding jobs, applying to jobs, networking, interview prep, and salary negotiation advice) for your laid-off employees. This service costs between $1,500 – $4,000.
Career Documents: Professional branding service that includes a resume, cover letter, professional bio, LinkedIn profile, and social media profile. Career documents can be crafted for $999 – $1,750.
Career Coaching: A career coach provides one-on-one guidance and support to help your displaced employees identify and achieve their career goals. On average, career coaching costs $100 – $400 per session.
Networking: Professional networking service that connects your departing employees with various employers, opportunities, and industry leaders. This is not available as a stand-alone product, so we're unable to provide a set price.
Career Resources: Access to job search tools and insights including blogs, webinars, courses, job leads, employer research, and more. In our experience, the career resources we've seen are free.
Career Portal: Comprehensive career transition platform that allows job seekers to manage their job search and track their progress. This is usually included in a package with other services.
Job Matching: Unique outplacement service where job seekers are matched with hand-picked jobs, based on their career goals, level, and industry. Job matching is included with reverse recruiting..
Outplacement Analytics: Access an all-inclusive dashboard where you can track the progress of your displaced employee's career transition. Many outplacement services will offer status updates per the employer's request.
What Are the Best Outplacement Services?
Finding the best outplacement service really comes down to your company's specific budget and needs.
We've compiled a list of the best outplacement services offering a range of services and price points.
Find My Profession: offers reverse recruiting, career documents, and career resources, and career portal.
ADP: offers career documents, career coaching, career resources, and career portal.
Korn Ferry: offers career coaching, networking, career resources, and redeployment alternatives.
Lee Hecht Harrison: offers career documents, career coaching, networking, and career resources.
VelvetJobs: offers career documents, career coaching, job matching, and outplacement analytics.
Arielle Executive: offers career documents and career coaching.
Randstad RiseSmart: offers reverse recruiting, career documents, career coaching, networking, and career resources.
Challenger, Gray & Christmas: offers career documents, career coaching, and career resources.
GetFive: offers career documents, career coaching, networking, and career resources.
Impact Group: offers career documents, career coaching, networking, and career resources.
To read a full review of these services, check out our detailed comparison of the best outplacement companies.
Outplacement Services FAQs
Frequently Asked Questions
How much do outplacement services cost?
Outplacement services range in price from $999 – $10,000. The lower range usually includes limited assistance such as resume or LinkedIn development. The higher range is typically more involved, providing assistance until employment is secured.
Are outplacement services worth it?
Do outplacement services apply to jobs?
How do outplacement services work?
Who are outplacement services for?
Key Takeaways
Outplacement firms can ease the negative impact of layoffs on you, your departing employees, and the remaining staff.
With an outplacement service in your corner, your displaced employees can secure their next roles faster, and your organization can enjoy the many benefits of hiring an outplacement provider:
reduced legal risks
positive public reputation
lowered unemployment insurance costs
improved employee retention
eased workload for HR department
By providing outplacement services of any kind, you're going above and beyond, making a statement that you care. Regardless of the company or services that you choose, you're doing the right thing, which will pay off tenfold in the long-term.