Did you know that computer systems (robots) are scanning your resume before it's ever seen by a recruiter or hiring manager?
These "robots" are called applicant tracking systems, or ATS for short.
You might be wondering why you should care about applicant tracking systems.
The answer is simple.
Some resume formats are simply not ATS compatible. They may be completely rejected by the system, rendering your submitted job application useless.
Learning how to make a proper resume is worth the extra time … because a resume that gets past applicant tracking systems and into the hands of a potential employer is a resume that just might land you the perfect job!
Six Facts About Resume Applications
1. The Six-Second View
Your resume will only get a quick glance, for starters.
On average, a recruiter will give your resume six seconds of their time.
If unimpressed, they'll move on to the next resume in the stack.
This is why you want your resume to stand out and impress the reader!
2. The One-Third Rule
If the recruiter or hiring manager lasts longer than those few seconds, the first one-third of the document will help them decide whether or not to finish reviewing the full resume.
So, you'll want this one-third to look especially impressive.
3. The Personal Summary
The part of the resume a recruiter will home in on first is likely to be your personal summary, thus you should make it stand out!
4. The Tailored Resume
As much as you'll find recommendations to tailor your resume for each job, over 50 percent of applicants use the same resume for every job application.
Tailor your resume for each position to which you apply.
This way, you'll be ahead of candidates who don't take the time.
5. The ATS Challenge
As mentioned, most companies these days use robots (a.k.a. applicant tracking systems) to scan resumes before a human set of eyes ever looks at them.
These tracking systems will be set to search for specific keywords, terms, and phrases associated with the job description.
If you don't have the right keywords, the ATS will filter out your resume and you'll be out of the running.
(We'll provide tips on getting past the ATS later in this article.)
6. The Typo Test
Remember misspelling that word in your junior high essay and your teacher circled it in red but still gave you an "A" because the essay was good overall?
Well, your resume isn't going to be graded; it's a simple yes or no.
A glaring grammatical error could cause a recruiter to completely pass on your resume, so double-check every last word – including numbers and dates.
7. The Question of Tradition
You might think that a recruiter is getting bored by seeing the same old style of resume time and again.
Maybe if you submit something completely different, you'll stand out.
So you reinvent the wheel (or, the resume) by creating a unique format that no one has ever seen.
Unfortunately, the ATS does not even recognize the document as a resume and eliminates your application.
Sad but true; stick with time-tested resume formats (more on this below).
Select the Best Format for Your Resume
Speaking of the best format for your resume, here are the three main ones, and the strengths and weaknesses of each type.
1. Chronological Resume
Interestingly, the chronological resume is also known as the reverse-chronological resume.
This is because you list your work experience in reverse-chronological order, placing the most recent work history at the top and moving down from there.
This resume format is the most traditional.
As such, it is the type used by most professionals and executives.
It will be familiar to recruiters, potential employers, and ATS.
While not the most creative, the chronological resume format has stood the test of time, is widely accepted, and is often preferred to other resume styles.
2. Functional Resume
Also known as a skills-based resume, the functional resume is generally recommended for someone changing careers.
This resume format is a terrific option for someone just starting out in the professional realm.
It can help an entry-level job searcher showcase their skills when they do not have a lot of relevant work experience
3. Hybrid Resume
Also known as the combination resume, the hybrid resume format combines the above two resume styles.
This is another format that would work well for a career changer.
However, it is not recommended for an entry-level job candidate.
While these are the three most common resume formats, there are a few others that you can choose from:
4. Infographic Resume
5. Profile Resume
6. Tailored Resume
7. Mini Resume
(Read more on the Best Resume Formats (Tips & Samples).)
Five Resume Builder Websites
Why use a resume builder?
In short, resume builders remove a lot of the heavy lifting from designing and formatting your resume.
If you don't want to worry about your format, here's a list of some excellent resume builder companies (all under $20) that you might find helpful:
Resume.com
Resume.com is a free online resume builder with 24 resume templates to choose from encompassing various colors, formats, and designs.
Canva
Canva is a design company that offers a resume builder tool with over 1,000 resume templates.
NovoResume
NovoResume is an online resume maker, with a free version that allows you to create a one-page resume at no cost. They also have a paid plan.
CVMaker
CVMaker has had over 16 million downloads and above six million saved CVs/resumes since their founding. Their basic templates are free, and they have a paid plan that costs only $16.00 per year.
MyPerfectResume
MyPerfectResume is a well-known online resume builder with great resume templates and recommended keywords based on the role you are applying to. Their service costs $2.95 for a 14-day trial, and $24.95 monthly after that.
(Read more details about the Best Online Resume Builders.)
Important Resume Sections With Examples
There are seven main sections you will want to add to your resume:
Contact information
Resume title
Resume summary/objective
Skills
Work experience
Education
Additional resume information (awards, interests, activities, etc.)
While the order of some sections and their length might differ depending on your resume format, every complete resume needs these sections to get past the ATS (with the exception of the seventh section).
This graphic shows the placement of the most important sections of a resume: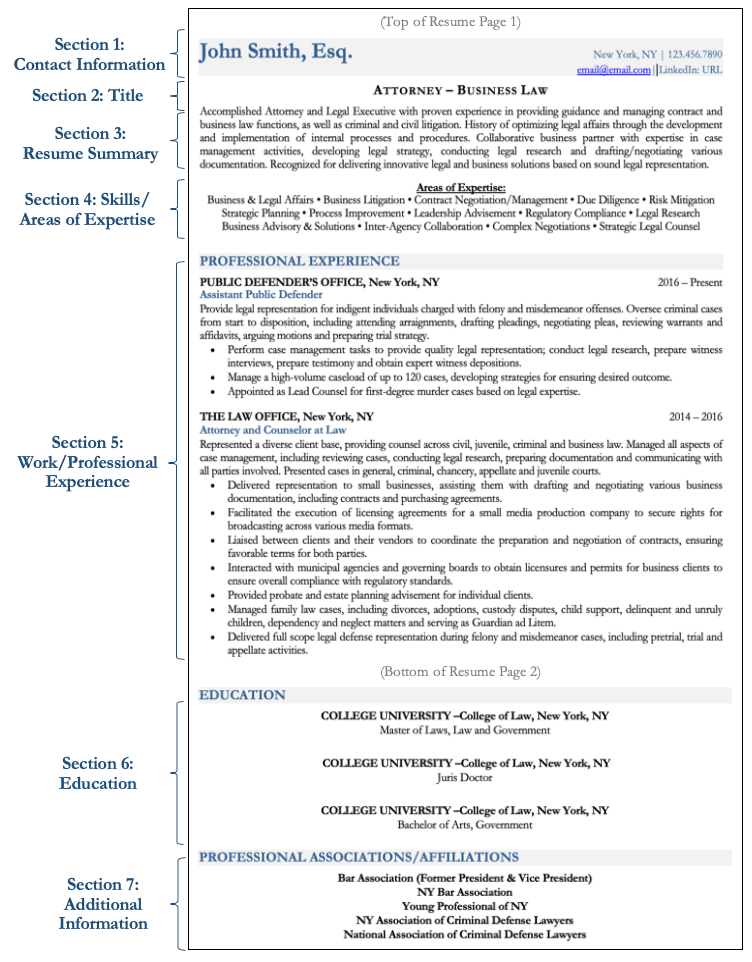 1. Writing Your Resume Contact Information

It's no secret that every resume you send out needs your contact info so recruiters and potential employers can get back to you.
Here are a few tips on writing this section of your resume:
Name: Use a larger font size for your name to make it more prominent than the rest of your resume. You can also make it bold.
Address: When providing your address, for personal privacy, it is common to add only the city and state rather than street address.
Perhaps the job to which you are applying is in a different city and/or state from which you live.
If you are planning to relocate for a new job, you can indicate this by updating your resume with the new city and state you plan to move to.
Or if you are open to relocating, you might choose to add "willing to relocate" in the address section of your resume.
Phone number: A recruiter might choose to text you for initial contact, so provide both your cell phone and home phone number. If you only have a cell phone, indicate this.
Email address: Make sure you have a professional email address. If you don't, change it before you do anything else. Your resume is not the place to flaunt an email address like barhopper22@hotmail.com.
LinkedIn profile: If you have any experience in social networking, you already know that LinkedIn is the place to network professionally. Add your customized LinkedIn profile URL to this section of your resume.
(Learn how to Upload Your Resume on LinkedIn, and Vice Versa.)
2. Writing Your Resume Title

Using a resume title gives you a great opportunity to include the perfect keyword phrase.
Your resume title should look very similar to (or exactly the same as) the position to which you are applying.
This adds more keywords to help you get past the ATS.
Right beneath the resume title, you can add a few "subtitles" that provide in greater detail the skills and experiences you bring to the table.
3. Writing Your Resume Summary

A professional summary can be a brief paragraph or a bullet list that outlines skills and relevant experience.
Your professional summary is your opportunity to shine.
So, make the most of it by adding keywords that will impress robots and humans alike.
4. Writing a Resume Skills (Areas of Expertise) Section

This is one of the most important sections to help make a great resume that gets you past the ATS.
Your skills fall under one of two categories: hard skills and soft skills.
Hard skills, sometimes called technical skills, are skills you have learned that enable you to perform practical tasks in an industry.
Soft skills, also labeled social skills, are a high commodity in the professional world as they are connected to your ability to teamwork and lead.
Highlight the skills you have that are most relevant to the job description.
Use this section to show why you are the ideal candidate for the position.
(Learn more about the best hard and soft skills for a resume.)
5. Adding Work Experience to Your Resume
For a traditional resume, you will list your experience in reverse-chronological order. 
List all the relevant job positions you have held.
If you have more than 20 years of experience, only list the most recent 15 years of professional work experience.
Add a keyword-rich description of your duties in each role. 
Provide quantifiable data as proof to back up statements you made in your professional summary.
Highlight specific accomplishments with bullet points.
Easy enough, right?
(Learn more about what action words you can use on your resume.)
6. Adding Your Education Summary

Include all advanced degrees that you have earned, starting with the highest one.
In some industries, credentials add strength to a resume. If this applies to your profession, add relevant licensing.
Similarly, outline relevant professional development that has furthered your education and experience in the industry.
7. Adding Awards, Activities, and Professional Affiliations

This is a section you can emphasize especially if you have little (or no) work experience.
If possible, highlight projects or activities that show relevant soft skills.
Only if relevant, add:
Clubs/organizations where you hold a membership
Entrepreneurial activities
Involvement in the arts or existing publications
Awards or outstanding achievements
All of this information can give a hiring manager confidence of your professionalism, expertise, and superior skills.
If you have volunteered in relevant areas, note this; it indicates a passion for your work beyond the scope of paid job opportunities.
Resume Sections To Leave Off
This article on how to make a great resume that is also ATS compatible wouldn't be complete without providing a few tips on what not to put in your resume.
1. High School Info
Even if you are a recent graduate, you do not need to include your high school information.
And if you are a professional with plenty of experience, there's no reason to have it there, even if you were the valedictorian.
2. Hobbies and Interests
The key idea you are looking at here is relevance.
Most hobbies and interests, even if unique or outstanding, do not pass the test of relevance.
Your resume should only include those things that will improve your chances of landing the job.
3. Grade Point Average
Some larger companies use applicants' GPAs as yet another screen for applications to a position.
We recommend only adding this information to your resume if your GPA is more than 3.5.
Many recommend that you should not include your GPA unless you are a recent graduate.
4. Resume Objective
Resume objectives are no longer preferred because they generally use "I" language while resume summaries use "you" language.
A resume objective states what you want out of a job.
A resume summary states what you have to offer a prospective company.
What you can offer the company is what the recruiter or employer is looking for.
5. References
Unless specifically requested, references are an unnecessary item to add to a resume.
If you get a callback and a recruiter or potential employer asks for references, that's when you should provide them … not before.
How to Make Sure Your Resume Is ATS Compatible
Okay, so we've already talked about applicant tracking systems, but it's important, so we're going to focus on it a little more here.
In short, the job of an ATS is to help recruiters narrow the influx of applications to only those that are relevant to the job by highlighting resumes that match a predefined list of keywords.
Approximately 60% of medium and 75% of large companies use ATS. This eliminates up to 98% of applicants at the initial screening.
Here are a few tips on making your resume ATS compatible to get past these sometimes-pesky screeners.
1. Properly Format the "Work Experience" Section
When listing your work experience, place the company name first, followed by your job title.
You want to make sure the ATS properly reads this section.
Add a brief description of the position.
Then list your key achievements in bullet points.
2. Avoid Using Headers or Footers
If you place your name or contact information in the header to give yourself more page space, your resume might get overlooked altogether.
This is because an ATS might not even "see" this data and simply screen you out.
3. Choose a Simple Font/Typeface
Your resume is not the place to get creative with fonts.
Save that for your birthday party invitations.
Use the same font throughout and your resume is more likely to get past an ATS.
(Discover the 9 Best Fonts for Your Resume.)
4. Adopt the Job Description Wording in Your Resume
This is one of the best tips for getting your resume past the robots.
Copy and paste the job description in a Word document.
Highlight industry terms, keywords, and skills that show up frequently.
Add these same terms, if applicable, to your resume.
5. Don't Use Abbreviations or Acronyms
Many applicant tracking systems are not programmed to recognize abbreviations of job positions or even common acronyms.
Make sure you write out the full word or term.
You can add the abbreviation in parentheses at the end.
6. Avoid Using Tables in Your Resume
Using tables on your resume can cause your resume to be automatically kicked back by the applicant tracking system.
Another formatting choice that might confuse an ATS is the use of tables.
Use standard bulleted points instead.
ATS Compliant Resume Sample
Here is what a resume should look like when it is completely finished.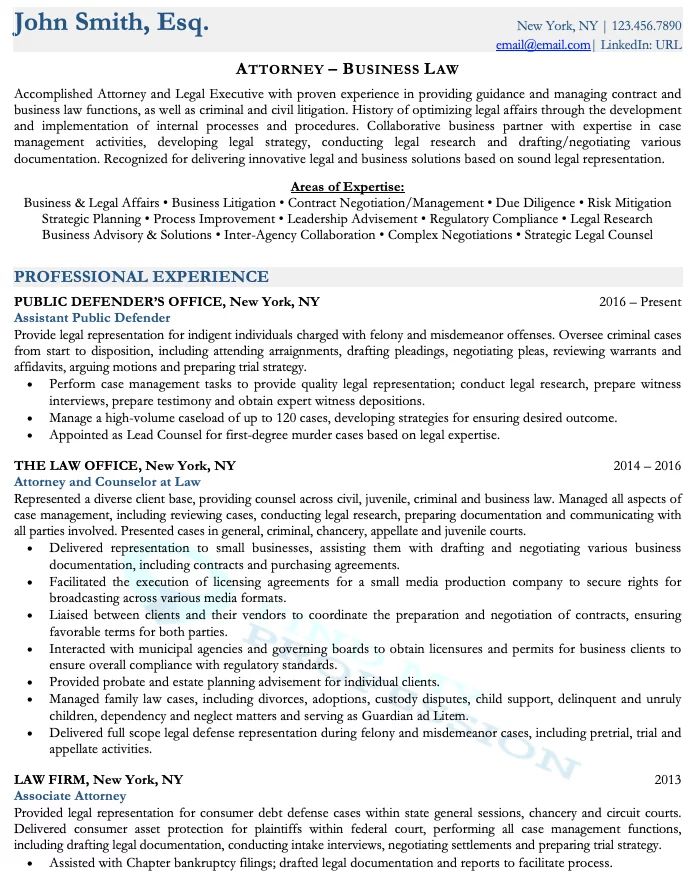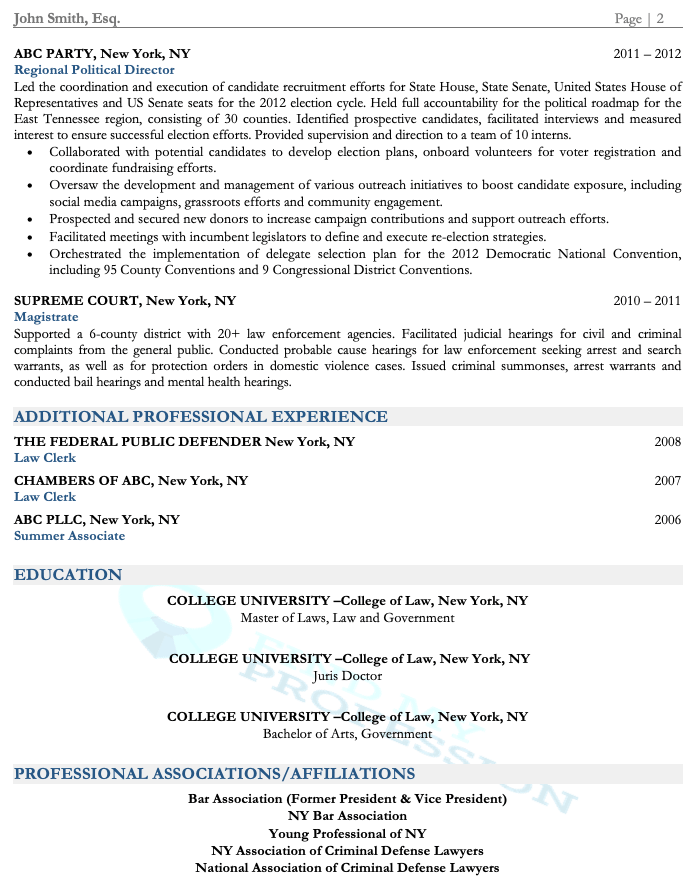 For a variety of high-quality example resumes that have been completed with everything above in mind, check out our resume samples page.
Bonus: How to Make a Cover Letter for a Resume
A strong cover letter could be that final push to get you in the door.
It goes hand in hand with a great resume in impressing both human readers and ATS.
Your cover letter should showcase your relevant experience and indicate your familiarity with the company culture.
It can also demonstrate who you are as a person.
In other words, it's okay if a little bit of your personality comes through in your cover letter.
Here are a few pointers on how to make a cover letter for your resume, with examples from a cover letter for a position as an operations leader:
1. Contact Information

Just as with your resume, you should have your personal information.
With a cover letter, also include the contact information of the company, like you would in a business letter.
2. Greeting
Don't cop out by writing "To Whom It May Concern."
Find the name of the employer or hiring manager and address them personally.
3. Introduction Paragraph

Similar to your resume summary, this first paragraph is your opportunity to impress!
You want this initial contact with you to stand out and keep the reader's attention, encouraging them to finish reading the cover letter.
4. Body of Letter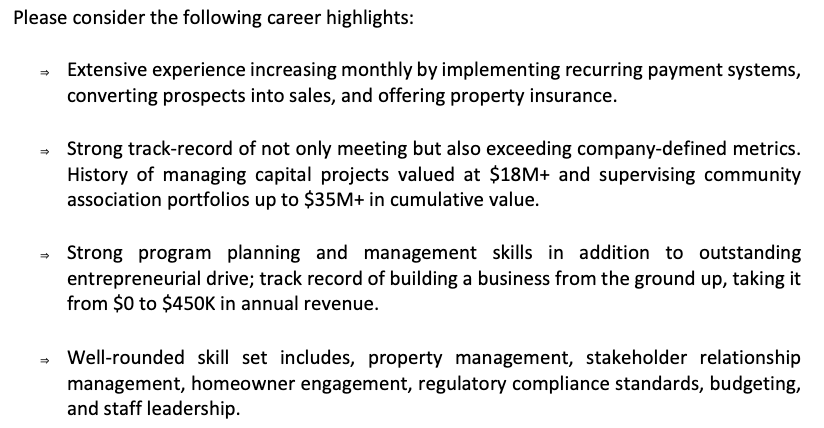 If you have relevant experience, try highlighting this in an impressive way.
This information may mirror the data in your resume, but that's okay.
5. Final Paragraphs

Try to indicate or picture how you would fit into the company and its culture.
Also, add a call to action or an invitation to connect with you further.
6. Closing and Signature
Keep it short and sweet by writing "Sincerely" or "Kind regards" and sign your full name.
(Find out more: 6 Ways to Craft an Attention-Grabbing Cover Letter.)
ATS Compliant Cover Letter Sample
Here is what a cover letter should look like when it is completely finished.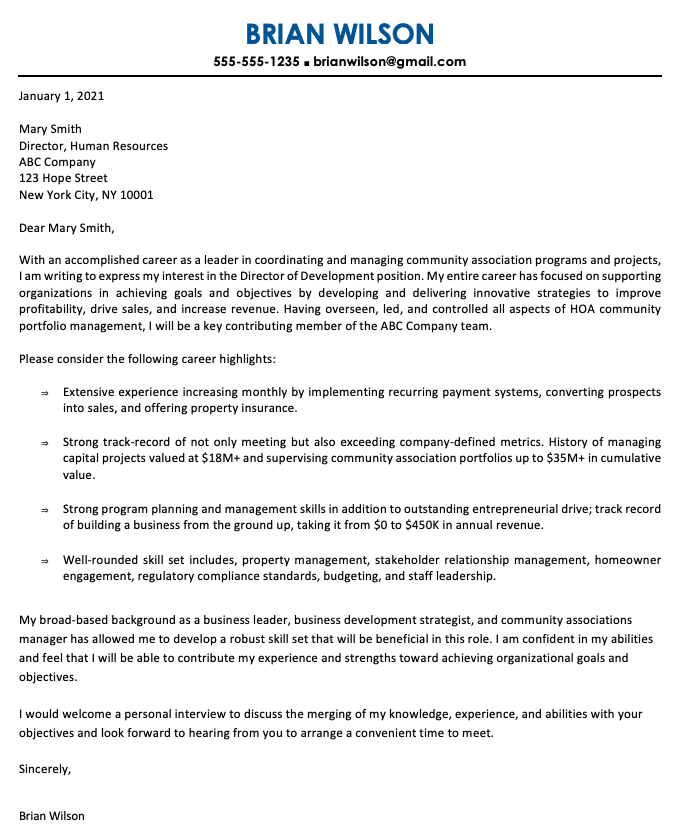 For more excellent cover letter tips with examples, check out how to write an amazing cover letter.
Closing Thoughts
Writing a resume is something that anyone can learn to do. However, there are also professionals out there with years of experience in resume writing.
If you'd prefer to work with a professional resume writer, there are plenty of qualified individuals and companies out there who would love to help.
Our team at Find My Profession has top-notch resume writers who have experience in 85+ industries/professions.
If you prefer quality and convenience over the DIY approach, we'd love to hear from you.
Contact us today to learn more about our professional resume writing services.