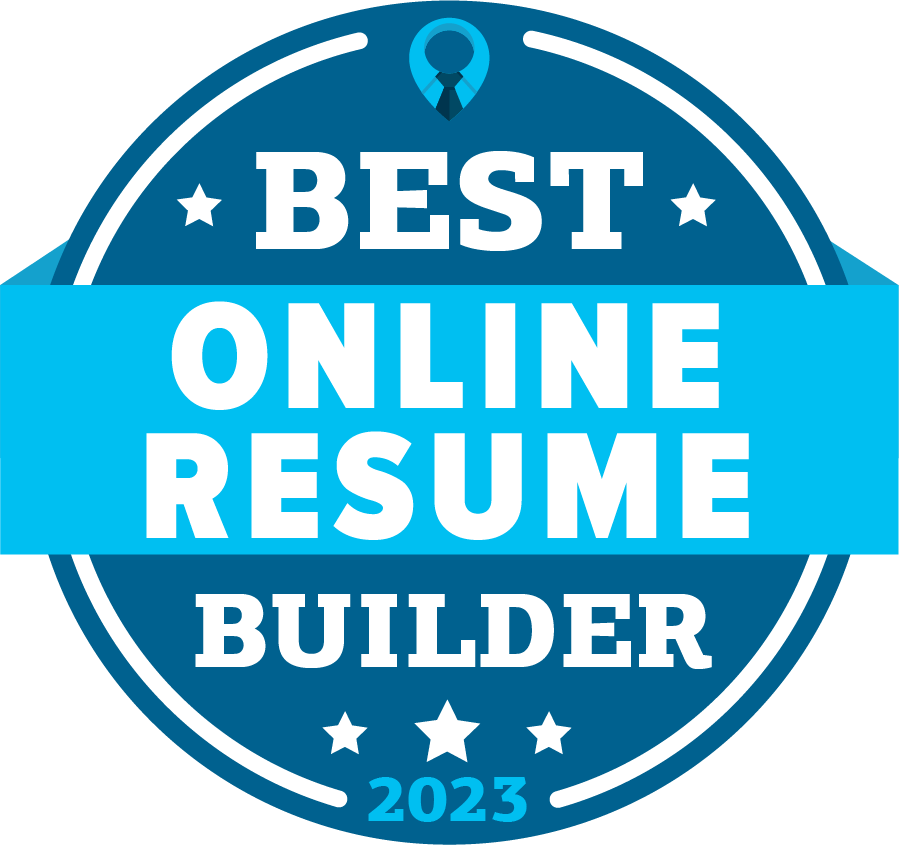 2023 Winners: Add your badge to your marketing materials.
We are very excited to share our favorite picks when it comes to the very best resume builders.
We've thoroughly researched dozens of online resume builders to bring you only the best websites worth considering.
The first half of the services on this list are free, and the second half cost a few dollars to use.
Below we will explain exactly what online resume builders are, as well as our top picks for the best resume builders that land interviews.
Our comprehensive reviews are designed to save you time and offer full transparency into the resume builders' true costs, and the overall process.
Best Websites for
Resume Building



4

4
5

5
6

6
7

7
8

8
9

9
10

10
11

11
See more services
See less services
What Are Resume Builders?
Online resume builders, commonly referred to as resume makers are software programs used to design and create resumes.
They are fast, easy, and affordable solutions for individuals who want to write their own resumes.
If you decide to write your own resume, you absolutely must use an online resume builder. This option is 100x better than trying to use a Word Doc to create a resume and it will only cost you a few dollars.
Online resume builders provide beautifully designed resume templates that take the guesswork out of resume formatting.
Just be careful. Many online resume builders will appear to be free. You will spend an hour crafting a resume that you love. And then once you go to "download", they will require you to pay.
How We Choose Winners
Each of the resume builders below was reviewed by a Certified Professional Resume Writer (CPRW) taking into consideration the following:
The cost of the service compared to other online resume builders.
How many template options are provided and the customization flexibility.
The design, style, and overall look of the resume templates.
Guarantees, ease of use, and reviews.
This list was hand-curated to serve all industries, professions, and career levels. Whether you are in finance, sales, HR, engineering, or any other role, these companies will provide excellent LinkedIn profiles.
Average Online Resume Builder Cost
Online Resume Builder
Cost
$20.00
Online Resume Builder Reviews
Resume.com is one of the only truly free online resume builders. This company appears to be affiliated with Indeed.com because once you create a resume, they redirect you to a page where you can post your resume directly on Indeed.
We found 24 resume templates to choose from encompassing various colors, formats, and designs. Once you select a template, you will be prompted to enter information about yourself including your contact details, professional summary, education, employment history, and more. Next, you can choose your template, font style, size, and spacing. Once you are finished, click save or print.
Whoever said nothing in life is free hasn't found these guys. We couldn't find a place to spend money on the site if we wanted to.
The template designs are limited and could be improved.
Canva is a design company that works in a variety of verticals covering design types, templates, photos, and icons. One popular category is their resume builder tool. When you first land on the website, Canva mentions that their templates are used to create over 60,000 resumes per day.
Canva has more than 1,000 resume templates. As far as features go, Canva focuses heavily on the design aspect of the resume, with complete disregard for the content piece. There are no resume suggestions, keyword ideas, topic ideas, etc. This service is best for someone who is strictly looking for a nice design, without any of the resume advice.
With over 1,000 resume templates, you'd definitely find something that you'd enjoy. They have a huge selection of colors, styles, designs, etc. This is by far one of the most impressive selections of templates that any free online resume builder has.
While the majority of the resume designs are free, there are some that do require you to pay $1 in order to download the design.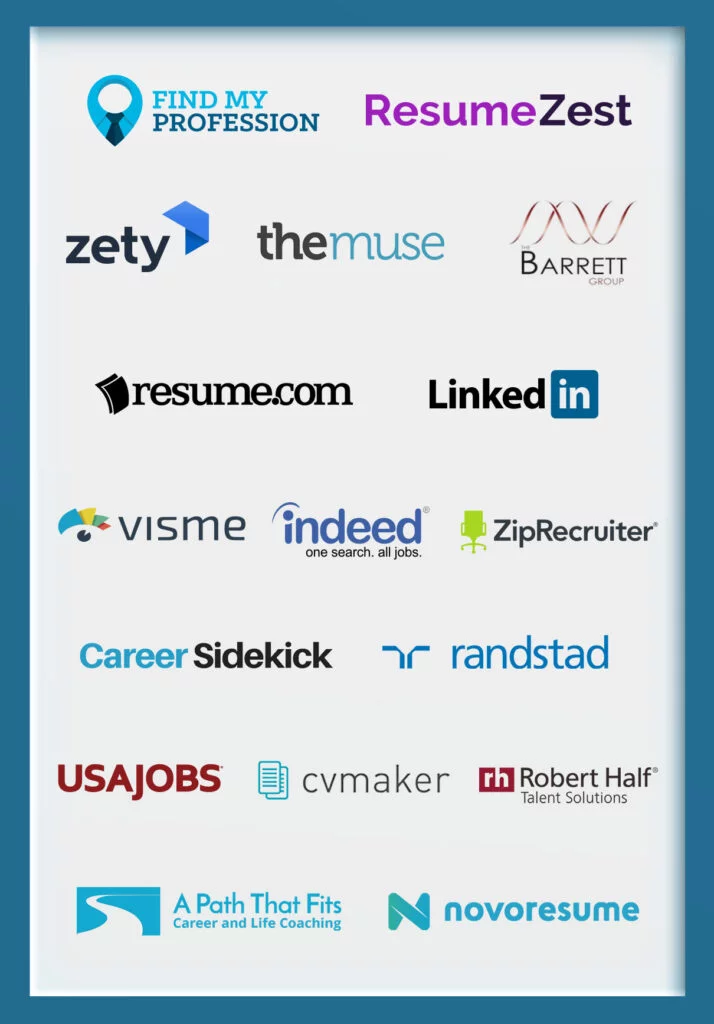 Need Help With Your Job Search?
Did you know there are companies you can hire to help with your job search? Whether you need resume help or want someone to apply to jobs for you, we've reviewed the 20 best agencies to help you find a job.
NovoResume is an online resume maker with a nicely designed website and even nicer resume templates. They offer a free version that allows you to create a one-page resume at no cost. They also have a paid plan which is transparently listed on their website.
This service is free for a one-page resume. Overall, the free version is fairly limiting. The paid plan offers up to 3 pages of a resume/CV, access to cover letter templates, 9 additional fonts, video tutorials, and various other perks.
With over 200 5-star reviews on Trustpilot alone, NovoResume must be doing something right. Their sleek designs with neat graphics/charts are more modern than many other online resume builders.
With only 8 templates to choose from, you really don't have a ton of options. However, this makes things simple. Take a look at their samples and if you like the design, go for it!
CV Maker boasts an impressive 24,676,390 downloads and 13,179,694 saved CVs since their founding. In this case, a CV is essentially the same as a resume. While a curriculum vitae (CV) and a resume are technically different, this website uses them interchangeably. So if you are on the market for a resume, they got you covered.
The actual resume builder tool is fairly limited. It prompts you to enter basic information, work experience, qualifications, education, interests, and references; without any real guidance on what you should write. Granted, this is a free service so you can only expect so much. There is an option to upgrade to "premium" which gives you access to better templates, custom sections, fonts, colors, and more.
Free is always a pro. This online resume creator tool is free (for limited features) but will get the job done for a budget-conscious shopper. Even their premium plan is one of the cheapest in the industry.
The overall resume builder seemed a bit basic compared to some of the other companies. It did not walk you through each section step-by-step and was much more of a do-it-yourself resume builder.
Kickresume has just received its biggest redesign ever and it shows. It feels polished, modern, and it's really easy to work with. It has also already helped more than 2,000,000 people get hired. If you're looking for a sleek resume builder that's a bit different from others, you should give Kickresume a try.
Kickresume gives you 37 different resume and cover letter templates to work with, all of which are highly customizable. You can assemble your first resume from 20,000 bullet point phrases or browse their huge database of resume examples to get inspiration from there. It's also one of the few resume builders that offer a proofreading service.
Kickresume can write your resume using artificial intelligence. Just enter your job title and make some edits. Their resume builder is packed with tips, guides, and resume examples. It also lets you create your complete resume for free, as long as you don't use any paid customization options. Students and teachers get the premium plan for free for 180 days. You can upload your new resume to their remote job board and be matched with relevant positions.
Kickresume's free customization options are a bit limited. While the premium features are clearly labeled inside the app, it's easy to get carried away.
Since 2004, VisualCV has helped over 3.1 million job seekers building stunning resumes and cvs with their bold and modern templates. An easy-to-use resume builder with PDF or Word export options and 100s of resume samples to get inspiration from to create and share eye-catching resumes.
Variety of different styled templates, ranging from creatively bold to modern professional. Simple walkthrough process to add your content in the basic editor and options to customize color, font, margins, page breaks, and more in the visual editor.
Great customization options coupled with the ability to make and manage multiple versions. The ability to share your resume as a link and view your resume analytics.
Templates are limited in free plan. While premium features are shown inside the app, they are not easily distinguished.
$2.95 for trial – $18 per month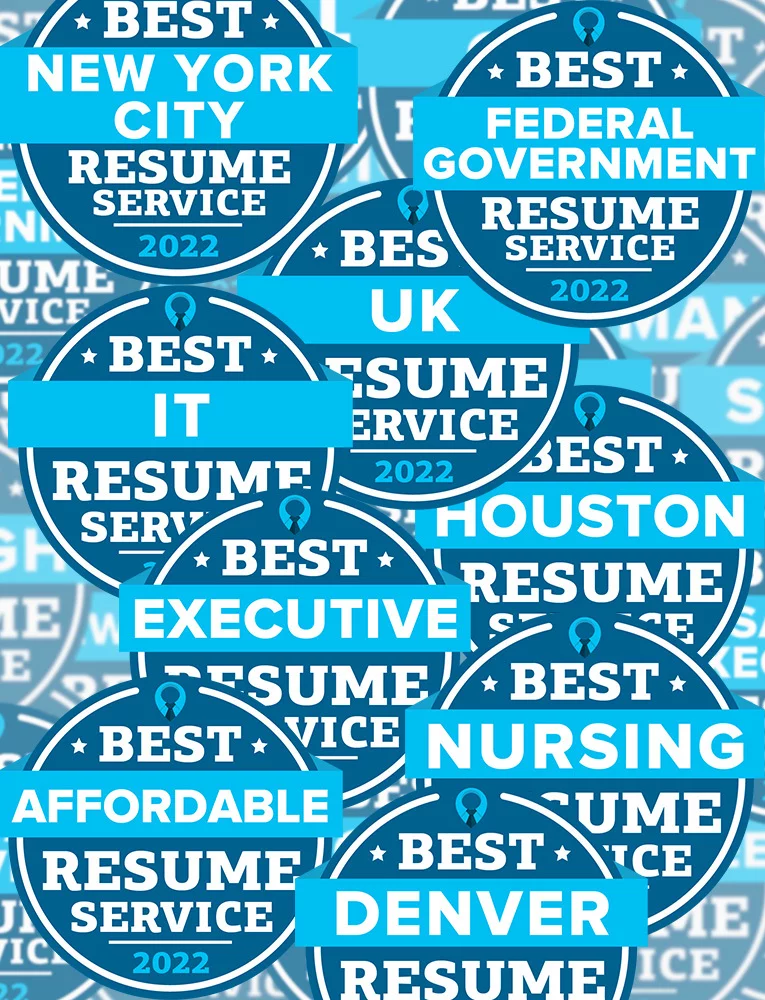 Is Your Resume Working Properly?
If you are having trouble landing interviews, it might be time to hire a professional resume writer. Check out our list of the 750+ best resume writers and start landing more interviews!
MyPerfectResume is one of the most well-known online resume builders. To be honest, I remember using this service about five years ago when I was embarking on a job search. It was fairly easy to navigate, and I even spoke with their customer service at one point who was able to answer all my questions giving me an overall pleasant experience.
Great resume templates to choose from is important. But a ton of online resume builders offer this. The real advantage with MPR is that their artificial intelligence actually recommends keywords and bullet point ideas based on your background and the role you are pursuing.
With over 1,000,000 resumes made and counting, these guys do a great job when it comes to putting together a resume. My favorite part about this service is their suggestions on what kind of bullet points to include as well as relevant skills/keywords for the position.
This is not a free service. However, if you can commit to making your resume within 14-days, you can cancel after paying $2.95 and you won't receive any more charges.
$2.95 for trial – $24.95 per 4 weeks
Resume Genius is an easy to use and user-friendly online resume builder. With more than 1,600 reviews on Trustpilot alone, there's no hiding the fact that this service does an excellent job.
Resume templates cover a variety of different styles categorized by Resume Genius as: 2019, advanced, clean, corporate, hybrid, majestic, stylish, unique, and more. Select your style then choose a color. Their auto-fill forms make selecting options easy and save you time having to figure out proper formatting. For example, when you add your city, state, school, etc.  it asks you to select from a dropdown, ensuring spelling and formatting is accurate compared to typing everything out yourself.
With over 50,000 job bullet point phrases, covering a variety of industries, Resume Genius takes your resume to the next level. A great design without great content won't do much. Resume Genius has a nice balance of design and content.
Resume Genius is another online resume builder that fails to mention anything about pricing until you have taken the time to write your resume using their software, and you want to download it. This can be frustrating if you don't know this in advance.
$1.95 for trial – $39.95 per month
ResumeBuild is another online resume builder specializing in student resumes, entry-level resumes, and professional resumes.
This online resume builder walks you through the steps needed to craft your resume. Once you choose a template, you'll be prompted to enter your personal info, work experience, education, skills, and more. They even provide pre-written bullet point examples based on your career field.
Like some of the other online resume builders on this list, ResumeBuild goes beyond design by offering suggestions for your resume. Content is king and it is easily worth paying a few extra dollars for a resume builder that goes beyond just design.
ResumeBuild does not mention anything about pricing until after you have already created your resume. (This seems to be a trend amongst online resume and cover letter builders.) Additionally, we think their resume templates could use some modernization.
$1.95 for trial – $59 per 12 weeks
Zety is one of the leading online resume builders not just in the United States, but across the globe as well. Their resume building software allows you to create a resume online in just minutes.
Zety provides a nice selection of color schemes to choose from before creating your resume. They also break your resume into 5 main sections: personal info, summary, experience, education, and skills. Their examples are helpful, although they would be more helpful if they were tailored towards the specific role you were applying for. Lastly, they offer a total of 18 resume templates for premium members.
Unlike some resume builders that focus primarily on design, Zety does not leave you completely in the dark when it comes to your resume content. They provide examples of what to write in each section so at least you know where to start.
The pricing is not transparent. It takes completing the entire resume and clicking the "download" button to know that you have to pay to download the resume.
Visme is a bit unique compared to other resume building services on this list. Visme focuses primarily on presentations, infographics, social graphs, reports, and other things that improve with a bit of a visual touch. For the purpose of this article, we will focus only on their Infographic resumes and save talking about their other services for a different time.
Build your resume online by choosing from 100+ templates and color schemes. Access 50+ charts, data widgets, and maps from Visme.
Visme is one of the most technically advanced resume builders online. The service is unlike any of their resume builders on this list due to their focus on infographic-style resumes, as opposed to the traditional resume.
While uniqueness can be a good thing, it's fair to say that the average hiring manager or recruiter does not receive these resumes regularly. They are still a little ahead of their time and may not work properly with all applicant tracking system (ATS) software.
Previous Years Winners
Online Resume Builder Winners (2022)
Resume.com, Canva, Novoresume, CV Maker, Kickresume, VisualCV, My Perfect Resume, Resume Genius, ResumeBuild, Zety, Visme
Online Resume Builder Winners (2021)
Resume.com, Canva, Novoresume, CV Maker, Kickresume, VisualCV, My Perfect Resume, Resume Genius, ResumeBuild, Zety, Visme
Hire A Professional Resume Writer
While online resume builders are fantastic tools, the further you get in your career the more complex your work experience becomes, and the more competitive the market becomes.
If you'd prefer not to do it yourself, or want to take your resume to the next level, we highly recommend hiring a professional resume writer.
Find My Profession is a top-rated professional resume writing service with more than 650 5-star reviews.
We'd love the opportunity to serve you (and that's why we created this list). Happy hunting!