You might be asking yourself, "How much does it cost to have someone write your resume?"
If so, you have stumbled upon one of the best articles on the internet with the most accurate and thoroughly researched data.
We have reviewed more than 100 professional resume writing services to bring you their average costs.
Below we will break down the average cost for resume writing as it relates to entry-level resumes, professional resumes, and senior-executive resumes.
Average Costs for Resume Writing
As you will see below, resume writing prices can range drastically. Not all resume writers are created equally. Some resume writers work great with entry-level candidates and they charge very low rates. If you are more senior in your career, you can expect to pay a bit more.
Below we have compiled data from 45 different resume writing services who advertise specifically to entry, professional, and executive-level job seekers.
How much do resume services cost?
We found a range of prices for resume services from $99 to $2597.
The average cost for an entry-level resume is $220; mid-level is $422; executive-level is $1252.
The overall average cost for all professional resume services is $631.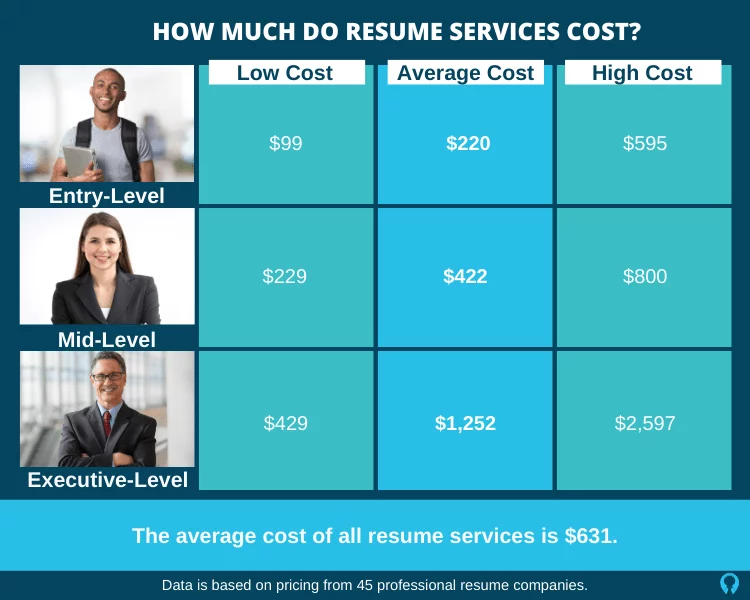 Keep reading for specific data on each of the resume services we researched.
Entry-Level Resume Service Costs
Entry-level resumes are by far going to be the most affordable and low costing resume writers in the market. The fact is, as an entry-level job seeker the resume is just easier to write and can be offered at a lower rate.
We've added pricing info from 15 entry-level resume services below:
Market Connections – $99
Resumes Planet – $109
Resumes for You – $128
Monster – $129
Action Resume Service – $135
Career Perfect – $140
Capstone Resumes – $149
Resume Prime – $150
Resumention – $156
Resume Writing – $169
Employment Boost – $169
Career Thinker – $379
Resume World – $395
Find My Profession – $395
Great Resumes Fast – $595
Average Entry-Level Resume Cost: $220
Check out our list of the Best Affordable Resume Writing Services.
Mid-Level Resume Service Costs
Mid-level resume writing services are for anyone with 3+ years of experience but not quite in an executive-level position. This is the point in your career that a professional resume writing service can really help take you to that next level.
We've added pricing info from 15 professional resume services below:
Resumes to You – $229
Evolution Coaching – $249
Market Connections – $275
Resume Target – $300
Quality Resume Services – $323
Resume Right – $399
Resume Spice – $459
iCareer Solutions – $495
Knock Em Dead – $589
Find My Profession – $595
Scientech Resumes – $695
Resume World Inc – $695
Written By A Pro – $695
Great Resumes Fast – $799
Exclusive Executive Resumes – $800
Average Professional Resume Cost: $422
Senior-Executive Resume Service Costs
Executive and C-level resumes require the highest level of skill to create. At the executive level, jobs are extremely competitive and your resume is your foot in the door. If you don't have an executive-level resume, you can guarantee your competition will. For this reason, and because executive resumes require such a higher level of skill to master, the prices are the highest.
We've added pricing info from 15 executive resume services below:
Employment Boost – $429
About Jobs – $549
Resume Spice – $569
iCareer Solutions – $595
Resume Pilots – $679
Find My Profession – $795
Off the Clock Resumes – $799
Great Resumes Fast – $899
Executive Resume Writer – $1,200
Career Steering – $1,695
An Expert Resume – $1,697
Get Hired Stay Hired – $1,895
Exclusive Executive Resumes – $2,000
The Writing Guru – $2,395
Mary Elizabeth Bradford – $2,597
Average Executive Resume Cost: $1,252
Check out our list of the Best Executive Resume Writing Services.
Key Takeaways
The most important take away from this article is that resume writing costs can vary drastically.
Decide what fits your budget and find a writer that meets your standards.
No matter what resume service you go with, understand that higher resume writing fees do not always translate into a higher quality writer.
Find My Profession is proud to offer the highest quality resume writing services at very reasonable rates. We welcome you to check us out online and use our tips below when interviewing us.
Here's what you should focus on when choosing a professional resume writer:
Read reviews online. Google the company you are interested in and read their reviews.
Ask to see resume samples from the company you are considering.
Get on a call with the company before purchasing a service.
Find out if your writer will have experience working with people in your line of work.
If you focus on these 4 points above, you are going to find an amazing resume writer!