In your search for a job, you probably send out your resume dozens of times as you try to land the perfect position.
If you have encountered the term curriculum vitae, a.k.a. CV, your question might be, "How is a CV different from a resume?"
More importantly, could using a CV instead of a resume increase your chances of getting hired?
Which is better, a resume or CV?
In this article, we'll discuss the similarities and differences between a CV and a resume, provide advice on which one you should personally be using, and offer a few more tips to help you effectively use these essential tools in your job hunt.
What Is a CV?
Let's start by defining the CV, a document less frequently used in the United States.
CV is short for curriculum vitae, a Latin phrase that means "course of life."
The very definition should clue you into the fact that a CV is a detailed document that offers a full description of education, work experience, and achievements.
In the United States, you would submit a curriculum vitae for jobs in academia such as postdoctoral positions, and for careers in postsecondary teaching and research fields.
You would also use a CV to apply for fellowships, grants, and certain positions in the medical field.
The CV provides extensive information about your educational and experiential background.
For the most part, if your career requires a CV, you would know about it.
What Is a Resume?
In the United States, we are much more familiar with the resume, but let's give it a quick rundown.
The word resume comes from the French phrase "to sum up."
As such, your resume provides a brief summary of your education and experience.
A resume is the most frequently requested document in a job search.
It comes above references and school records, and before any official document such as your driver's license or social security number.
The average recruiter spends less than six seconds skimming a resume, so it behooves you to create a concise and powerful document that describes your most relevant experience (more on that later).
Despite common belief, it's okay for a resume to extend beyond one full page, but a resume should almost never be more than two pages.
CV and Resume Similarities
While we devote most of this article to the CV versus resume differences, let's briefly consider the similarities:
Both are professional documents aimed at getting you an interview.
Neither a CV nor a resume should include personal interests.
With both, your goal is to come across as a qualified and experienced professional.
You would craft both documents to fit the position to which you are applying.
CV and Resume Differences
Understanding the basic CV versus resume differences is more important than grasping their similarities.
After all, you only get to submit your application to any particular position once, so you want to get it right!
Let's look at the five main ways in which these two important documents differ: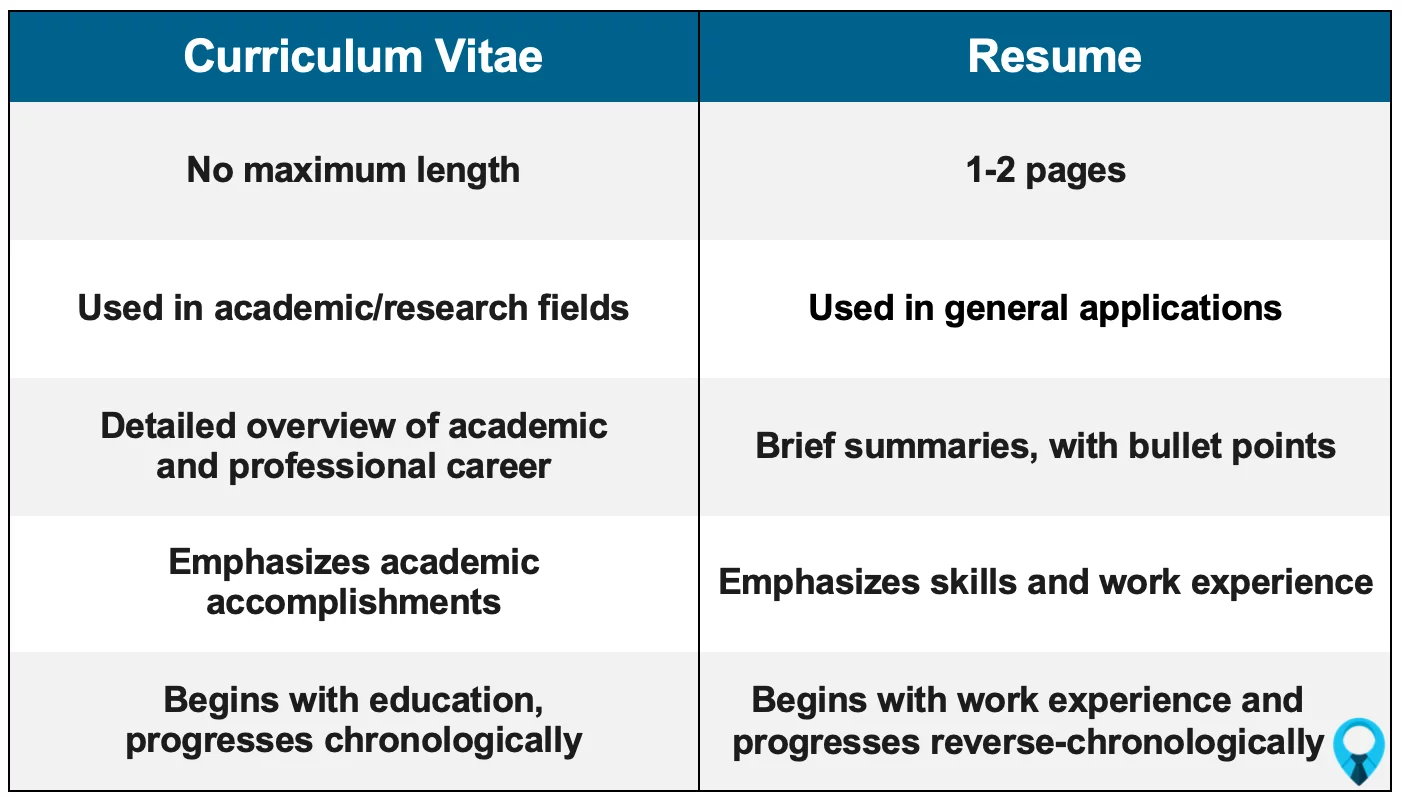 1. Length
A CV has no maximum length.
A resume should be no longer than one or two pages.
2. Purpose
A CV is used in academic fields and for scientific/research purposes.
A resume is used to find a job in just about every other field.
3. Details
In a CV, you provide an in-depth overview of your academic and professional career.
In a resume, you provide brief summaries. Bullet points are often used. It helps to tailor information to the job application.
4. Emphasis
A CV emphasizes academic accomplishments. Having been published is an important performance indicator. The adage "publish or perish" is valid in many academic circles.
A resume emphasizes skills and professional work experience.
5. Format
A CV will often begin with education and then progress through each section chronologically (the first job down to the most recent job).
A resume usually begins with your most recent work experience and works in reverse chronological order.
CV or Resume? Which Should You Use?
In your search for a job, it is vital that you submit the proper documentation in your application.
The CV and resume differences outlined above should help you determine which one you should use and when.
In short, in the United States and Canada, you would only use a CV for a few vocations, primarily positions in the field of academia, such as:
Academic jobs
Research fellowships
Grants
Postsecondary institutions
Pretty much every other field and industry will require a resume.
In most cases, it should be clear whether you need to submit a CV vs resume. One way to know for sure is to ask some peers within your line of work what they use.
If you are submitting a resume or CV to an international company, pay close attention as to whether they want a CV versus resume.
Whenever you are in doubt, ask!
What to Include on a CV
These are the items you would place in a curriculum vitae, in addition to your contact information:
Personal statement (a.k.a. professional profile)
Education and licensure
Professional experience
Professional awards and honors
Grants and fellowships
Teaching and leadership experience/committee appointments
Publications, including books, chapters, and peer-reviewed articles
Conferences and presentations
Research experience and fieldwork
Languages and skills
Professional associations and memberships
With all the above items, you can rightly assume that your CV may end up being far longer than the average resume.
For entry-level positions, a CV might run three or four pages, while someone applying a mid or advanced-level vocation might have a CV that is ten pages long.
After all, you are outlining a "course of life" and may have plenty to show for it!
If the position to which you are applying is in an academic field, you will want to highlight publication information.
If you are applying to a field involving research or medicine, you will also want to highlight research and education.
What to Include on a Resume
Here is what you would put in your resume:
Contact information
Professional summary
Areas of expertise
Career highlights (optional)
Professional work experience
Education and professional development
Other optional sections may include awards, publications, certificates, and volunteer work.
The formatting of your resume will often depend on the job you are looking for.
The main two formats of a resume are chronological and functional while some job applicants use a hybrid of the two.
(For more on resume styles, read The 7 Different Types of Resumes.)
CV vs. Resume Internationally
You might have noticed that many international companies request a CV instead of a resume.
This is where it might seem tricky, but don't let the difference in labels confuse you!
Throughout Europe, as well as in the U.K., Ireland, and New Zealand, it is not a matter of "CV versus resume."
While they use the term CV, they are also looking for a brief vocational summary.
In other words, a resume goes by the name CV in most international locations.
While there are small differences between a United States resume and a European curriculum vitae, they are not significant.
Now in Australia, South Africa, and India, they use CV and resume interchangeably. Both describe a brief, one-to-two-page document outlining relevant professional experience and education.
However, in India and other regions of South Asia such as Bangladesh, hiring companies often also require a "biodata" that outlines more personal information such as date of birth, marital status, nationality, number of children, etc.
Tips for Both CVs and Resumes
Regardless of whether you are creating a resume or CV, here are a few things to keep in mind as you construct either one of these professional documents.
1. Format it carefully
While the content is the most important part of your CV or resume, that content won't get a second glance if it is not laid out in a visually appealing way.
Pay close attention to the layout and formatting.
Use bullet points where relevant.
Avoid lengthy sections of text, especially in a resume.
Make use of white space if possible.
2. Edit and proofread each section
Nothing is more embarrassing than catching a glaring typo after you've submitted your resume or CV.
Print out your resume/CV after you've completed it.
Read over every word and make sure there are no grammatical errors.
Give a close read to dates and numbers; it's easy to miss mistakes here.
Ask someone to give it a second read to catch anything you might have missed.
3. Update your resume and CV regularly
Set aside time on a regular basis to update these important documents.
Otherwise, you might catch yourself looking for a job and finding it impossible to remember the exact dates of your last few positions or your most recent publications.
My recommendation is to update your resume or CV on a quarterly basis.
Open up the file on your computer and look through your most recent data.
If nothing has changed, you're good to go.
If you have any new information, add it to the section(s) where it belongs.
Tips to Write a CV
Below are some tips for writing a top-notch CV.
Create a comprehensive list of your professional and educational history.
Place it into the categories listed in the above section, "What to Include on a CV."
Organize your CV in chronological order.
Update your CV each time you receive an award or have an article or book published.
Other than these updates, most sources recommend that you do not need to change your CV for each position.
However, you might need to choose a different format depending on the type of position you are seeking.
For example, the sections you would add for a fellowship application would be different than if you are applying for an academic job position.
Tips to Write a Resume
Below are some tips for writing a top-notch resume.
1. Tailor your resume to the position
Now, in order to keep your resume as "short and sweet" as a recruiter expects, you usually can't list every single job you held or all the experience you have.
It simply wouldn't fit!
This is why it is important that you tailor your resume to the job application.
As a general rule of thumb, work experience that dates back more than 10 or 15 years should be entirely removed from your resume.
2. Make your resume ATS-friendly
Many companies use an applicant tracking system (ATS) to scan resumes.
This is before a recruiter or hiring manager even takes a look.
If you want your resume to pass ATS scans, use enough relevant keywords and ensure that your resume formatting is ATS compatible.
Sample CV
Take a look at an example curriculum vitae for a clinical leader courtesy of Find My Profession. Download the CV to see all four pages.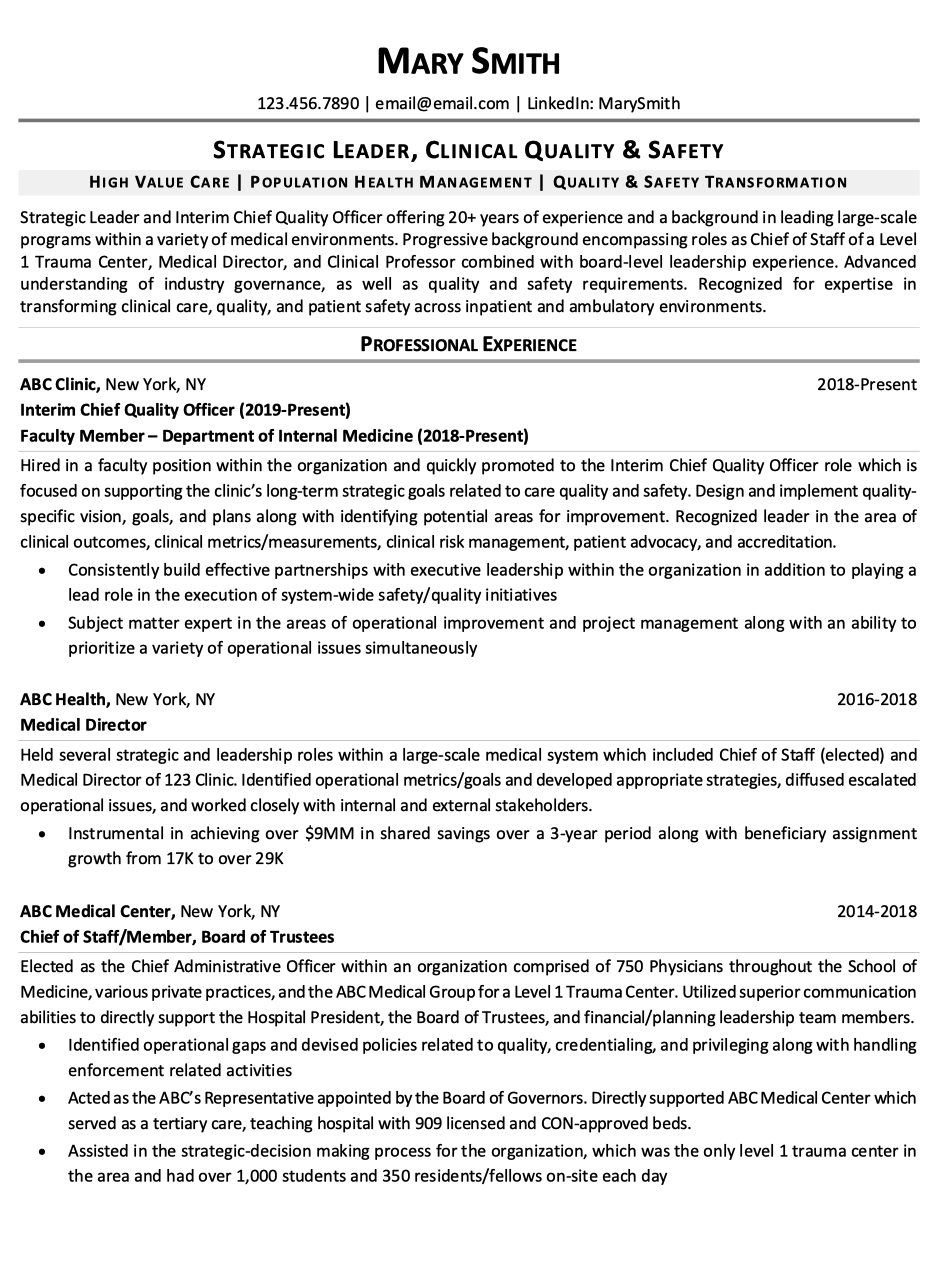 Sample Resume
Take a look at an example Chief Executive Officer resume courtesy of Find My Profession. Download the resume to see both pages.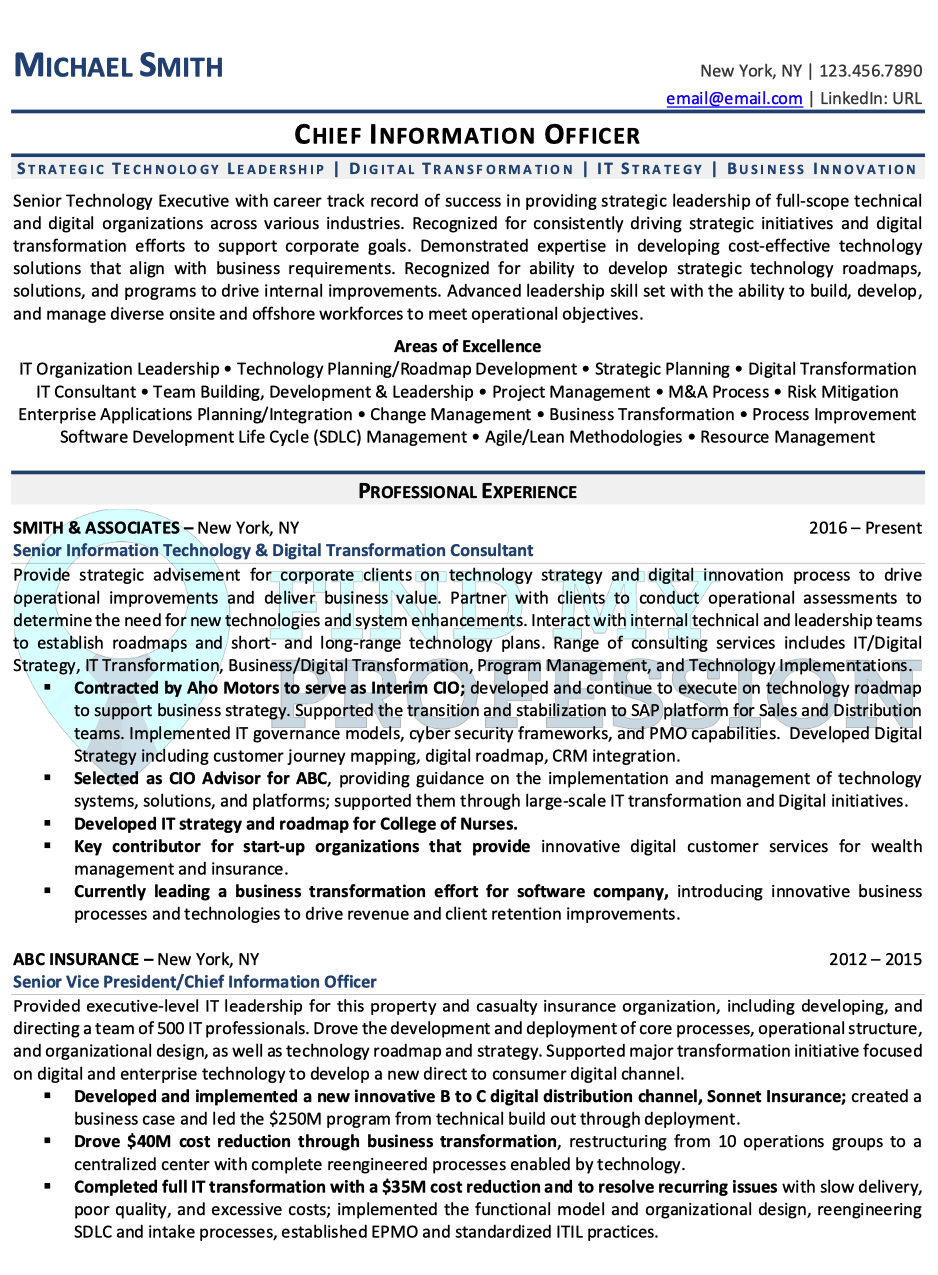 Closing Thoughts
So, how is a CV different from a resume?
In many ways!
Now you know it is not a case of "CV versus resume" but more a matter of which one you should use, and when.
When applying for a job in the United States, submit a resume that is concise and tailored to the position.
If looking for an academic position, submit a comprehensive curriculum vitae detailing your education, publications, and professional history.
If applying for a position in Europe or New Zealand, submit a CV that follows the format of the resume you would use in the United States.
When applying for a job in Australia or South America, submit a resume (which might be referred to interchangeably as "resume" or "cv").
If you're still having difficulty in the question of curriculum vitae versus resume, or if you have any resume/CV questions please feel free to contact us.
Here at Find My Profession, we offer professional resume and CV writing services that are ATS compatible and come with a 60-day interview guarantee.
We would love to assist you in landing your dream job.