There are seven different types of resume formats you can use when creating your resume.
Different formats work better for different situations, depending on your experience and career goals.
In this article, you will learn about these various resume layouts and see which will work best for you.
You need a professional resume format that will show off your best assets (and downplay the rest).
Different Types of Resumes
The seven different types of resumes that we will discuss in this article include:
Chronological Resume
Functional Resume
Combination Resume
Infographic Resume
Mini Resume
Profile Resume
Tailored Resume
Read on for a summary of each type of resume along with samples or click on a shortcut above.
1. Chronological Resume
A chronological, or reverse chronological, resume lists your work history starting with the most recent experience first.
This is the most common resume format. When you think of a basic resume, this is it.
Recruiters and employers like to see a chronological resume because it clearly lays out a thorough description of your work history. It is also easy to find information since this is the layout decision-makers see most often.
A chronological resume works best for:
Professionals with a solid work history related to the job being applied for
Job seekers without employment gaps
Chronological resume sample: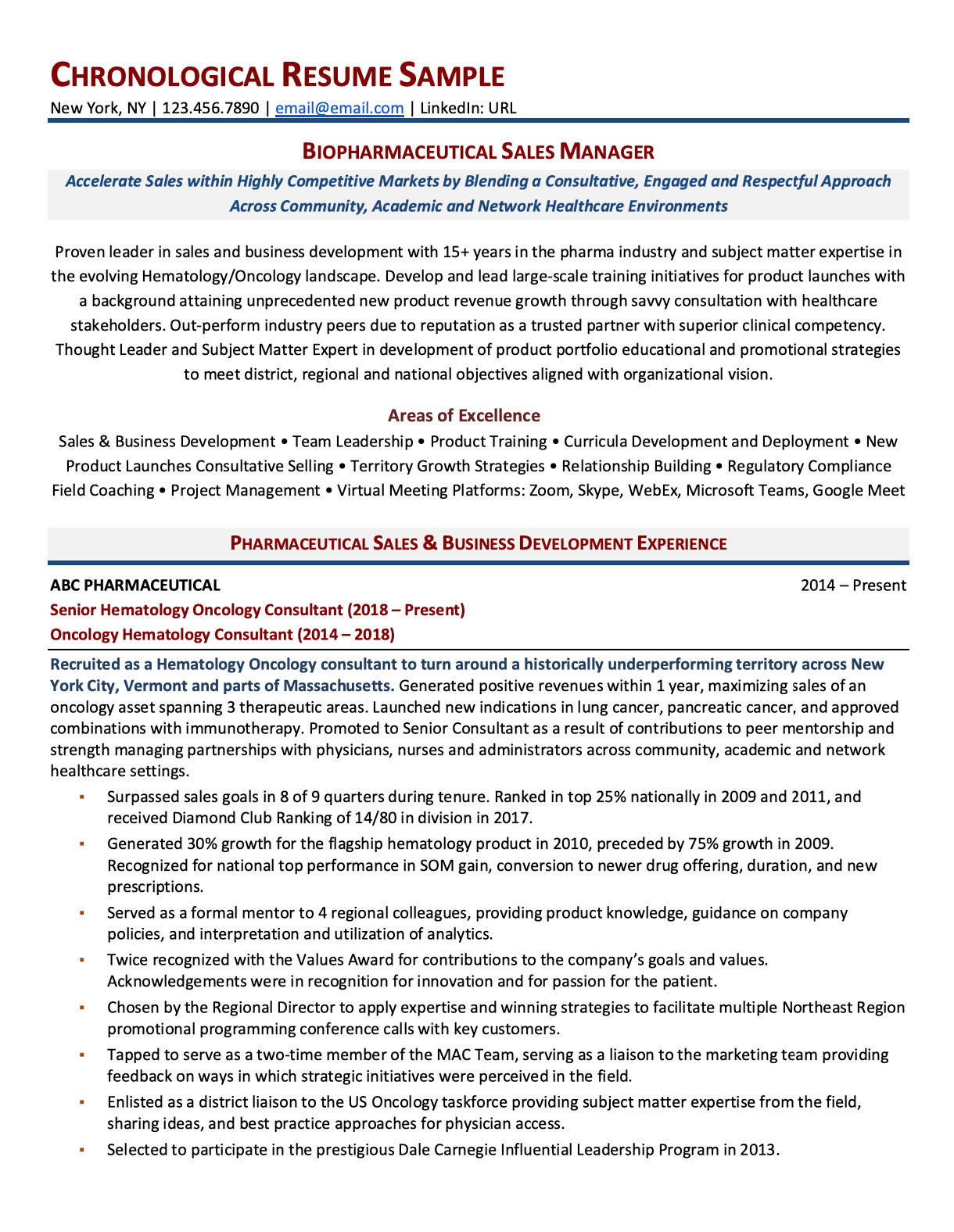 Click on the sample above to see the full resume.
2. Functional Resume
The functional, or skills-based, resume focuses on your skills and experience more than your job history.
Instead of having a detailed "work history" section, you will include expanded sections on your resume that list your skills and relevant achievements.
You can also add a summary and headline at the top of your resume that highlights your skills and achievements.
Instead of focusing on your employment history (that may be lacking), you are highlighting the skills you have that align with the job you are applying for.
A functional resume works best for:
Job candidates with gaps in their employment history
Professionals changing careers
This format is losing some popularity as it is not ideal for applicant tracking systems.
Functional resume example: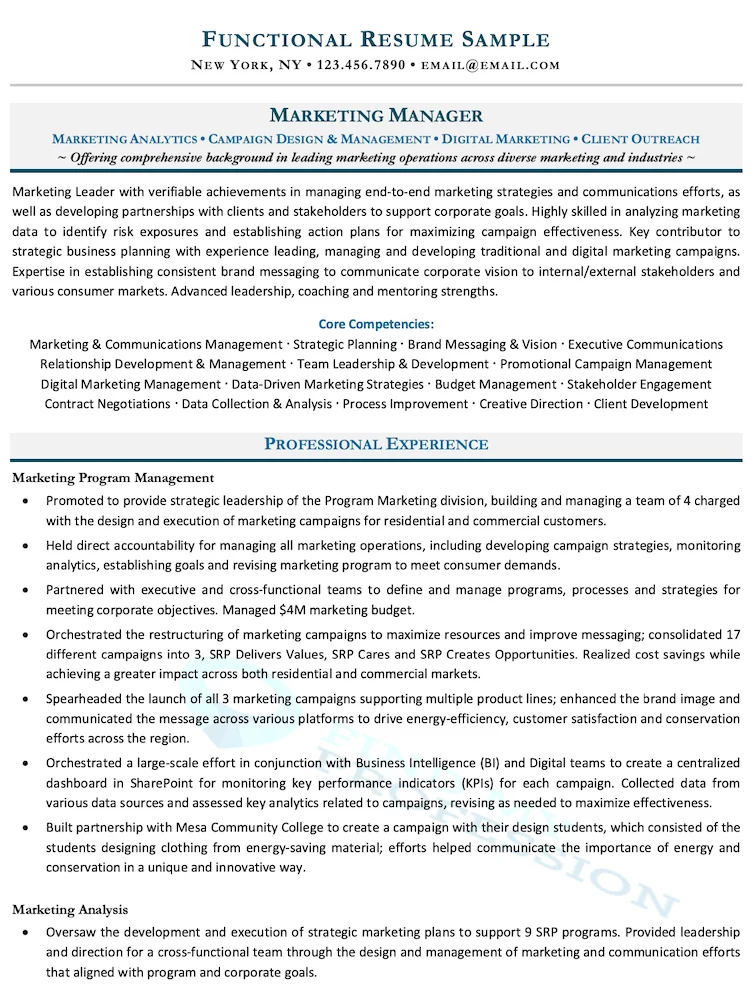 Click on the sample above to see the full resume.
3. Combination Resume
As the name suggests, a combination, or hybrid, resume combines chronological and functional resume formats.
The top of the resume includes your skills and qualifications relevant to the job you are applying for. Below that is your chronological work history.
Your work history is not the main focus so it doesn't take up a lot of space.
This format offers the best of both worlds. You can accentuate your skills and show off your related work history.
A combination resume works best for:
Professionals with relevant skills and experience and employment gaps
Professionals changing careers
Combination resume sample: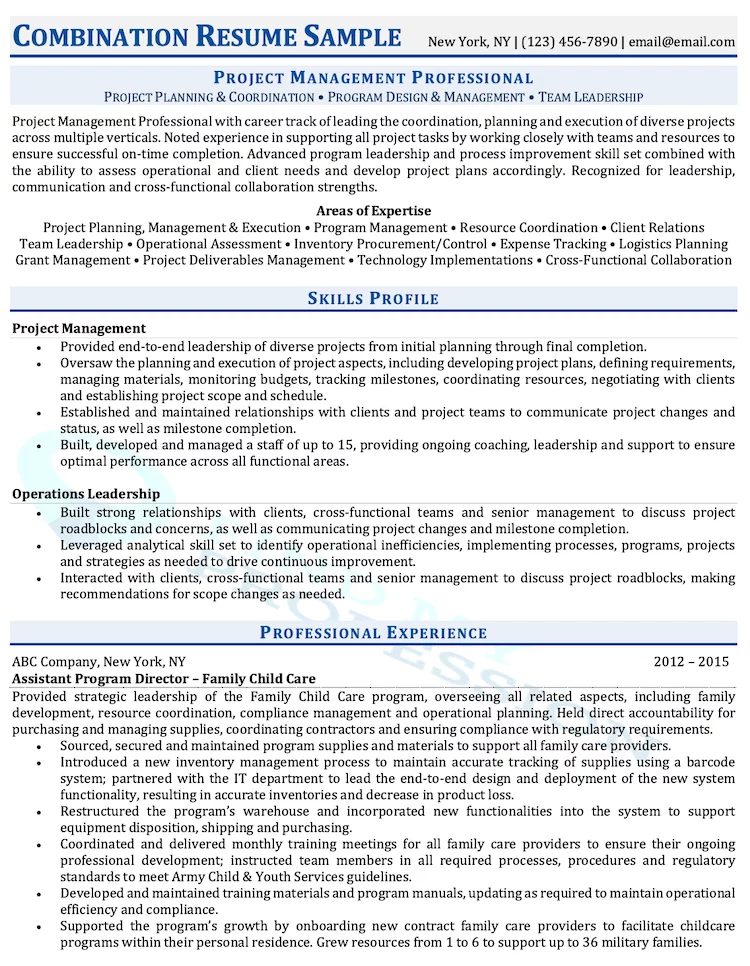 Click on the sample above to see the full resume.
4. Infographic Resume
An infographic, or networking, resumes are resumes with graphic design elements instead of just text. It uses various design elements with a focus on the aesthetics of the resume.
These resumes achieved higher popularity several years ago when infographics first came out, but since then have seen a decrease in usage.
If you are skilled with graphics and competing for a role that will use these skills, this may not be a bad choice for your resume format.
Infographic resumes use layout, color, design, formatting, icons, charts, and font styling to present your information.
An infographic resume works best for:
Design-related professionals
Networking and emailing directly to decision-makers
The biggest con for infographic resumes is that many ATS cannot properly read the content on your resume accurately, rendering them virtually useless for screening purposes.
Infographic Resume sample by Venngage: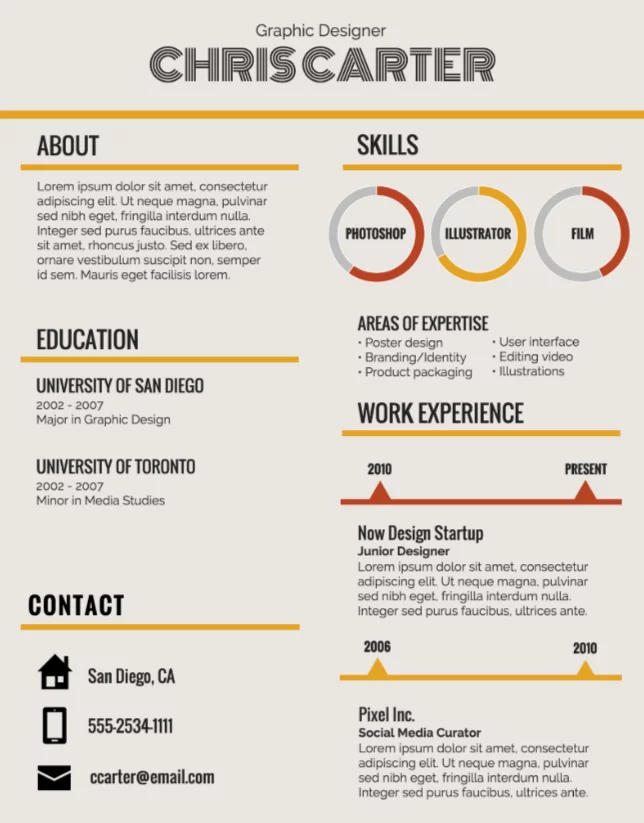 5. Mini Resume
A mini resume is a brief summary of your career highlights and qualifications.
It only contains the information most specific to the job and industry.
They are straightforward networking tools that easily answer the question, "So what type of work are you looking for?"
Mini resumes have been known to fit on a business card or postcard. They are easier to read than a full-length resume and provide more information than a business card.
A mini resume works best for:
In-person networking events
Mini resume sample by The Balance Careers: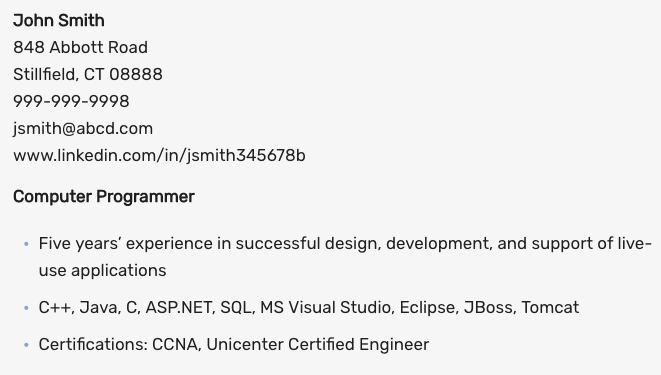 6. Profile Resume
A profile resume describes a resume that uses a resume profile, more commonly known as a resume summary or professional summary, instead of an objective statement.
A resume profile is a professional summary of your skills, experiences, and goals related to a specific job at the top of your resume. The summary includes a couple of skill and accomplishment-packed sentences with a sales pitch.
The term profile resume isn't really used anymore as objectives have gone by the wayside and including a professional summary on your resume is common practice.
Resume profiles are helpful for most job applicants and can be included in any resume layout.
A resume with a profile or summary works best for:
Professionals with extensive experience to sum up your experience to the hiring manager quickly
Professionals with limited work experience to help you highlight relevant skills for the position
7. Tailored Resume
A tailored, or targeted, resume is customized to specifically highlight your experience and skills related to the job for which you are applying. It also uses keywords from the job posting throughout the resume.
Any of the other resume formats can, and should be, tailored to the job you are applying for.
This resume format says, "This is exactly what I can do for you," instead of, "Look at all the stuff I have ever done."
Tailored resumes are becoming more popular with the increase in the number of resumes companies receive.
Because of the increasing numbers of resumes companies receive, more and more are relying on an ATS, which searches your resume for keywords.
When your resume gets to a human, they only want to see the information relevant to the role they are filling so they can make a quick decision.
While it takes more time and effort to write a tailored resume than a generic resume, it's definitely worth the effort.
A tailored resume works best for:
Eliminating information that only somewhat applies to the job you want
Being honest with yourself about the job you should be applying for
Getting practice in presenting yourself to employers and recruiters
Applicant Tracking Systems (ATS)
Key Takeaways
There are several formats you can use for your resume.
Choose the best one for your background and career goals:
A chronological (or reverse chronological) resume focuses on your work history.
A functional (or skills-based) resume focuses on your skills.
A combination (or hybrid) resume combines your skills and work history.
An infographic (or networking) resume is great for in-person or digital networking.
A mini resume fits your key information on a business card-sized document.
A profile resume includes a resume summary (or professional summary).
A tailored (or targeted) resume is customized to a specific job.
Were you able to find the best resume format for your situation?
If not, we provide more details about selecting the best resume for you here. If you'd rather have a professional take care of it for you, we'd be happy to help! Contact us to see what we can do for you!