You've been self-employed, freelancing, or consulting and it's time to update your resume.
This update could be for a corporate role or to find more freelance or contract work.
You've probably held various roles at the same time or worked on a project basis. Your background looks much different than someone with cut and dry duties that can be divided among different employers.
How do you put your self-employment experience on a resume?
This is a great question that needs to be answered.
Here we will outline how to list self-employment and freelancing experience on your resume.
If you are starting your resume from scratch, check out how to write a resume.
Note: While there are differences between self-employed, freelance, independent contractor, and consulting professionals, we will use the terms interchangeably here.
Resume Summary for Freelancers
The resume summary is the first thing on your resume after your contact information and title.
Your professional summary will decide whether the hiring manager will keep reading or not.
This section of your resume as a self-employed professional or a freelancer is not really different from a 9-5 professional.
You should write it the same as anyone else.
Craft a high-level summary of your career consisting of your most prominent contracts, projects, accomplishments, and skills that are related to the role the resume is for.
Here is a sample of a freelancer's resume summary targeting a corporate role:

This freelancer is targeting additional project work:

Be sure your title states the role you are applying for like Senior Project Manager and Freelance Data Scientist above.
If you have a website or digital portfolio that showcases your work like GitHub above, add the link to your contact information.
(Find out more about writing your resume summary here.)
Resume Skills for Freelance Work
It's easy to get carried away while listing your skills on your resume as a freelancer or a self-employed professional.
You have probably been involved in a variety of projects and have performed a wide variety of duties while running your business. Listing all those skills would turn your resume into a 20-page spreadsheet!
Pick 10 to 15 of the most relevant and impressive skills for the job you are applying for.
You should always customize your resume for each individual job you apply to. This means that the skill section should be tailored to each job accordingly.
Here's an example of the skills section from a freelance project manager resume:

(Need some inspiration for skills to add to your resume? Check out communications skills, leadership skills, and hard and soft skills for your resume.)
Experience Section of a Freelance Resume
This is the section of your freelance resume that will be a bit different from other "corporate" resumes.
You have several options for listing your experience on your resume depending on your career goals and the type of freelance work you have done.
If your resume is targeting a contract or freelance role, you'll want to highlight your freelance work.
You can combine all of your work into one entry and highlight key projects.
Here is an example of summarizing freelance work and calling attention to it:

You can also use the words "Freelance Experience" or "Independent Contractor Experience" as a section header and include your projects separately.
This sample lists individual contractor projects above corporate experience.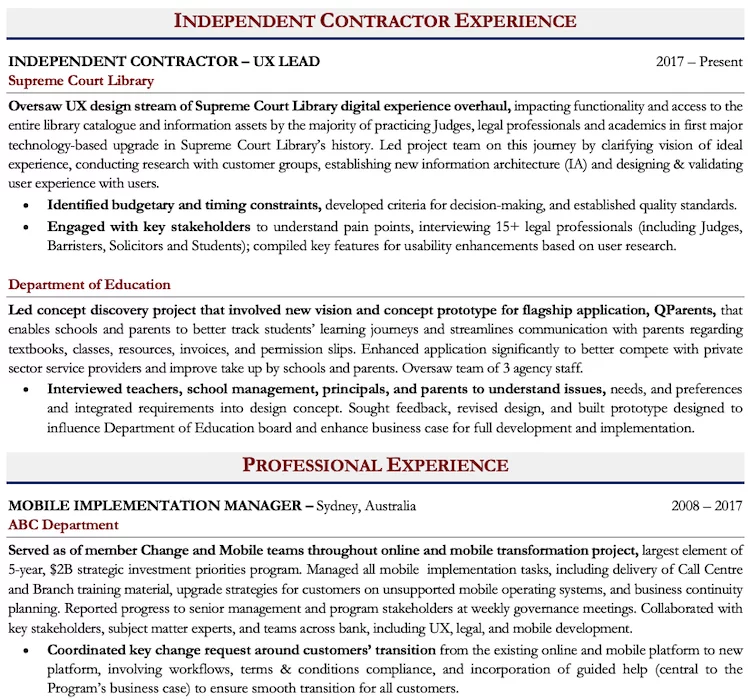 If you are targeting a corporate role, you can tone down your freelance work and highlight your transferable skills.
You can list your freelance work just as you would for any other job. The only difference would be that you might add the word "contract" or "freelance" at the end of the job title.
You can combine your corporate and freelance experience like this sample: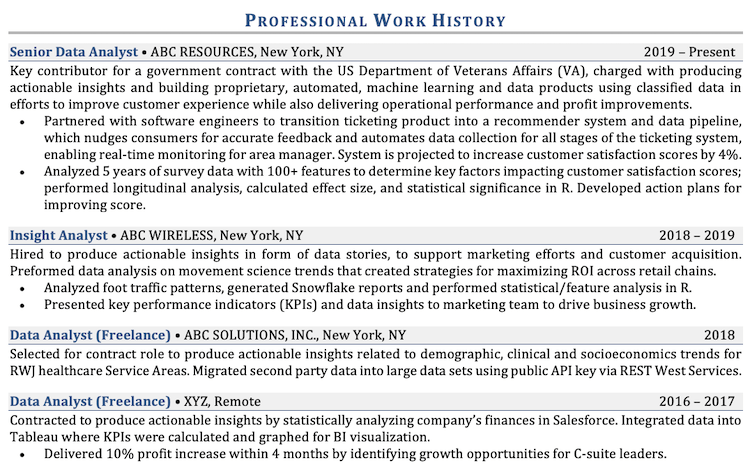 If you are entering the corporate world after owning your own business, your experience section would be formatted like most resumes.
This sample includes self-employment experience for a business owner: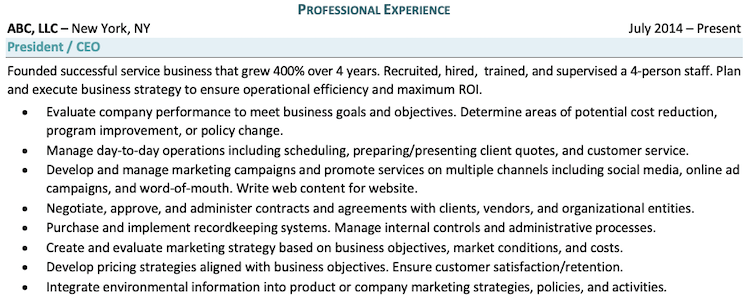 More tips for your experience section:
No matter which format you go with, add your duties, responsibilities, accomplishments, and the skills you used that are relevant to your desired role.
Separate your accomplishments from your job duties with bullet points.
Quantify your successes with the use of numbers. Make digits, %, and $ your best friends while writing this section.
Always use a recognizable job title. Using "Self-Employed" as your title may not get your resume past Applicant Tracking Systems. Also, hiring managers want to know what you do at a glance.
Additional Resume Sections
As a consultant or freelance professional, it's natural that you have worked on many projects and listing them all would not be practical.
You should keep in mind that your resume should be a 1-2 page document.
Go back to the job description and list only the projects that add value and show that you are a viable candidate for the job.
Under an additional section on your resume, you can combine your experiences to save space.
Here's an example of including additional experience in a condensed section:

Continue quantifying your achievements while describing your projects.
You should also include the names of your clients, especially if they are big names or likely to be familiar to your prospective employers.
Cover Letters for Freelance Professionals
There's no confusion about whether you should send a cover letter or not.
Cover letters are essential, unless specifically asked to not include one with your resume of course.
They are especially useful to explain things that are not on your resume.
This is your opportunity to mention your switch to the corporate world if needed. You can highlight your transferable skills (work with cross-functional teams and resources, etc.).
If you are seeking freelance employment, highlight why you are the perfect person for the job and your freelance skills (work autonomously, time management, etc.).
(Find more tips on how to write an amazing cover letter.)
Resume Samples for Freelance Work
We have addressed how to write a freelancer and self-employed resume.
Now, it's time to see how it all comes together.
Take a look at a few freelancer resume samples. Click image to see full resume sample.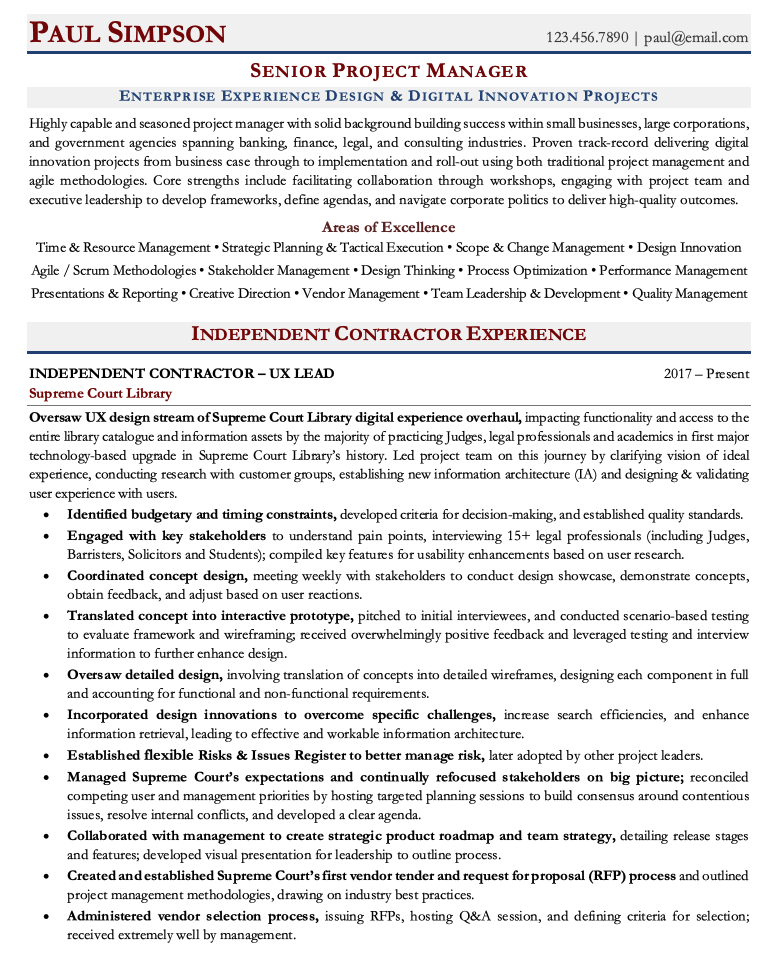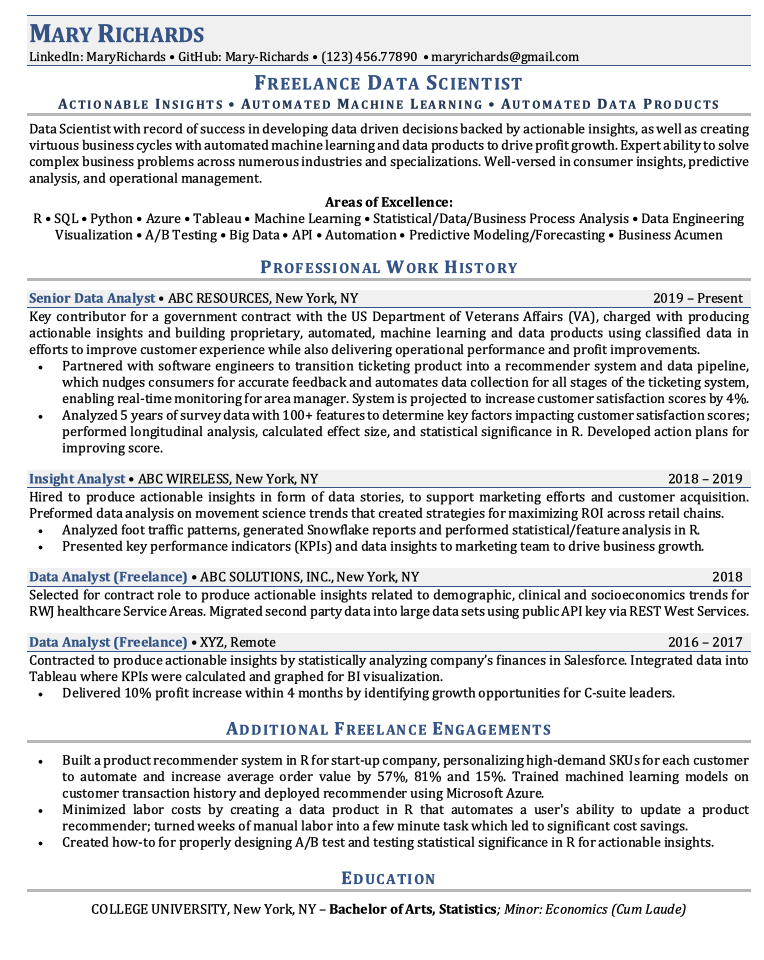 Key Takeaways
Being a freelancer, consultant, contractor, or self-employed professional doesn't mean you have to reinvent the wheel for your resume.
Decide the best way to organize your experience based on your background and job target.
Leverage all of your projects and your contracts to the fullest extent, just like you would a corporate role.
Showcase your most relevant accomplishments and skills in the resume summary, skills and experience sections of your resume.
Once you show your value on your resume in line with what the job requires, no hiring manager can deny you an interview.
If you need assistance with your self-employed resume, we are happy to help. Check out our professional resume writing services and call us with any questions!