Seattle is a booming town with plenty of job opportunities.
With so much competition, it can be difficult to land your dream job on your own.
Hiring a professional to help with this process can significantly improve your marketability.
That's where Seattle career coaches come in.
A career coach is a lot more than a friend to hold your hand throughout a job search.
Career coaches typically come from years of recruiting or HR experience. This experience can make them extremely valuable resources for navigating a job search.
Rather than searching through hundreds of career coaching services, we've done the work for you. Below, we've compiled a shortlist of the very best career coaches in Seattle.
Seattle Career Coach Criteria
Each of the Seattle career coaching services below was reviewed taking into consideration the following:
Cost: Price of the service compared to other Seattle career coaches.
Credentials: Overall experience, awards, and certifications.
Process: Effectiveness of the process from start to finish.
Customer Service: Guarantees, refund policies, and client reviews.
This list was hand-curated to serve all industries, professions, and career levels. While many of the services on this list are from Seattle, these career coaches are virtually available whether you are in Seattle, Bellevue, Kirkland, Redmond, Renton, or Tacoma.
Best Career Coaching Services in Seattle
1. Find My Profession
Find My Profession is a leading career coaching service focused on providing actionable job search strategies that convert into offers.
Our elite career coaching services are designed to teach you advanced job search strategies. Whether you need help finding the right jobs, networking with key decision-makers, or interviewing like a pro, we've got your back.
We have successfully landed our clients positions at companies like Apple, Amazon, EA, Oracle, GM, Facebook, DoJ, Morgan Stanley, Gap, and 2U just to name a few.
Find My Profession has 650+ 5-star reviews and offers a satisfaction guarantee. Every career coaching service offered is customized to meet your specific needs.
Pros: Each career coaching session provides a clear takeaway that brings you one step closer to landing your dream job. You will learn what it takes to job search in the most strategic way possible. Our goal is to cut your job search time in half by teaching you to search smarter, not harder.
Cons: Find My Profession is a virtual/online company. While we provide services across the globe, we likely will not have a physical office in your city to meet in person.
Reviews: 5/5 based on 124 Google reviews, 5/5 based on 8 BBB reviews, 5/5 based on 35 Facebook reviews, 4.9/5 based on 304 Trustpilot reviews, 4.7/5 based on 255 Sitejabber reviews
Cost: $175 – $199 per hour
Contact: (831) 888-0967 or help@findmyprofession.com
Check out some of our 5-star reviews.
2. Lisa K. Bradley
Lisa K. Bradley has been coaching since 2002 and it's safe to say that she absolutely loves what she does. In addition to career coaching, Lisa K. Bradley also conducts events and workshops for any interested companies and professionals. Lisa's blog is regularly updated and there are plenty of tips and information that clients will find of use. Interestingly, Lisa makes greeting cards and gifts in addition to her executive career coaching service. Talk about a fun side hustle!
Pros: Lisa K. Bradley has a 100% money-back guarantee. If you are not happy with her career counseling services within the first 30 days, you'll receive all of your money back! She also has stellar reviews for her services.
Cons: Lisa K. Bradley's pricing is on the higher end for a single session, but the program pricing may be less expensive. You will need to inquire about pricing.
Reviews: 5/5 based on 4 Google reviews. 5/5 based on 2 Facebook reviews
Cost: $395 for a single 90-minute session, programs available
Contact: (206) 937-1037 or lisa@lisakbradley.com
3. Close Cohen Career Consulting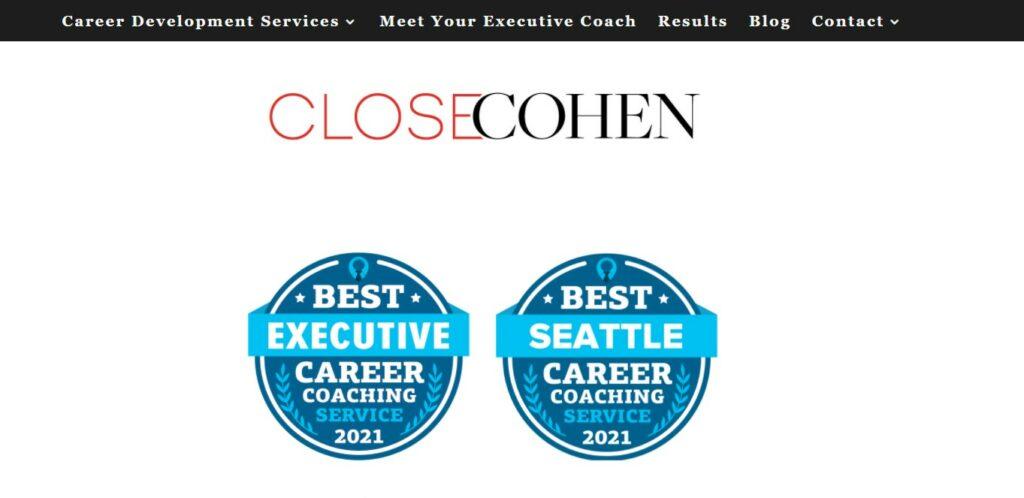 Close Cohen Career Consulting is run by Laura Close and Alisa Cohen. It was founded by Laura Close in 2010. Laura started her career in politics by advocating for progressive politicians and working with unions around the country to help out civilians. She then applied her political learnings to coaching and quickly became a success. Alisa brings 20+ years of corporate leadership experience, including roles at Amazon and Starbucks.
Pros: Close Cohen Career Consulting offers senior-level interview and executive coaching options. Job search strategy coaching is offered to executive coaching clients. Laura and Alisa work with clients from global powerhouses such as Amazon, Microsoft, and Facebook.
Cons: The service doesn't have a phone number listed anywhere on the website. That could make getting in contact with her rather difficult as you will have to wait for her to reach out to you. You will need to contact the service for pricing.
Reviews: 5/5 based on 26 Google reviews, 5/5 based on 6 Facebook reviews, 4.5/5 based on 11 Yelp reviews
Cost: Not found
Contact: alisa@closecohen.com
Visit Close Cohen Career Consulting
4. Marcy Porus-Gottlieb Consulting
Marcy Porus-Gottlieb Consulting is a boutique professional career coaching service. With over 25 years of experience as a manager, consultant, and executive leader, Marcy can handle any task you give her. She customizes every single program for every single client in order to ensure that you have a wonderful experience working with her. Marcy is a fantastic job coach that can help you level up in your career.
Pros: Marcy Porus-Gottlieb Consulting will work with you hand-in-hand to figure out the best professional fit for you. Marcy has an MBA, meaning she can understand any business problems that you are experiencing at a high level. Marcy Porus-Gottlieb only focuses on executives, which is a great benefit for high earners who only have time to work with the best of the best.
Cons: Marcy Porus-Gottlieb Consulting is a one-woman career coaching service. Naturally, there is only so much she can do in one day. You may want to use a service that has multiple career coaches and employees if you're looking for a higher volume service.
Reviews: 5/5 based on 1 Google review
Cost: Not found
Contact: (206) 291-8491 or marcy@marcypgconsulting.com
Visit Marcy Porus-Gottlieb Consulting
5. Coach Seattle
Coach Seattle is a woman-owned and operated service that focuses on coaching businesses and executives. Hsuan-hua Chang founded Coach Seattle back in 2004 and has been assisting executives ever since. Coach Seattle also offers Emergenetics Assessment and an EQ Assessment which could be useful career assessments.
Pros: Coach Seattle has three different coaches that all have strengths that can bolster your career. Their professional career coaching services are revered by many leaders in Seattle. They also do not make you sign a long term contract with them.
Cons: Coach Seattle only has 11 online reviews. Keep in mind though that since they have three different job coaches, you may receive a different experience than another customer.
Reviews: 5/5 based on 4 Yelp reviews, 5/5 based on 4 Google reviews
Cost: $70 per 30-minute session to $120 per 1-hour session
Contact: (425) 753-7271 or hh@coachseattle.com

Bonus: Top Seattle Career Coaching Winners (2021)
Find My Profession, Lisa K. Bradley, Close Cohen Career Consulting, Marcy Porus-Gottlieb Consulting, Coach Seattle