The Philadelphia job market is strong.
However, that doesn't always mean getting the job you want is any easier here.
But it can be made easy with the help of an expert career coach.
Over the years, experienced coaches and counselors have seen it all. They have solved as many career-related issues as you can imagine.
They can help you with things from the job search to moving up the corporate ladder.
To speed up the process of you having a job that you love, we have created this list of the best career coaching services in Philadelphia.
We're here to help. After all, Philly is The City of Brotherly Love!
Philadelphia Career Coach Criteria
Each of the Philadelphia career coaching services below was reviewed taking into consideration the following:
Cost: Price of the service compared to other Philadelphia career coaches.
Credentials: Overall experience, awards, and certifications.
Process: Effectiveness of the process from start to finish.
Customer Service: Guarantees, refund policies, and client reviews.
This list was hand-curated to serve all industries, professions, and career levels. While many of the services on this list are from Philadelphia, these career coaches are virtually available whether you are in Philadelphia, Allentown, Reading, Scranton, Lancaster, York, Harrisburg, or any other Pennsylvania city.
Best Career Coaching Services in Philadelphia
Find My Profession offers a one-of-a-kind experience that goes far beyond any other Philadelphia career coaching service on this list.
While traditional career coaches will teach you how to find a job, Find My Profession's Career Finder service will do the work for you.
This white-glove service will search for jobs on your behalf, apply for you with a customized resume to fit the application, and network with key decision-makers to secure interviews.
The only thing they won't do is show up to the interview for you. But don't worry, this service includes interview preparation to make sure you'll crush any interviews they land you.
Pros: You can save hundreds of hours searching for jobs, filling out applications, customizing your resume, and networking. Finally, you can pay someone to find you a job. Your dedicated Reverse Recruiter will create a personalized strategy to manage all aspects of your job search. Each Reverse Recruiter only works with four clients at a time, providing you with personalized attention and care.
Cons: If you're looking for a traditional career coach to help you change career paths, this service may not be a good fit. The Career Finder service is for professionals who know what kind of job they want but don't have the time or energy to find it on their own. There is also usually a waitlist of about one month.
Reviews: 5/5 based on 124 Google reviews, 5/5 based on 8 BBB reviews, 5/5 based on 35 Facebook reviews, 4.9/5 based on 304 Trustpilot reviews, 4.7/5 based on 255 Sitejabber reviews
Cost: $2,500 per 4-week period
Contact: (831) 888-0967 or help@findmyprofession.com
Check out some of our 5-star reviews:
Visit Find My Profession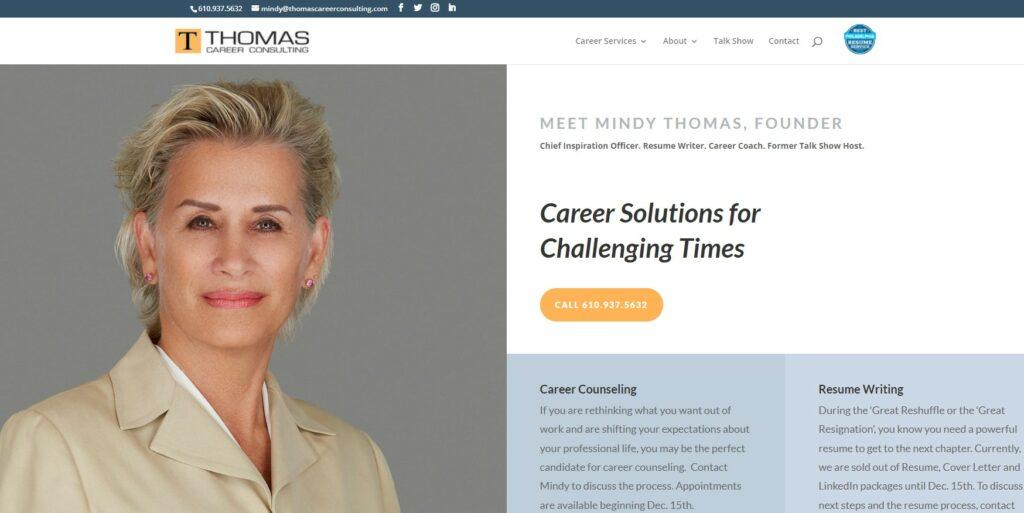 Thomas Career Consulting is owned and operated by Mindy Thomas. Mindy is a Masters-Level Career Counselor and a Certified Professional Resume Writer (CPRW). She has been coaching professionals for over 20 years. She also has a background in teaching and recruitment. The company is based in Philadelphia.
Pros: Mindy specializes in coaching mid-to-senior level leaders within legal, finance, engineering, IT, and sales management sectors. However, she is equally popular among entry-level job seekers. In-person appointments are available.
Cons: The coaching services are not backed by any guarantees. Also, you will not have the option to choose your coach as Mindy is a one-woman coaching team.
Reviews: 5/5 based on 3 Yelp reviews, 4.9/5 based on 99 Google reviews
Cost: $295 per hour
Contact: (610) 937-5632 or mindy@thomascareerconsulting.com
Visit Thomas Career Consulting
Nekeidra Filinov assists her clients "in meeting small goals that lead to big success." Nekeidra is a certified career coach with over 10 years of experience in human resources. She promises to provide holistic, collaborative, and results-oriented coaching programs.
Pros: Nekeidra Filinov specializes in hidden job market coaching services. She is also a Hidden Job Market Certified Coach. You will get a personalized coaching plan based on your unique needs.
Cons: The website lacks details about the coaching delivery process. Also, it's not mentioned whether in-person sessions are available in Philadelphia or not.
Reviews: 5/5 based on 1 yelp review, 5/5 based on 20 Thumbtack reviews, 5/5 based on 4 Google reviews
Cost: $225 – $1125 per package
Contact: nekeidra@nfilinov.com
Creative Vision Coaching is run by Seth Kaufman. Seth is a Certified Career Coach in Philadelphia. He is committed to the belief that you can achieve whatever you want with your career. His coaching programs are backed by his 25 years of professional experience.
Pros: Whether you want to change your career or want to advance to leadership positions, Creative Vision Coaching has options available for you. You can also meet your coach in-person at their Center City Philadelphia office.
Cons: There are no coaching packages to buy from the site. You'll need to contact the service to learn more about their pricing and timeframes.
Reviews: 4.6/5 based on 21 Google reviews, 5/5 based on 8 Yelp reviews
Cost: Not found
Contact: (215) 893-9484
The Crossroads Coach offers unique types of coaching programs to help you find a career that you love. The Crossroads Coach is run by multi-certified and passionate career coach Marnie Rosenberg. Their approach to coaching consists of five core elements including energy redirection and falling your fears.
Pros: Marnie is trained in the Core Energy Coaching Process at the Institute for Professional Excellence in Coaching (IPEC). She also graduated as a Certified Professional Coach (CPC).
Cons: The company is all about career evolution and professional transformational coaching. So, if you are looking for traditional job search coaching, you may have to look to other coaches on our list.
Reviews: 5/5 based on 17 Yelp reviews, 5/5 based on 1 Facebook review
Cost: $105 – $4785 per program
Contact: (215) 839-9543 or marnie@thecrossroadscoach.com
Crawford Leadership Strategies loves to grow leaders. So far, they have coached and developed 4500 leaders. The company is run by Joyel Crawford. Joyel has over 20 years of experience in corporate HR roles at a Fortune 50 company. She is a television host and author of career-related topics.
Pros: Joyel is a Certified Professional Career Coach (CPCC). She is also a member of the Forbes Coaches Council and Expert Career Coach at The Muse.
Cons: While reviewing their services we found that all the coaching packages were fully booked. It seems that the availability of sessions can be a frequent issue.
Reviews: 5/5 based on 16 Google reviews, 5/5 based on 6 Yelp reviews
Cost: $399 – $599
Contact: (267) 908-6398 or info@clsnext.com
Visit Crawford Leadership Strategies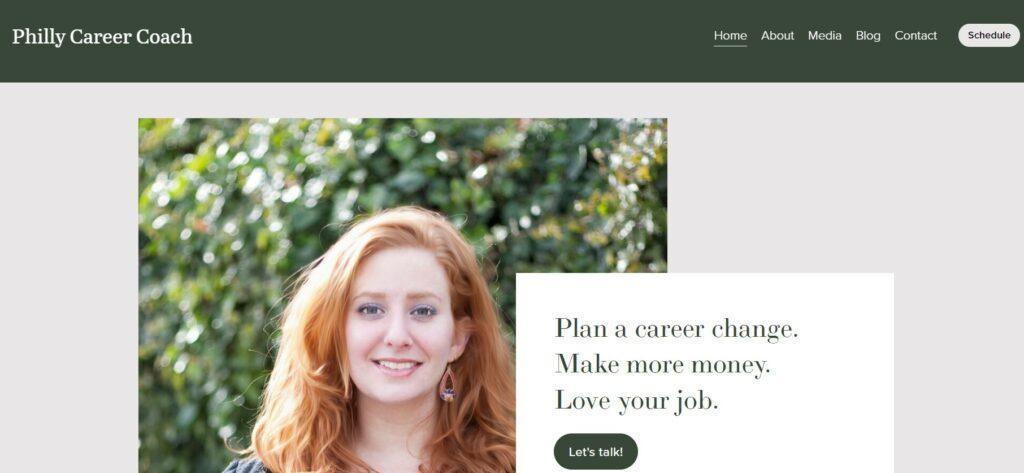 Rita Friedman enjoys helping clients achieve their individual definition of success. She also offers workshops for organizations to develop their talent. She is a multi-certified career coach. Her certifications include Certified Job and Career Transition Coach and Certified Myers-Briggs Type Indicator (MBTI) Practitioner.
Pros: Rita Friedman has a background in recruiting, human resources, and staff development. She has been recognized snd featured as a career expert by various organizations.
Cons: There are no guarantees mentioned on the website. Also, the online reviews are not as impressive as some other coaches on our list.
Reviews: 4.3/5 based on 6 Google reviews, 4.5/5 based on 7 Yelp reviews, 3/5 based on 2 Facebook reviews
Cost: $140 – $175 per hour
Contact: ​rita@phillycareercoach.com
The Right Fit Career Coaching is a specialized coaching service for teachers who want to change their career. The founder of the company, Laura Hoyer, herself was a teacher who transitioned successfully into corporate roles. Her coaching programs are powered by her own experience of navigating change in her life.
Pros: The Right Fit Career Coaching offers a free 30-minute initial consultation to new clients. You can use this as an opportunity to figure out whether this service is truly a right fit for you.
Cons: The coaching programs available on the website seem to consist of only recorded module courses. It's not clear whether one-on-one live coaching is available or not.
Reviews: 5/5 based on 10 Google reviews
Cost: $200 – $1500+
Contact: therightfitcareercoach@gmail.com
Visit The Right Fit Career Coaching

Bonus: Top Philadelphia Career Coaching Winners (2021)
Find My Profession, Thomas Career Consulting, Nekeidra Filinov, Creative Vision Coaching, The Crossroads Coach, Crawford Leadership Strategies, Rita Friedman, The Right Fit Career Coaching