Your resume is an important part of the job search. It could very well be the thing that sets you apart from your competition.
This also means that a subpar resume can set your job search back months.
Today we will be reviewing The Creative Advantage and their resume writing services.
We have taken a deep dive into the customer reviews, cost, resume samples, and writer credentials at The Creative Advantage. Our overall rating for The Creative Advantage is 60/100.
The Creative Advantage
Score
Our goal is to help you find the best resume service that will advance your career. Take a look at some other top-rated resume writing services and find the perfect fit for you!
Best
The Creative Advantage

Alternatives





About The Creative Advantage
Based in Bergen County, NJ, The Creative Advantage was established by Laura Slawson in 2009.
Laura is an award-winning and multi-certified resume writer. She is also a member of the Professional Association of Resume Writers/Career Coaches (PARW/CC) and the National Resume Writing Association (NRWA).
Laura has over 14 years of experience working with executives. Which is why she has a preference for writing resumes for "over 50 executives".
That said, she has the skills and experience to write resumes for professionals of all career levels.
She has written resumes for professionals who've landed jobs at Sony, Hertz, Panasonic, and many other top-tier companies.
The motto of her company, The Creative Advantage, is: "Improving Lives with Better Careers … One Resume at a Time!"
You might be wondering if The Creative Advantage can really improve your resume and career.
Let's find out.
Let's dive right into some of the pros and cons when it comes to working with The Creative Advantage.
The Creative Advantage Pros vs. Cons
As with any company, there are pros and cons. It's up to you to determine what is a "must-have" and what things you can live without.
Pros
2 resume writing certifications namely MRW and CPRW.

3-time winner of a U.S. Business News resume writing award.

Featured on popular media like CNBC and Resume Writers' Digest.

3 phone consultations to discuss your career with a resume writer.
Cons
Little to no online reviews from previous customers.

Pricey resume writing service starting from $899.

7 – 10 business day turnaround time is longer than average.

No interview guarantees on the resume writing service.
If you are looking for a resume writing service, The Creative Advantage is a great option, but it is worth exploring other alternatives to find the best fit for your needs.
One such alternative is Find My Profession who has also been recognized by reputable sources such as CNET, Forbes, and Inc., includes a phone consultation with your resume writer, and has a team of certified resume writers.
However, Find My Profession differs from The Creative Advantage in that they have an average rating of 4.9/5 from over 900 previous clients, resumes start at $395, and they offer a quick turnaround time and an interview guarantee.
The Creative Advantage Customer Reviews

Our Certified Professional Resume Writers have rated The Creative Advantage a 60/100. Additionally, The Creative Advantage has received customer reviews of 5/5 on Google, and an A+ rating on BBB. This would've been impressive if the sheer number of reviews was a whole lot more than one.
Google shows 1 review with an average rating of 5/5. It's disappointing that there's just 1 review despite the company's 13+ year work history. Moreover, the one review is from over 2 years ago.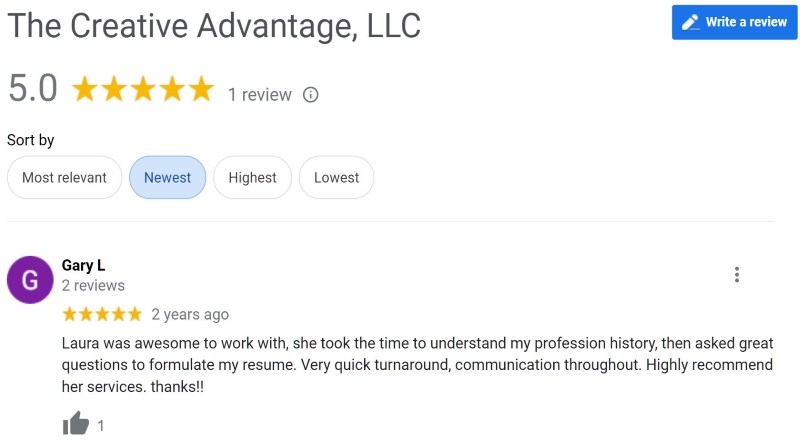 Better Business Bureau shows an A+ rating. The company's website recommends checking out their BBB reviews. But between the non-existent reviews, A+ rating, and zero complaints, there isn't really anything worth checking out.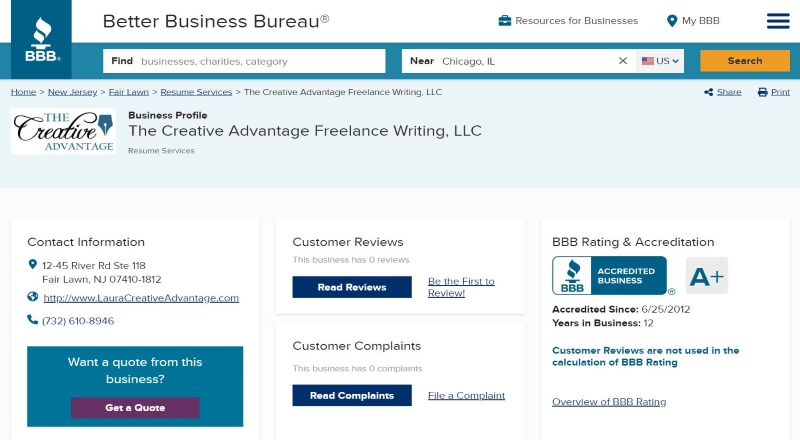 The Creative Advantage has been operating for over 13 years, so it's a bit disappointing that they have just 1 customer review online.
Their website features dozens of testimonials from satisfied clients. But, it's hard to testify to the authenticity of testimonials unverified on third-party review platforms.
In order to maintain the integrity of this review, we only feature reviews from third-party websites such as Google, Sitejabber, Trustpilot, Yelp, or BBB.
As with anything, it's important to take each review with a grain of salt. Additional research should be done beyond reading the reviews that are found online.
How Much Does The Creative Advantage Cost?

The Creative Advantage does not provide the cost of their resume packages on their website. That said, we have reason to believe that their resume writing service costs between $899 – $1,799+. Keep in mind that there's no way for you to know how much your resume will cost without having an initial consultation with Laura.
The Creative Advantage
Cost
$1,299
The Creative Advantage doesn't have any fixed-priced resume packages available for you to purchase on the website.
Your customized investment and turnaround time will be discussed during the consultation.
Each client has different needs, so prices vary according to the complexity of the resume, the level of position desired, and the years of work experience you have.
For the most accurate and up-to-date details on package pricing at The Creative Advantage, we recommend that you visit their website directly.
The Creative Advantage Resume Sample
We wanted to see what the resume quality of The Creative Advantage looked like so we tried to take a look at some of the resume samples featured on their website.
Unfortunately, The Creative Advantage does not feature any resume samples on their website for you to review.
We're not big fans of companies that don't display resume samples on their website for prospects to see. To us, it just seems like they're not transparent and confident in their work, which is a red flag.
The Creative Advantage Writer Credentials
Laura Slawson is the sole resume writer at The Creative Advantage. This is good news as you will always know who you are working with.
Laura is a multi-certified resume writer. Her resume writing-related certifications include Master Resume Writer (MRW), Certified Professional Resume Writer (CPRW), Credentialed Career Manager (CCM), and Certified Digital Career Strategist (CDCS).
Laura is also an award-winning resume writer. She's a three-time winner of the US Business News "Best Career Management Specialist & Excellence Award in Resume Writing". Her company, The Career Advantage was also ranked as one of the best older worker resume writing services.
Laura has 13+ years of experience working with executives. This is perhaps why she prefers to write resumes for executives, mid-career professionals, and job seekers who are over 50 years of age.
Despite this preference, Laura's resume writing and other career document writing services are available to professionals of all career levels.
Through The Creative Advantage, Laura has written resumes for clients who have landed jobs at some of the most prestigious companies. Her clients have been hired by Sony, Panasonic, Hertz, Nestle, Honeywell, Verizon, AT&T, and many others.
With all of these, it's no surprise that Laura's been featured on CNBC, Resume Writers' Digest, and The Creativity & Technology Solutions for Business & Life Radio Show.
Apart from career document writing, Laura has extensive experience as a technical writer, policy and procedure writer, and real estate copywriter.
The Creative Advantage Resume Writing Process
The Creative Advantage follows a straightforward and simple operating procedure for getting your resume written.
Let's look at the steps taken in The Creative Advantage's resume writing process below:
Schedule the initial consultation with Laura. This is the first of the three phone consultations you'll get throughout the process.
During the initial consultation, you'll submit your current resume (if you have one) for Laura to review and get up to speed with your career situation.
Laura will send you a proposal containing the custom quote and timeline, along with a short questionnaire for deeper insight into your career.
At this stage, there can be another consultation call to clarify and fine-tune things a bit more.
Laura will then get back to crafting your resume and send it to you for review within the stipulated time.
You will get the opportunity for yet another phone call. Here, you'll go over any issues or edits, and finalize your resume and other career documents.
The typical turnaround time for the whole process is 7 – 10 business days. If you want your resume completed faster, you can purchase the rush delivery service for an up-charge of $99.
Additionally, you can choose from a host of extra services to add to your resume writing package. They include Executive Bios, Resume Refresh and Refocus, and Resume & LinkedIn Profile Analysis.
Even after the process is complete, Laura will be available to you for any minor edits, free of charge. The website doesn't mention how long these edits are available.
Is The Creative Advantage Worth It?
Whether or not The Creative Advantage is worth it is entirely up to you.
Our goal is to provide you with the most transparent and helpful information possible. But, only you know what is best for you and your career.
Here is a summary of our findings on The Creative Advantage written and reviewed by a Certified Professional Resume Writer:
Customer Reviews: 15/25
Cost to Value: 20/25
Sample Quality: 0/25
Writer Credentials: 25/25
Total Score: 60/100
As a reminder, we highly recommend reviewing 2-3 services before making a final decision.
If you're in need of a top-notch resume writing service, we suggest checking out Find My Profession. With a team of experienced reverse recruiters and a commitment to customer satisfaction, Find My Profession can help you find your dream job. And with a perfect score of 100/100, you can trust that you'll be in good hands!