The motto of The Creative Advantage resume writing service is impressive:
"Improving Lives with Better Careers … One Resume at a Time!"
Now, you might be asking, "How much can The Creative Advantage improve my resume and work life?"
You have come to the right place!
In this article, you will find an in-depth review of The Creative Advantage resume writing services.
We will share pros, cons, writing process, writer background, and even our opinion on some great alternatives to consider.
The Creative Advantage – Resume Service Review
The Creative Advantage is run by Master Resume Writer Laura Slawson.
Laura is an award-winning and multi-certified resume writer. She is also vastly experienced in resume writing for all career levels.
Her company, The Creative Advantage, has been serving job seekers for over 13 years.
Let's find out the major pros and cons of working with Laura Slawson and The Creative Advantage.
Pros:
One obvious pro of The Creative Advantage is certainly the impressive track record of the company's resume writer, Laura Slawson. In addition to her years of experience, she has multiple resume writing certifications and awards.
She has also been featured in and contributed to reputed media outlets.
The Creative Advantage provides a very dynamic and involved resume writing process.
Laura is cordial and even promises to stay in touch after the resume writing process is completed.
You get an initial free consultation before you purchase any resume package.
Then, there's the opportunity to have two additional, separate consultations with Laura at different stages of the resume writing process.
In total, you get these three consultations: the discovery call, the revision call, and the wrap-up call.
Special arrangements and packages are available for executives, mid-career professionals, and over 50 job seekers.
Cons:
Despite having the multiple benefits of a comprehensive resume writing process, the process may seem a bit lengthy, as there is no option to purchase the services from the website directly.
You must contact, schedule, and go through the initial consultation to get a customized quote and timeline for the service.
Also, due to having a high demand for her services, Laura is often overbooked.
As a result, you might have to wait for a month or two before finding an open slot.
Another drawback of this particular service is that there are no resume samples available for review on the website. The service also doesn't offer any resume guarantees with their packages.
How Much Does The Creative Advantage Cost?
The Creative Advantage doesn't have any fixed-priced resume packages available for you to purchase on the website.
There's no way for you to know how much your resume will cost without having an initial consultation with Laura.
Your customized investment and turnaround time will be discussed during the consultation.
Each client has different needs, so prices vary according to the complexity of the resume, the level of position desired, and the years of work experience you have.
The Creative Advantage Resume Writing Process
The resume writing process offered at The Creative Advantage by Laura Slawson is among the most comprehensive we have seen lately.
As mentioned earlier, a unique and impressive part of the process is that you will get three phone consultations with Laura.
Here's what a typical resume writing process from The Creative Advantage looks like:
Schedule the initial consultation.
Laura will review your current resume and learn about your career situation during the initial consultation.
She will send a proposal containing the custom quote and timeline, along with a short questionnaire for deeper insights into your career.
At this stage, there can be another consultation call to clarify and fine tune things a bit more.
Then, Laura will get back to crafting your resume and send it to you for review within the stipulated time.
You will get the opportunity for yet another phone call to go over any issues or edits and finalize your resume and other career documents.
Even after the process is complete, Laura will be available to you for any minor edits, free of charge. (The website doesn't mention for how long this service is available.)
She also offers a rush delivery service for an up-charge of $99.
The Creative Advantage Writing Team
Laura Slawson is the sole resume writer at The Creative Advantage. You will work one-on-one with Laura throughout the process.
Laura's resume writing certifications include Master Resume Writer (MRW), Certified Professional Resume Writer (CPRW), Credentialed Career Manager (CCM), and Certified Digital Career Strategist.
Although Laura offers resume writing and other career document writing services for professionals of all career labels, she is passionate about crafting resumes for executives and mid-career professionals.
She also specializes in writing for job seekers who are over 50 years of age.
Apart from career document writing, Laura has extensive experience as a technical writer, policy and procedure writer, and real estate copywriter.
Laura is also a serial entrepreneur of five successful virtual businesses.
Based in Bergen County, NJ, Laura Slawson of The Creative Advantage virtually serves clients across the United States.
The Creative Advantage Customer Reviews
The Creative Advantage is not very focused on getting customer reviews on third-party review platforms like Google, Trustpilot, SiteJabber, and others.
The company doesn't have a presence on most of the review platforms except Google.
However, they have only one review on Google, and it is a 5-star review.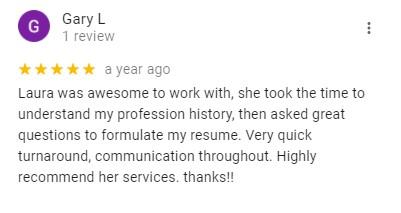 This lack of reviews likely means that The Creative Advantage is one of those more "old-school" businesses that do not care much about review platforms.
However, on the company website itself, you can find plenty of reviews from customers. It has a dedicated page for displaying customer reviews.
The Creative Advantage – Resume Sample
Evaluating the resume samples provided by a resume writing service on their website is a great way to test the waters before hiring the company.
That's why we always take a glance at the samples while reviewing a service.
However, as stated earlier, The Creative Advantage has not provided any resume samples on the website.
Key Takeaways
Our rating for The Creative Advantage is 6.4/10.
The company surely has plenty of positive aspects in its favor.
The extensive experience and authoritative credentials of the company's resume writer are impressive. The resume writing process is also very solid.
However, the extra steps required in the ordering process and the lack of resume samples and resume guarantees are some of the major shortcomings of the service.
Your resume is one of the most important documents in your professional life.
You should always review and communicate with multiple companies before you make your final decision.
As you continue your research, the services listed above are a great place to start!
Good luck to you!
What Is a Better Alternative to The Creative Advantage?
When it comes to your resume, you can't be too careful.
Consider adding the resume writing services of Find My Profession to your review list.
We have a multi-certified and experienced team of resume writers. All our writers are based in the US and cover 85+ industries.
We also offer a 60-day interview guarantee.
The turnaround time is only 3-5 business days, and the cost of a resume affordably ranges from $395 to $995.
Find My Profession has more than 650+ five-star reviews on sites like Trustpilot, BBB, Sitejabber, and Google.
No matter who you choose, it's important that you feel confident in your decision. So, be sure to call your prospective writers to discuss whether you will be a good match or not.
Good luck in taking the next step toward the career of your dreams!