We all know that older workers, usually classified as people over 50, can face ageism in the hiring process.
We can discuss why this is wrong, but that doesn't change the fact that it happens.
Having a resume that presents your skills and accomplishments, without over-emphasizing your age, is your key to interviews.
Once you get the interview, you can show that you are a qualified candidate and an asset to the organization.
That's why finding a resume writer perfect for your needs as a senior professional is so important.
Here, we review some of the best resume writers experienced in writing resumes for older workers.
Older Worker Resume Service Criteria
Each of the resume services below was reviewed by a Certified Professional Resume Writer (CPRW) taking into consideration the following:
Cost: The cost of the service compared to other older worker resume writers.
Turnaround: The speed at which the resume is completed.
Credentials: Overall experience, awards, and certifications.
Resume Design: The design, style, and overall look of the resume.
Customer Service: Guarantees, number of edits, and reviews.
This list was hand-curated to serve all job seekers over 50. Whether you are in marketing, sales, manufacturing, finance, or IT company, this will serve all industries.
Best Resume Services for Older Workers
1. Find My Profession
Find My Profession is much more than a US resume writing service. We are a global company on a mission to provide effective resumes that convert into offers for old job seekers.
Our elite resume writing team has experience in 85+ industries/professions. This allows us to assign you a professional writer based on your unique background and experience.
We have successfully landed our clients positions at companies like Apple, Amazon, EA, Oracle, GM, Facebook, DoJ, Morgan Stanley, Gap, and 2U just to name a few.
Find My Profession has 650+ 5-star reviews and offers a 60-day interview guarantee. Every resume created is Applicant Tracking System (ATS) compatible and highly customized to meet your specific needs.
Pros: We have written resumes for job seekers over 50 in nearly every industry. Find My Profession commits to working with each client until they are 100% satisfied. Don't worry about having a limited number of edits or a set amount of time with your writer.
Cons: Find My Profession is a virtual company. While we provide services in your city, we don't have a physical office for in-person visits. You'll communicate directly with your writer via email and phone calls.
Reviews: 5/5 based on 124 Google reviews, 5/5 based on 8 BBB reviews, 5/5 based on 35 Facebook reviews, 4.9/5 based on 304 Trustpilot reviews, 4.7/5 based on 255 Sitejabber reviews
Turnaround: 3 – 5 business days (can expedite to 2 business days)
Cost: $395 – $995
Contact: (831) 888-0967 or help@findmyprofession.com
Check out some of our 5-star reviews:
2. ResumeZest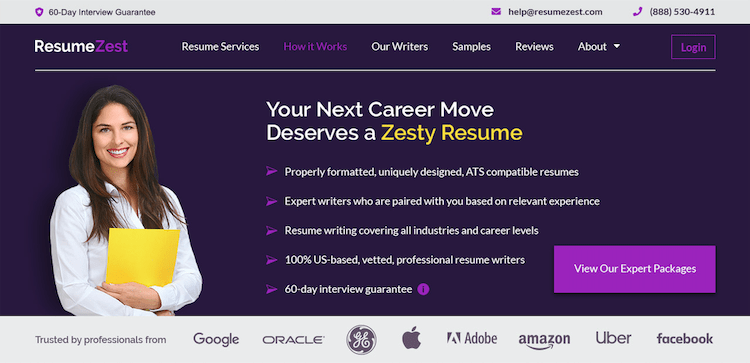 ResumeZest is trusted by professionals from companies like Google, Amazon, Apple, Oracle, GE, Adobe, Uber, and Facebook. Their resume writing team has written resumes for more than 75 industries. A 60-day interview guarantee backs up every resume they write. Each resume is also ATS compliant and keyword-optimized.
Pros: ResumeZest is a very well-rounded company. They offer affordable pricing and quick turnaround times. You will work with a high-quality, certified writer and receive excellent customer service. They are also members of the Professional Association of Resume Writers and Career Coaches (PARW/CC).
Cons: ResumeZest is one of the newer companies on this list. While they do a great job and their writers have many years of experience, the company was only founded in 2020.
Reviews: 5/5 based on 9 Facebook reviews, 5/5 based on 50 Google reviews, 5/5 based on 3 Yelp reviews, 4.8/5 based on 56 Sitejabber reviews, 4.8/5 based on 52 Trustpilot reviews
Turnaround: 3 – 5 business days (can expedite to 2 business days)
Cost: $179 – $379
Contact: (888) 530-4911 or help@resumezest.com
Visit ResumeZest
3. The Creative Advantage
The Creative Advantage is owned and operated by Laura C. Slawson. Laura is an award-winning, multi-certified, extensively experienced Master Resume Writer. She won the "Excellence Award in Resume Writing by US Business News" three consecutive years. Most importantly, Laura specializes in resumes for "The Over 50 Job Seeker."
Pros: Laura Slawson is one of the highest credentialed resume writers on this list. She makes a personal commitment to call each customer back within 24 hours. Additionally, services are personalized to each job seeker.
Cons: The turnaround time to receive a resume is roughly 2-weeks. While there are no samples publicly available, we have personally seen samples from The Creative Advantage, and they are of the highest quality. There are no prices on the website, prices are quoted on an individual basis.
Reviews: 5/5 based on 1 Google review
Turnaround: 7 – 10 business days
Cost: Not found
Contact: (732) 610-8946 or lcslawson@msn.com
4. MJ's Resumes
MJ's Resumes is owned by Mary Jo Latorre. Mary is a Master Resume Writer and has written over 15000 resumes over her resume writing career of more than 25 years. She also has extensive experience in writing resumes for older workers.
Pros: You can get a free resume critique from MJ's Resumes. Mary Jo worked in Human Resource Management for over a decade. She knows what employers are looking for on a resume.
Cons: The website lacks essential information about the resume packages and the writing process. Also, the service doesn't offer any guarantees with the resume packages.
Reviews: 5/5 based on 3 Google reviews, 5/5 based on 3 Bark reviews, 5/5 based on 1 Yellow Pages review
Turnaround: 24 – 48 hours
Cost: $165 – $200
Contact: (724) 348-4461 or mjl8@comcast.net
5. ekm Inspirations
ekm Inspirations is run by Norine T. Dagliano. Norine is a Nationally Certified Resume Writer (NCRW). She has almost 30 years of experience in resume writing and job search support services. Her resumes have been published in career books, including Expert Resumes for Baby Boomers.
Pros: Norine works directly with all of her clients. She has been recognized for her resumes for older workers. She has won a Toast of the Résumé Industry (TORI) award for Best Retiree Resume for Re-Entry.
Cons: ekm Inspirations doesn't offer any guarantees with the resume service. Also, there's no option to buy the resume service directly from the website.
Reviews: Not found
Turnaround: Not found
Cost: $625 – $800+
Contact: (301) 766-2032 or norine@ekminspirations.com
6. AARP Resume Advisor
AARP Resume Advisor is a resume writing service for older workers recommended by the American Association of Retired Persons (AARP). The writing is done by one of the resume industry giants, TopResume. They offer a free resume review service as well as paid resume packages.
Pros: TopResume guarantees that you'll get two times more job interviews within 60 days, or they'll rewrite your resume for free. Also, AARP members receive significantly discounted pricing.
Cons: You will not have a phone call with your writer. You are only allotted 2 rounds of resume revisions over the course of a week. The reviews below are for all TopResume clients, not just those that have gone through AARP.
Reviews: 4.4/5 based on 4,513 Sitejabber reviews, 4.3/5 based on 10,842 Trustpilot reviews, 4.3/5 based on 1908 Google reviews, 1.5/5 based on 15 Yelp reviews
Turnaround: 1 week
Cost: $119 – $139
Contact: (888) 687-2277
Bonus: Top Older Worker Resume Winners (2021)
Find My Profession, The Creative Advantage, MJ's Resumes, ekm Inspirations, AARP Resume Advisor
Older Worker Resume Example
We've included a resume example for people over 50 so you can get a better idea of what makes this resume great.
As you can see, resumes for older workers need to grab your attention with their appearance. They also need to highlight your skills for the job and leave off unnecessary details.
Here is an example of a healthcare executive resume. It is from the #1 pick on our list, Find My Profession. Click on the resume below to view the full resume.