Your resume is an important part of the job search. It could very well be the thing that sets you apart from your competition.
This also means that a subpar resume can set your job search back months.
Today we will be reviewing The Writing Guru and their resume writing services.
We have taken a deep dive into the customer reviews, cost, resume samples, and writer credentials at The Writing Guru. Our overall rating for The Writing Guru is 90/100.
The Writing Guru
Score
Our goal is to help you find the best resume service that will advance your career. Take a look at some other top-rated resume writing services and find the perfect fit for you!
Best
The Writing Guru

Alternatives




About The Writing Guru
The Writing Guru is an executive resume service based in Miami. The company creates personalized resumes and LinkedIn profiles for attorneys, senior executives, and C-Level leaders with 15+ years of experience.
The service was created in 2010 by award-winning career expert and Attorney, Wendi Weiner.
Before creating the service, Wendi had already gained experience working as an adjunct College professor, assistant General Counsel, and as trial counsel at a top law firm.
She was also a member of many hiring teams, giving her the added advantage of knowing exactly what recruiters want from an applicant.
Today, she uses her certifications and wealth of experience to advance her clients' careers, with most of her clients earning at least $250K – $1M annually.
Let's dive right into some of the pros and cons when it comes to working with The Writing Guru.
The Writing Guru Pros vs. Cons
As with any company, there are pros and cons. It's up to you to determine what is a "must-have" and what things you can live without.
Pros
3 resume certifications including CPRW, NCRW, and CCM.

"Best Executive Resume Writer" by The Balance Careers.

Featured on CNN, Forbes, CNBC, and other media outlets.

More than 1,500 resumes written since inception in 2010.

Landed jobs for their clients at Google, Dell, Microsoft, and more.
Cons
Expensive resume writing service costing as much as $8,495.

4 – 6+ weeks turnaround time is much longer than most services.

No interview or satisfaction guarantee on the resume services.

You get only two rounds of revisions of your resume.

Service is not suitable for entry-level professionals.
If you are looking for a resume writing service, The Writing Guru is a great option, but it is worth exploring other alternatives to find the best fit for your needs.
One such alternative is Find My Profession, who has a team of certified resume writers, is named Best Executive Resume Writing Service by CNET, and has landed jobs for clients at top companies including Amazon, Apple, and Tesla.

However, Find My Profession differs from The Writing Guru in that they have a quick 3-5 business day turnaround time for your first draft, a 60-day interview guarantee, and the service caters to professionals in all stages of their careers from entry-level to C-Level.
The Writing Guru Customer Reviews

Our Certified Professional Resume Writers have rated The Writing Guru a 90/100. Additionally, The Writing Guru has received customer reviews of 5/5 on Yelp. These are the kind of reviews that only a few resume services can boast about. However, we would have loved to see more online reviews, especially on trusted third-party sites like TrustPilot, SiteJabber, and BBB.
Yelp shows 25 reviews with an average rating of 5/5. Despite the small number of reviews, it's still impressive that every single one of the reviews were solid 5-star reviews.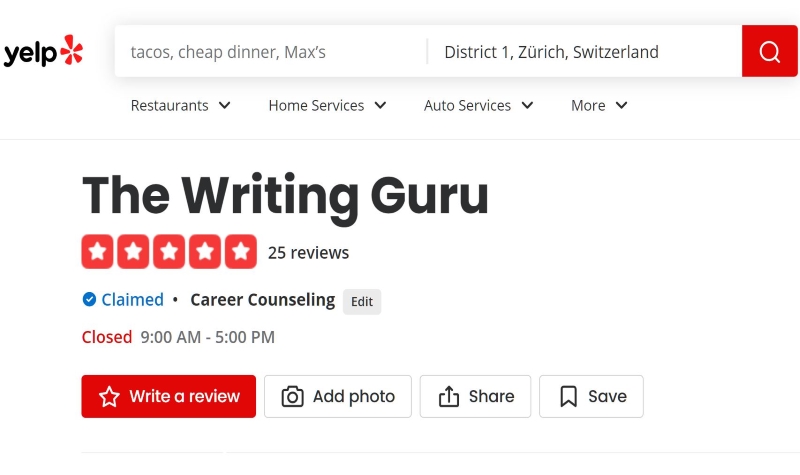 Additionally, Wendi has received more than 44 recommendations from clients and associates on her LinkedIn profile.
As with anything, it's important to take each review with a grain of salt. Additional research should be done beyond reading the reviews that are found online.
How Much Does The Writing Guru Cost?

The Writing Guru' resume packages cost $2,695 – $8,495. These prices are a lot higher than the average resume writing service. Although the service is geared towards more senior professionals, we still don't see any reason why you should pay as much as 8,000 for a resume service.
$4,195
There are two packages to choose from – C-Suite/BOD resume package ($2,695 – $8,495), and Sr. Executive resume package ($2,395 – $7,895).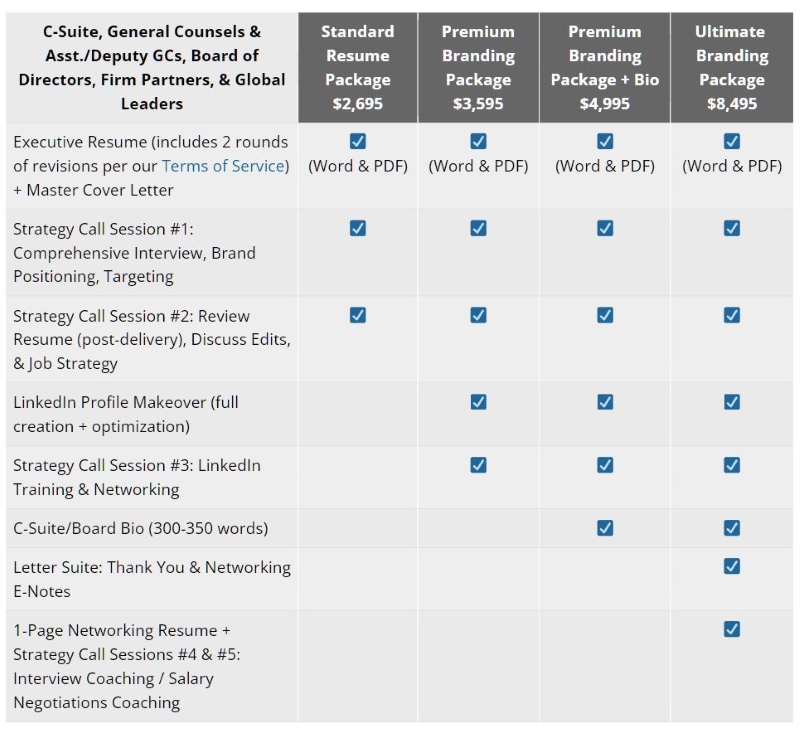 The main difference between the two packages has to do with the types of services that you receive.
The C-Suite/BOD resume package is meant for Executive corporate counsel, board/corporate directors, CEOs, and other C-level professionals ($2,695 for the Standard package, $3,595 for the Premium package, $4,995 for the Bio+Premium package, and $8,495 for the Ultimate Career package).
The Sr. Executive resume package is for Senior executives, Senior counsels, Executive Managers, Business Leaders, Senior Attorneys, and others with 10+ years of experience ($2,395 for the Standard package, $3,095 for the Premium package, $4,195 for the Bio+Premium package, and $7,895 for the Ultimate Career package).
Each resume package is further divided into four categories, the Standard resume package, the Premium branding package, the Bio +Premium branding package, and the Ultimate branding package.
The Standard resume package of each category includes an executive resume, master cover letter, one pre-delivery strategy call session, and one post-delivery strategy call session.
The Premium branding package of each category includes all the features of the Standard package, plus a full LinkedIn profile makeover, and a LinkedIn strategy call.
The Bio + Premium branding package of each category includes all the features of the Premium branding package, plus a 300 – 350 words C-Suite/Board bio.
The Ultimate branding package of each category includes all the features of the Premium branding plus Bio package, a Thank you letter, Networking e-notes letters, a 1-page networking resume, and 2 interview & salary negotiations coaching calls.
Returning clients can get their resumes updated/rebranded and get discounts of 50 or 70 percent. Alternatively, they could get charged hourly, depending on complexity and how long it would take.
The Writing Guru website states that you get two rounds of revisions. Additional revisions can be made at an hourly rate of $350.
For the most accurate and up to date details on package pricing at The Writing Guru, we recommend that you visit their website directly.
The Writing Guru Resume Sample
We wanted to see what the resume quality of The Writing Guru looked like so we took a look at some of the resume samples featured on their website.
We've attached a The Writing Guru resume sample for you to review (first page only). Below, we share some of the things that we liked, and what we disliked about this resume.
The Good
Starts off with a very clear target job title and top keywords.

Contains a strong summary with career highlights relevant for the target.

Includes measurable accomplishments throughout the entire resume.

Clean, ATS compatible format that is easy to follow.
The Bad
Doesn't separate out each position so career progression is lost.

Lacks appropriate keywords for the target job title.

Not enough content for executive-level resume, should be 2 pages.

Mixed italicized and non-italicized content in Education.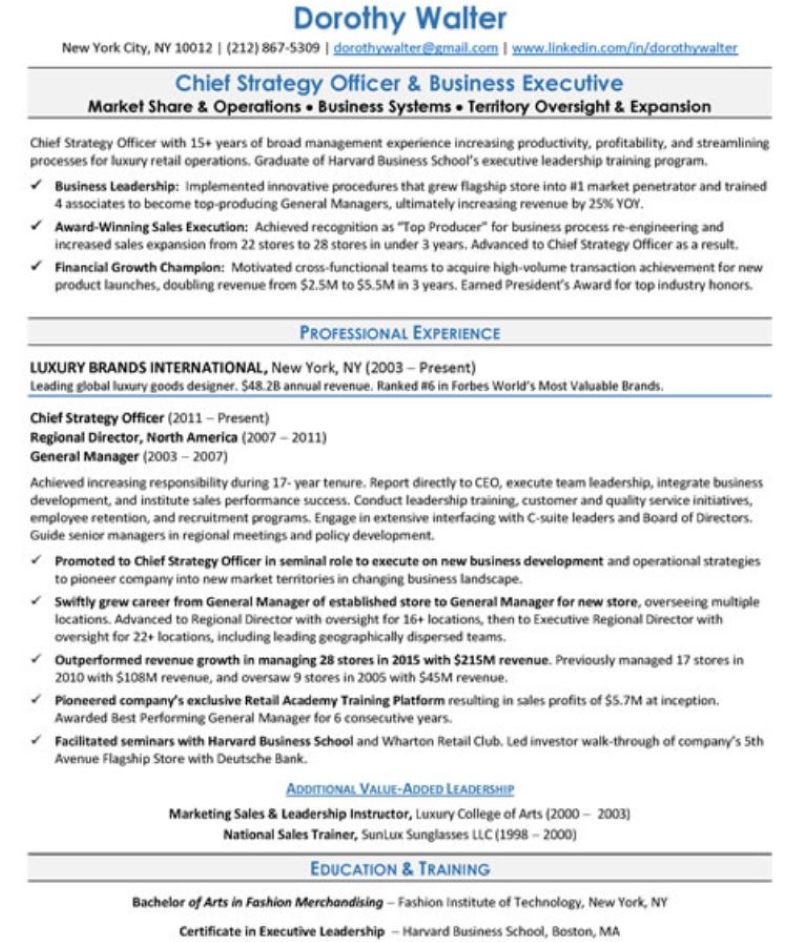 The Writing Guru Writer Credentials
The Writing Guru resume writing team consists of only one writer – the company's owner and founder, Wendi Weiner.
Wendi holds a J.D. from a top 100 law school. Her career comprises 12 years of legal writing and litigation at prestigious law firms and Fortune 200 companies.
She also boasts a Bachelor of Arts degree in English, Literature & Creative Writing. This puts her professing writing experience at 15+ years.
A prolific writer, Wendi is a founding member of the Forbes Coaches Council. She also has published articles on CNBC, CareerBuilder, CareerMetis, Jobs&Hire, and more.
She is a professional member of Career Directors International (CDI), National Career Development Association (NCDA), and the Professional Association of Resume Writers & Career Coaches (PARWCC).
She was also elected to serve on the Board of Directors for the National Resume Writers' Association (NRWA) for three years.
Wendi's professional certifications include Career Transition Coach (CTC), Certified Professional Resume Writer (CPRW), and Credentialed Career Manager, among others.
She boasts of being the only Nationally Certified Resume Writer (NCRW) who is also an attorney.
Wendi is a resume writer with 10+ awards and honors under her belt. She has been named "Best Executive Resume Writer" by The Balance Careers and "#1 Resume Expert" by Recruiter.com.
She was also named "Best Legal Resume Writing Services" by the Association of Corporate Counsel, and 'Best Career Professional' by Career Directors International, among others.
Although Wendi has extensive experience in 30+ industries, her major focus areas are law, global business operations, sales, marketing, communications, finance, accounting, banking, healthcare, HR, technology, supply chain, and logistics.
So far, Wendi has worked with over 1,500 clients in and out of the U.S. Some of these clients have landed positions at Fortune 10, 25, 50, 100, and 500 companies like Google, Amazon, Oracle, Microsoft, and Dell.
She has also been featured severally in 75+ major media outlets like Huffington Post, Thrive Global, JobScan, CNN, and more.
The Writing Guru Resume Writing Process
The Writing Guru follows a straightforward and simple operating procedure for getting your resume written.
Let's look at the steps taken in The Writing Guru's resume writing process below:
Schedule and attend an initial consultation with Wendi.
Fill out a detailed questionnaire that lets Wendi know your work history, goals, and accomplishments. You can also submit your old resume if you have one.
Get a 60-minute coaching call from Wendi.
Receive your initial resume draft.
Review and suggest edits to your new resume.
Get a 60-minute project strategy call to discuss new changes and strategize.
Get your finalized resume delivered to you in Word and PDF formats.
Projects typically take between 15 to 20 hours and include more than three hours of coaching and consulting with the client.
The standard turnaround time for resumes is 4 – 6+ weeks, depending on the company's current schedule. Keep in mind though that before making orders, you should check with Wendi for availability.
Is The Writing Guru Worth It?
Whether or not The Writing Guru is worth it is entirely up to you.
Our goal is to provide you with the most transparent and helpful information possible. But, only you know what is best for you and your career.
Here is a summary of our findings on The Writing Guru written and reviewed by a Certified Professional Resume Writer:
Customer Reviews: 25/25
Cost to Value: 15/25
Sample Quality: 25/25
Writer Credentials: 25/25
Total Score: 90/100
As a reminder, we highly recommend reviewing 2-3 services before making a final decision.
If you're in need of a top-notch resume writing service, we suggest checking out Find My Profession. With a team of experienced reverse recruiters and a commitment to customer satisfaction, Find My Profession can help you find your dream job. And with a perfect score of 100/100, you can trust that you'll be in good hands!