Briefcase Coach, a resume writing and career coaching service, was founded by Sarah Johnston in 2016.
Sarah is a well-known resume writer for all career levels with more than one million followers on LinkedIn. She is also a LinkedIn Top Voice in the job search and careers category.
As such, the chances are high that you have heard her name or found her company, Briefcase Coach, while searching for a professional resume writer.
In this article, you will get an in-depth review of Briefcase Coach resume writing services.
We will share pros, cons, pricing, writer background, and even our opinion on some great alternatives to consider.
Briefcase Coach – Resume Service Review
Although Briefcase Coach serves professionals from all career levels, Sarah is more focused on helping high performers, such as fortune 500 executives, move up the ladder even higher.
Based in Durham, North Carolina, Sarah works with new graduates to C-suite and international clients.
The Briefcase Coach was also named one of the top executive resume writing firms for experienced executives by Balance Careers.
Let's go ahead and look at the pros and cons of working with the Briefcase Coach.
Pros:
The main advantage of working with the Briefcase Coach is the recruiting experience of the company's resume writer, Sarah Johnston.
During her career as a recruiter, she interviewed hundreds of job seekers. So, she knows what employers are looking for in a candidate.
She is also experienced in using applicant tracking systems (ATS) such as Taleo and iCims and understands how recruiters use these tools to scan your resume.
Sarah's clients have landed jobs at top Fortune 100 and 500 companies including UnitedHealth Group, Deloitte, AT&T, Alphabet, Cardinal Health, JPMorgan Chase, Amazon, and more.
Cons:
One of the drawbacks of working with Briefcase Coach is certainly the lack of industry certifications. Although a well-known and experienced resume writer, Sarah doesn't have any industry-recognized resume writing certifications.
Another issue with the service is their average turnaround time for resume writing. As the Briefcase Coach is run single-handedly by Sarah, the company is often overbooked, which can make the turnaround time for a resume more than three weeks.
Also, having only one writer makes you wonder exactly how many industry specializations she can have. It's possible that she may not have adequate experience covering your industry.
Additionally, the resume writing services don't offer any interview or satisfaction guarantees.
How Much Does Briefcase Coach Cost?
The Briefcase Coach offers a la carte resume service as well as resume and coaching packages for all levels of professionals.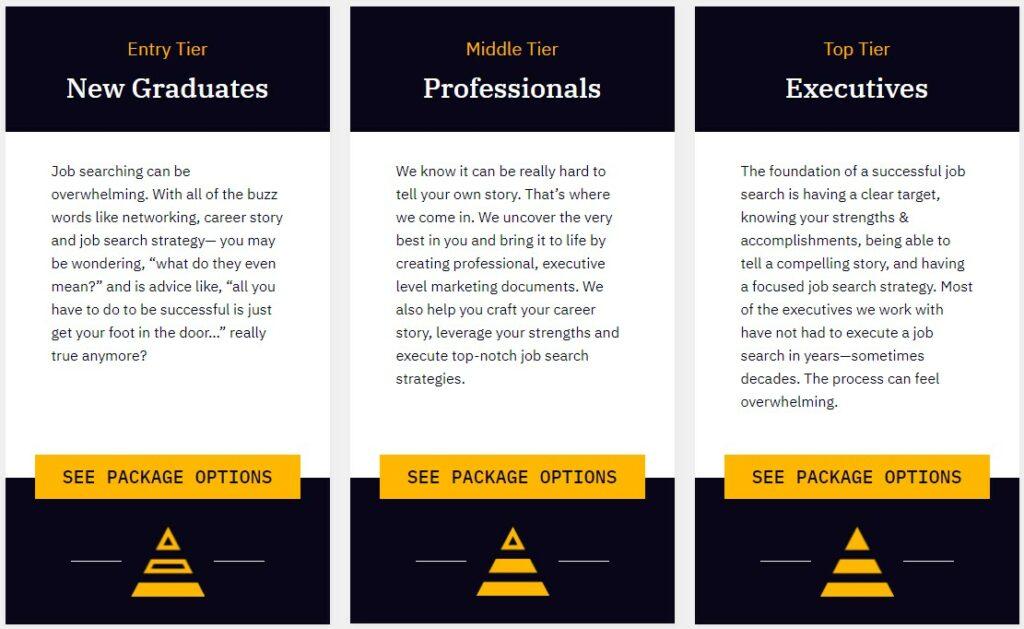 The prices of Briefcase Coach resume services are as follows:
The cost for a new graduate resume starts at $750. You will also get a custom cover letter.
A resume for a non-executive professional starts at $800 and the resume package with a cover letter is priced at $1,250.
An executive resume as a stand-alone product starts at $1,300 and a package with a cover letter is $1,500.
A senior executive resume as a stand-alone product starts at $1,500.
Medical and academic CVs start at $599.
Although the prices are not over the top, they are certainly higher than many other established and trusted companies in the market today.
Briefcase Coach Resume Writing Process
The resume writing process from the Briefcase Coach is very neat and streamlined. However, the resume ordering process is not so easy to follow.
There's no option to purchase the package that you want from the website directly. Instead, you have to schedule a preliminary consultation with Sarah to get things started.
The "schedule an appointment" form is also quite an extensive one to fill out
During this initial consultation, you will discuss other details including the package you want, the cost, and the turnaround time.
After you have gone through all these initial stages, your resume writing workflow starts.
The process begins with a 60-90 minute intake/strategy session with Sarah Johnston, where she discusses your strengths, career goals, and achievements.
Turnaround time for resume development is typically 7-10 business days from consultation to draft delivery.
However, on the "schedule a consultation" page, it's mentioned that the turnaround time can stretch for more than three weeks if the company is under a heavier-than-usual workload.
Sarah states that she spends an average of 12-25 hours per resume.
There's no mention of the editing process or how many edits you will get for your resume on the website.
Briefcase Coach Resume Writing Team
The Briefcase Coach resume writing team consists of Sarah Johnston herself. The website also doesn't mention any assistant writers or supporting staff.
That means clients will be directly working with Sarah.
Sarah is an experienced resume writer with a background in corporate recruiting.
She spent the first 10 years of her career as a corporate recruiter and development professional.
Sarah has also made multiple cross-country relocations and successfully launched job searches in cold markets for herself. As a result, she can relate to the job seeker experience.
This job searching experience in cold markets has also given her a unique perspective into what really works on a resume.
Sarah has been quoted and featured in numerous top-tier media outlets including Inc., Business Insider, Forbes, HuffPost, and others.
Approximately 25% of her clients are referrals from past clients, friends, or former colleagues. This indicates that her service quality is quite impressive.
Briefcase Coach Customer Reviews
Although you will find a dedicated section listing all the client reviews and recommendations for the service on the Briefcase Coach website, there are not many customer reviews available for the company on third-party review platforms like Trustpilot, Sitejabber, and Yelp.
The only place on the Internet that has reviews for Briefcase Coach is Google, but we found only two reviews.
These reviews were received two years ago, and there is nothing more recent.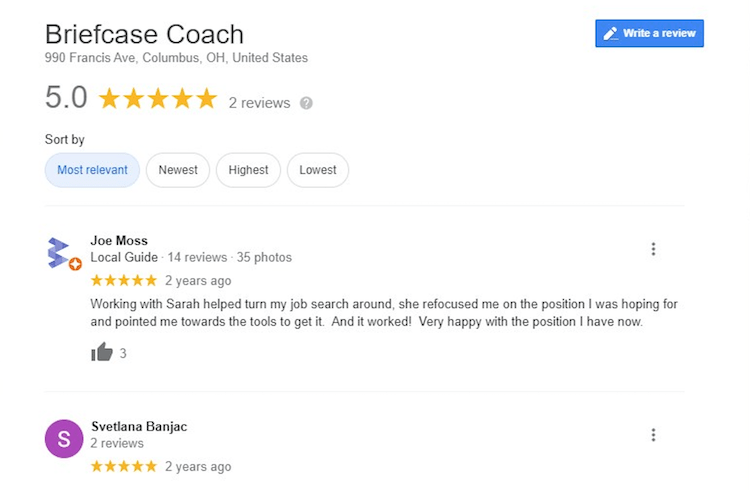 Apart from the reviews, Sarah has received 37 recommendations on LinkedIn.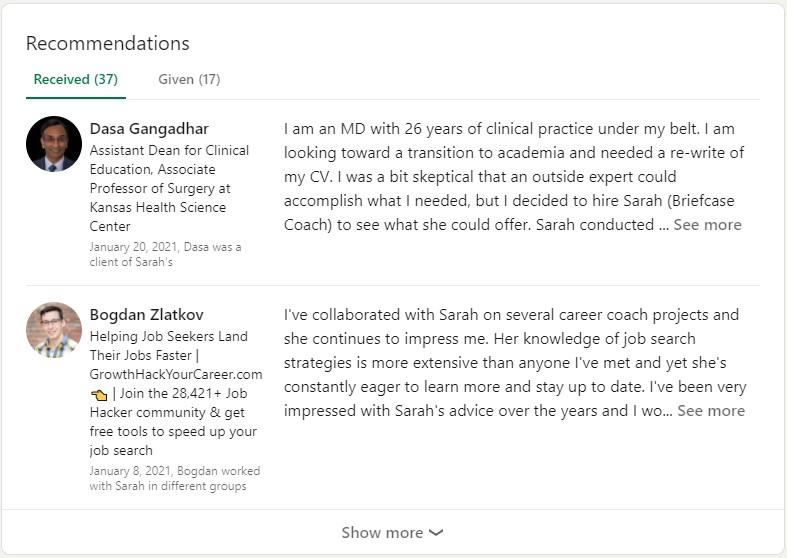 This lack of reviews on review platforms is a bit concerning, as we only feel confident to recommend services that have a considerable number of positive online reviews.
Briefcase Coach – Resume Sample
No resume service review is complete without critically reviewing the samples provided on the website.
So, we went ahead and examined the samples offered at the Briefcase Coach website.
However, we found that the samples provided on the website are not readable enough for evaluation.


There's no option to click and enlarge those samples so that we could review the texts.
Key Takeaways
Our rating for Briefcase Coach is 5.1/10.
Sarah Johnston is a well-known resume writer and career coach. Her expertise in the industry is also well-recognized.
So, it's certainly an advantage that you will be able to work with Sarah one-on-one. Her background in recruiting also gives her a competitive advantage.
The resume writing process is also personalized and consultative.
On the other hand, the Briefcase Coach does not offer any guarantees with their resume services.
Additionally, the resume writing "team" consists only of one writer with specializations in a handful of industries.
Moreover, the lack of customer reviews on online review platforms is also another possible cause of concern.
Your resume is one of the most important documents in your professional life.
You should always review and talk to multiple companies before you make your final decision.
What Is a Better Alternative to Briefcase Coach?
When it comes to your resume, you can't be too careful.
Consider adding the resume writing services of Find My Profession to your review list.
We have a multi-certified and experienced team of resume writers. All our writers are based in the US and cover 85+ industries.
We also offer a 60-day interview guarantee.
The turnaround time is only 3-5 business days, and you will get phone consultations with your resume writer included in every resume package as a one-on-one strategy session.
Find My Profession has more than 650+ five-star reviews on sites including Trustpilot, BBB, Sitejabber, and Google.
No matter who you choose to help create your resume, it's important that you feel confident in your decision.
Be sure to do your research and call your prospective resume writers if possible so that you can determine whether or not they will be a good match for your career needs.