Your resume is an important part of the job search. It could very well be the thing that sets you apart from your competition.
This also means that a subpar resume can set your job search back months.
Today we will be reviewing Briefcase Coach and their resume writing services.
We have taken a deep dive into the customer reviews, cost, resume samples, and writer credentials at Briefcase Coach. Our overall rating for Briefcase Coach is 85/100.
Briefcase Coach
Score
Our goal is to help you find the best resume service that will advance your career. Take a look at some other top-rated resume writing services and find the perfect fit for you!
Best
Briefcase Coach

Alternatives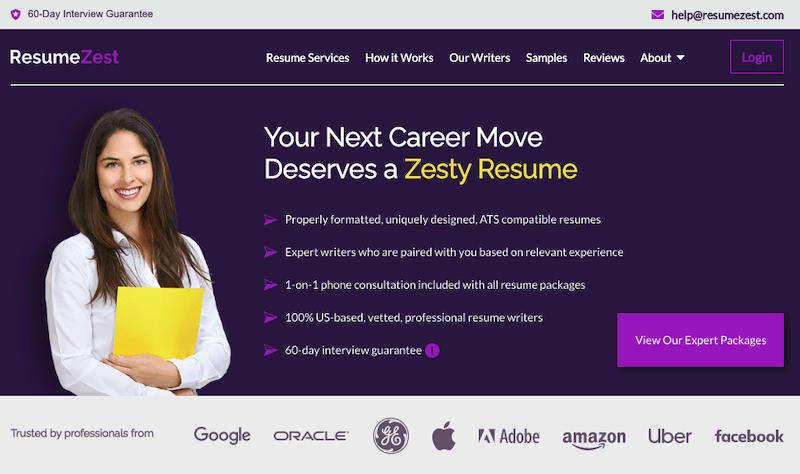 About Briefcase Coach
Briefcase Coach was founded by Sarah Johnston in 2017. Based in Durham, North Carolina, Sarah is a career coach, an executive resume writer, and a former recruiter.
She has been featured in influential platforms such as Inc, Forbes, Business Insider, and more.
Sarah is focused on helping high performers, such as fortune 500 executives, move up the ladder even higher. That's why it's no surprise that her company, Briefcase Coach, was named one of the top executive resume writing firms for experienced executives by Balance Careers.
That being said, Briefcase Coach also serves professionals from all career levels. They work with new graduates to C-suite and international clients.
Let's dive right into some of the pros and cons when it comes to working with Briefcase Coach.
Briefcase Coach Pros vs Cons
As with any company, there are pros and cons. It's up to you to determine what is a "must-have" and what things you can live without.
Pros
Named one of the top executive resume services by Balance Careers.

Featured in media outlets including

Inc., Forbes, HuffPost,

and more.

90-minute intake/strategy session.

10 – 15 hours spent working on each client's resume.

25% of clients are referrals from past clients.
Cons
A bit pricey coming in at $1,500+ for a resume alone.

7 – 10 business day turnaround is on the long side.

No industry-recognized resume writing certifications.

No interview or satisfaction guarantees.

Very few online reviews from previous clients.
If you are looking for a resume writing service, Briefcase Coach is a great option, but it is worth exploring other alternatives to find the best fit for your needs.
One such alternative is Find My Profession, who is named a top executive resume service by CNET, has been recognized by reputable sources such as Forbes, Inc., and Fast Company, and includes a phone consultation with all of their resume services.

However, Find My Profession differs from Briefcase Coach in that they have a quick 3-5 business day turnaround time for your first draft, a 60-day interview guarantee, certified resume writers, and pricing starts at $395 for a resume.
Briefcase Coach Customer Reviews

Our Certified Professional Resume Writers have rated Briefcase Coach an 85/100. Additionally, Briefcase Coach has received customer reviews of 4.9/5 on Google. We consider this to be above average for the industry. However, we would have liked to see more reviews across other platforms like Sitejabber, Trustpilot, BBB, or Yelp.
Google shows 11 reviews with an average rating of 4.9/5. Nearly all the reviews said that Sarah and her team took the time to understand their work history and goals before crafting a high quality resume.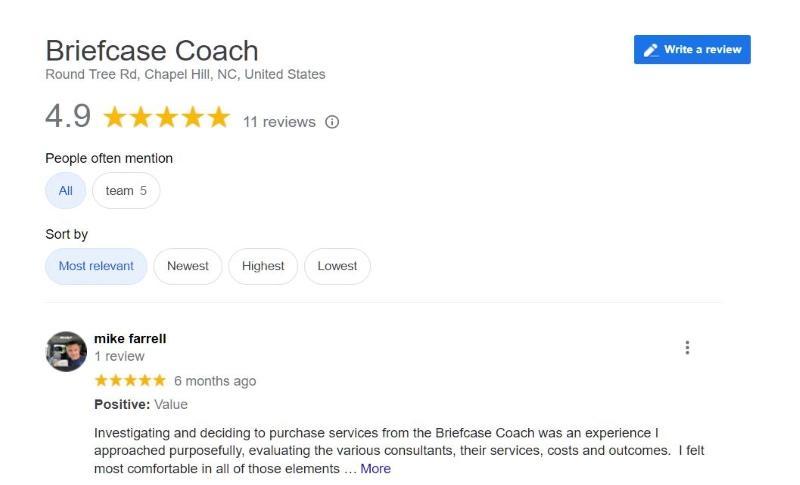 As with anything, it's important to take each review with a grain of salt. Additional research should be done beyond reading the reviews that are found online.
How Much Does Briefcase Coach Cost?

Briefcase Coach's resume packages cost $1,500 – $2,500. This is quite high compared to the average service; however, there are many executive resume writing services that cost even more.
$2,000
For a LinkedIn Profile makeover alone you can expect to spend $1,399 – $1,599. This is reduced to $799 – $999 if you also purchase a resume.
If you are looking for career coaching services from Briefcase Coach, you can expect to pay $219 per 1-hour session.
Briefcase Coach recognizes that each individual's career needs are different. That's why their pricing depends on your project's complexity, job/industry targets, and years of experience.
For the most accurate and up-to-date details on package pricing at Briefcase Coach, we recommend that you visit their website directly.
Briefcase Coach Resume Sample
We wanted to see what the resume quality of Briefcase Coach looked like so we took a look at some of the resume samples featured on their website.
Unfortunately, the samples on the website are tiny, and to make things worse, you can't even click them. This makes it hard to determine the quality of the written content, which is the most important part of a resume.
That said, it does give you an idea of the design style. But design is only a small portion of what makes a great resume.
The Good
Resume contains clear target job title.

Has color and shading to make the format easier to read.

Contains keywords relevant for target position.

Includes a concise, but engaging summary.
The Bad
Margins are too small.

Some shading is too dark for the font.

Contains a lot of task-focused content.

Some formatting elements will change on different word processors.

Briefcase Coach Resume Writer Credentials
The Briefcase Coach resume writing team consists of Sarah Johnston herself. The website also doesn't mention any assistant writers or supporting staff.
That means clients will be directly working with Sarah Jonhston, Founder/CEO.
Sarah is an experienced resume writer with a background in corporate recruiting.
She spent the first 10 years of her career as a corporate recruiter and development professional.
Sarah has also made multiple cross-country relocations and successfully launched job searches in cold markets for herself. As a result, she can relate to the job seeker experience.
This job searching experience in cold markets has also given her a unique perspective on what really works on a resume. 
Sarah has been quoted and featured in numerous top-tier media outlets including Inc., Business Insider, Forbes, HuffPost, and others.
Approximately 25% of her clients are referrals from past clients, friends, or former colleagues. This indicates that her service is quality and well-received by clients.
Briefcase Coach Resume Writing Process
Sarah Johnston follows a straightforward and simple operating procedure for getting your resume written.
Let's look at the steps taken in Briefcase Coach's resume writing process below:
There's no option to purchase the package that you want from the website directly. Instead, you have to fill out an extensive form and schedule a preliminary consultation with Sarah to get things started.
The process begins with a 90-minute intake/strategy session with Sarah Johnston, where she discusses your strengths, career goals, and achievements. This is expected for a service in their price range.
During this initial consultation, you will discuss other details including the package you want, the cost, and the turnaround time.
After you have gone through all these initial stages, your resume writing workflow starts.
Turnaround time for resume development is typically 7 – 10 business days from consultation to draft delivery (a bit longer than average).
Sarah states that she spends an average of 10 – 15 hours per resume, but there's no mention of how many free edits you will get after receiving the first draft.
Is Briefcase Coach Worth It?
Whether or not Briefcase Coach is worth it is entirely up to you.
Our goal is to provide you with the most transparent and helpful information possible. But, only you know what is best for you and your career.
Here is a summary of our findings on Briefcase Coach written and reviewed by a Certified Professional Resume Writer:
Customer Reviews: 15/25
Cost to Value: 20/25
Sample Quality: 25/25
Writer Credentials: 25/25
Total Score: 85/100
As a reminder, we highly recommend reviewing 2-3 services before making a final decision.
If you're in need of a top-notch resume writing service, we suggest checking out Find My Profession. With a team of experienced reverse recruiters and a commitment to customer satisfaction, Find My Profession can help you find your dream job. And with a perfect score of 100/100, you can trust that you'll be in good hands!