Your resume is an important part of the job search. It could very well be the thing that sets you apart from your competition.
This also means that a subpar resume can set your job search back months.
Today we will be reviewing Great Resumes Fast and their resume writing services.
We have taken a deep dive into the customer reviews, cost, resume samples, and writer credentials at Great Resumes Fast. Our overall rating for GreatResumesFast is 95/100.
Great Resumes Fast Review
Score
Our goal is to help you find the best resume service that will advance your career. Take a look at some other top-rated resume writing services and find the perfect fit for you!
Best
Great Resumes Fast

Alternatives




About Great Resumes Fast
Great Resumes Fast was founded by Jessica H. Hernandez in 2008. Jessica is an expert resume writer with 10+ years of resume writing experience. She comes from a background in human resources and hands-on experience with the hiring process.
Great Resumes Fast has earned both a 5-star rating on an independent resume services website and multiple industry awards.
Let's dive right into some of the pros and cons when it comes to working with Great Resumes Fast.
Great Resumes Fast Pros vs Cons
As with any company, there are pros and cons. It's up to you to determine what is a "must-have" and what things you can live without.
Pros
4+ resume certifications including CPRW, ACRW, CERM, and more.

Named LinkedIn

Top Voice of the Year

in 2020.

Featured on top-tier media including CNN, CNBC, Forbes, and more.

3 – 5 business day turnaround time is on the fast side.
Cons
Very expensive resume service ranging from $895 – $2,999.

Not all writers are certified resume writers.

No satisfaction guarantee on the resume services.

A few customers were unhappy with the customer service.
If you are looking for a resume writing service, Great Resume Fast is a great option, but it is worth exploring other alternatives to find the best fit for your needs.
One such alternative is Find My Profession who also has a quick turnaround time, certified resume writers, and has been recognized by reputable sources such as CNET, Forbes, and Inc.

However, Find My Profession differs from Great Resume Fast in that they have an average rating of 4.9/5 from over 900 previous clients, resumes start at $395, and an interview guarantee is offered with all resume writing services.
Great Resumes Fast Customer Reviews

Our Certified Professional Resume Writers have rated Great Resumes Fast a 80/100. Additionally, Great Resumes Fast has received customer reviews of 4.9/5 on Trustpilot, 4.2/5 on Google, 5/5 on BBB with an A+ rating, and 4.9/10 on ResumeHelpService. Overall, GRF has above average reviews.
Trustpilot shows 216 reviews with an average rating of 4.9/5. Very impressive, as over 180 of them are 5 stars, with only 4 being 1-star reviews.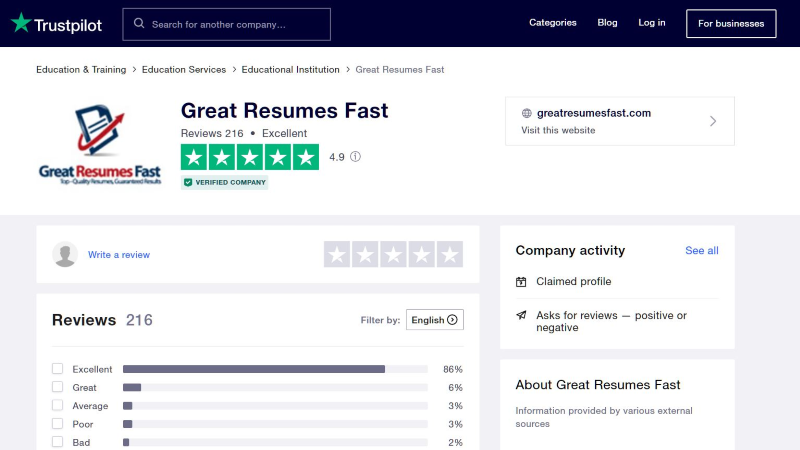 Google shows 24 customer reviews with a rating of 4.2/5. Most of the reviewers were happy about the quality of the resume, as well as how much attention the writers provided during the consultation session.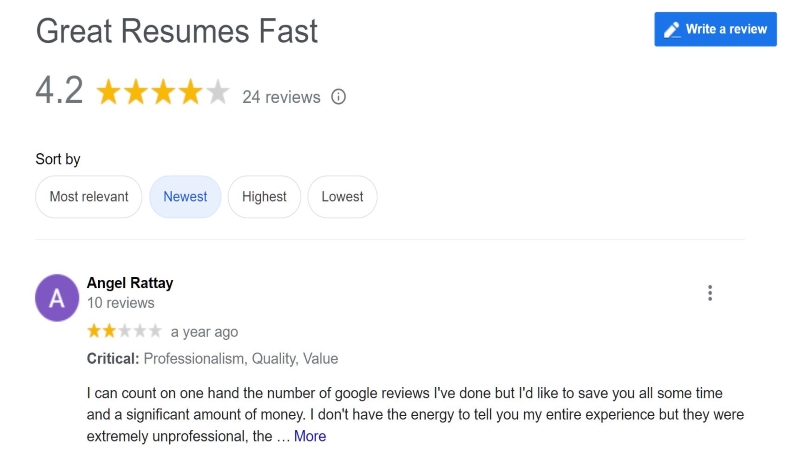 Better Business Bureau shows 4 customer reviews with an average rating of 5/5. Two of the four reviews mentioned how the resume writer at Great Resumes Fast captured their career journey and presented it in a compelling way.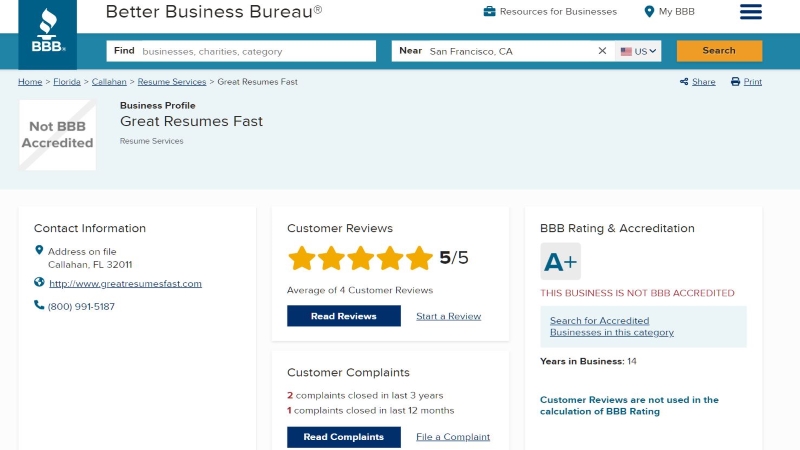 ResumeHelpService provides a detailed review showing a 4.9/10. Although the quality of their resume is good, it wasn't enough to make up for their bad customer service and bad payment system.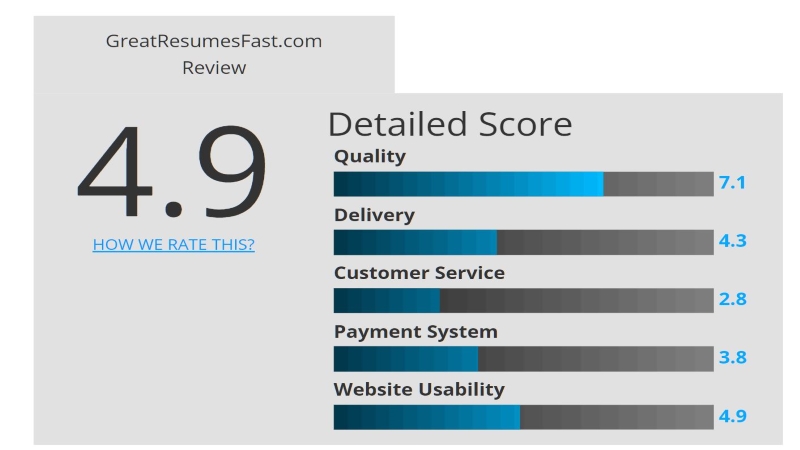 As with anything, it's important to take each review with a grain of salt. Additional research should be done beyond reading the reviews that are found online.
How Much Does Great Resumes Fast Cost?

GreatResumesFast resume packages cost $895 for a resume alone to $2,999 for a resume, LinkedIn, cover letter, and more. These prices are a bit above average for resume writing services; however, there are dozens of other companies that cost even more.
$1,895
There are three packages to choose from – Personalized Resume Rewrite ($895 – $1,195), 360 Personal Brand Makeover ($1,495 – $1,895), and C-Level Job Search Alignment ($2,199 – $2,999).
The main difference between the three packages has to do with the types of services that you receive.
The Personalized Resume Rewrite package includes only a resume ($895 – $1,195).
The Personal Brand Makeover package provides you with a resume, cover letter, and a LinkedIn profile ($1,495 – $1,895).
The C-Level Job Search Alignment package includes a resume, cover letter, LinkedIn profile, thank-you letter, biography, and value proposition letter ($2,199 – $2,999).
For the most accurate and up-to-date details on package pricing at Great Resumes Fast, we recommend that you visit their website directly.
Great Resumes Fast Resume Sample
We wanted to see what the resume quality of GreatResumesFast.com looked like so we took a look at some of the resume samples featured on their website.
We've attached a Great Resumes Fast resume sample for you to review (first page only). Below, we share some of the things that we liked, and what we disliked about this resume.
The Good
Contains lots of measurable accomplishments and specific details.

Includes clear, straightforward target titles.

Has a lot of keywords relevant for each of the target titles.

Format is easy to follow and read without a lot of graphic elements.
The Bad
Increased a lot of excessive shading that hides the content.

Content contains too many adjectives.

The summary is too long and takes up too much space.

Professional experience gets lost in the format and starts too low on page.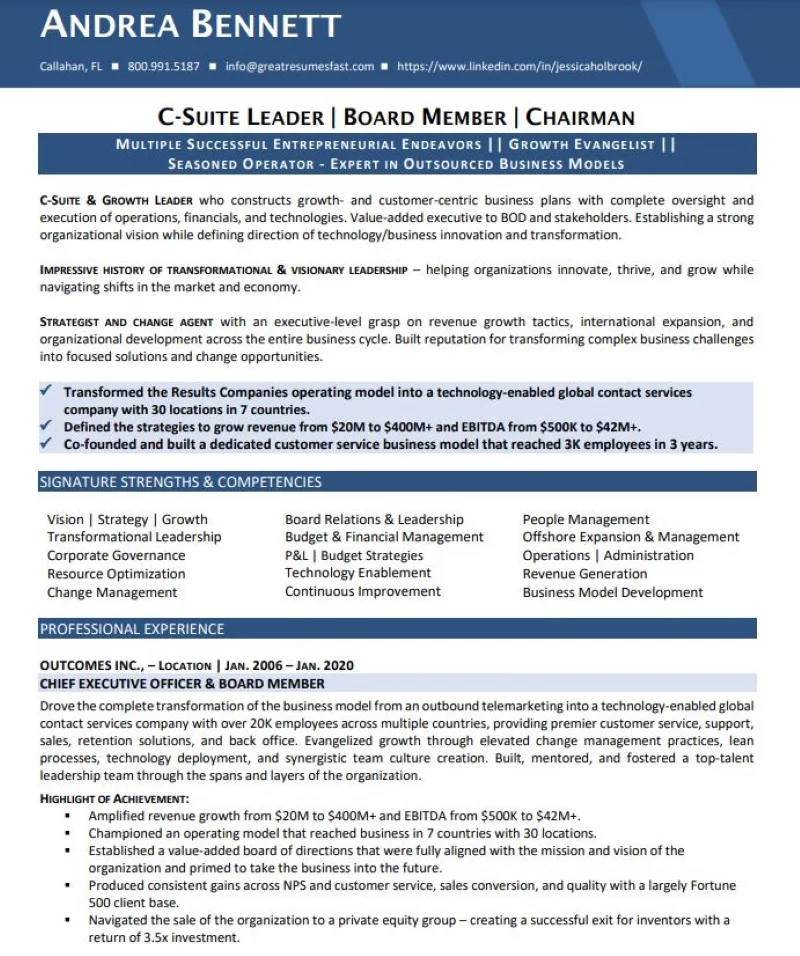 Great Resumes Fast Resume Writer Credentials
The Great Resumes Fast team consists of more than a dozen resume writing contractors with experience spanning 75+ industries according to their website.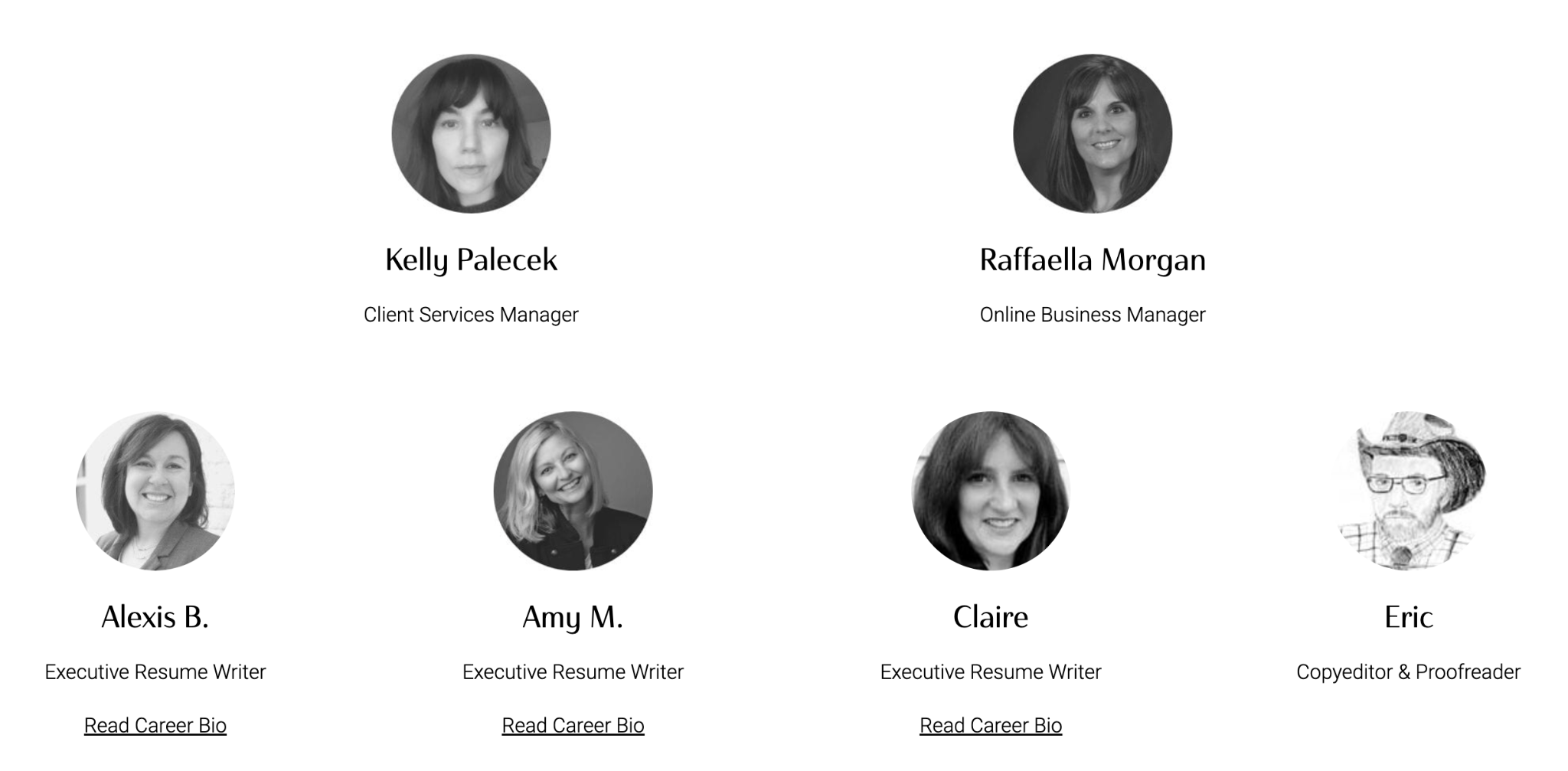 These writers possess credentials such as Certified Professional Resume Writer (CPRW), Academy Certified Resume Writer (ACRW), CERM (Certified Executive Resume Master), and ATSCC (ATS Compliance Certification).
Jessica Hernandez, CEO of Great Resumes Fast, has been featured hundreds of times in leading media outlets. These outlets include CNN, CNBC, Forbes, Fast Company, The Wall Street Journal, Ivy Exec, Fortune, and many more.
She was named "LinkedIn Top Voice Of The Year" in 2020. She was also featured in Jobscan's list of the "Top 15 Job Search Experts To Follow".
Great Resumes Fast Resume Writing Process
Great Resumes Fast follows a straightforward and simple operating procedure for getting your resume written.
Let's look at the steps taken in Great Resumes Fast's resume writing process below:
Sign-up to use GreatResumesFast service.
Receive a 60-min introductory call from your resume writer to assess needs.
Conduct a consultation appointment with your resume writer to discuss resume branding.
Complete the revision process which includes proofreading and edits from the company copyeditor.
The Great Resumes Fast website states that your resume writer will have your documents to review in 3-5 business days.
You will receive two rounds of revisions before you are cut off.
This writing process is fairly standard. The main difference with Great Resumes Fast is that they do not ask you to fill out an intake form. Instead, they have a longer phone call to gather the majority of the necessary info.
Is Great Resumes Fast Worth It?
Whether or not Great Resumes Fast is worth it is entirely up to you.
Our goal is to provide you with the most transparent and helpful information possible. But, only you know what is best for you and your career.
Here is a summary of our findings on Great Resumes Fast written and reviewed by a Certified Professional Resume Writer:
Customer Reviews: 25/25
Cost to Value: 20/25
Sample Quality: 20/25
Writer Credentials: 15/25
Total Score: 80/100
As a reminder, we highly recommend reviewing 2-3 services before making a final decision.
If you're in need of a top-notch resume writing service, we suggest checking out Find My Profession. With a team of experienced reverse recruiters and a commitment to customer satisfaction, Find My Profession can help you find your dream job. And with a perfect score of 100/100, you can trust that you'll be in good hands!