2022 Winners: Add your badge to your marketing materials.
Are you looking for professional growth in The Twin Cities?
Then you are in luck as the job market in Minneapolis is booming.
However, with increased opportunities comes tougher competition.
To succeed, you need a solid career strategy.
Who can offer personalized strategies for career growth better than professional career coaches?
That's why we have created this list of the top career coaches in Minneapolis.
If you aren't sure about the next step in your career or are not satisfied with your career growth, check out our list and choose the best service for you.
Best Coaching Services in
Minneapolis


4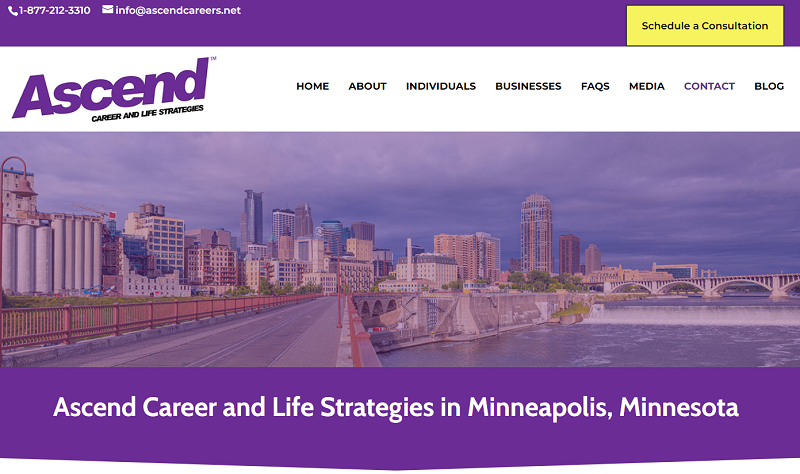 4
5

5
6

6
7

7
See more services
See less services
How We Choose Winners
Each of the Minneapolis career coaching services below was reviewed, taking into consideration the following:

Cost
Price of the service compared to other Minneapolis career coaches.

Credentials
Overall experience, awards, and certifications.

Process
Effectiveness of the process from start to finish.

Reviews
Client reviews on third-party platforms.
This list was hand-curated to serve all industries, professions, and career levels. While many of the services on this list are from Minneapolis, these career coaches are virtually available whether you are in Minneapolis, Mankato, Marshall, Rochester, Alexandria, St Cloud, Austin, or any other Minnesota city.
Average Minneapolis Coaching Cost
Minneapolis
Career Coaching Cost
Average Career Coaching Cost
$1571
Career Coaching Cost Range
Minneapolis Career Coach Reviews
Find My Profession offers a one-of-a-kind experience that goes far beyond any other career coaching service on this list.
While traditional career coaches will teach you how to find a job, Find My Profession's Reverse Recruiting service will do the work for you.
This white-glove service will search for jobs on your behalf, apply for you with a customized resume to fit the application, and network with key decision-makers to secure interviews.
The only thing they won't do is show up to the interview for you. But don't worry, this service includes interview preparation to make sure you'll crush any interviews they land you
PROS
You can save hundreds of hours searching for jobs, filling out applications, customizing your resume, and networking. Finally, you can pay someone to find you a job. Your dedicated Reverse Recruiter will create a personalized strategy to manage all aspects of your job search. Each Reverse Recruiter only works with four clients at a time, providing you with personalized attention and care.
CONS
If you're looking for a traditional career coach to help you change career paths, this service may not be a good fit. The Reverse Recruiting service is for professionals who know what kind of job they want but don't have the time or energy to find it on their own. There is also usually a waitlist of about one month.
REVIEWS
5/5 based on 124 Google reviews
5/5 based on 35 Facebook reviews
5/5 based on 8 BBB reviews
4.9/5 based on 304 Trustpilot reviews
4.7/5 based on 255 Sitejabber reviews
COST
$2,500 per 4-week period
CONTACT
(831) 888-0967 or help@findmyprofession.com
Check out some of our 5-star reviews:
C.A. on May 14, 2022
Experience Was Excellent
I had the opportunity to work with Melissa, and I must say the experience was excellent. The communication was great, the level of professionalism and effectiveness was very high, from identifying the right jobs to networking with the right people in LinkedIn! I highly recommend this service to anyone in a senior position who is serious about finding a new job. Take it from me, you can not do it better yourself.
B.E. on April 1, 2020
MISSION ACCOMPLISHED!
The huge value of Find My Profession is having an expert job hunter searching and applying for jobs for you while you go on with your busy life. These guys are sophisticated, experienced and well-connected. If you are in no hurry, love the idea of spending hours a day on your computer searching through job databases, and fielding endless inane correspondence from recruiters, by all means *don't* hire Find My Profession and do the work yourself. If not, hire these guys.
K. W. on April 12, 2022
Secured A Great Role!
I am so pleased with my experience with Steven Lowell at FMP. I was looking to change industries, but too busy and overwhelmed with my day-to-day to embark on the journey on my own. Not only did he do the heavy lifting with applications, but was a readily available resource in coaching to ensure I nailed interviews and marketed myself in the best way possible. He has helped to give me realistic expectations without short-changing myself or my skills to get the job I wanted. Thanks to him, I was able to secure a great role at my dream company within 6 weeks!
F. C. on January 13, 2022
Exceeded My Expectations
I cannot say enough great things about working with Melissa C. She far exceeded my expectations. On top of job search interactions, she expanded my network, not focusing on quantity, but by quality as well. She delivered both. Thank you Melissa.
J.C. on May 30, 2022
Excellent Service
David is by far the best reverse recruiter I have ever had the pleasure to work with. He truly goes above and beyond in everything he does when he works with you, and the results definitely show it. He was professional throughout the entire experience. His attention to detail, overall industry knowledge, and the way he takes care of his clients is best in class. Also, turnaround time and email responses were done very quickly. If you don't work with David for your job search needs, you're missing out big time!
S.S. on August 18, 2021
Highly Recommend
It had been 18 years since I'd had to job search, and had no idea where to start. Steven was very skilled in networking, helping me find positions that were of interest, but weren't necessarily ones I would have looked for myself, applying, (and outside his job description) dealing with my emotions as I got rejections, and became frustrated trying to figure out what I was searching for. I appreciate how fast I was able to find something that I feel like will be a great fit, and I would highly recommend Steven and this service.
Visit Find My Profession
Beard Avenue is run by Leonard Lang, PhD. Leonard has 20 years of experience in career and job coaching. He offers a fully personalized approach without cookie-cutter tests and strategies. He has also authored a book on career coaching and is frequently featured in Minneapolis media outlets.
PROS
Leonard has developed his own signature step-by-step career coaching system. He meets with clients in his Beard Avenue office and offers a money-back guarantee. Discounts are available for coaching packages.
CONS
Although extremely experienced, Leonard doesn't have any certifications from industry coaching associations. Also, the pricing is not mentioned on the website. You will need to contact Leonard for specifics.
REVIEWS
5/5 based on 31 Google reviews
5/5 based on 4 Angie's List reviews
5/5 based on 3 Yelp reviews
COST
$195 per hour
CONTACT
(612) 925-5478 or llang@beardavenue.com
Visit Beard Avenue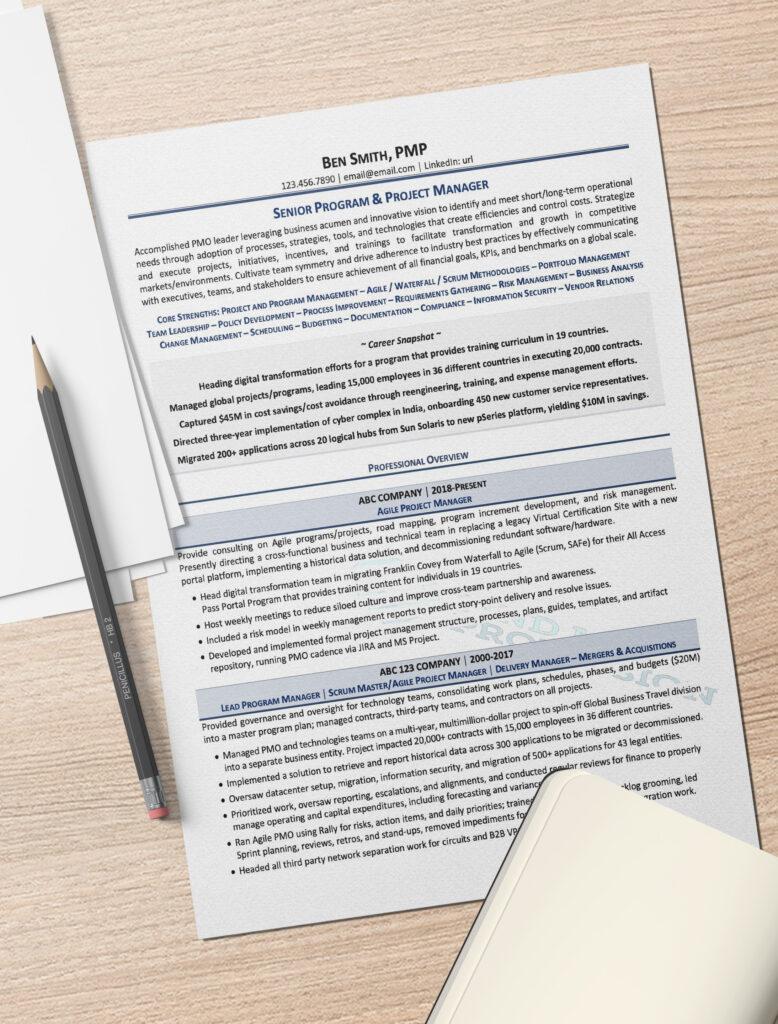 Is Your Resume Perfect?
Have you updated your resume lately? Most career coaches are not professional resume writers. Check out our list of the best Minneapolis resume writers.
Anastasia Tripolskaya offers a program designed to help successful, but unfulfilled, professionals find a meaningful career path. With 10+ years of coaching experience, Anastasia is certified by Erickson Coaching International and International Coach Federation (ICF).
PROS
Anastasia offers free consultations to prospective clients. There's also a free masterclass on finding your life's work available on her site. She offers payment plans if needed.
CONS
There are no details available on the website about the cost, duration, and number of sessions included in the program. You will need to contact Anastasia for more details.
REVIEWS
5/5 based on 19 Google reviews
5/5 based on 4 Facebook reviews
5/5 based on 3 Yelp review
4.9/5 based on 17 Thumbtack reviews
COST
$897 – $1997 per program
CONTACT
contact@tripolskaya.com
Visit Anastasia Tripolskaya
4
Ascend Career and Life Strategies
Ascend Career and Life Strategies was founded by Donald J. Strankowski in 2001. Donald has extensive corporate experience in multiple esteemed positions. He is also an accomplished writer and speaker on career success. Most of his clients are hired in a new position within 60 days of their initial engagement date.
PROS
You can meet your coach in person in Minneapolis. Ascend offers a variety of coaching programs. They promise to stay engaged and committed until you get bona fide full-time employment.
CONS
There are no details available on the website about the career coaches other than Donald. You will need to contact the service to learn more about other coaches.
REVIEWS
5/5 based on 3 Google reviews
4.5/5 based on 3 Yelp reviews
COST
$192 – $225 per session
CONTACT
(877) 212-3310 or info@ascendcareers.net
Visit Ascend
5
Live Life Purpose Coaching & Consulting
Live Life Purpose Coaching & Consulting believes that we all have gifts that help us fulfill our unique life purpose. The founder, Gracie Miller, wants you to find those gifts and make the best use of them. Gracie has multiple certifications related to career and life coaching, even one for energy healing.
PROS
The company offers a free 30-minute coaching session to new clients. Gracie also offers a condensed one-month coaching program and a program for budding entrepreneurs.
CONS
There are no guarantees for the coaching services. There are not many third party reviews yet for this service started in 2012.
REVIEWS
5/5 based on 10 Google reviews
COST
$350 – $2625 per program
CONTACT
gracie@livelifepurpose.com
Visit Live Life Purpose
Begin Again Coaching provides a personalized, non-judgmental, and playful space for you to tap into your own wisdom. It is run by Freda Marver. Freda is a CTI and MBTI certified coach with 10+ years of corporate experience. She has been featured on many of the most trusted media outlets in the Twin Cities.
PROS
You have the option to meet Freda face to face at her St. Louis Park office. For the past 3 years, she has been voted a Favorite Career/Life Coach in Minnesota Women's Press. Don't worry, she coaches men too.
CONS
Begin Again Coaching doesn't offer a free initial consultation. Also, there's no option to buy individual sessions. You will have to purchase a package and commit to it.
REVIEWS
COST
$2950 per program
CONTACT
(612) 922-4952 or freda@beginagaincoaching.com
Visit Begin Again Coaching
7
Bartels Executive Coaching
Bartels Executive Coaching is owned by Kim Bartels. This is a specialized career coaching service for female executives in Minneapolis. Kim has a PhD in Psychology with a specialization in Counseling Psychology. She is also a Strengths Strategy Certified Coach. She has been an executive coach for more than 15 years.
PROS
You can buy standalone coaching sessions as well as coaching packages. You can contact Kim in between sessions as needed. The cost of these in-between sessions is included in the original cost of the service.
CONS
As a specialized service for women, 95% of their clients are women. This is great news for female leaders. But men might have to opt for other options on our list. Also, the services are not backed by any guarantees.
REVIEWS
COST
$225+ per session
CONTACT
(612) 759-5627 or kimbphd@gmail.com
Visit Bartels Coaching
Previous Years Winners
Minneapolis Career Coaching Winners (2021)
Find My Profession, Beard Avenue, Anastasia Tripolskaya, Ascend Career and Life Strategies, Live Life Purpose Coaching & Consulting, Begin Again Coaching, Bartels Executive Coaching