If you are searching for a new job, an Indeed.com account is a must-have for you.
Indeed.com is the most popular job search website in the world.
Knowing how to find a job using Indeed.com is the first skill that you should master.
What makes Indeed so popular is it's easy navigation and clutter-free job search experience.
Another great benefit of using Indeed.com for your job search is that you will get all the job postings from all other job sites, job boards, and company career pages in one single place.
Indeed aggregates all the job postings in one place just like Google aggregates all your search items from all over the internet.
In this article, we have compiled all the skills and knowledge that you need to find a job using Indeed.com.
How to Set Up an Account on Indeed.com
Setting up an Indeed profile is not a difficult task.
It is like opening any other online account that you are familiar with.
Go to Indeed.com and click Sign in in the upper right corner.
If you already have an account you will get to directly sign in using your email and password.
You also have the option of signing in using your Google and Facebook accounts.
If you want to create a new account, follow the steps below.
Click the Not a member? Create an account free link at the bottom of the screen.
The next page will allow you to create your account using Google or Facebook or enter your email address and create a password to create a new account.
Top Tip
It is always a good idea to have a separate email address for your job search process so that your important emails do not get lost in your personal inbox.
You will receive an email asking you to verify the email address that you entered to prove that you are the owner of the account.
Check your email account and verify your email address.
Once all these formalities are complete, you will get another email providing you with a link to Indeed Career Guides.
Follow the Let's begin link to get the preliminary ideas on how to use Indeed.com for searching for jobs.
You will also receive a Notification from Indeed in your account with the same link. Once you click the Let's begin link in your account, the notification will disappear, so hold on to your email from easy access.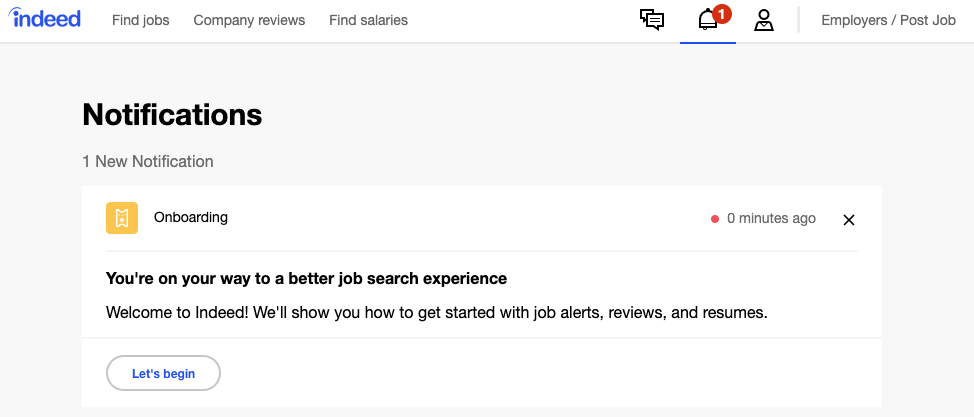 Your account is now active, it's time to complete it to get the most out of Indeed.
How to Add an Indeed Resume
Creating an account was easy, creating a resume not so much.
But you must create your Indeed resume.
You have two options for adding your resumes to the Indeed.com database:
Uploading a resume you already have.
Building your resume through Indeed.
Click on the account icon on the top-right menu to access your resume tab on Indeed.com.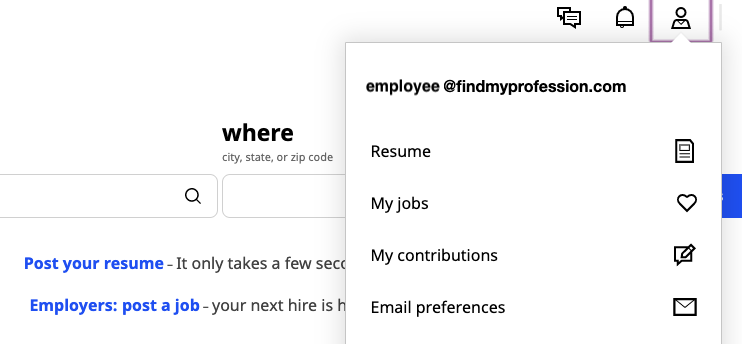 After clicking on the resume tab you will get the two options: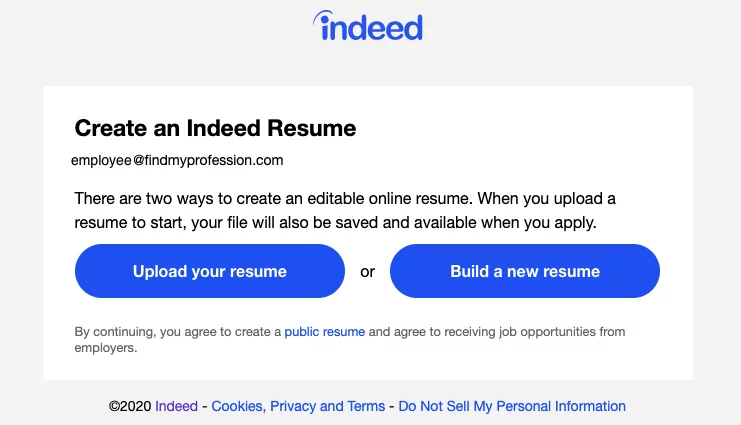 Click the option that works best for you.
Uploading Your Resume to Indeed.com
After clicking the Upload your resume button, you will be asked to go to the file location of your resume on your computer and select it for uploading.
Once the uploading is complete, Indeed will let you know that they have converted your file to an online resume.
Indeed converts your uploaded resume into an online resume that you can then edit and change at any time.
You can also access the file that you uploaded from your account or use that uploaded resume while applying to jobs.
It is best to review your resume after uploading, as the conversion process could result in unintended changes to your resume.
Click Review your resume to go to this page: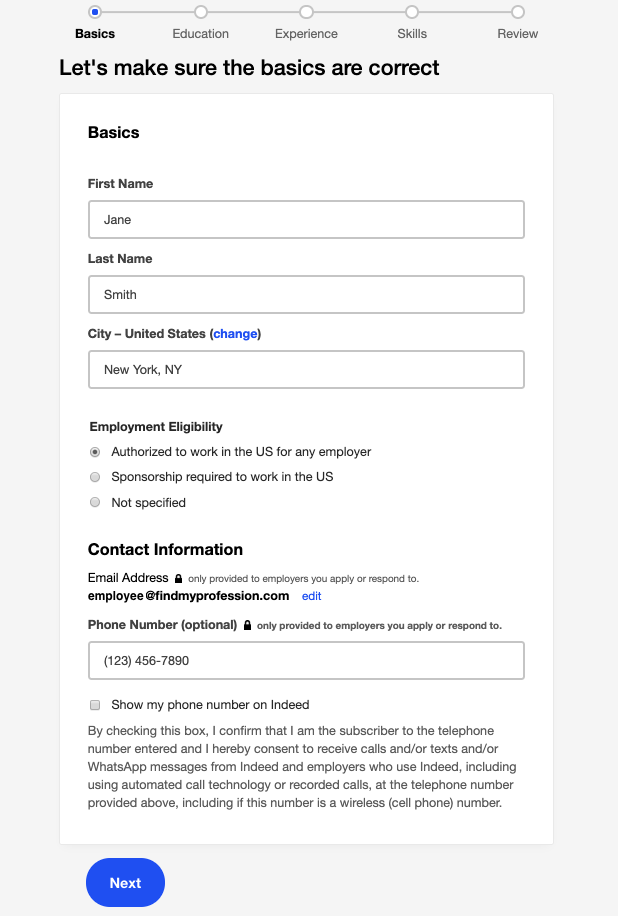 You will find that all the inputs have been collected from the resume you have uploaded.
Just make sure that all the details are in proper places and no mistakes or displacement occurred during the conversion.
Do the same for all the sections of your resume:
Education
Experience
Skills
Indeed will make suggestions to change on your final resume.
Be sure to add a headline and summary if they didn't populate automatically. More on this below.
Don't overlook the bottom of the resume where you can add certifications, additional information, and additional resume sections.
Do a final review before clicking the Save and Continue button.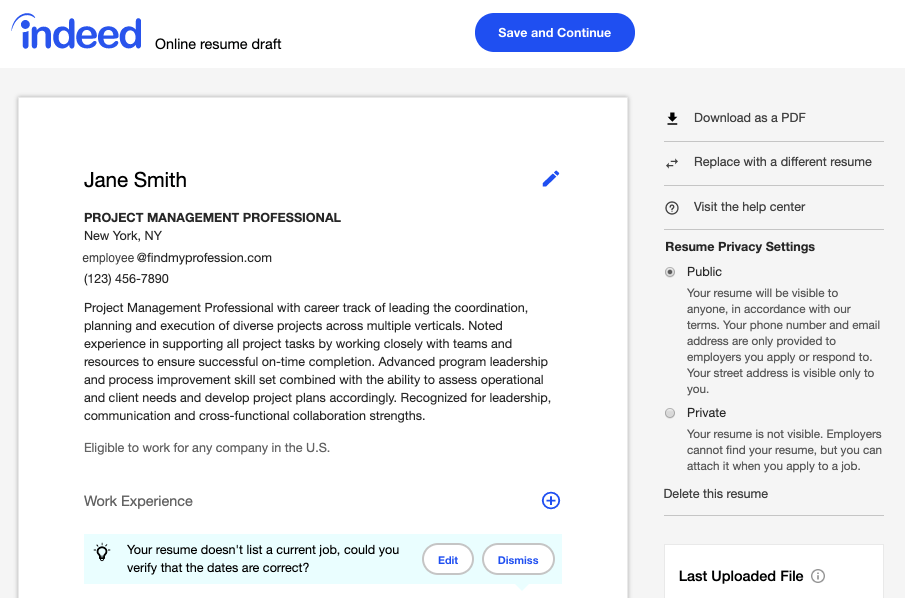 You will also be asked for some additional information, such as your job preferences, salary expectations, relocation information, and more.
Do not ignore these details as they will be used by Indeed for personalized job alerts and for matching you with potential employers.
Once you complete the questions, you will be done uploading your resume.
On the right side of your resume, you will see other options where you can replace or download your resume.
Make sure to mark your resume as Public so that hiring managers can see you in their resume search.
Creating Your Resume on Indeed.com
If you don't have a resume already, creating your resume on Indeed.com is very similar to uploading your resume.
Instead of uploading and reviewing all the details, you have to start with manually filling in all the same details in the same order:
Complete your basic information.
Add all of your education details.
Complete the work experience section – notice the Indeed tip at the top of the screen about filling in as many job experiences as you can.
Add all of your skills – use the job postings of your targeted job titles to find the most relevant skills to enter.
You will be directed to the same resume interface to check your resume for accuracy and completeness.
From there, move on to Continue applying or click the Find jobs tab in the upper left corner.
Tips for Your Indeed.com Resume
Remember that your Indeed.com resume is searchable and visible to potential employers if you set it as public.
You should give considerable importance to your Indeed.com resume just as you would to any of your resumes.
Follow the following tips to get the most out of your Indeed resume.
Include a Resume Headline, Summary, and Additional Sections
To make you resume comprehensive, attractive, and more search-friendly, you should make the most use of the headline and resume summary options on your Indeed resume.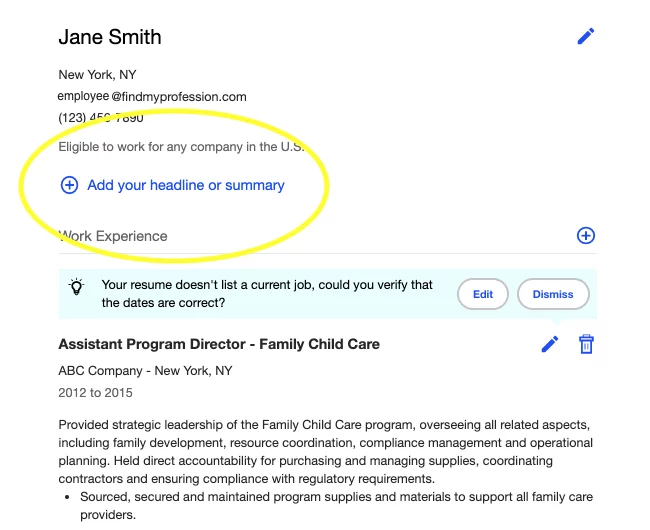 Add your current job position or the position you are currently targeting as your resume headline. Try to avoid any fancy terms, like "guru" or "ninja", as they might emit an unprofessional vibe.
Keep in mind that your resume headline will display just below your name and above your contact information.
As for your Indeed resume summary, the standard resume summary writing rules apply to it.
A resume summary is a high-level summary of your career so far. If you can't cut and paste from your current resume, try to create a short paragraph containing four to five sentences as your resume summary.
The summary should describe your career highlights – your core skills, strengths, and noteworthy professional achievements.
Moreover, you should also make the maximum use of the additional sections, like Certifications / Licenses, Additional Information, and Add Sections options on your Indeed resume.
You will find those options at the bottom of your Indeed resume: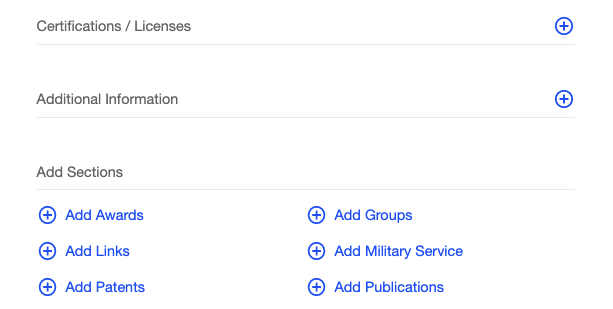 Adding this information will not only enrich your resume but also increase the likelihood of appearing on more searches.
Use Keywords
Another important aspect of creating any kind of resume for any purpose is the use of job, skills, and industry-specific keywords.
Using keywords properly ensures that your resume will pop-up whenever potential Indeed employers are searching for resumes.
While describing your job experiences, skills, education, and other details, make sure your wordings include the keywords that are likely to be searched for.
You should also make the title of your resume search-friendly by properly stating your professional title or the job title you want to have.

Instead of saying:
Passionate Programmer

Clearly define your professional title as:
Senior/Experienced Software Engineer
(Learn more about creating a resume and using keywords.)
Resume Customization
You can only have one resume in your Indeed profile at a time.
Make it your master resume that contains all the information about your education, experiences, skills, and other details.
Doing this makes it more likely that you will appear in a broad range of searches.
While applying to individual jobs, always make sure that you apply with a targeted resume specifically customized to the job you are applying for.
For this targeted resume, only include the experiences, skills, achievements, training, keywords, and other details that are relevant to the job.
Use Quantifiable Achievements
While describing your experiences, education, and skills on your Indeed resume, you should always showcase your noteworthy achievements.
And, while doing so, it is important to quantify those achievements.

Instead of saying:
Increased conversion rate of marketing campaigns significantly.

Use numbers to quantify your achievements:
Increased the conversion rate of marketing campaigns by 20%.
Using numbers makes a much better impression on the hiring manager.
It turns your achievements into something concrete.
How to Find the Best Jobs on Indeed
Your Indeed.com account and resume are complete!
Now, it is time to start searching for jobs.
Here's how to search for the best Indeed.com jobs for you:
Begin your search by typing in the what and where details of the job on the homepage.
Use the drop-down Indeed.com filters (like job type and experience level) to narrow down your search results.
Use Advanced Job Search filters (like "exact phrase" and "none of these words") to further streamline the process.
Use email job alerts and the Indeed mobile app for the fastest job search experience.
Let's get a deeper look into each of the steps below.
Begin Your Job Search on Indeed.com
The first thing is to know what jobs you are looking for.
Which kind of positions will be most suitable for you based on your level of experience, skills, and expertise?
Start your job search on Indeed, by putting those job titles on the what area of the interface.
You can also search by specific company names and other keywords related to your skills and industry.
You will start to get tons of Indeed job postings just by doing this.
Now, enter the location (where you want the job to be located) into the where field.

You have successfully started your Indeed job search process!
Indeed.com Filters
Indeed job search results can seem overwhelming at first as it will bring to you all the jobs available from everywhere on the internet.
So, you should narrow down your search results as much as you can to get the most relevant Indeed job postings for you.
Using filters is the best way to do that.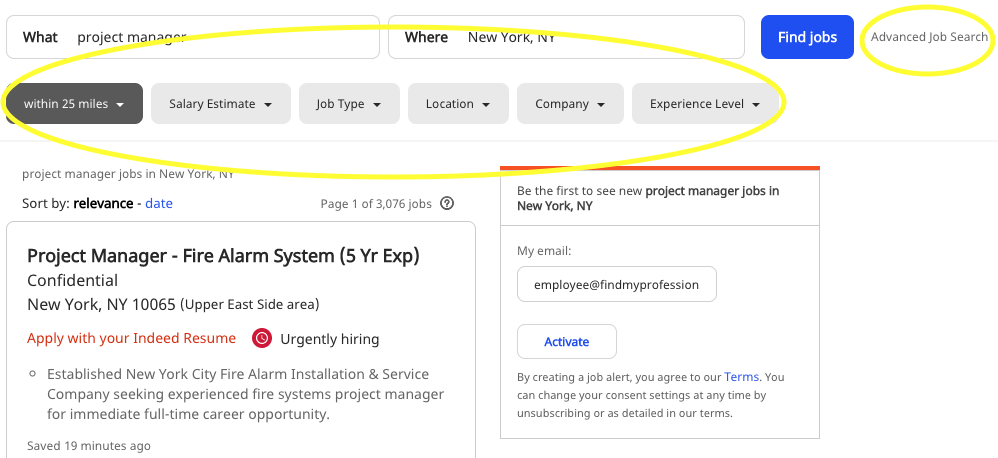 As you can see, you can sort the results based on salary range, job type, location, company, and level of experience.
Use the combination of these filters to get to the job that suits you the most.
Indeed Advanced Search Options
If you click on the Advanced Job Search link on the right side of the Find jobs button, you will find a whole new world of options to further improve your job search results.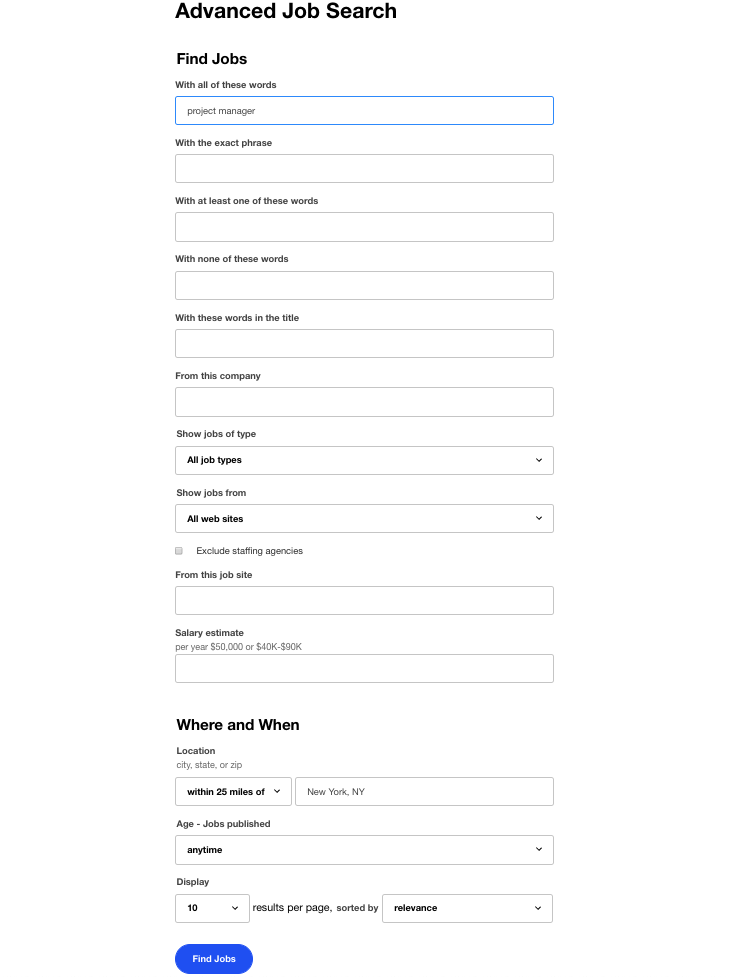 You will get to pick which words the job posting must contain and which words it should not contain.
You can further specify the salary range.
You can even specify the job sites you want your job postings to come from.
Another very useful option is the location specifier, with which you can search for jobs within a specific radius around you.
Find Indeed Jobs Near You
There are two ways you can find jobs near you using Indeed.com:
Using the location filters and Indeed advanced search options to specify your location and search radius.
Directly typing in "Indeed jobs near me" or "Indeed jobs [location]", such as "Indeed Jobs Houston", on Google.
To get the best search results, use the advanced filters directly on the Indeed dashboard.
Typing in "Indeed jobs near me" or "Indeed Jobs Houston" may not offer you the best search experience.
How to Apply for Jobs on Indeed.com
To apply to any job on Indeed.com, click on the job result on your search results page.
The detailed job posting will show a blue Apply on Company Site or an orange Apply Now button.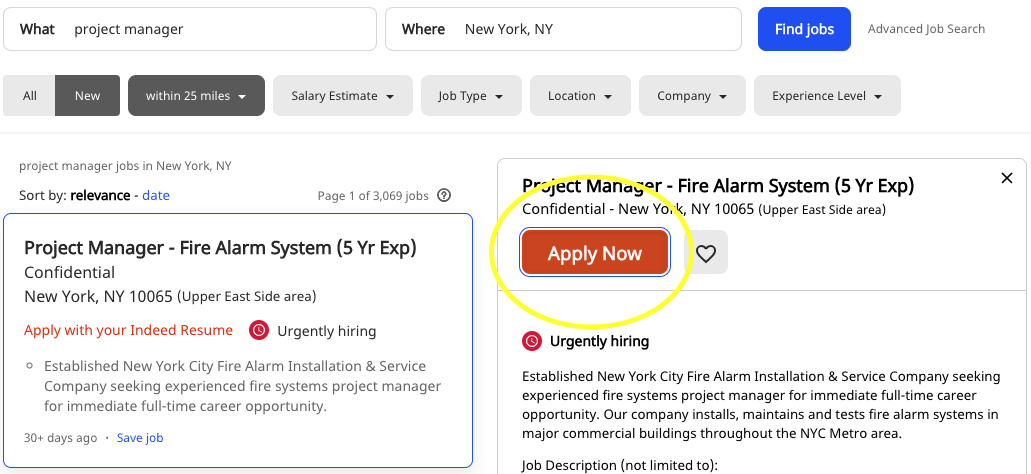 Apply On Company Site means that you will have to visit the company's website and apply from there.
Always remember to apply with a tailored resume and cover letter.
(Learn about writing a cover letter here.)
The Apply Now button means that you can apply to the job directly from the Indeed.com website with the Indeed resume that you have created.
However, even then, you should always apply with a fully customized resume specifically crafted for the job you are applying to by clicking on Apply with a different resume.
Attach the version of your resume that is tailored to this role, don't use your master Indeed.com resume.
You can also save the job to apply to later by clicking the heart icon next to apply links.
Top Tips For Your Indeed Job Search
So far, we have covered the basics of Indeed job search.
There are plenty of other resources and tips that you can use to conduct Indeed job searching like a pro.
Get Job Alert Emails From Indeed
The first thing that you should do is activate job alert emails from Indeed.com.
You can activate email alerts each time you conduct a search.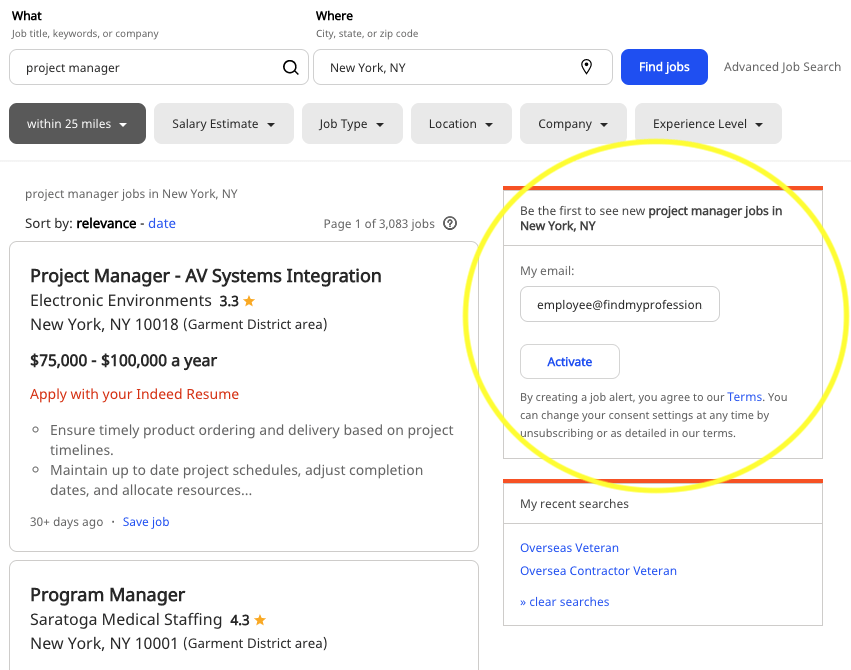 Just click the Activate button under your email address on the box right to your search results.
When new jobs are posted or aggregated based on your search, you will get it delivered directly to your email.
To edit or change your email preferences, click on the Email preference link from your account accessed from the top right of the page.
You will get to the page where you can edit or delete your email subscriptions: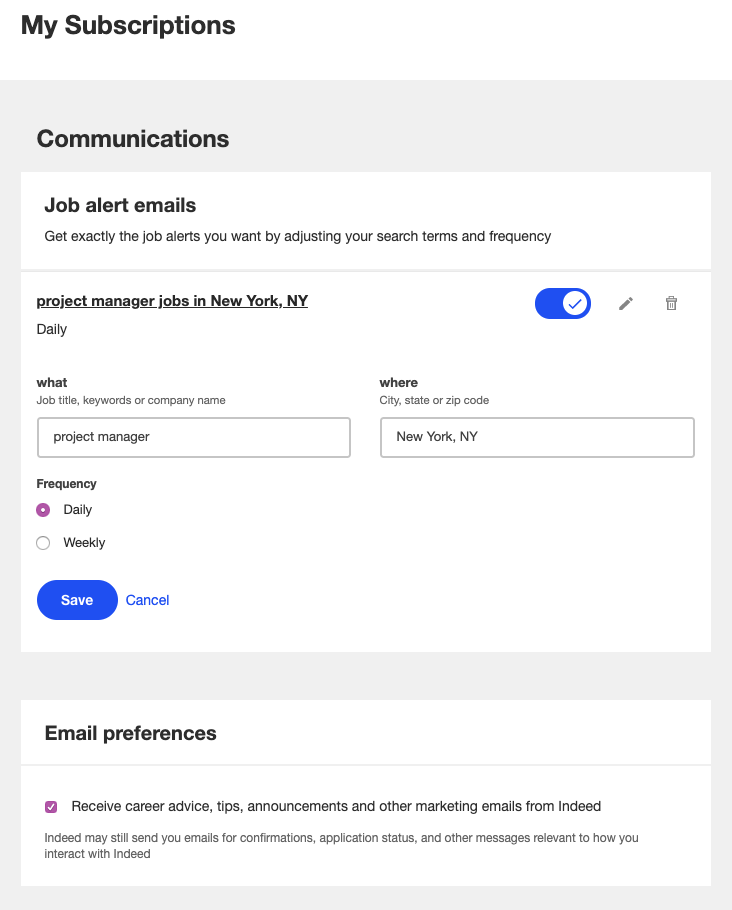 Using email alerts allows you to be one of the first to see your most desired jobs and makes sure you do not miss any job that matches your search criteria.
Download the Indeed Mobile App
You should make the most out of the Indeed mobile app.
It is available for IOS and Android.
You can do everything from searching for jobs, getting job alerts, editing your resume, and applying to jobs directly from the app.
Using the app will make your Indeed job search experience easier and more effective while you are away from your computer.
Use Indeed Job Search Tricks
There are a lot of useful search tricks that you can use to get to the job that matters to you.
The most useful Indeed job search tricks are the use of quotation marks, title tag, and company tag.
Using quotation marks with your search terms will ensure that the search results contain exactly those words in the same order as it is within the quotes.
For example:
If you use project manager in the What search area, you will get all the jobs containing the words "project manager" together as well as jobs containing "project" and "manager" separately.
But using quotation marks will ensure that you only get the Indeed job postings that contain both the words together.
By using title and company tags in your Indeed Advanced Job Search terms, you will be able to search for jobs with specific words in the title and from specific companies.
For example:
If you want the job title to contain project manager, use "project manager".
And, if you want jobs from a specific company use "XYZ Corporation" in quotes.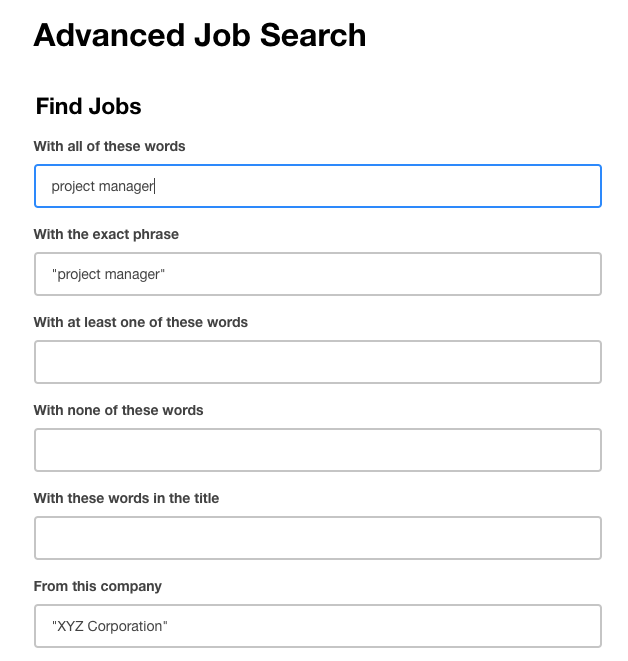 You can also combine the two tags to get to a specific job title within a targeted organization.
Use the My Jobs List
From the Indeed My jobs section, you can access all the jobs you have:
Saved
Applied to
Interviewed for
Been offered
Been hired
Visited
Archived
It is the centralized tracking system for all the jobs on your radar to keep you organized and up-to-date.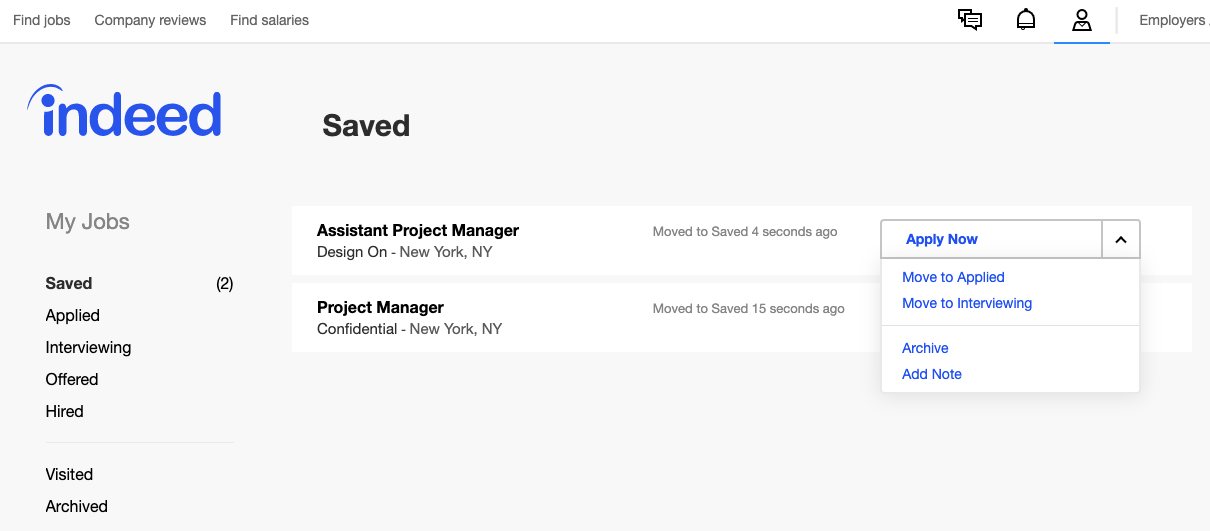 You can access this section by clicking the account icon in the top-right menu.
Complete Your Search Preferences
Another interesting feature that you can access from your account icon is called Search preferences.
From there, you can set up a few parameters that will apply to all the searches that you make on Indeed.com.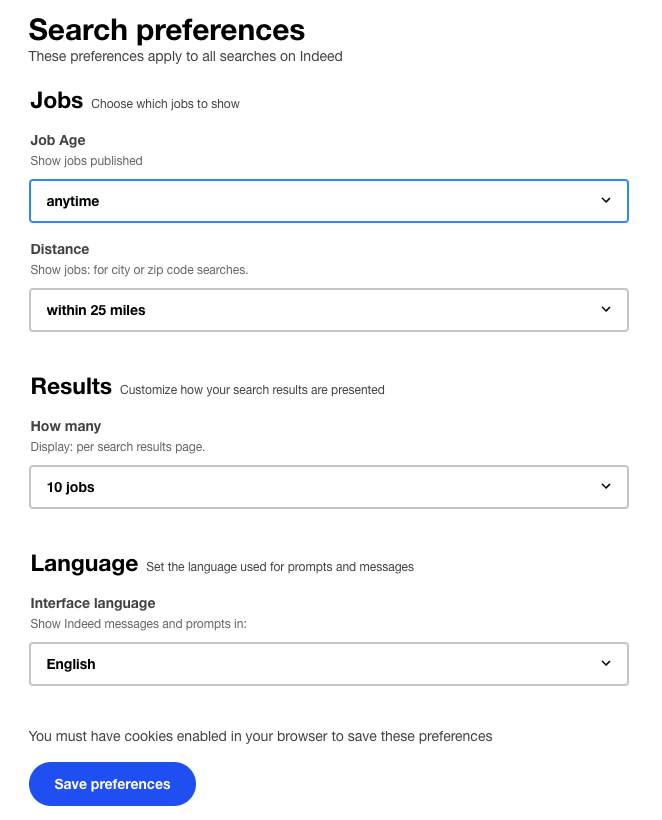 Use these preferences only when you have a certain preference that is essential for you, such as you must have the job within a certain distance from your residence.
Otherwise, it will limit your search results each time you do a search.
Access Company Reviews and Salary Search Features
Another great resource that you can access from your Indeed.com account is the Company reviews and Find salaries features found on the top left of the webpage.
Using these features, you will be able to research your targeted companies and salary range of your preferred job positions.
From the Company reviews tab, you will get all the information about a company, such as employee reviews, company culture, work-life balance, salary ranges and benefits, and available jobs. You can also Follow the company for new job postings.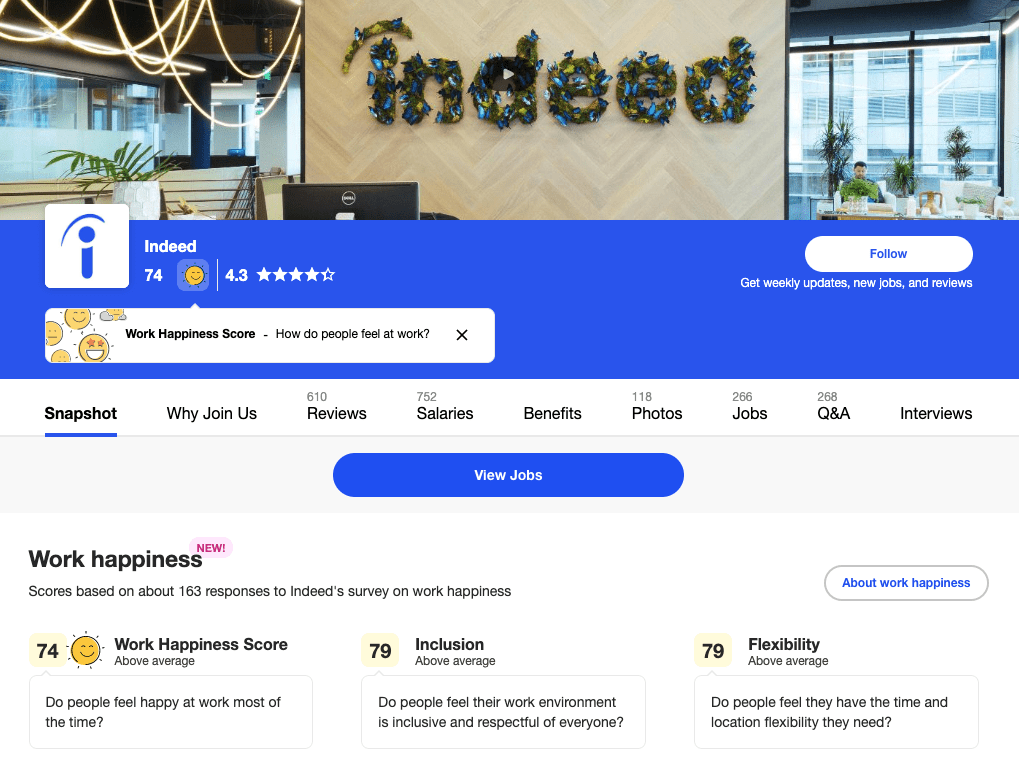 From the Find salaries tab, you will get to know the average salaries of all the jobs based on location. You will also see career advice and FAQs regarding the job title you entered.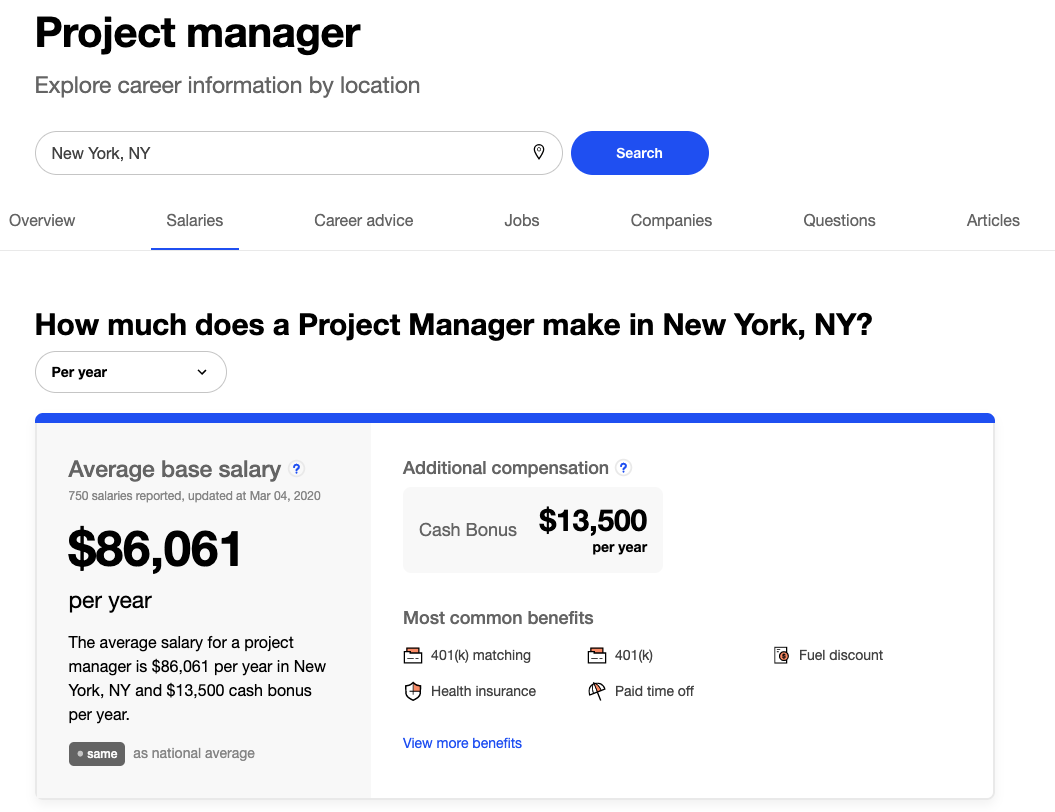 You can use these features to gain knowledge about your preferred companies and positions to further streamline your job search process.
Join the Indeed Online Community
The Indeed online community is a great place to communicate with other job seekers and career experts to get help for any problems that you might face during your job search.
It is also a place for tons of resources, career tips, and job search guides for additional help with your job search.
You can also take part in the ongoing discussions and debates that are going on within the community or start a new discussion of your own.
Be Aware of Shortcomings
Although Indeed is the most popular job search website, it has its own set of drawbacks that you should be aware of.
As anybody can post a job for free, there can be jobs that are spam or not posted with any serious intentions.
So, you should always pay a visit to the company website to see whether they are current job postings before investing your time in applying to a job.
You should also be aware of expired Indeed job postings or invitations to apply that do not match your resume.
Key Takeaways
As you can see, learning how to find a job using Indeed.com is not much of a difficult task.
You can open an Indeed.com account in a few easy steps.
Upload or create your Indeed resume by filling in the education, experience, skills, and other sections.
Start searching for jobs using job title, company names, skills, or other keywords.
Narrow down your job search results using filters and Indeed advanced search options.
Apply to jobs with customized resumes.
Done! You are all set towards your next career move.