Among the many online resources available for recruiters and job seekers, LinkedIn has proven itself to be a great tool for professional networking.
You'll find recruiters from recruiting firms as well as from some of the world's leading companies on LinkedIn. This makes it a prime "hunting ground" for job seekers.
The power of LinkedIn is enormous if utilized in the right way, but the question is…
How do you reach out to recruiters on LinkedIn?
To connect with recruiters on LinkedIn, you should know how to do 3 things:
Find the right recruiters to contact
Use LinkedIn to send messages
Write messages that get responses
In this article, we'll walk you through how to message recruiters on LinkedIn. You'll also find some highly effective LinkedIn message samples to send to recruiters.
How to Find Recruiters on LinkedIn
More than 80 percent of recruiters use LinkedIn to search for potential candidates.
How do you find recruiters on LinkedIn the right way instead of waiting for them to find you?
There are a couple of ways to find recruiters on LinkedIn:
LinkedIn search using filters
Google search using the "site:" command
Let's walk through the steps of finding recruiters on LinkedIn.
Determine Your Specific Job Targets
Obviously, before you go searching for recruiters, taking the time to optimize your LinkedIn profile is time well spent if you hope to get noticed.
You need to determine two things to find the right recruiters for your jobs search:
What is the industry you seek to work in?
What are the names of some companies you wish to work for?
As with other parts of your job search, the "spray and pray" technique won't work here.
You cannot just send random connection requests and expect to land the perfect job.
Determine what kind of job you're looking for before you reach out to recruiters on LinkedIn. Be clear about your desired job positions and narrow it down to a select few.
Refining your goals and objectives will help to ensure you get promising leads. This saves time and effort for both you and the recruiters you connect with on LinkedIn.
2. Use the LinkedIn Search Function
LinkedIn is as much a search engine as Google is – one focused on finding professionals, jobs, companies, and recruiters.
The best way to search for recruiters is to use the LinkedIn search function at the top left of the main page.
Follow the steps below to get started with your search to find a recruiter on LinkedIn:
Go to the LinkedIn search bar on your profile page. (The search bar is located directly to the right of the LinkedIn logo.)
Type "recruiter" or "headhunter" in the search bar.
Make sure you select the "People" tab so you only see people within the results and not jobs, posts, companies, or groups. This will show you all recruiters and where they work. You'll be surprised at how many results come up! In fact, you'll want to narrow the results down because it will take forever to browse through thousands of recruiters.
Perform a more targeted search by typing "recruiter" with a particular industry. For example, "recruiter accounting."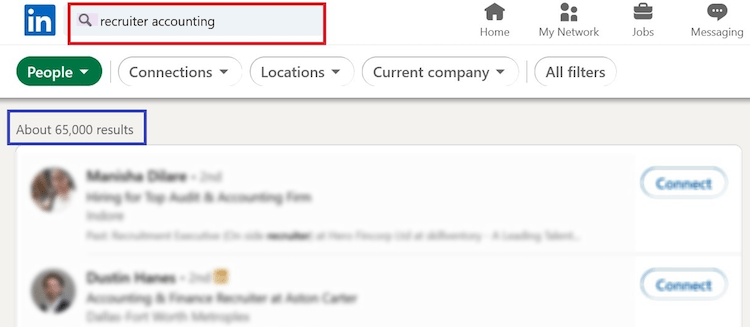 This search returns a number of people that are recruiters at accounting or audit firms.
3. Use LinkedIn's Search Filters to Refine Your Search
Once you perform a search on LinkedIn and see the results, you can further refine your search by using filters.
The filter tabs are located just under the search bar.
Besides the "People" tab, you can also filter your search by current company, past company, location, industries, categories, and keywords.
You can filter your search results to find recruiters who have keywords in particular parts of their profile. Some keywords are more relevant when you're looking into a specific organization.
You can also filter by the "Connections" tab.
Choose 1st-degree for people you are already connected to or 2nd-degree for people who have mutual connections in common with you, or 3rd for people who are connected to your 2nd-degree connections.
Premium LinkedIn members get access to even more filters such as years of experience, seniority level, function, company size, groups, and more.
4. Use Search to Find Internal Recruiters
Internal recruiters are those who work directly for a company or organization. Generally, most large companies use internal recruiters to fill positions.
So, if you're looking for recruiters that are internal to a specific company, the steps below will get you started.
Start with the company name you're looking for. For example, if you're targeting "Deloitte," type "Deloitte" in the search bar at the topof your profile page.
Make sure your search filter is set to "Companies" instead of "People" this time.
Go to the company's profile page (in this case, Deloitte). Once you're on Deloitte's profile page, click on "See all employees on LinkedIn." This will show you a list of all the employees with Deloitte.
Now, you can add filters to narrow your search results to only HR and recruitment professionals.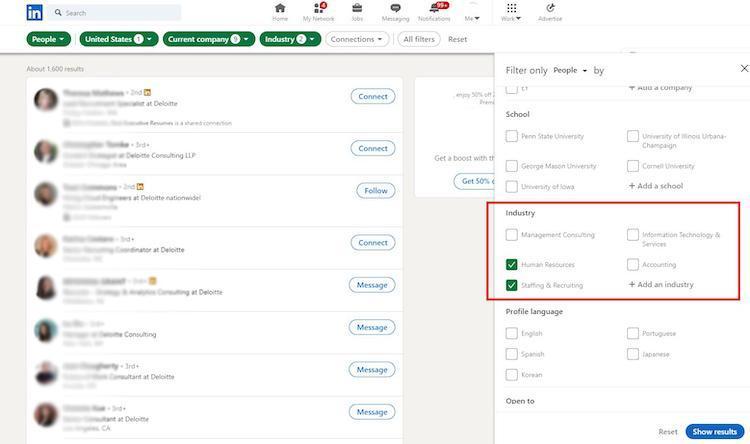 You can also use other filters such as location and keywords to narrow down your search even further.
5. Use Google Search to Find Recruiters on LinkedIn
Did you know you can search within a specific website using Google search?
This is a way to overcome some of the limitations of LinkedIn's search function. You will find recruiters through Google regardless of how many LinkedIn connections you have "close enough" to them.
There are some drawbacks though.
You will need to sort through the Google search results because you will see names and recruiter job postings. You may also find names of recruiters that you have already connected with on LinkedIn. And of course, all the recruiters won't be relevant to your job search.
To use Google search, open Google and type "site:linkedin.com" followed by your search keywords.
For example, if you're searching for recruiters in Delaware, you should type "site:linkedin.com recruiter delaware" in the Google search bar.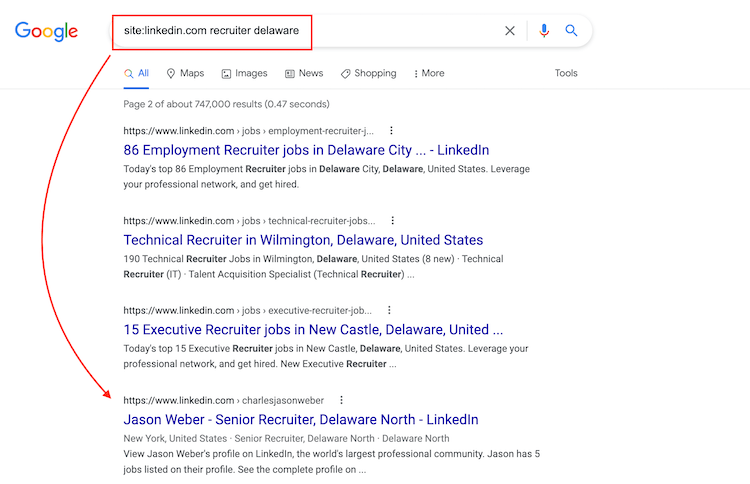 The search results will return all recruiters on LinkedIn with "Delaware" in their profiles. Check out their profiles and connect with the recruiters that align with your job search.
Now that you know how to find recruiters on LinkedIn, it's time to learn how to reach out to them with effective and targeted messaging.
How to Send Messages to Recruiters on LinkedIn
When it comes to your initial contact and building a relationship with a recruiter, you want to increase your odds of getting noticed with a LinkedIn message that works.
There are two main approaches to connecting with recruiters on LinkedIn.
You can send an InMail or a connection request with a personalized message.
1. Send an InMail Message
One of the ways to reach out to recruiters on LinkedIn is via LinkedIn InMail.
You can use InMail to message those you're not directly connected to. LinkedIn claims people are three times more likely to reply to an InMail message than a traditional email.
The InMail feature is, however, available to only LinkedIn Premium and Sales Navigator users.
Depending on the type of LinkedIn subscription you have, you get a fixed number of InMail credits a month. You lose the InMail credits if the recruiters don't respond to your message.
Follow these steps to send an InMail message on LinkedIn:
Navigate to the profile of the recruiter you'd like to send an InMail. Use the search tool to find the person and to go to their profile page.
Click on the "Message" button located below the headline. This prompts you to a separate window where you can write your message.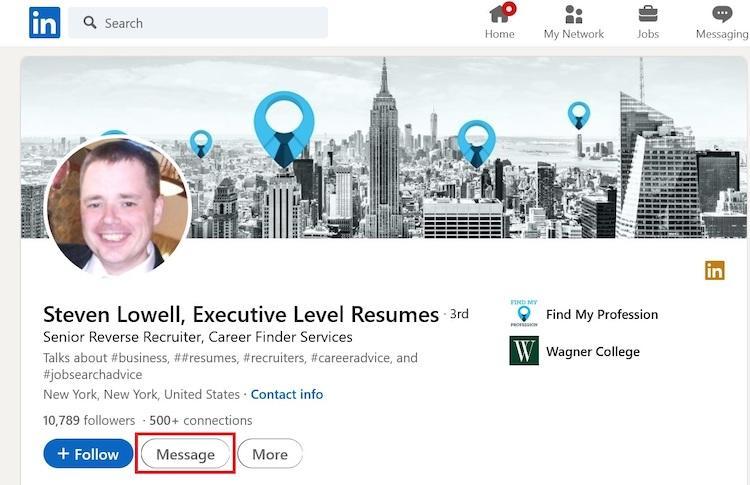 If you do not have a premium account, clicking the button will prompt you to upgrade to a premium plan.
2. Send a Personalized Connection Request
A short and concise message request is a great way to connect with recruiters on LinkedIn.
Connection requests can be the only option for you if you're not a Premium member.
Follow these steps to send a connection request on LinkedIn:
Navigate to the profile of the recruiter you'd like to connect with. Use the search tool to find the person and to go to their profile page.
Click on the "Connect" button located below the headline. Click the "More" button if you don't see the Connect button. This prompts you to a separate window where you can write your message.
Never send a connection request to recruiters without a personalized message. Adding a personal note will increase the likelihood of your request being accepted.
If the "Connect" option has been turned off, you will need to get a LinkedIn premium subscription. You have the option of getting a month's free trial if you haven't used that already.
Top Tip
Make an additional connection with the recruiter outside of LinkedIn. For instance, follow them on Twitter or leave a comment on their blog.
How to Write Messages to Recruiters on Linkedin
Now that you've found the right recruiters and viewed their profile on LinkedIn, you're finally ready to connect!
But, before you click on that blue "Connect" button or send an InMail, you have to know what to say.
Your message should show that you took the time to research the individual; it should also offer a clear reason as to why you want to connect.
Consider the points below when messaging recruiters on LinkedIn.
1. Use a Proper Subject Line
Just like a headline is the most important part of an article, a subject line is your first opportunity to grab the recruiter's attention. It can make or break your chances of getting noticed.
Believe it or not, many message requests are rejected based on the subject line alone.
Make sure the subject line for a LinkedIn message to a recruiter clearly states your objective for the message. The recruiter should be able to instantly know what it's about.
Also, keep it short and make it clear.
Here are a few examples of how to write your subject line:
Question about Content Editor vacancy
[First Name], a question from a prospective Marketing Manager
Speculative Application: Senior Content Editor
Inquiry from a Project Analyst seeking new opportunities
The purpose of the subject line is to get the recruiter to read your message. So, it's best to get straight to the point.
2. Start With Positivity
Everybody likes to feel important and your recruiter is no different. Try to address the person by name.
Make the recruiter feel they matter by beginning the conversation with a cheerful and positive opening.
"Hi, I want to know about a job," isn't a great opening.
On the other hand, "Hi John, I hope you're having a great day!" sounds like you have a sincere interest in the other person.
Here are a few examples of positive message openers:
It is a pleasure to meet you!
Hope this message finds you well.
Thanks for getting in touch.
Excited to connect with you!
It's nice to meet you!
Allow me to introduce myself.
These are some common yet professional message greetings you can use to kickstart your message, particularly when you're addressing a recruiter.
3. Personalize Your Message
It's important you try to learn about the recruiter you're planning to connect with. So, make sure to read the recruiter's profile before reaching out to them.
If you spend enough time studying their profile, you may find something that you have in common.
For example, you may find that you share common interests or maybe you went to the same school or university, or you studied the same subjects – anything you can use to strike a chord.
Remember, in order to get an engaged response, you want to write a message where you relate with them in some way to add a personal touch to your message.
A great example of this might be something like the following:
Hi John,
It's always a pleasure to meet a fellow alum! I came across your profile while researching [company] and would love to learn more about the company. Can we connect?
This is short and it shows that you took the time to research them and says why you want to connect.
4. Provide All The Essential Information
Please note that the worst kind of candidates for recruiters are the ones who offer no clear idea of what they want.
Be clear about what you want and make sure it reasonably lines up with your experience, abilities, and qualifications.
Also, be mindful of the job title.
It is important to provide the reason you're writing the message right after the opening lines.
Mention your interest in the role and what you can do to benefit the company. Provide all the relevant information so the recruiter has a clear idea of what position would be ideal for you.
Conveying that level of professionalism is important because this is your first interaction with the recruiter. You only get one chance to make that first impression so, make it count.
Top Tip
You can send recruiters messages even if there isn't an immediate opening. They can keep your information in their database.
5. Briefly Mention a Few Crucial Skills
Your message should be short and to the point. Remember, recruiters are very busy individuals and you should respect that.
However, you also want to write a message where you add a hint of your professional value without getting much into the nitty-gritty details of the job.
Make sure the message consists of only essential information and your most important skills.
After you have set the mood with personalization and offered the context, mention your most relevant skills and experiences, and what you're currently looking for.
You'll need to do this in a few concise sentences. Remember that messages under 100 words prompt higher response rates.
6. Include a Call to Action
Getting the recruiter to take action requires a little persuasion. And there is nothing wrong with that.
Include a call to action at the end of your message, such as requesting a call or a meeting, so the recruiter will know how to reach you.
This is an effective way to offer recruiters an opening to contact you about a current or future job opening.
Here are some call-to-action examples you can use in your message to a recruiter:
I'd love to connect with you to stay up-to-date with new openings.
I am happy to jump on a quick call at your convenience.
I look forward to hearing from you.
I'd appreciate any feedback you can offer.
Would you be open to learning more about my background?
While ending your message with a call to action, you do not want to sound pushy; maintain a professional tone and strike a balance of confidence and appreciation.
7. Follow Up
So, you haven't heard from the recruiter yet?
This can make you feel slightly irritated, but the key is to be patient.
It is a general rule of thumb to follow up one or two weeks after sending a message to the recruiter.
A follow-up message demonstrates your commitment and enthusiasm about a particular job or a company.
Try to be enthusiastic and professional when writing a follow-up, and politely ask about the timeline.
If the recruiter doesn't respond to your connection request or your follow-up message, it's best to let it go and move on.
If they haven't followed up with you, there's likely a reason for that. So, it's advisable to look somewhere else.
LinkedIn Message to Recruiters Examples
Looking for what to say to recruiters on LinkedIn?
For many, approaching a recruiter for the first time can be intimidating. We've provided a few message samples to help you connect with a recruiter, the right way.
You can use these LinkedIn message examples as inspiration to craft your own.
InMail messages can have up to 200 characters in the required subject line and up to 1,900 characters in the body. Be brief, yet effective!
The sample messages below are short and to the point, but provide the necessary information.
Example 1: InMail Message For a Specific Job
Hi [Recruiter's name],
Hope this message finds you well. I see you work for [company name] in the [name of the city] area. I grew up there, but now I am a [current job position] based in [current city].
I wanted to reach out to discuss a possibility of working together. I noticed that you recently posted a job for a [job title] and I thought that I might be a good fit for the role.
I'd love the chance to discuss how my [specific skills] and experience might benefit the company. I'd be happy to connect with you and speak further.
Thanks for your time and consideration.
Regards,
[your name]
Example 2: InMail Message For a Job in a Specific Industry
Hi [Recruiter's name],
I hope you're having a great day. I noticed that you are a recruiter working for [industry name] and thought you might be able to help me.
I am currently working at [current company name], but looking to explore new opportunities in [industry]. I've been working for [number of years], and I am ready to take on a new challenge.
If you have time, I would love to talk about my [skills] and experiences in [industry] and how I can use those skills to meet your clients' growth goals.
I'd be happy to provide any additional information you might need.
Looking forward to hearing from you!
[your name]
Example 3: InMail Message for a Job at a Specific Company
Hi [Recruiter's name],
Nice to meet you! I came across your profile while researching [Company Name]. I wanted to reach out to discuss the possibility of working together as I noticed that your company has recently placed an advertisement for a [job title].
I'm a [current job position] with [number of years] of experience and currently seeking new opportunities. I would love to discuss how my [specific skills] and experience would be of value to your organization.
Even if I am not suitable for the position, I'd be happy to connect with you and appreciate any insights you might have from a recruiter's perspective.
Have a nice day and I look forward to hearing from you.
Regards,
[Your name]
Top Tip
You can create extra spaces between your paragraphs with "Shift" and "Enter".
Example 4: Connection Request
Hi [insert name]. [Insert polite greeting]. I am currently seeking [types of jobs]. I have [elevator pitch of your experience to the recruiter]. Would you be open to viewing my resume or hopping on a quick call this week?
The recruiter hasn't agreed to connect with you yet, so you want to keep your message short and simple.
Once you get a reply from the recruiter, it's time to respond back with more than just a simple "thank you for connecting" message.
Find out how to properly answer messages on LinkedIn by being as social as you are professional.
Top Tip
Always check your spelling and grammar before hitting "Send"!
Key Takeaways
Connecting with recruiters on LinkedIn might seem scary, but if you know how to do it right, most recruiters would be happy to establish a relationship.
Make sure you have a complete, strong, and well-optimized LinkedIn profile so when they look at your profile and check you out, they are more inclined to accept that connection request.
In addition, an up-to-date LinkedIn profile can help recruiters find you easily via a quick LinkedIn search.
It's a win-win!