This article is designed to be a comprehensive review of Lindsay Duston.
As of June 2020, Lindsay Duston was employed by Find My Profession, Inc. as the Director of Executive Resume Services.
Lindsay's primary responsibilities include:
Leading a team of professional resume writers with experience in more than 85+ industries/professions.
Hiring and onboarding new writers as needed.
Spearheading the growth and development of resume writing best practices.
Reviewing/auditing each completed resume before it is sent to the client.
Enough about her job description for now, let's move on to some of her accomplishments.
Lindsay Duston Accomplishments
There is no doubt that Lindsay is top-notch when it comes to resume writing and management. In fact, we'd say that she's the best in the business.
Sure, that's just our opinion and we may be biased, but we're not alone.
Many other coworkers, clients, and peers have spoken praise about the high quality of work that Lindsay Duston provides.
Here are just three of the excellent reviews that Lindsay Duston has received from past clients.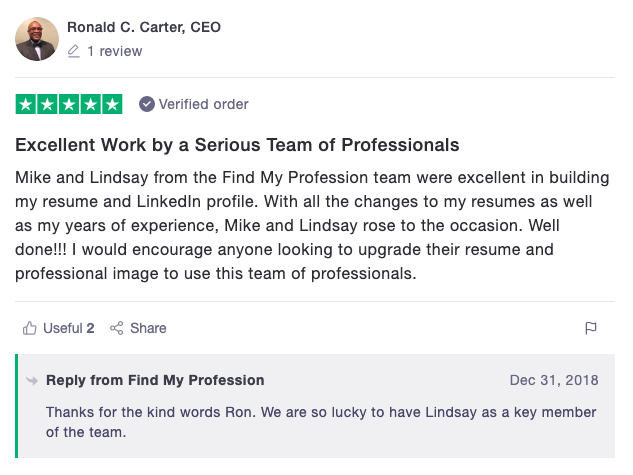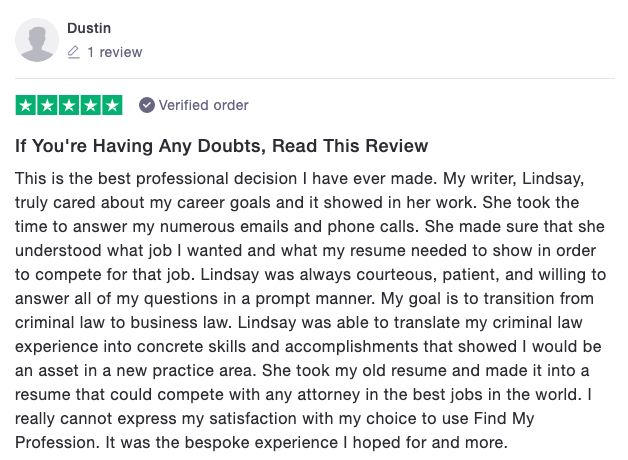 We've also gathered two reviews from current/former colleagues.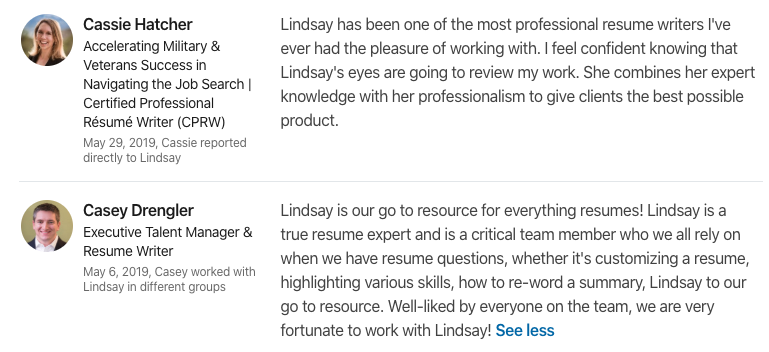 Beyond great reviews, Lindsay has a lot more to boast:
In January 2019, Lindsay was featured by us as a Top Certified Professional Resume Writer (CPRW).
Experience writing resumes for more than 150 industries/professions.
Bachelor of Arts, English.
Certified Professional Resume Writer (CPRW).
17+ years of writing resumes professionally.
Just to name a few…
Lindsay Duston Career History
2018 – Present | Find My Profession, Inc. | Director Executive Resume Services
Manage a team of anywhere from 5-20 contract and/or full-time resume writers. Assign clients to appropriate resume writers, ensure quality, timeliness, and client satisfaction. Oversee development of resume curriculum and quality standards for Find My Profession, Inc.
2014 – 2018 | Resume Experts. Inc. | Remote Manager
Provided leadership and direction for a team of 10+ remote writers/CPRWs charged with creating career services packages for high-volume client base. Supervised and monitored writing staff, providing ongoing coaching, training and mentoring to ensure optimal performance.
2014 – 2016 | About Jobs Resume Writing & Career Management | Senior Proofreader/Editor
Served as Lead Editor providing proofreading, guidance, support, and coaching for a remote staff of up to 12 writers to ensure a high standard of quality and performance.
2003 – 2018 | Independent Contractor | Resume/Creative Writer
Extensive experience in drafting effective resumes for a diverse clientele, including FBI Personnel, Professional Athletes, Hollywood Directors and Producers, Professional Coaches and Government Officials.
Lindsay Duston Education History
Lindsay Duston attended Western Kentucky University and received her Bachelor of Arts (B.A.), English.
Lindsay Duston has received a Certified Professional Resume Writer (CPRW) certification from the Professional Association of Resume Writers.