Your resume is an important part of the job search. It could very well be the thing that sets you apart from your competition.
This also means that a subpar resume can set your job search back months.
Today we will be reviewing CareerProPlus and their resume writing services.
We have taken a deep dive into the customer reviews, cost, resume samples, and writer credentials at CareerProPlus. Our overall rating for CareerProPlus is 80/100.
CareerProPlus
Score
Our goal is to help you find the best resume service that will advance your career. Take a look at some other top-rated resume writing services and find the perfect fit for you!
Best
CareerProPlus

Alternatives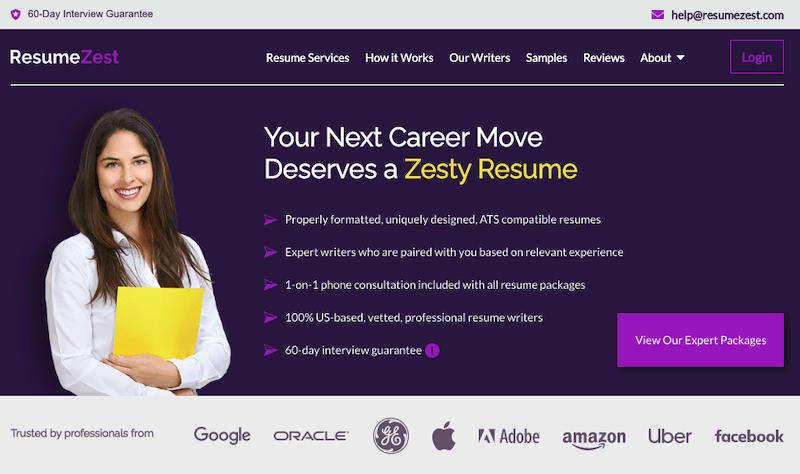 About CareerProPlus
Founded in 1986, CareerProPlus is one of the oldest resume writing services in America.
Barbara Adams is the President and CEO of the company. Aside from managing the company, Barbara is also a distinguished resume specialist.
CareerProPlus is a part of CareerPro Global's (CPG) group of websites. CPG offers a wide range of career services from resume writing to corporate career training.
The resume writing team consists of experienced, multi-credentialed, and award-winning resume writers. They provide resume writing services to all levels of professionals from all industries. They have more than 60,000 satisfied clients so far.
Let's dive right into some of the pros and cons when it comes to working with CareerProPlus.
CareerProPlus Pros vs Cons
As with any company, there are pros and cons. It's up to you to determine what is a "must-have" and what things you can live without.
Pros
30+ years of resume writing experience.

65,000+ resumes written since inception.

Featured on media outlets including ABC, CNN, NBC, and more.

Published 300+ online and print articles.
Cons
Very few online reviews despite being such an old company.

Mainly focused on federal and military transition resumes.

No free revisions after 14 days of receiving the initial draft.

Website lacks information about the cost and turnaround time.
If you are looking for a resume writing service, CareerProPlus is a great option, but it is worth exploring other alternatives to find the best fit for your needs.
One such alternative is Find My Profession who has also been recognized by reputable sources such as CNET, Forbes, and Inc., and has a team of certified resume writers with a combined experience of 200+ years.

However, Find My Profession differs from CareerProPlus in that they have an average rating of 4.9/5 from over 900 previous clients, provide services to private, federal, and military clients, and offer free revisions until you are satisfied.
CareerProPlus Customer Reviews

Our Certified Professional Resume Writers have rated CareerProPlus an 80/100. Additionally, CareerProPlus has received customer reviews of 4.8/5 on BBB with an A+ rating, 4.7/5 on Facebook, a 3.5/5 on Yelp, and a 4.5/5 on Yellowpages. While these are impressive, we'd have loved to see reviews from Trustpilot and Sitejabber.
Better Business Bureau shows 107 reviews with an average rating of 4.8/5. The majority of these reviews said that the team at CareerProPlus was communicative, collaborative, and delivered a resume that highlighted their skills and achievements.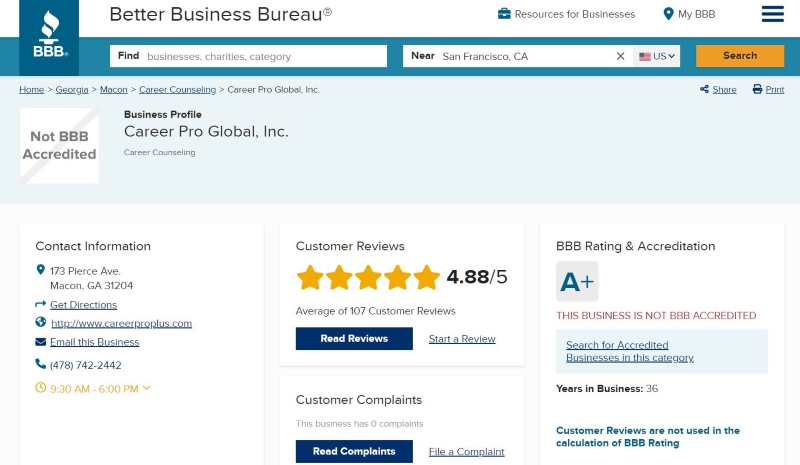 Facebook shows 25 reviews with an average rating of 4.7/5. Most of their positive reviews say that CareerProPlus is skilled in understanding a client's work history and transforming it into a selling resume.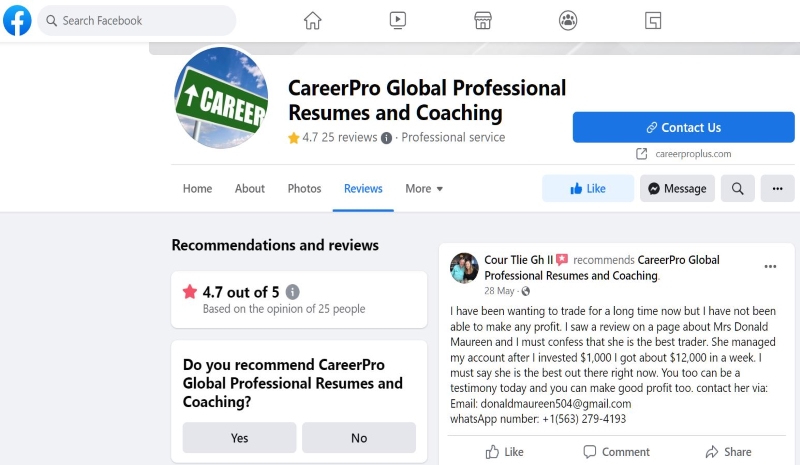 Yelp shows 9 reviews with an average rating of 3.5/5. While more than 65% of the reviews were happy with the team's resume quality and responsiveness, 30% were livid with the team's unprofessional communication.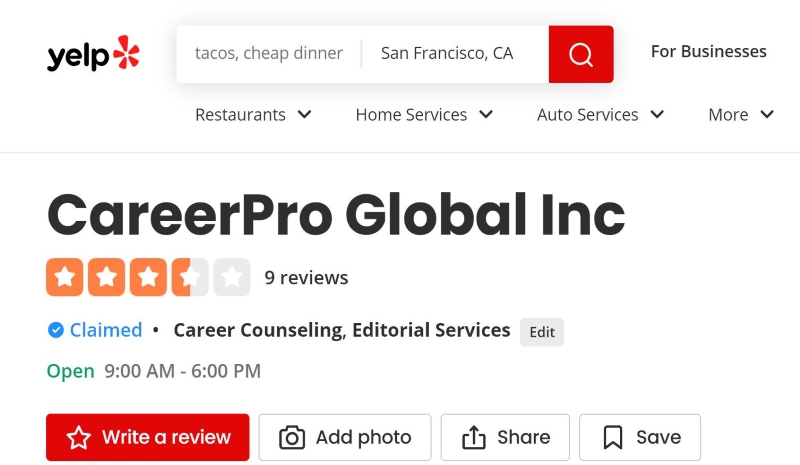 Yellowpages shows 8 reviews with an average rating of 4.5/5. It's hard to tell if these CareeProPlus reviews are still relevant, considering that they're all from over 4 years ago.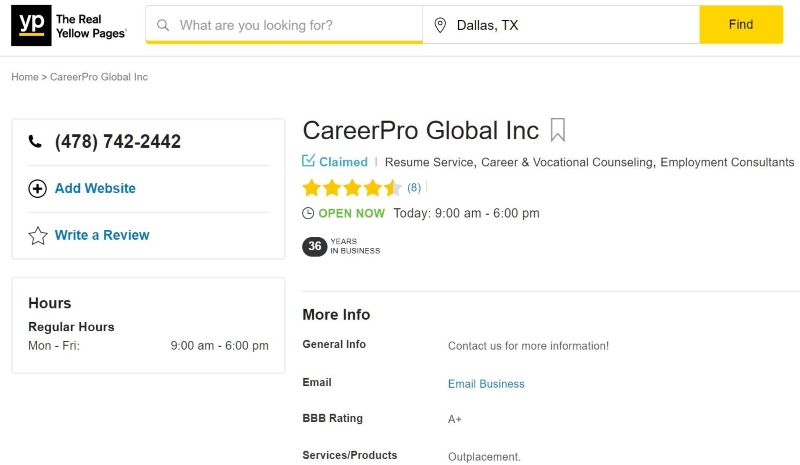 As with anything, it's important to take each review with a grain of salt. Additional research should be done beyond reading the reviews that are found online.
How Much Does CareerProPlus Cost?

CareerProPlus does not provide the cost of their resume writing services on their website. However, after extensive research, we discovered that CareerProPlus costs range from $995 – $1,995 for a single resume. You'll have to contact them directly to book a personalized quote.
$1,495
Unfortunately, more detailed information about their pricing was not shared on the website. We aren't big fans of companies that do not transparently list price ranges on their site.
After all, what do they have to hide? Typically, companies who do not list prices want you to schedule a call so they can try to sell you their services over the phone.
For the most accurate and up-to-date details on package pricing at CareerProPlus, we recommend that you contact them directly.
CareerProPlus Resume Sample
We wanted to see what the resume quality of CareerProPlus looked like so we took a look at some of the resume samples featured on their website.
We've attached a CareerProPlus resume sample for you to review (first page only). Below, we share some of the things that we liked, and what we disliked about this resume.
The Good
 Resume includes the required KSA's.

 Content contains measurable, specific accomplishments.

 Fulfills USAJOBS requirements and specifications.

 Content is strong and well-written with detailed information.
The Bad
 Does not have a specific target job title.

 Does not include a summary at the beginning of the resume.

 There is no clear direction for the content due to no target.

 Does not list the job announcement information.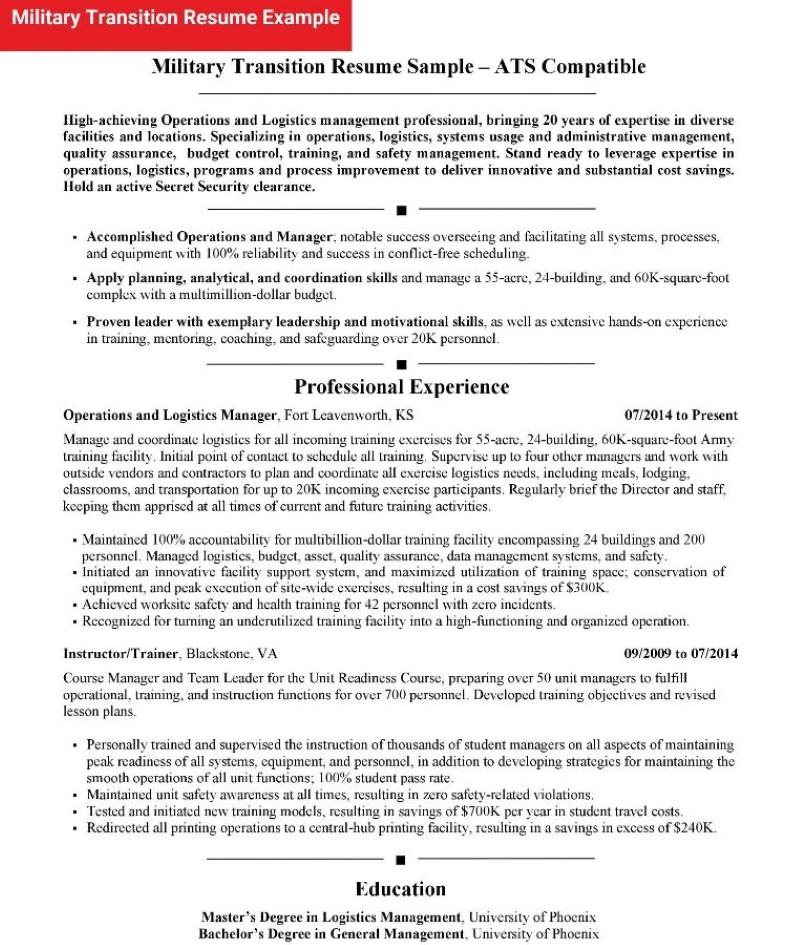 CareerProPlus Resume Writer Credentials
CareerProPlus' resume writing team consists of published authors, human resource professionals, journalists, editors, educators, branding experts, public relations experts, and former military officers among others.
All the resume writers are certified professionals. Some of the certifications they have include Certified Professional Resume Writer (CPRW) and Certified Advanced Resume Writer (CARW).
Some members of their team are also Master Military Resume Writers (MMRW) and Master Federal Resume Writers (MFRW).
It's important to note here that the MMRW and MFRW certifications are made and distributed by CareerProGlobal which is the parent company of CareerProPlus. So, we take these certifications a little bit less seriously.
The team has been nominated for seven Toast of the Resume Industry (TORI) nominations and has won one for "Best Military Transition Resume."
They are recognized industry experts and are often called upon for interviews by ABC and NBC affiliates, CNN, and other reputable media outlets.
You can view the profiles of all the resume writers directly on the website.
CareerProPlus Resume Writing Process
CareerProPlus follows a straightforward and simple operating procedure for getting your resume written.
Let's look at the steps taken in CareerProPlus' resume writing process below:
Send your current resume to them for a review, if you have one.
Contact the service for a no-obligation consultation to determine your strategy and get a price and turnaround quote.
A resume writer will be assigned to you within 24 hours
You will have a one-on-one consultation with your resume writer.
The resume draft will be sent to you on the agreed-upon due date.
You will have 14 days to request any changes to the resume.
For federal resumes, you will also receive guidelines on how to apply for jobs on the USAJOBS website.
Also, as part of their Five Point Guarantee, you can have your resume reviewed again within three months of receiving your final documents if you are not happy with the results.
Is CareerProPlus Worth It?
Whether or not CareerProPlus is worth it is entirely up to you.
Our goal is to provide you with the most transparent and helpful information possible. But, only you know what is best for you and your career.
Here is a summary of our findings on CareerProPlus written and reviewed by a Certified Professional Resume Writer:
Customer Reviews: 25/25
Cost to Value: 25/25
Sample Quality: 5/25
Writer Credentials: 25/25
Total Score: 80/100
As a reminder, we highly recommend reviewing 2-3 services before making a final decision.
If you're in need of a top-notch resume writing service, we suggest checking out Find My Profession. With a team of experienced reverse recruiters and a commitment to customer satisfaction, Find My Profession can help you find your dream job. And with a perfect score of 100/100, you can trust that you'll be in good hands!