Your resume is an important part of the job search. It could very well be the thing that sets you apart from your competition.
This also means that a subpar resume can set your job search back months.
Today we will be reviewing Federal Prose and their resume writing services.
We have taken a deep dive into the customer reviews, cost, resume samples, and writer credentials at Federal Prose. Our overall rating for Federal Prose is 70/100.
Federal Prose
Score
Our goal is to help you find the best resume service that will advance your career. Take a look at some other top-rated resume writing services and find the perfect fit for you!
Best
Federal Prose

Alternatives




About Federal Prose
Federal Prose is a federal resume writing company based in Charlottesville, Virginia. The company was founded in 2002, and is currently run by Mary I. Wagoner and Eric Brass.
Mary is a National Resume Writers' Association (NRWA) certified resume writer and her partner, Eric, is a Certified Federal Resume Writer and Career Coach. They also have a team of experienced and certified federal resume writers.
Federal Prose combines modern technology with traditional writing methodologies to get the best results for you.
Let's dive right into some of the pros and cons when it comes to working with Federal Prose.
Federal Prose Pros vs Cons
As with any company, there are pros and cons. It's up to you to determine what is a "must-have" and what things you can live without.
Pros
Moderately priced resume service starting at $399.95.

5 – 10 business day turnaround is quicker than most.

An hour-long one-on-one consultation with your writer.

20+ years of resume writing experience.
Cons
No resume writing certifications.

Very little online reviews from previous clients.

No satisfaction or interview guarantees.

Website lacks attention to detail.
Federal Prose Customer Reviews

Our Certified Professional Resume Writers have rated Federal Prose a 70/100. Additionally, Federal Prose has received customer reviews of 5/5 on Google. This in itself isn't bad, but considering there are only 5 reviews, it doesn't give us a whole lot to go off. We would have liked to see more customer reviews from credible third-party sites like Sitejabber, Trustpilot, BBB, or Yelp.
Google shows 5 reviews with an average rating of 5/5. Impressive rating, but five reviews alone is disappointing for a company that has been operating for over 20 years.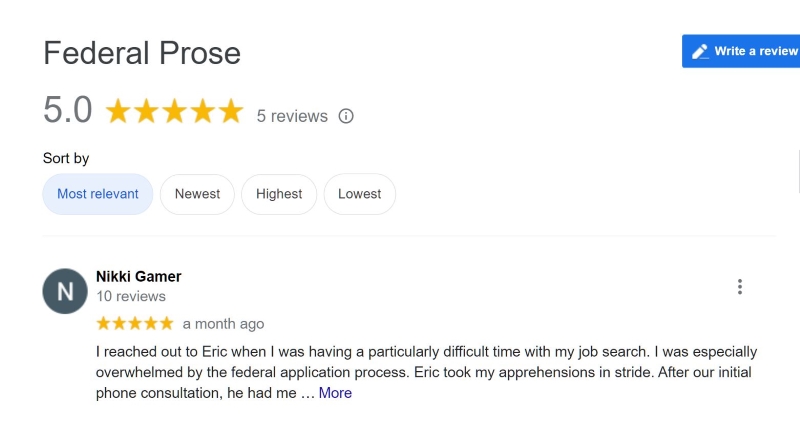 Federal Prose is in the bottom 10% of resume writers that we have reviewed when it comes to the number of online reviews.
With so few reviews, it's even more important to do extensive research while considering this company. Take the time to call Federal Prose and ask to speak with your resume writer. Find out your writer's credentials, and ask if they have any former clients you can speak with.
As with anything, it's important to take each review with a grain of salt. Additional research should be done beyond reading the reviews that are found online.
How Much Does Federal Prose Resume Cost?

The cost of Federal Prose's resume packages start at $399.95 for GS-5/7 positions. Higher ranking positions such as GS-13 and SES can cost as much as $999.95.
$699.95
The cost of your federal resume can increase dramatically depending on your GS level. To get an exact quote, you'll have to give them a call and provide additional information.
In addition to resume writing, Federal Prose also offers KSA and cover letter writing.
KSAs are charged per question and begin at $75 for GS-05 to GS-07 positions. Cover letters start at $95. Resume or KSA editing is $75 per hour.
For the most accurate and up to date details on package pricing at Federal Prose, we recommend that you visit their website directly.
Federal Prose Resume Sample
We wanted to see what the resume quality of Federal Prose looked like so we took a look at some of the resume samples featured on their website.
We've attached a Federal Prose resume sample for you to review (first page only). Below, we share some of the things that we liked, and what we disliked about this resume.
The Good
Format follows most of USAJOBS' requirements.

 Contains a specific target job title at the top of the resume.

 Includes job announcement information above the summary.

 Has a strong opening summary to engaged the reader.
The Bad
Lacks Knowledge, Skills, and Abilities (KSAs), which are required by USAJOBS.

 Uses untraditional bullets, which is not recommended for federal resumes.

 Does not include specific measurable accomplishments.

 Missing salary information for past/current positions.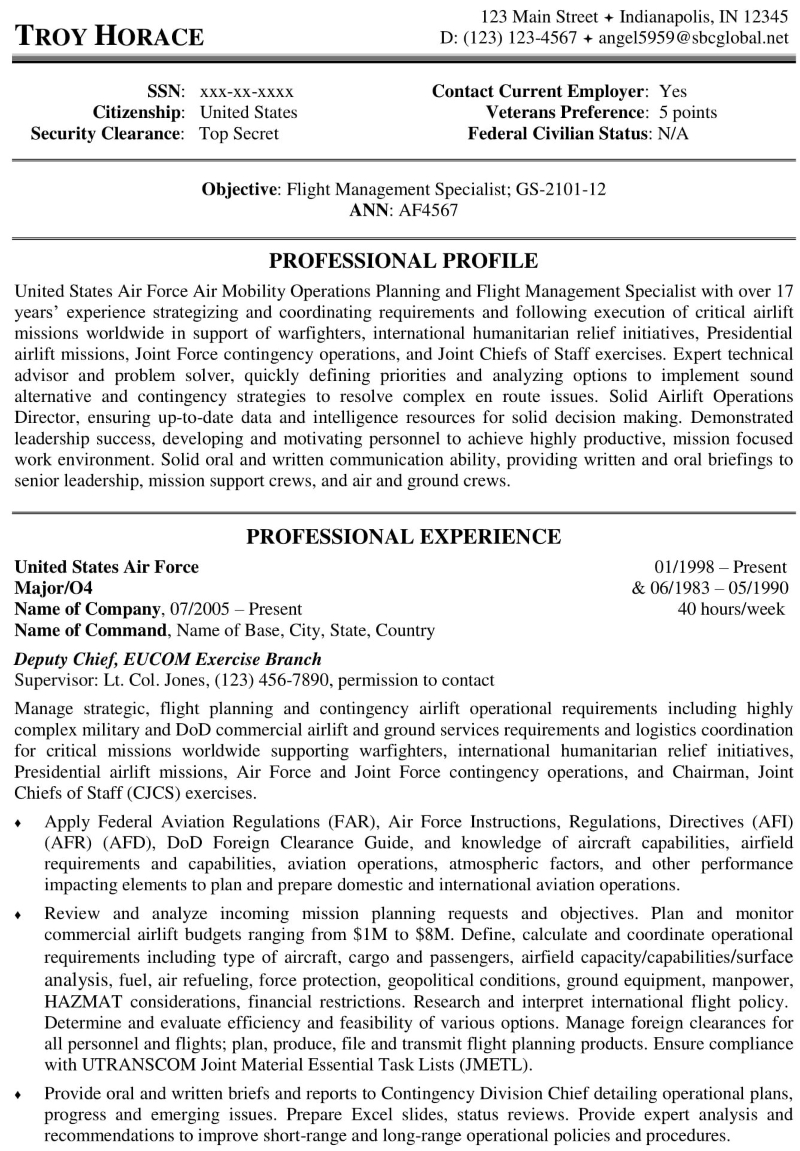 Federal Prose Resume Writer Credentials
The Federal Prose website doesn't provide many details about their individual resume writers other than Mary and Eric. As mentioned earlier, both of the founders are experienced and certified resume writers.
They do state on the website that all of the writers are certified resume specialists. Each writer has their own area of federal career expertise. They are also familiar with the concepts, buzzwords, and trends of each particular job series.
FederalProse.com also prides itself on staying on top of all federal trends.
Before signing up, find out who will be writing your resume. If it's Mary or Eric, you'll likely be in good hands. However, many companies will outsource their work to less experienced writers. And we hope that is not the case with FederalProse.
Federal Prose Resume Writing Process
Federal Prose follows a straightforward and simple operating procedure for getting your resume written.
Let's look at the steps taken in FederalProse' resume writing process below:
Call Federal Prose to schedule an initial consultation and get a price quote plus estimated turnaround time. The minimum project completion time ranges from 5 to 10 business days.
Email or fax your supporting documents, such as your current resume, transcripts, certifications, and awards.
Have a one-hour consultation with your writer.
Receive the first draft of your resume within 5+ business days of your consultation.
You will then be able to request edits until you are completely satisfied with your resume.
After your resume is finalized, the process for writing your KSAs and other narratives will begin if applicable.
Once you approve all of your documents, the Federal Prose team will proofread every page one last time.
Rush services are also available to reduce turnaround time. You need to contact Federal Prose directly to get rush delivery options.
Is Federal Prose Worth It?
Whether or not Federal Prose is worth it is entirely up to you.
Our goal is to provide you with the most transparent and helpful information possible. But, only you know what is best for you and your career.
Here is a summary of our findings on Federal Prose written and reviewed by a Certified Professional Resume Writer:
Customer Reviews: 15/25
Cost to Value: 15/25
Sample Quality: 25/25
Writer Credentials: 15/25
Total Score: 70/100
As a reminder, we highly recommend reviewing 2-3 services before making a final decision.
It's helpful to understand the different service offerings, prices, and writer credentials before choosing a resume writing service.