Your resume is an important part of the job search. It could very well be the thing that sets you apart from your competition.
This also means that a subpar resume can set your job search back months.
Today we will be reviewing The Job Sauce and their resume writing services.
We have taken a deep dive into the customer reviews, cost, resume samples, and writer credentials at The Job Sauce. Our overall rating for The Job Sauce is 65/100.
The Job Sauce
Score
Our goal is to help you find the best resume service that will advance your career. Take a look at some other top-rated resume writing services and find the perfect fit for you!
Best
The Job Sauce

Alternatives




About The Job Sauce
The Job Sauce was founded in 2014 by former LinkedIn talent manager, Scott Swedberg and experienced business consultant, Eric Fettner.
The company was inspired by Scott's passion for coaching, helping his friends land their dream jobs, and putting them in better positions to secure pay raises.
Following this passion, he and co-founder, Eric, set out on a journey to seek out and invite the best minds in the industry. Their journey yielded positive results, as they succeeded in building a "world-class career-advancement team".
Today, The Job Sauce is made up of experienced resume writers and career coaches. They've served more than 10,000 professionals, some of which have secured choice positions at Google, FedEx, Amazon, Apple, IBM, and more.
And because they've got the 'sauce', the company boasts of adding over $77m in career earnings to their client' accounts and also increasing salaries by an average of 32%.
While there's no doubt that The Job Sauce is an impressive career service, we're here to review only their resume writing service.
Let's dive right into some of the pros and cons when it comes to working with The Job Sauce.
The Job Sauce Pros vs. Cons
As with any company, there are pros and cons. It's up to you to determine what is a "must-have" and what things you can live without.
Pros
300+ stellar online reviews from past satisfied clients.

Moderately-priced resume service starting from $249.

Served 10,000+ professionals since inception in 2014.

Clients have landed jobs at Google, Apple, Amazon and more.
Cons
No industry-recognized resume writing certifications.

Turnaround time is not provided on the website.

Website provides no tangible information about the resume team.

No interview guarantee on any of the resume packages.
If you are looking for a resume writing service, The Job Sauce is a great option, but it is worth exploring other alternatives to find the best fit for your needs.
One such alternative is Find My Profession, who has great online reviews from 900+ previous clients, moderately-priced resume services starting at $395, and has landed jobs for clients at top companies including Amazon, Apple, and Tesla.

However, Find My Profession differs from The Job Sauce in that they have a quick 3-5 business day turnaround time for your first draft, a 60-day interview guarantee, and they are transparent about their writers (including their certifications).
The Job Sauce Customer Reviews

Our Certified Professional Resume Writers have rated The Job Sauce a 65/100. Additionally, The Job Sauce has received customer reviews of 4.7/5 on Trustpilot, 3.4/5 on Facebook, 4.7/5 on Google, and 1/5 on BBB with an A+ rating. With a total average of 3.45/5, it's safe to say The Job Sauce has slightly better reviews than the average resume service we've seen.
Trustpilot shows 333 reviews with an average rating of 4.7/5. More than 300 were stellar reviews. Most of the reviews came from customers saying that the resume service enhanced their job search process.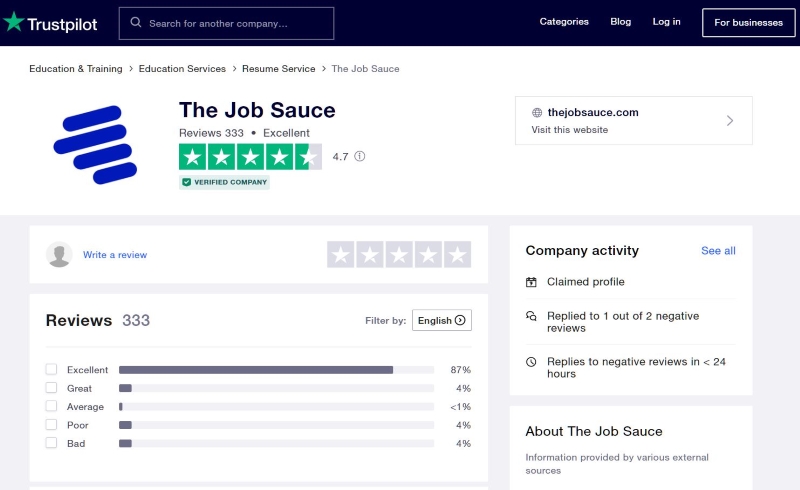 Facebook shows 25 reviews with an average rating of 3.4/5. Customers had conflicting opinions about the resume service. While some complained of receiving low-quality resumes, others commended them for a job well done.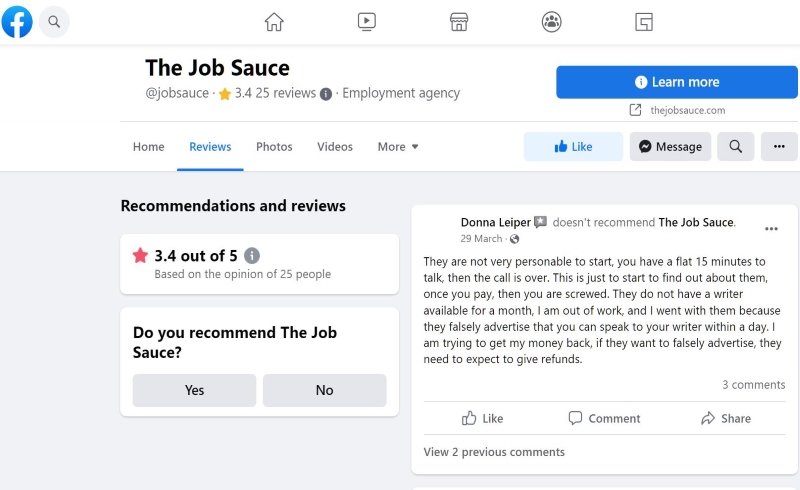 Google shows 14 reviews with an average rating of 4.7/5. Users were impressed with the service they received. Unfortunately, the most recent review was from over 2 years ago.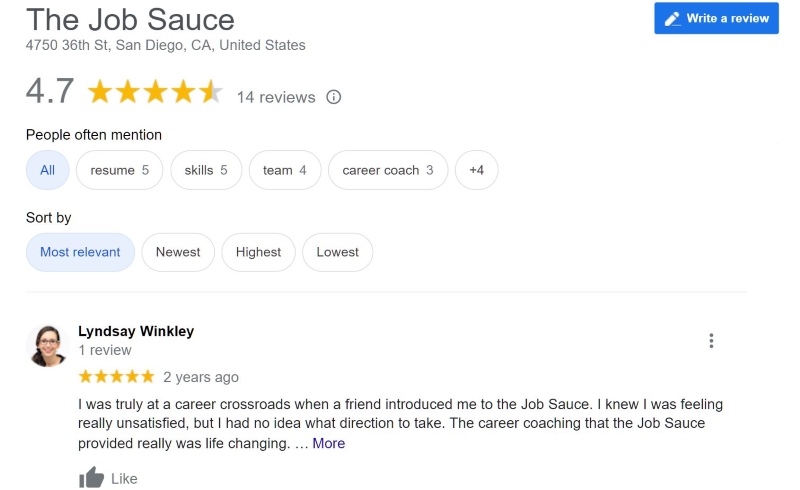 BBB shows 1 review with an average rating of 1/5. The user complained of how tedious it was to answer the questions needed to kick start the resume writing process. They also complained of typos and a subpar customer experience.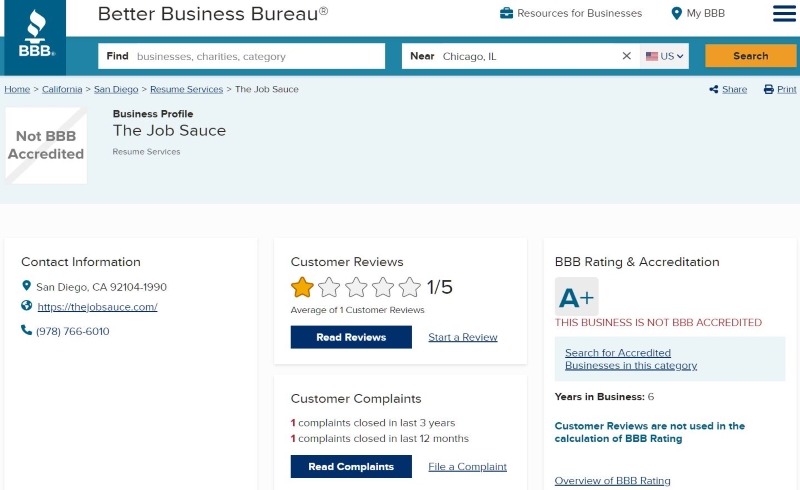 As with anything, it's important to take each review with a grain of salt. Additional research should be done beyond reading the reviews that are found online.
How Much Does The Job Sauce Cost?

The Job Sauce's resume packages cost $249 (for a resume alone) – $679 (for resume + other career services). The price range for resume packages at The Job Sauce falls within the average. Goes without saying that there are many services that charge less, and others that charge more than 10 times more.
$279
There are three packages to choose from – Professional Resume Upgrade package ($249), Professional Resume Upgrade + Salary Negotiation Consult package ($279), and the Clarity Coaching + Professional Resume Upgrade package ($679).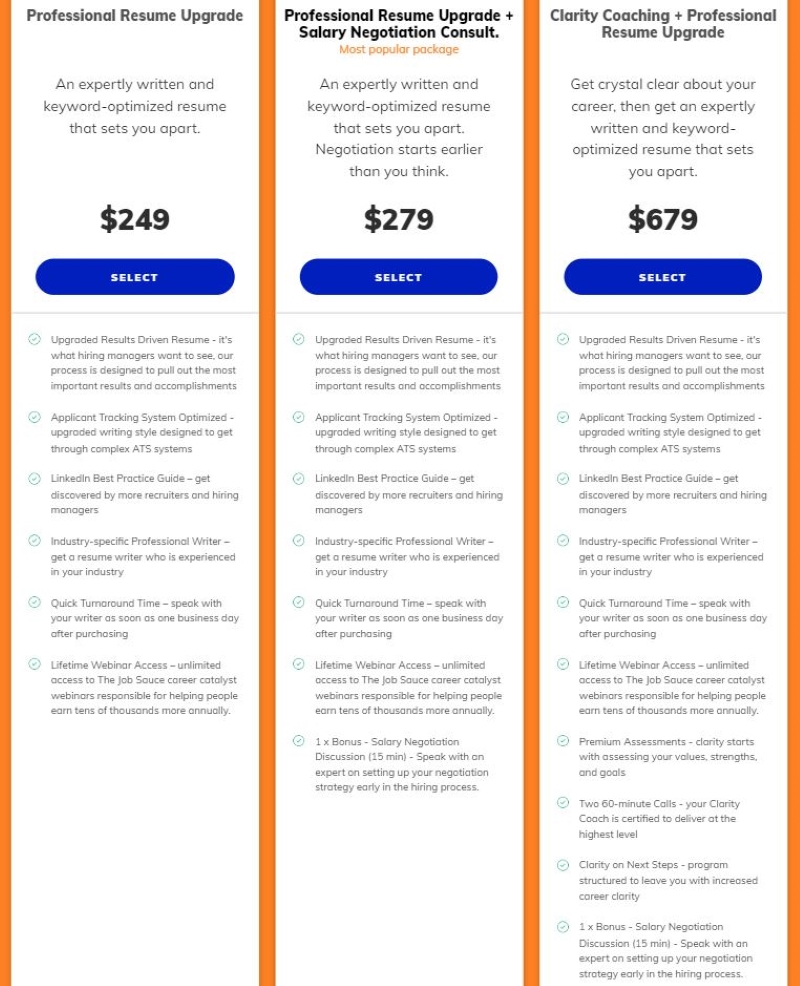 The main difference between the three packages has to do with the types of services that you receive.
The Professional Resume Upgrade package is a standalone resume writing package. It includes a results-driven, ATS-compliant, and industry-specific resume. It also comes with a 'LinkedIn Best Practice Guide', and a Lifetime Webinar Access ($249).
The Professional Resume Upgrade + Salary Negotiation Consult package includes all the features of the Professional Resume Upgrade package, plus a 15-minute Salary Negotiation discussion with a career expert ($279).
The Clarity Coaching + Professional Resume Upgrade package includes all the features of the Professional Resume Upgrade + Salary Negotiation Consult package, plus two 60-minute calls with a clarity coach, a 'Clarity On Next Steps' program, and a premium career assessment ($679).
Their website mentions a "quick turnaround time of one business day". However, it's not clear whether you will also get your resume within one business day, or you will only be able to contact your writer as fast as one business day after paying for the service.
You can request an additional resume for the sum of $150. You can also purchase a cover letter service, but it's based on request, so you have to contact them for pricing details.
For the most accurate and up-to-date details on package pricing at The Job Sauce, we recommend that you visit their website directly.
The Job Sauce Resume Sample
We wanted to see what the resume quality of The Job Sauce looked like so we tried to look at some of the resume samples featured on their website.
Unfortunately, The Job Sauce does not feature any resume samples on their website.
According to them, they do not have permission from past clients to share their information with the general public, as it would be a violation of privacy laws.
They even went further to say that their templates are part of their "secret sauce" – that is, a trade secret of some sort.
This isn't a very convincing argument for us, but oh well. After all, you're selling resumes. A potential buyer should be able to see what the thing they are buying looks like.
The Job Sauce Writer Credentials
The Job Sauce has served more than 10,000 professionals since its inception in 2014.
This is perhaps thanks to their team of over 50 U.S.-based resume writers with experience in different industries.
The website explains that the writers are professionally certified industry experts with a flair for writing. It also mentions that they're made to pass through an in-house resume training program.
While the website does not provide the details of all 50+ of their resume writers, it does give a little info about 3 of their team members.
Unfortunately, we did not see any professional certifications, as promised. What we did find though, is that the writers have HR experience.
A dive into The Job Sauce LinkedIn profile shows that they have 21 employees. Again, we did not find any resume writing certifications like CPRW, CMRW, and the like.
We went back to their website and checked out their "Become a Resume Writer" page. There, we saw the requirements resume writers have to fulfill before being admitted into their resume team.
Writers must have been writing resumes for 5+ years, in which time they've written at least 75 resumes and gained knowledge of ATS systems.
We also found that they favored writers with industry-specific certifications, excellent LinkedIn recommendations, and a background in the recruiting sector.
Additionally, The Job Sauce resume writers are required to maintain a rating of at least 4 stars.
The Job Sauce Resume Writing Process
The Job Sauce follows a straightforward and simple operating procedure for getting your resume written.
Let's look at the steps taken in The Job Sauce's resume writing process below:
Open their "Resume Services" page and choose one of 3 resume packages.
Submit your career information (work history, career needs, industry type, and the like).
Upload your current resume.
Get matched with a suitable resume writer and schedule an appointment. You can also request a specific resume writer in certain cases.
Work 0ne-on-one with your assigned writer to develop, edit, and finalize your resume.
Get your final draft.
The Job Sauce website explains that you are entitled to 1 – 3 rounds of edits. It also says that they "100% got your back".
However, if you cannot get a job interview with the resume they write for you, you are not entitled to any refunds or rewrites.
Is The Job Sauce Worth It?
Whether or not The Job Sauce is worth it is entirely up to you.
Our goal is to provide you with the most transparent and helpful information possible. But, only you know what is best for you and your career.
Here is a summary of our findings on The Job Sauce written and reviewed by a Certified Professional Resume Writer:
Customer Reviews: 25/25
Cost to Value: 25/25
Sample Quality: 0/25
Writer Credentials: 15/25
Total Score: 65/100
As a reminder, we highly recommend reviewing 2-3 services before making a final decision.
If you're in need of a top-notch resume writing service, we suggest checking out Find My Profession. With a team of experienced reverse recruiters and a commitment to customer satisfaction, Find My Profession can help you find your dream job. And with a perfect score of 100/100, you can trust that you'll be in good hands!