Your resume is an important part of the job search. It could very well be the thing that sets you apart from your competition.
This also means that a subpar resume can set your job search back months.
Today we will be reviewing The Resume Place and their resume writing services.
We have taken a deep dive into the customer reviews, cost, resume samples, and writer credentials at The Resume Place. Our overall rating for The Resume Place is 40/100.
The Resume Place
Score
Our goal is to help you find the best resume service that will advance your career. Take a look at some other top-rated resume writing services and find the perfect fit for you!
Best
The Resume Place

Alternatives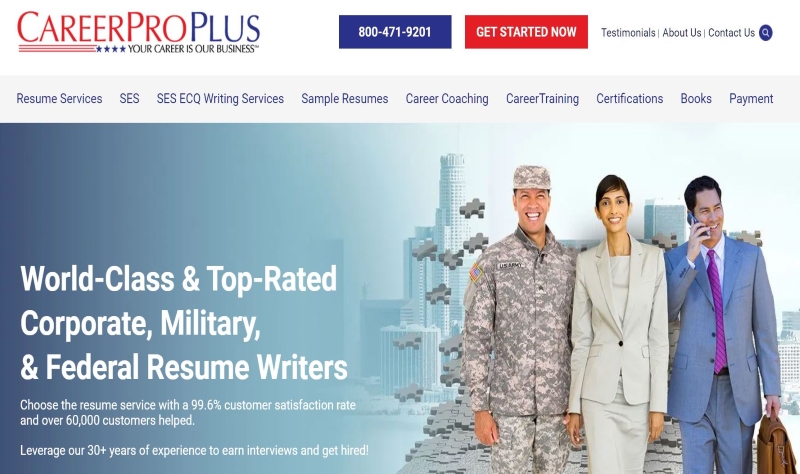 About The Resume Place
The Resume Place is a Baltimore based resume writing service. The idea for The Resume Place was conceived in 1971, but it didn't become reality until its creation in 1973 by federal career coach Kathryn Kraemer Troutman.
Kathryn is professionally accredited as a Certified Federal Resume Writer. And although she began the business alone, she now has a team of 20 certified federal resume writers working with her.
The Resume Place is not your regular resume writing service. Unlike most resume companies, they only write federal style resumes and provide consulting and federal career coaching services.
On average, The Resume Place writes 1,500 resumes every year. They also teach federal resume writing in over 50 federal agencies and get over 1,500 visits on their website daily.
They boast of being the first-ever federal resume writing service and aim to help jobseekers secure budding careers in the U.S Government.
Let's dive right into some of the pros and cons when it comes to working with The Resume Place.
The Resume Place Pros vs. Cons
As with any company, there are pros and cons. It's up to you to determine what is a "must-have" and what things you can live without.
Pros
40+ years of resume writing experience.

Team consists of Certified Federal Resume Writers (CFRWs).

Featured on Washington Post and Federal News Radio.

More than 1,500 federal resumes are written every year.
Cons
Very few online reviews from previous customers.

Resume cost of $560 – $2,520 is quite expensive.

No interview guarantee on the resume writing service.

Website is overwhelming and difficult to navigate.
The Resume Place Customer Reviews

Our Certified Professional Resume Writers have rated The Resume Place a 40/100. Additionally, The Resume Place has received customer reviews of 2.5/5 on Yelp, 3.8/5 on Google, 4/5 on Facebook, 3.1/10 on Resumehelpservice, and an A+ rating on BBB. These reviews are average at best. To make matters worse, the company has way too few reviews for a service operating since 1973.
Yelp shows 22 reviews with an average rating of 2.5/5. Most of the positive reviews from customers were about their coaching services. Their federal resume writing service on the other hand had a handful of negative remarks.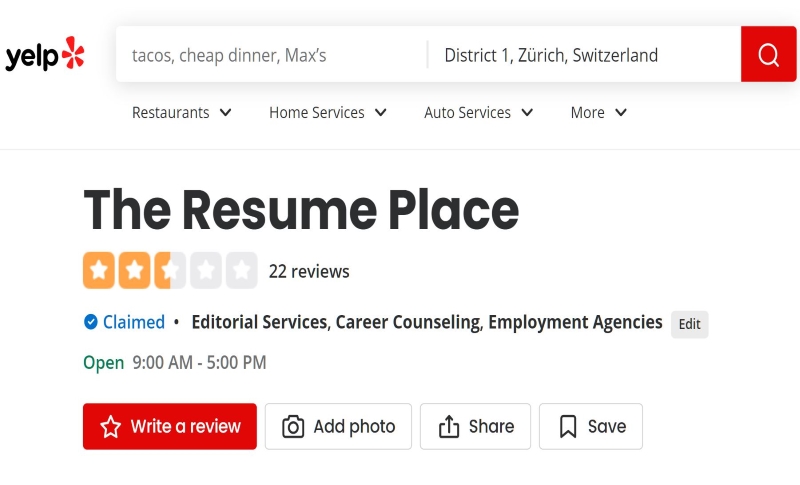 Google shows 19 reviews with an average rating of 3.8/5. Most of the resume related reviews had something negative to say about the service. One customer even described them as "The Mess Your Resume Up Place."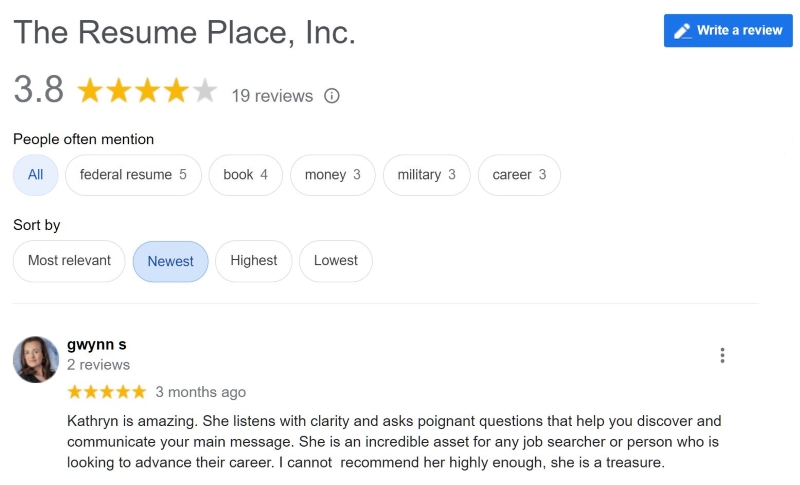 Facebook shows 14 reviews with an average rating of 4/5. Most reviewers simply rated the service without describing their experience. One customer, however, complained that the federal resume they got was nothing to write home about.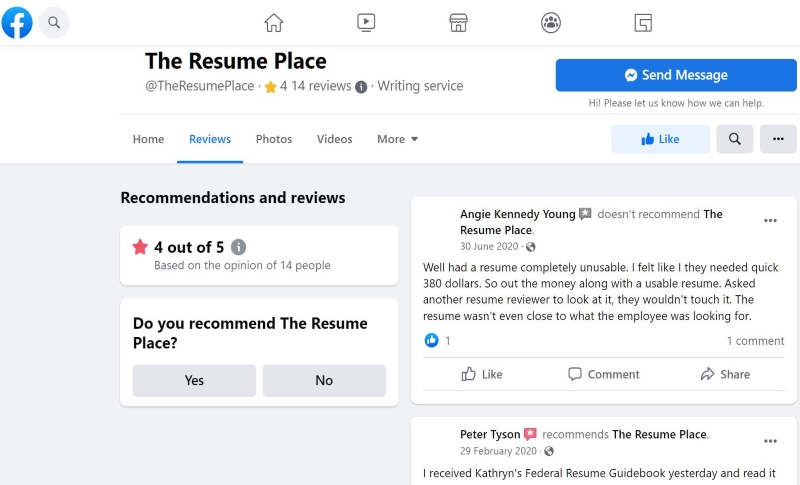 Resumehelpservice shows an average rating of 3.1/10. This is by far the lowest rating we've seen for a resume service on this site. The resume quality had the lowest mark. No surprise there, since they write resumes in just a few hours.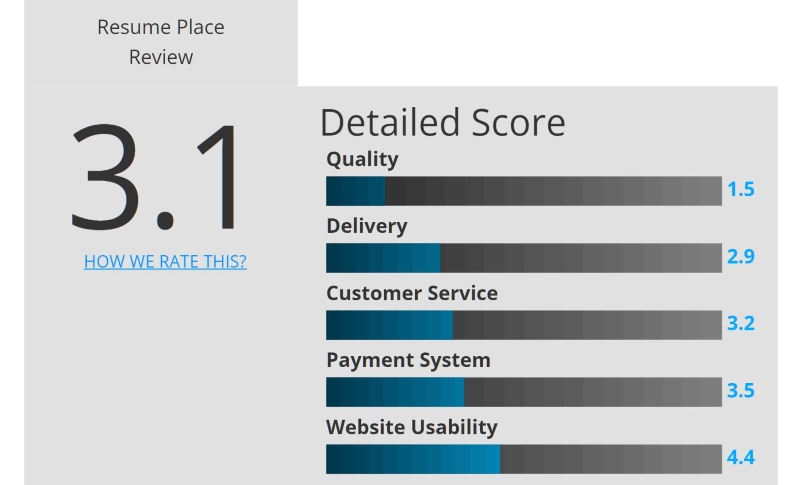 Better Business Bureau shows an A+ rating. It's disappointing that they have no reviews on this review site. On the bright side (sort of), they have no complaints from customers.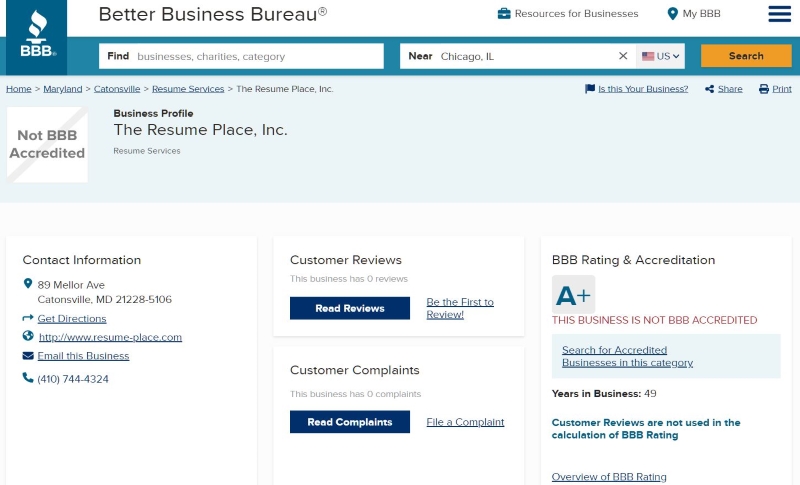 As with anything, it's important to take each review with a grain of salt. Additional research should be done beyond reading the reviews that are found online.
How Much Does The Resume Place Cost?

The Resume Place resume packages cost $140 – $210 per hour and requires between 4-12 hours depending on the resume. For example, an SES resume requires 7 – 12 hours and costs between $1,470 – $2,520.
$1,400
There are three packages to choose from – GS 5-9 ($140 per hour), GS 11-13 ($175 per hour), and GS 14/15/SES ($210 per hour).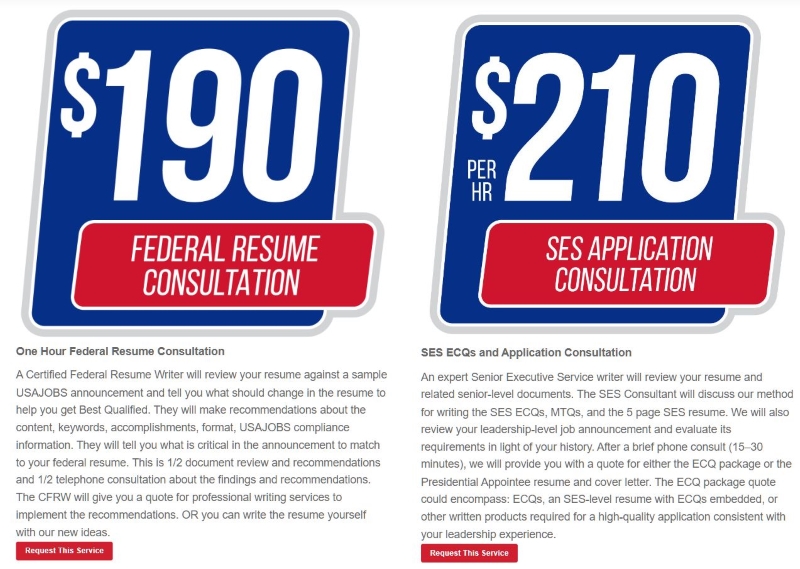 The main difference between the three packages has to do with the types of services that you receive.
The GS 5-9 package is for career professionals within the GS 5 and GS 9 levels. It includes a well-crafted federal resume and a turnaround time of 4 to 6 hours ($140 per hour).
The GS 11-13 package is for professionals within the GS 11 and GS 13 levels. It includes a well-crafted federal resume and a turnaround time of 5 to 8 hours ($175 per hour).
The GS 14/15/SES package is for GS 14 and 15 level professionals and Senior Executives. It includes a well-crafted SES federal resume and a turnaround time of 7 to 12 hours ($210 per hour).
The minimum time for writing their federal resumes is 4 hours. While you can buy more hours, you cannot go less than 4 hours.
The Resume Place offers part payments. meaning you can pay a 60% deposit upfront, and then pay the rest when your final resume is delivered.
For the most accurate and up to date details on package pricing at The Resume Place, we recommend that you visit their website directly.
The Resume Place Resume Sample
We wanted to see what the resume quality of The Resume Place looked like so we took a look at some of the resume samples featured on their website.
We've attached a The Resume Place resume sample for you to review (first page only). Below, we share some of the things that we liked, and what we disliked about this resume.
The Good
Contains a clear target job title at the top of the resume.

Includes appropriate keywords and KSA (Knowledge, Skills, and Abilities).

Has all of the USAJOBs required information for each position.

Content includes measurable accomplishments and specific details.
The Bad
Candidates contact information is not included in the resume.

Does not start the resume off with a career summary. 

Not in a USAJOBS approved format despite having required information.

Format is hard to follow and content is hard to read.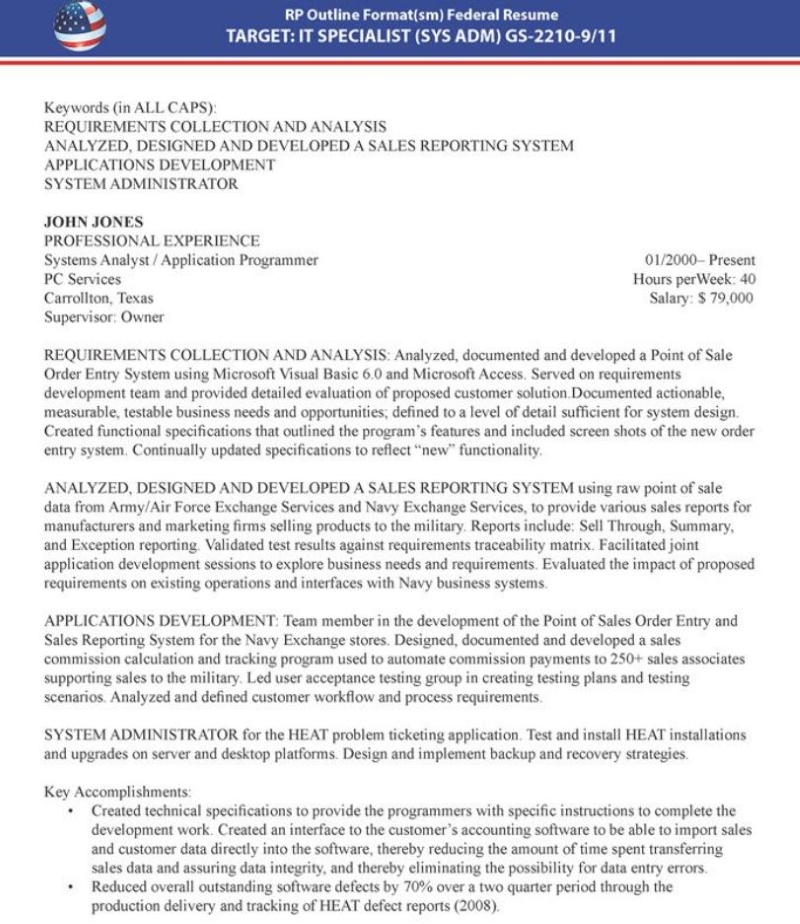 The Resume Place Writer Credentials
The resume writing team at The Resume Place is the bedrock on which the company rests.
The company's founder, Kathryn Troutman is internationally recognized as the "Federal Resume Guru". It's no surprise that her book 'The Federal Resume Guidebook' has sold more than half a million copies.
Kathryn created the Certified Federal Job Search Trainer program. She also created a unique 'Ten Step Certification' program, wherein she trains people in the federal job search process she uses.
Kathryn is a member of the Career Masters Institute, Professional Resume Writing Association, and Publisher's Marketing Association among others.
She has been featured on many media outlets including Monster.com, Washington Post, Federal News Radio, and Sun Features.
The Resume Place boasts a team consisting of 20 members. However, the company's website only provided details of 8 employees.
When we assessed Troutman's team, we found writers with years of federal resume writing experience. We also found at least one Certified Federal Resume Writer (CFRW), federal career coaches, and SES consultants, among others.
While some of the writers have backgrounds in diverse sectors, they all specialize in federal resume writing. You can find information about the academic/industrial background of each of their resume writers on the company's website.
The Resume Place Resume Writing Process
The Resume Place follows a straightforward and simple operating procedure for getting your resume written.
Let's look at the steps taken in The Resume Place's resume writing process below:
Briefing review: In this stage, your resume writer will get acquainted with your work history, grade level, federal job objectives, and the likes.
Keyword analysis: Here, your writer creates 7 to 10 unique keywords that are relevant to your position.
Document review: Submit your past resumes, position descriptions, and other vital documents that can serve as the basis for your new federal resume.
Accomplishment Coaching and Discovery: Here, you and your writer will identify and build on your accomplishments.
Relevant Experience: Brief your federal resume writer on the skills and experiences you possess that will make your new federal resume stand out.
Resume Writing: Your federal resume writer creates an astounding resume for you.
You are entitled to two rounds of edits.
Is The Resume Place Worth It?
Whether or not The Resume Place is worth it is entirely up to you.
Our goal is to provide you with the most transparent and helpful information possible. But, only you know what is best for you and your career.
Here is a summary of our findings on The Resume Place written and reviewed by a Certified Professional Resume Writer:
Customer Reviews: 10/25
Cost to Value: 10/25
Sample Quality: 5/25
Writer Credentials: 15/25
Total Score: 40/100
As a reminder, we highly recommend reviewing 2-3 services before making a final decision.
It's helpful to understand the different service offerings, prices, and writer credentials before choosing a resume writing service.