Searching for a job, especially while unemployed, is one of the most difficult life situations one can face.
Most of us have asked the question, "Why is it so (insert your favorite expletive) hard to find a job?"
We're here – with actionable advice you can use today – to help you find a job sooner than later.
We broke down the stages of the job search process that job seekers struggle with the most.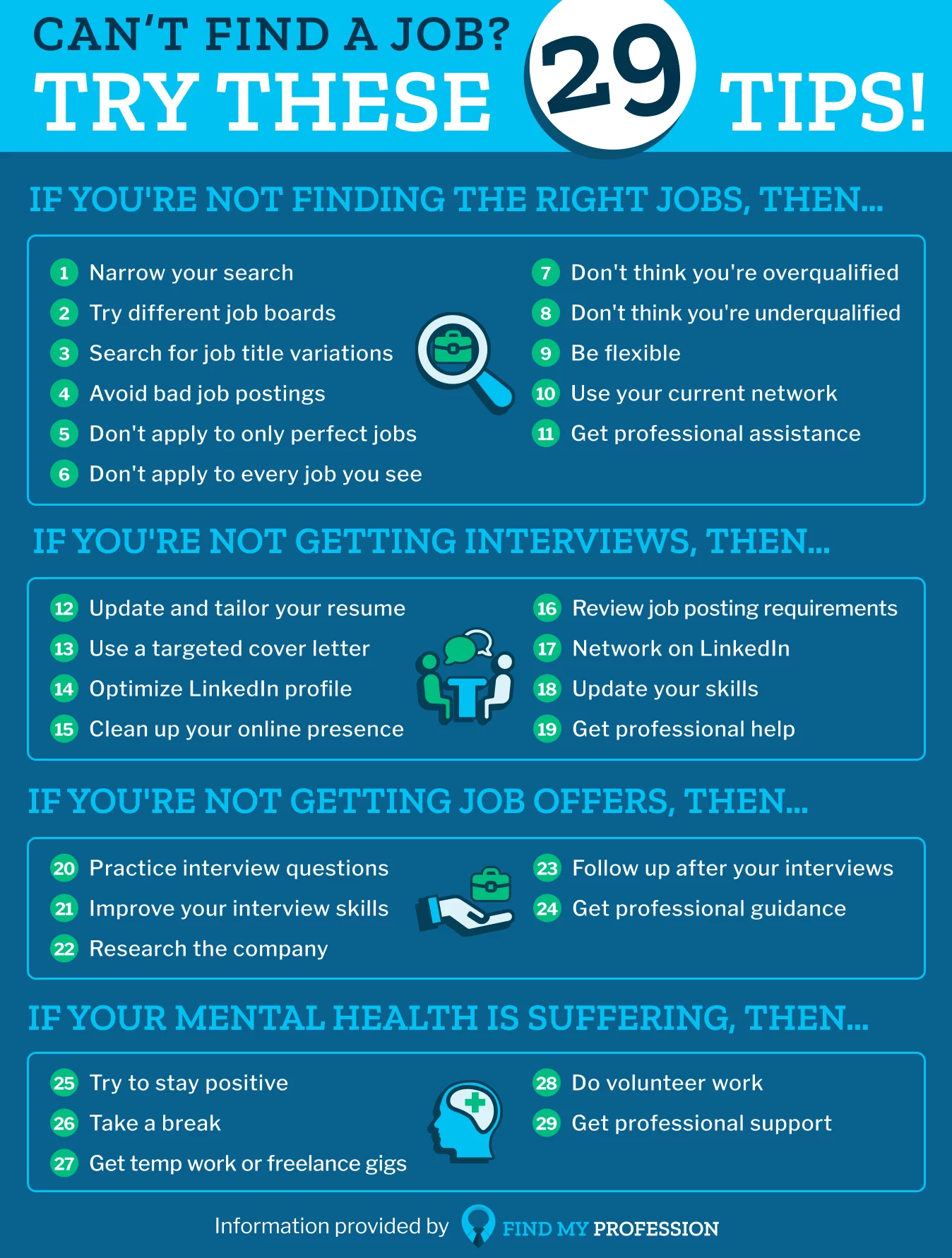 During which part of the job search are you getting stuck?
If You're Not Finding The Right Jobs, Then…
There are many reasons why you are not finding good jobs to apply for.
It's important to try different solutions to find the trick that works for you.
1. Narrow your search
Locating the job you want can be challenging.
It can be information overload and overwhelming at times.
If you are open to all sorts of jobs, you'll be distracted by every job posting you see.
You'll go down different career paths and eventually apply to jobs you may not even be qualified for or really want.
Decide what job you want and what industry you'd like to work in and search for that job.
(Related: How to Fill Out Job Applications [Without the Frustration])
2. Try different job boards
Using only the common job sites can be another reason you're not finding good jobs.
If you use only the most popular job search sites, you will only see the job posts that everyone else is seeing.
Move beyond the common sites.
Find industry-specific job boards and niche job sites, keep an eye on LinkedIn, and regularly visit the employment pages of your target companies.
(Related: The 10 Best Job Search Engines (Pros vs Cons))
3. Search for job title variations
If you search for the same exact thing, you're going to get the same exact results.
Try variations of your targeted job title while searching for a job.
Each position can have many different titles, and different companies can call the same role different things.
For example, if you are a digital marketer, try other variations like online marketer, internet marketer, digital strategist, marketing strategist, etc.
4. Avoid bad job postings
Unfortunately, every job posting you see on job boards is not authentic.
Don't waste your time on lousy job postings that probably won't end in an interview.
Review all the details provided in the job post.
Is the language professional and free from mistakes and biases?
An authentic job post details all the duties, responsibilities, and requirements of the job in clear terms.
The post should also include details about the company itself.
Also, keep an eye on the date the job was posted. Ignore job posts older than a month, especially if you have more recently posted ones you can focus on.
If a job has been reposted over and over, it could mean many different things. Take this opportunity to reach out to the hiring manager (ie: network) and see if the job is available.
5. Don't apply to only perfect jobs
If you know exactly what you want for every aspect of your perfect job, that's great!
However, you should not limit yourself to applying only for these perfect jobs.
Be somewhat flexible with some parts of your perfect job and also understand that you don't need to be a 100% fit to apply for a job.
Only applying for "perfect" jobs is too limiting.
Finding jobs that check off every single one of your boxes doesn't happen every day.
Ideally, you should have the perception of your perfect job. Then, you should also have a range of possible and acceptable deviations from that.
6. Don't apply to every job you see
On the other hand, you should also not go overboard and apply for tons of jobs.
Don't apply to every single job that interests you.
The "spray and pray" method just doesn't work.
Chances are your resume isn't tailored to every job you're applying for, so it may not make it past the Applicant Tracking System anyway.
If you don't meet 70% of the qualifications for the job, you should pass on it.
Prepare a shortlist of the most suitable roles for you and stick to it.
It will keep you focused, save you time, and expedite your job search process.
7. Don't assume you're overqualified
If you can't find a job, it's no time to fixate on any particular shortcoming on your resume.
Thinking that you are overqualified and not applying to jobs due to that thinking is an example of such fixations and overthinking.
You can simply adjust your resume if needed.
Don't hide your experience, but be sure to emphasize your relevant skills for the job.
In your effort to tailor your resume to the role, you may leave off any unnecessary high-level skills or education you have.
List company names above your job titles in your experience section if needed to deemphasize them.
8. Don't assume you're underqualified
This is the other side of the same overthinking coin.
At times, it can seem like you are underqualified for all the jobs posted.
Companies often include many "requirements" that they want but are not essential for the job.
You can show you have the skills needed for the job even if you don't have all of the qualifications.
As stated above, applying to jobs where you have 70% of the requirements is a good rule of thumb.
9. Be flexible
Expanding your search and being a bit more flexible in your requirements and expectations can help you hunt down better jobs.
If you are not having success finding jobs in your targeted field, city, work schedule, etc., expand your search criteria a little.
Search for jobs that aren't exactly what you want and see what you find.
You can gradually work towards where you want to be once you get a job and start to receive paychecks. And you might even like where you're at!
10. Use your current network
Networking is the holy grail for tapping into the hidden job market.
The hidden job market is a huge chunk of jobs that never see the light of the job boards.
Many open positions get filled via the power of networking.
Do not shy away from asking your friends, family, previous co-workers, and social media connections for job leads.
11. Get professional assistance
Another very effective way to find good jobs is to seek professional help from staffing agencies, recruiters, job search coaches, and job search managers.
Due to years of practice in the career industry, professionals have the expertise and know what it takes to find the best jobs for you.
Staffing agencies and recruiters can place you in open positions they need to fill. Finding a job will depend on what they have available, but the extra help doesn't hurt.
Job search coaches walk you through the job search process and how to find relevant jobs. The coaching is usually one-on-one and tailored to your search, like our reverse recruiting services.
If you want someone to do all this for you with a managed job search, we offer reverse recruiting services for that too.
If You're Not Getting Interviews, Then…
Now that we have dealt with how to solve not finding good jobs to apply for, let's tackle the next issue – not getting interview calls.
12. Update and tailor your resume
The most important factor in getting that coveted interview is your resume.
Whether you applied online or through networking, if your resume isn't up to the mark, interviews won't be coming your way.
Make sure you have tailored your resume for each job you apply for.
Also, showcase your best quantifiable achievements, format it wisely, and keep it under 1-2 pages.
(Related: How to Make a Resume That Gets Past the Robot [ATS Resume])
13. Use a targeted cover letter
Just like your resume, are you making the most use of your cover letter for securing interviews?
Not all applications require a cover letter, but you should send a cover letter whenever you can.
A well-written and targeted cover letter will make you stand out!
Tailor your cover letter for the job, highlight your relevant skills, and use your cover letter to explain anything you need to on your resume.
(Related: How To Write An Amazing Cover Letter)
14. Optimize your LinkedIn profile
In today's hiring world, your LinkedIn profile is very important.
Recruiters and hiring managers will check out your LinkedIn profile if they are interested in you and learning more about you.
So give them what they want!
Your LinkedIn profile is different from your resume.
You can include media, post information and engage with people on topics in your field, and give more details about yourself that wouldn't normally be on a resume.
Keep your LinkedIn profile up-t0-date just like your resume and cover letter.
(Related: 19 Essential LinkedIn Profile Tips for Job Seekers)
15. Clean up your online presence
Is your LinkedIn profile ready to go? Don't forget your other online profiles.
You never know how far employers will go to vet their talents.
It's not that all of your online profiles should be completely professional-looking like LinkedIn.
But they should not be unflattering or contain anything that can harm your professional career.
Google yourself and see what comes up.
Ensure that your online profiles are clean and professional across all platforms.
Another option would be to use different variations of your name for your social media profiles and your professional content.
You can use a nickname for your personal accounts and your formal name for your professional content.
16. Read job posting requirements carefully
Are you double-checking all the requirements on the job posting and following the application process accurately?
Not following the application guidelines can automatically invalidate your application.
You will be surprised to know how most applicants fail to follow directions.
Take for example a recent job that we posted for Find My Profession. Only 2% of the applicants actually followed all of the directions in the job posting! Yikes!
Just by following the directions of the job posting precisely, you are already ahead in the race.
17. Network on LinkedIn
As you know, LinkedIn is a great tool for professionals in need of a job.
In addition to keeping your profile complete and updated, you should actively engage with people on LinkedIn.
Make connections with people at your target companies or in your line of work.
Connect with recruiters who specialize in your field.
Networking is playing the long game, so be patient and consistent.
(Related: How to Effectively Add a Note on LinkedIn)
18. Update your skills
Perhaps you've been out of the job search loop for a bit. Or you've been out of the workforce completely for a while.
Check out some job postings and see what skills are the most sought after for the jobs you are looking for.
Take a hard look at your skill sets and see if they align with the jobs you are targeting.
If you're finding that you're consistently missing skills for your targeted roles, it's time to put the work in and better yourself.
Consider taking classes or joining online courses. You may need to take a more junior-level role in the meantime.
(Related: Most Important Skills for a Resume)
19. Get professional help
Getting professional help is a great option when you are faced with difficult life situations.
Professional resume writers can help you with all of your job search documents, from your resume to LinkedIn profiles.
Career coaching services can help you with resume reviews and networking.
No matter what you need help with, your resume, cover letter, LinkedIn profile, applications, or networking, Find My Profession has it all covered.
If You're Not Getting Job Offers, Then…
So, you are finding great jobs, applying, and even getting interviews, but somehow falling short of getting job offers.
While getting a job is not always in your control, you should do everything you can do for a successful outcome.
20. Practice interview questions
Everyone goes to job interviews with some degree of preparedness.
But how effectively have you prepared for the interview questions?
Have you researched common interview questions and industry-specific questions that might get asked?
It's not enough to say to yourself, "I know how I would answer that," after looking at a list of interview questions.
Think about all the possible interview questions and practice answering them out loud. If you learn better by writing your answers down, do that.
Consider practicing with a friend or family member. You can also record your practice and review it later for improvements.
(Related: 50 Top Job Interview Questions and Answers)
21. Improve your interview skills
While preparing for the interview questions, hone your interview skills as well.
This is when your professionalism and communication skills need to shine.
Practice being confident and upbeat. Work on your delivery, tone of voice, posture, eye contact, and avoiding nervous gestures.
Spend some time on your appearance with professional attire and grooming.
You need to be approachable and show that you are a team player with a pleasant nature and a good attitude.
22. Research the company
Many professionals make the mistake of stepping into an interview without researching the company.
Aligning and tailoring your interview answers to the company you are interviewing for is a job-winning strategy.
Besides, you never know when you will be asked a question about the company itself.
Knowing about the company and being prepared for the interview will also enable you to ask relevant questions.
You know the part where the interviewer says, "Do you have any questions for me?" That's a good time to show off your knowledge.
Preparedness always makes a great impression on the hiring manager.
23. Follow up after your interviews
Following up after an interview is important. It shows that you are still engaged in the process.
You should follow up after your interview with a pleasant email.
Send a "thank you" email to the people you interviewed with within 24 hours of your interview.
Express your gratitude for their time and inform them that you will be eagerly waiting to hear back from them.
If you don't hear anything, send a follow-up email to check in and let them know that you are still interested in the job.
(Related: Interview Follow-Up Email: How to Write, Samples, & More)
24. Get professional guidance
There's so much to work on while preparing for job interviews.
You can get professional help from certified interview coaching services.
Jobseekers often ignore or overlook seemingly insignificant details that can cost them jobs.
A professional interview coach can find your shortcomings and help you with those issues.
If Your Mental Health Is Suffering, Then…
During tough times, our mental health can take a hit.
Now it's imperative that you take care of yourself and your mindset more than ever.
25. Try to stay positive
Know that this situation is temporary like most other things in life.
Bad times don't last forever. You will land a job soon!
Meanwhile, stay positive in that knowledge, celebrate small successes along the way, and don't take rejections personally.
The negative thoughts in your head about all the worst things happening are not real. These are the thoughts that paralyze your momentum.
Stay positive and keep moving forward.
26. Take a break
Whenever you feel like things are causing too much worrying or anxiety, take a break.
Even a single day of full relaxation can do wonders for your mindset.
You may feel like taking a break will only slow you down and delay getting a job. Resting can make you feel guilty.
Job searching is hard. Take some time to do what you enjoy and recharge your batteries.
Then jump back in with renewed energy!
27. Get temp work or freelance gigs
Part-time or temporary jobs and freelance projects can be life-saving during the days of job search.
If you need some extra cash, it doesn't hurt to have a paycheck coming in with a temporary job.
Going to work, even on a part-time basis, also keeps you in "work mode" so you'll be ready to go when you snag the job you're looking for!
Look for networking opportunities while you're working as well.
Keep your skills sharp with freelance gigs that can be found on sites like Upwork.
Remember that you don't have to include every job you ever held on your resume.
28. Do volunteer work
Doing a bit of volunteering and helping people in your community can do wonders for our mental health.
Volunteering boosts your mood and helps take the focus off your job search.
Try to volunteer for an organization or in a role similar to your desired job. It can provide an opportunity to enrich your resume.
Take advantage of meeting new people and improving your networking skills.
Websites like VolunteerMatch make it easy to find opportunities in your area.
29. Get professional support
Nothing can beat expert professional help when our mental health is in danger.
You may need to speak with a career coach, career counselor, or other mental health professional.
Temporary staffing agencies in your area can easily be found with a Google search.
Key Takeaways
If you can't find a job right now and feel frustrated, you must know that you are not alone.
Most of us, at some point in our lives, have gone through this.
We have presented you with a great deal of information.
We sincerely hope that our advice helps you move past the hurdle in your job search.
If you decide to seek professional job search assistance, we would be happy to help. Reach out and let us know how we can make your life easier!