Finding a job is never easy — if it were, 5.9 million U.S. workers wouldn't be unemployed. But securing work is even tougher in a post-COVID world. As companies cut their spending and slow their hiring, it can feel like you're sending your resume into a void.
But don't be discouraged. The reality is, you have tremendous power as a job hunter. Look no further than the "Great Resignation," which has companies scrambling to find top talent like yourself and convince you to join their ranks. You just need to know which people are hiring.
Thankfully, you don't have to search alone. In this article, you'll learn how to find a recruiter (or how to find a headhunter) that can align your skill set with the job you seek — so you can nab that dream job.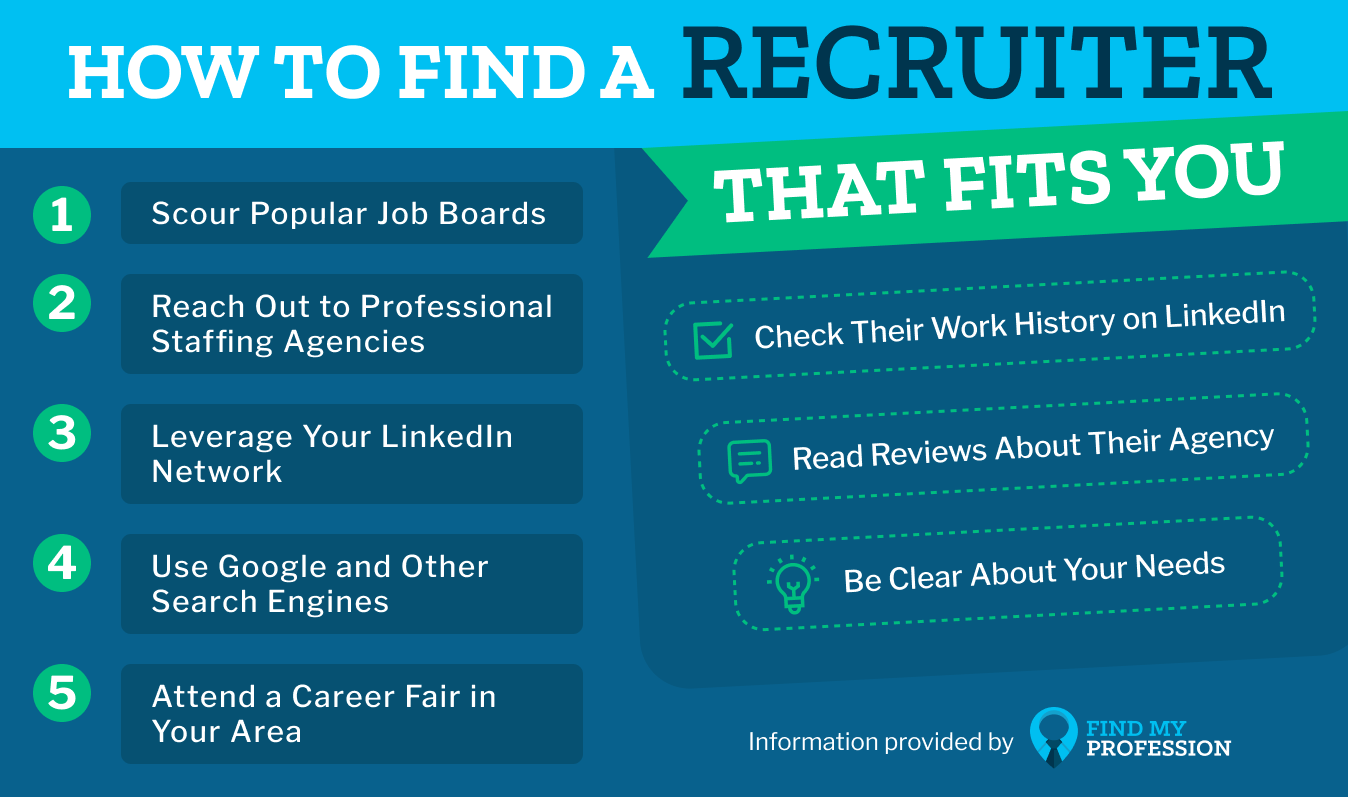 What Is a Recruiter?
A recruiter is a talent acquisition expert who searches for high-quality candidates to fill open job roles for employers. Some recruiters operate within an organization's HR department, while others work for independent agencies. Third-party recruiters are typically referred to as "headhunters."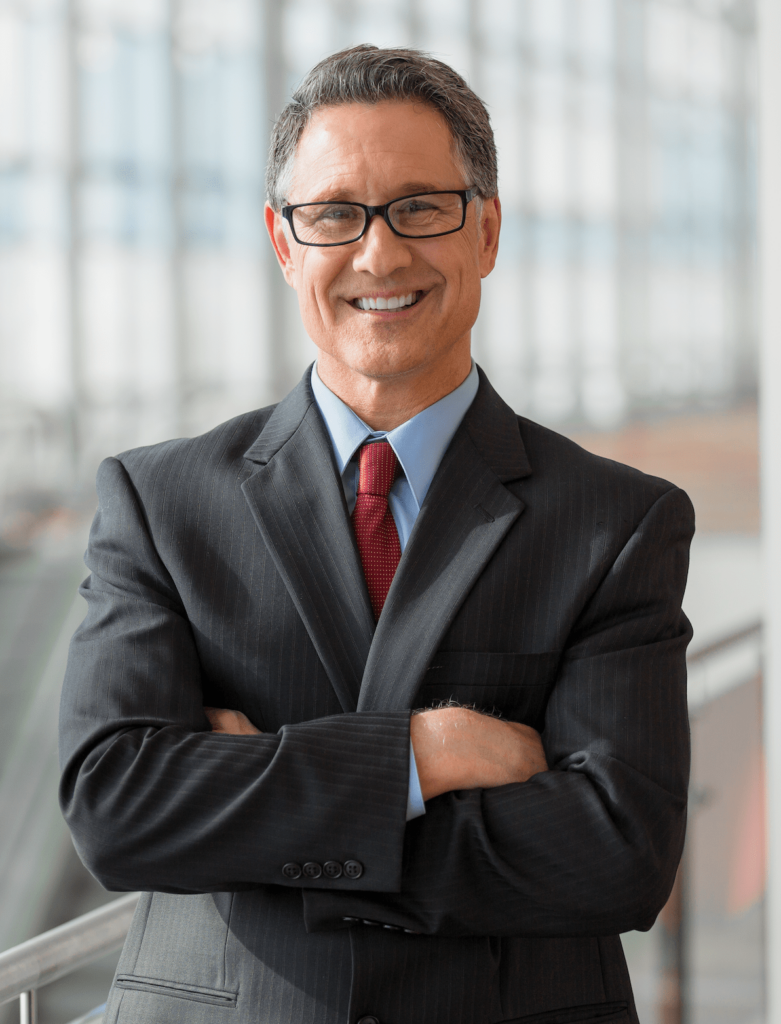 Job Search: Solved
"[Reverse Recruiter] is by far the best career finder I have ever had to pleasure to work with. He truly goes above and beyond in everything he does when he works with you, and the results definitely show it." – JC
What Does a Recruiter Do?
Whether a recruiter is in-house or third-party, their goal is the same: to find the best possible fit for an open job role. Recruiters will reach out to job seekers — typically via email or LinkedIn — to gauge their interest. They'll then screen candidates by phone to confirm their interest.
Think of the recruiter as the person who sources the talent, so the hiring manager can decide whether to interview — and ultimately hire the candidate.
For more on what a recruiter does, check out our article dedicated to what recruiters do.
How to Find a Recruiter
You don't have to wait for recruiters to come to you. Reaching out to headhunters is a great way to get your name in for a role and beat other candidates to the punch.
Wondering how to find a good recruiter? Here are five tips to get you started:
1. Scour Popular Job Boards
When you're looking for recruiters, it helps to go where the jobs are. Websites like LinkedIn, Indeed, ZipRecruiter, and Monster have thousands of job postings, many of which tell you exactly who posted the job and what their title is.
Review the job descriptions for a specific field that interests you, and see whether a recruiter's name is attached. Send an email or LinkedIn message expressing your interest in the role, or others like it. Explain why you feel you'd be a good fit, and ask if they'll hop on a call to discuss potential opportunities.
Need a job board to start with? See our article on the 10 Best Job Search Engines.
2. Reach Out to Professional Staffing Agencies
Not exactly sure which jobs to pursue? Reach out to a professional staffing agency — like Adecco, Robert Half, or Find My Profession — and get expert advice to kickstart your search. A quick Google for "staffing agencies" or "recruitment agencies" will return an extensive list of organizations designed to help you find work you'll love.
Not all staffing agencies are made equal. Some, like Adecco, focus on temp or part-time jobs — think of them as a foot in the door for job seekers. Others, like Find My Profession, aim to help you find permanent work you'll love. They'll even handle your job applications for you. Choose carefully, and select the right agency for your needs.
3. Leverage Your LinkedIn Network
LinkedIn isn't just a popular job board. It's also a phenomenal tool to market you and your skills. Here's how to find recruiters on LinkedIn:
Create a profile (if you don't already have one).
Set your status as "open to work."
Add an open-to-work banner to your profile picture to build awareness.
Write a post that says you're seeking work.
Write a post saying you're looking to connect with recruiters.
The more you optimize your profile, and the more frequently you post, the higher the likelihood you'll attract high-quality recruiters. Answer direct messages within 24 hours of receiving them.
You can message people who aren't personal connections simply by sending a connection request and adding a note.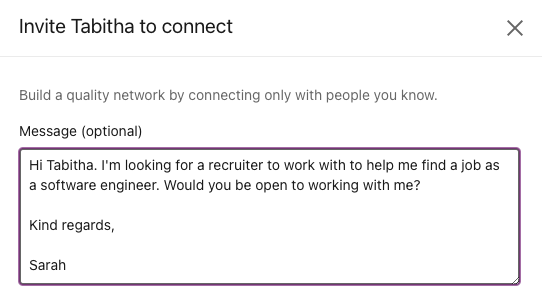 If you want a professional to optimize your LinkedIn profile, see our article on the 8 Best LinkedIn Profile Writing Services.
4. Use Google and Other Search Engines
Having trouble finding job descriptions or names of recruiters to contact? Google's your new best friend. Think about where your interests lie — from your desired industry to location preferences — and tailor your search to find recruiters who specialize in those needs.
For example: If you're interested in working in tech, but aren't local to California, you can try looking for remote jobs. Searching "recruiting agencies for remote tech jobs in San Francisco" will yield far greater results than "good recruiting agencies." Search engines like Google are powerful, so use them to your advantage.
5. Attend a Career Fair in Your Area
Do you live in a metropolitan area or near a college campus? Look for upcoming career fairs. These fairs are a powerful way to connect with recruiters in the flesh, ask about potential opportunities, and get a head start on the application process.
If you're looking for a job at Microsoft, go to the nearest job fair and make yourself known to the team on site. Even if the company isn't hiring for your specific expertise, making the connection gives them a name and face to consider, if and when new opportunities arise.
How to Find a Recruiter on LinkedIn
Finding a recruiter on LinkedIn is like hitting the gym: It's second nature once you've done the reps. Think about a specific industry, organization, and/or location in which you'd like to work. Head to LinkedIn and search for those keywords — but also include one of the following terms:
Staffing Agent
Recruiter
Senior Recruiter
Headhunter
Employment Agent
Search Professional
If you're looking to work at Bank of America in New York City, search for "Bank of America recruiter New York City." To make your search more precise, add quotes around the company name. Scroll through the results until you find a recruiter you'd like to contact, then click "Message" (if you use LinkedIn Premium) or "Connect" to shoot them a message.
How Do I Find the Right Recruiter for a Job?
Just finding a recruiter isn't enough to secure work — the recruiter then needs to do their job, and do it well.
Wondering how to find a job recruiter who helps you (and doesn't hinder you)? Here are some tips:
Check Their Work History on LinkedIn
Just as a great recruiter checks your work history, you should also verify theirs. Have they worked in either the staffing or HR industry for five to 10 years? If yes, then it's a good bet they know what they're doing. Are they fresh out of college with little experience? They could have an illustrious career ahead of them — but you should probably partner with someone else.
Read Reviews About Their Agency
If you partner with an agency, know what you're getting into. While many staffing firms are free for candidates, others charge a premium, so you'll want some bang for your buck. Does the firm you're exploring have great reviews? That bodes well for your experience. If reviews aren't so rave — or there aren't reviews to speak of — swipe left on them for a competitor.
Be Clear About Your Needs — Not Theirs
Headhunters often need to fill quotas. It's easy to feel like they're prioritizing their needs above yours — and that's a non-starter. Consider what's non-negotiable for you. Do you want a remote job that pays at least $70,000 a year? Make your expectations clear to the recruiter. If they push back on your needs, that's on them. It's your search, so don't settle for anything but the best.
Why Should I Work With a Recruiter?
Recruiters accelerate the time it takes for you to find work. Not only do they know which organizations are hiring and when, but they provide invaluable advice to help you polish your resume and application. Heed their advice, and you'll have a competitive advantage over other applicants.
Top Tip
If you want to work with a recruiter who will make your job search their core focus, you're in the right place. Find My Profession handles the heavy lifting for you. Tell us your career interests and dream job, and we'll work together to make it happen.
What Questions Should You Ask a Recruiter?
First impressions are crucial when reaching out to recruiters. Consider these questions:
How long has this role been open?
What are the ideal skills needed for this job?
What benefits does the company provide?
How would you describe the company's culture?
What's your timeline for filling this role?
Asking these recruiting questions can tell you if the role is really a good fit for you. You'll also help the recruiter to better understand the kinds of roles you're looking for.
Sample Emails to Send to Recruiters
Here are a few recruiter email samples you can copy-paste, and edit, to help you find a recruiter on LinkedIn or on the web.
Recruiter Email 1: You're Reaching Out Cold to a Recruiter or Agency
Hi [first name],
I'm a [job title/area of expertise] with [X] years of experience actively seeking new opportunities. I found your name via [LinkedIn, etc.] and would love to connect to share more about myself and hear about the roles you're looking to fill.
Do you have time this week to speak over the phone? Happy to send over my resume and cover letter so you can see where my skills may align with your recruiting needs.
Thank you,
[your name]
Recruiter Email 2: You See a Job You'd Like to Apply For
Hi [first name],
I'm a [job title/area of expertise] with [X] years of experience. I came across [job title] via [LinkedIn, etc.] and feel like I'd be a strong fit for the role.
Would love to connect to learn more about your expectations for the role and see if there's potential alignment. Would you have time this week to speak over the phone?
I've attached my resume and cover letter. Please let me know if I can provide anything else.
Thank you,
[your name]
Recruiter Email 3: You've Already Applied for a Job
Hi [first name],
I'm a [job title/area of expertise] with [X] years of experience. I recently applied for the [job title] via [LinkedIn, etc.] and just wanted to reiterate my enthusiasm for the role.
[Explain why the role interests you.] As the hiring process progresses, I'd love to learn more about your expectations for the role and see where my skill set can support the team's needs.
I look forward to the rest of the process. Thank you for your time!
Sincerely,
[your name]
How To Find a Recruiter FAQs
How Do Headhunters Find You?
Headhunters mainly search for talent using social media platforms like LinkedIn. Recruiters will use search techniques to find people whose education, work experience, or skill set lines up with their ideal candidate. Other recruitment techniques include referrals, job postings, and career fairs.
Should You Apply Directly or Through a Recruiter?
Is It Worth Using a Recruiter to Find a Job?
How Do Headhunters Get Paid?
How Much Does a Headhunter Cost?
Hiring Manager vs. Recruiter: What's the Difference?
How Do You Dodge Recruiter Spam?
Key Takeaways: How to Find a Recruiter
Recruiters are an excellent way to accelerate your job search and find high-quality opportunities — all while saving time and stress. But finding a good recruiter takes effort. Make use of job boards like LinkedIn, and optimize your searches to find the right headhunter for your needs.
Find My Profession makes the job search even easier for you. Partner with one of our skilled reverse recruiters, and we'll apply on your behalf to ensure you're getting the best opportunities to advance your career. We also provide resume and cover letter writing services, so you can apply with confidence.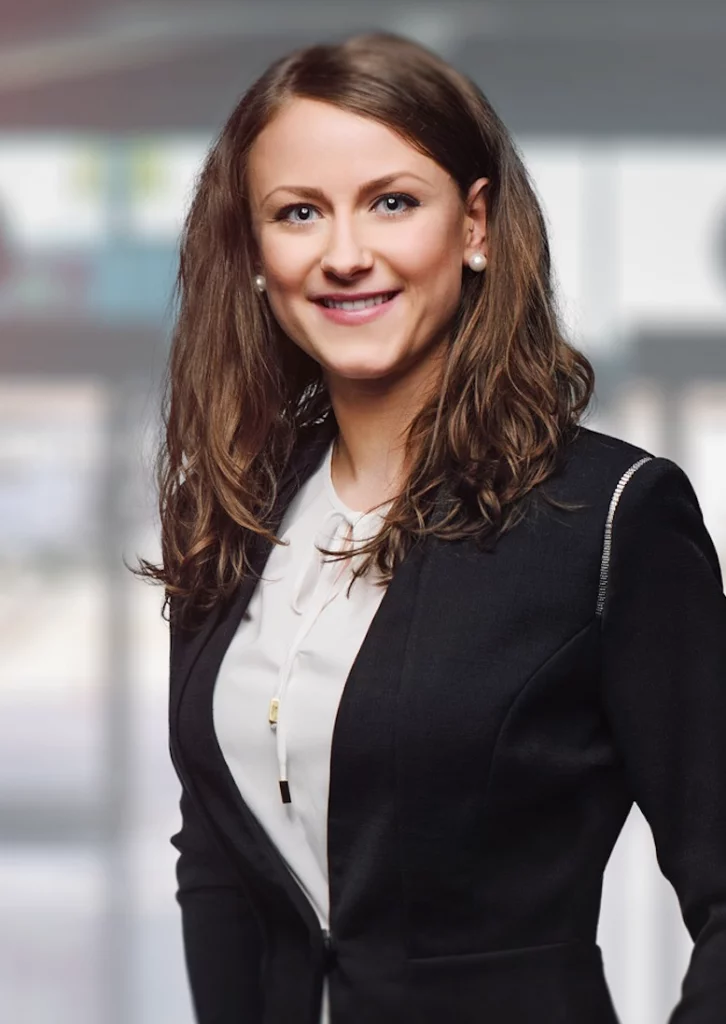 Solve Your Job Search
"I was looking to change industries, but too busy and overwhelmed with my day-to-day to embark on the journey on my own… Thanks to [my reverse recruiter], I was able to secure a great role at my dream company within 6 weeks!" – Kelley White