You found the job, applied to the job, and now you are preparing for the interview.
You've already done a ton of the heavy lifting to land the job. Now all you need to do is crush your interviews and you are home free!
The last thing you want to do after all your hard work is walk into an interview unprepared.
So you've decided to hire an interview coach to help you close the deal.
Smart choice! But with so many interview coaches out there, how can you know who to choose?
A quick Google search for "Interview Coaches" will yield more than 155 million results! It all can be very overwhelming.
Don't worry!
Our experts have filtered 100+ interview coaching services to bring you the best for any industry or profession.
Best Interview Coaching Criteria
Each of the interview coaching services below was reviewed taking into consideration the following:
Cost: Price of the service compared to other interview coaches.
Credentials: Overall experience, awards, and certifications.
Process: Effectiveness of the process from start to finish.
Customer Service: Guarantees, refund policies, and client reviews.
This list was hand-curated to serve all industries, professions, and career levels.
Interview Coach – Top Picks
There are a lot of great interview coaches out there. But at the end of the day, you shouldn't have to hire multiple interview coaches to get what you are looking for. If you pick the right coach, you will never need to hire another interview coach again.
Here are the 5 best interview coaches for all industries and professions:
1. Find My Profession
Find My Profession offers a one-of-a-kind experience that goes far beyond any other interview coaching service on this list. While traditional interview coaches help you with the interview part of your job search, Find My Profession's Career Finder service manages your entire job search, including interview prep.
As your interviews come up, your dedicated Career Finder Reverse Recruiter will be there to get you ready for your interview. You can ask any questions that you have and discuss interview strategy and tips. They'll even try to get ahold of someone at the company you are interviewing for to get inside information on their interview process and questions.
Overall Service: This white-glove service will search for jobs on your behalf, apply for you with a customized resume to fit the application, and network with key decision-makers to secure interviews. The only thing they won't do is show up to the interview for you. But don't worry, this service includes the interview preparation you're looking for to make sure you'll crush any interviews they land you.
Cost: $2,500 per 4-week period
Reviews: 5/5 based on 124 Google reviews, 5/5 based on 8 BBB reviews, 5/5 based on 35 Facebook reviews, 4.9/5 based on 304 Trustpilot reviews, 4.7/5 based on 255 Sitejabber reviews
Conclusion: You can save hundreds of hours searching for jobs, filling out applications, customizing your resume, and networking. Finally, you can pay someone to find you a job. Your dedicated Reverse Recruiter will create a personalized strategy to manage all aspects of your job search, including interview preparation.
Check out some of our 5-star reviews:
2. The Muse

The Muse is a very popular job site and employer branding company with a division specifically focused on coaching. While they offer close to a dozen different career coaching services, interview coaching is one of their main offerings.
They have a large variety of vetted career coaches who work as contractors, allowing you to choose a career coach based on your level of experience. They have "Mentor", "Coach" and "Master Coach" tiers allowing for some great customization when it comes to selecting the best career coach for you.
Overall Service: No matter what level career coach you choose with The Muse, you will receive a 75-minute call over Skype. Before the call, you will have a preliminary chat with your coach, and during the call, you can expect a mock interview simulation with your dedicated interview coach. After the call, your coach will send over feedback as well as a follow-up action plan. It does not appear that The Muse will record your interview, so you should not expect to receive a copy of your mock interview after the call.
Cost: The services stay the same, but the level of experience that your interview coach has will change. Mentor: $139. Coach: $299. Master Coach: $599.
Reviews: Since each career coach works independently, the reviews are different for each and every career coach. Some have only 2 reviews. While others have as many as 50 reviews.
Conclusion: The Muse is more than just a platform for interview coaches to find work. Unlike LinkedIn Services Marketplace, The Muse actually has a vetting process in place to make sure they are working with quality coaches. While most coaches on The Muse will offer solid services, you will have to do some extra work to pick the best coach for you. Each interview coach has a profile with information about their skills and credentials allowing you to pick the right coach for you. This variety allows you to find a career coach for just about any budget.
3. Jody Michael Associates
Jody Michael Associates was founded by Jody Michael and consists of a team of 7 career coaches. Their company is a boutique firm that offers interview coaching services for all career levels. Whether you are a senior executive or a recent graduate, they have what it takes.
This company is based in Chicago with offices in Atlanta, San Francisco, and New York. While most interview coaching sessions are done virtually, you can contact this company to request an in-person meeting if you are in one of their 4 locations.
Overall Service: You can expect to receive a 1-on-1 mock interview session and a comprehensive analysis of your verbal and non-verbal performance. The duration of this call was not stated. Their team will provide expert guidance on how to respond to questions effectively, including "surprise" questions, thinking on your feet, and selling your personal brand. They will also send over supplemental materials to help you improve your interview performance.
Cost: $400 for 45 minutes
Reviews: 4.8/5 based on 106 Trustpilot reviews, 4.5/5 based on 109 Yelp reviews
Conclusion: Jody Michael Associates interview coaching is one of the few services that are available for in-person visits. This can be helpful if you are looking to improve your in-person presence during interview preparation. Despite being one of the more expensive career coaches on the market, they have earned an excellent reputation for taking a personal and individualized approach to coaching.
4. TopInterview
TopInterview is a leading interview coaching service owned by the same company that started TopResume. If you haven't heard of TopResume, they are the largest resume writing service in the nation. With so much experience in the career services space, it's no wonder they recently started offering interview coaching services.
Overall Service: TopInterview offers three unique career coaching packages. The main differences are the topics covered during the sessions, and the overall number of sessions you will receive. The first package is called Essential Coaching which includes one coaching session that will focus on your elevator pitch. The second package is called Standard Coaching which includes two coaching sessions covering your elevator pitch as well as preparing for informal interviews. The third package is called Professional Coaching which includes three coaching sessions covering your elevator pitch, preparing for informal interviews, as well as behavioral interviews. All of the packages include plan-by-plan session notes and a custom action plan.
Cost: There are three unique packages to choose from. Essential Coaching $149. Standard Coaching $298. Professional Coaching $349.
Reviews: 5/5 based on 2 Sitejabber reviews, 4.7 based on 162 Trustpilot reviews
Conclusion: TopInterview is a division of Talent Inc, the same company that owns and operates TopResume. They offer a variety of different packages, none of which appear to be mock interviews. If you are looking to improve your 30-second elevator pitch, and receive other general interviewing advice, this could be a good option. Our only concern and the main reason this company is lower on our list is because of the lack of information about the interview coaches and credentials.
5. LinkedIn Services Marketplace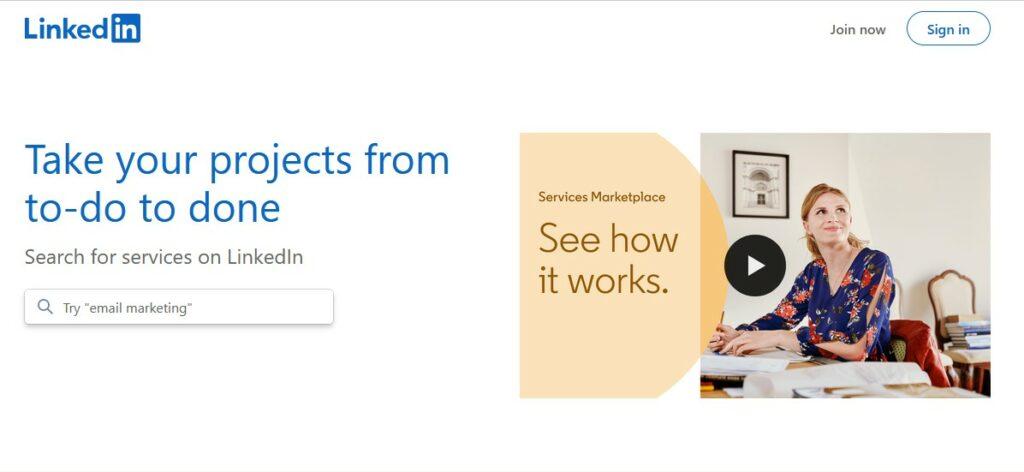 LinkedIn Services Marketplace is LinkedIn's updated service that helps you find the best freelance or independent professionals in your area. The platform was formerly called LinkedIn Profinder. It's currently only available within the U.S. and is limited to specific service categories. Lucky you, interview preparation is one of the categories they offer!
It's important to note that LinkedIn does not train or endorse any of the interview coaches using Services Marketplace. Instead, they allow each career coach to use their own strategies and methods when working with clients. A huge benefit of the platform is the sheer volume of coaches. You will literally find thousands of interview coaches to choose from in hundreds of different cities.
Overall Service: The interview coaching services offered on LinkedIn Services Marketplace are completely unique and depend on the interview coach that you choose to hire. Most coaches are paired with clients based on their geographic location. Simply answer a few questions and you will be matched with a variety of writers in your area. LinkedIn Services Marketplace offers the most options when it comes to meeting a career coach in person. While not all coaches will meet in person, there is no better platform to find an in-person interview coach.
Cost: Each interview coach can set their own prices. The average costs of interview coaches on LinkedIn are around $150 per hour. You can find some as low as $100 per hour and others as high as $500 per hour.
Reviews: Just like with The Muse, each and every interview coach on LinkedIn Services Marketplace will have their own reviews and endorsements. From our research, the average coach has ~10 endorsements.
Conclusion: LinkedIn Services Marketplace provides the greatest level of customization when it comes to the interview preparation services you will receive, and the interview coach you will be working with. It's entirely up to you to screen and negotiate with each career coach. This can be a great thing or a terrible thing depending on what you are looking for.
Visit LinkedIn Services Marketplace
Bonus: Top Interview Coaching Winners (2021)
Find My Profession, The Muse, Jody Michael Associates, TopInterview, LinkedIn ProFinder (now LinkedIn Services Marketplace)