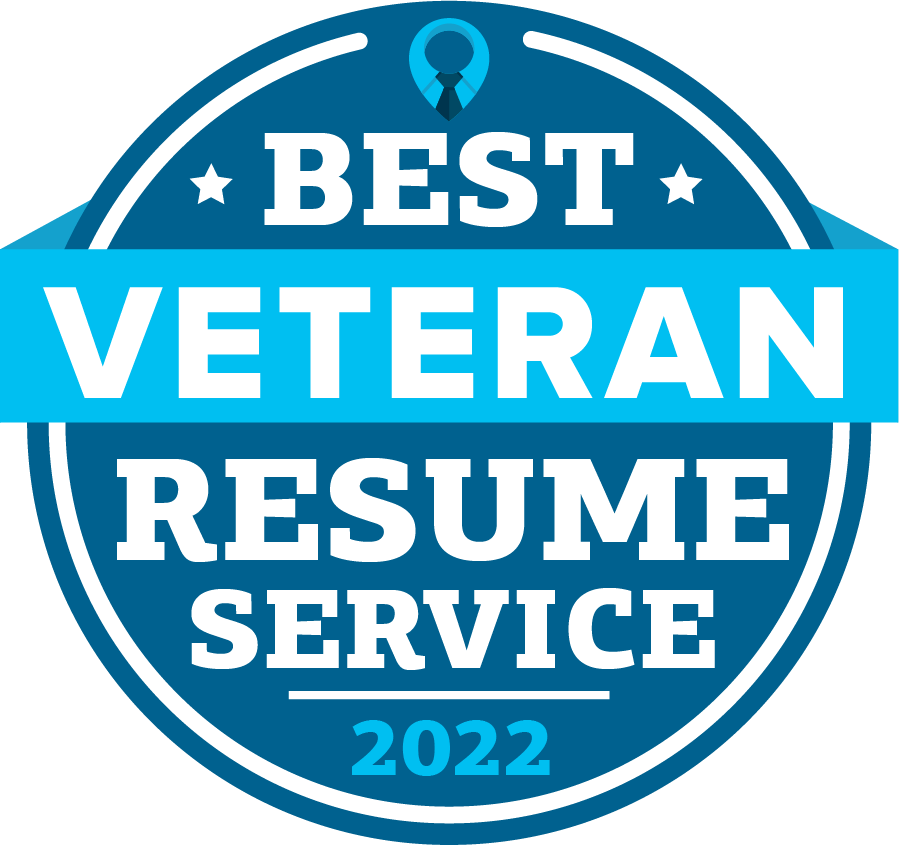 2022 Winners: Add your badge to your marketing materials.
As a veteran who has served our country in a unique way, you know that transitioning to a civilian job can be a challenge.
Your military experience is an asset and your resume should reflect what skills you have acquired through it.
But even the most decorated veterans need to have a resume that resonates with civilian hiring managers and recruiters.
Because military jargon is very different from civilian jargon, you can't rely on an average resume writer.
A professional resume writer knows exactly how to market your military skills and experience, translating them into language the readers will understand.
We scoured the Internet to bring you this curated list of the best veteran resume writing services in America.
Best Resume Services for
Veterans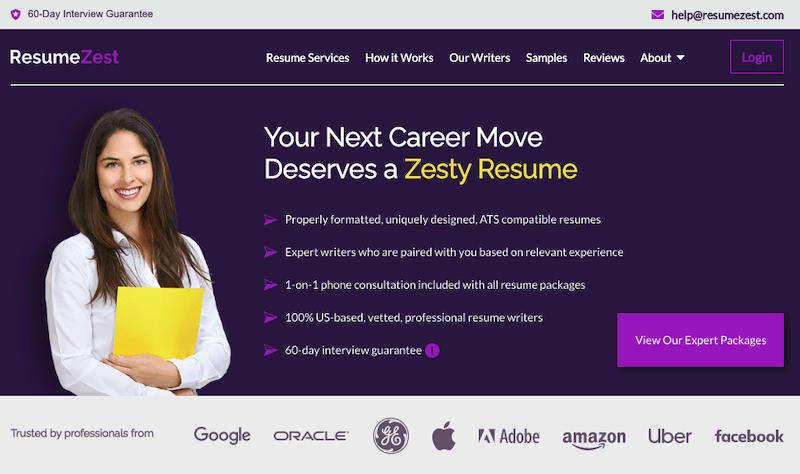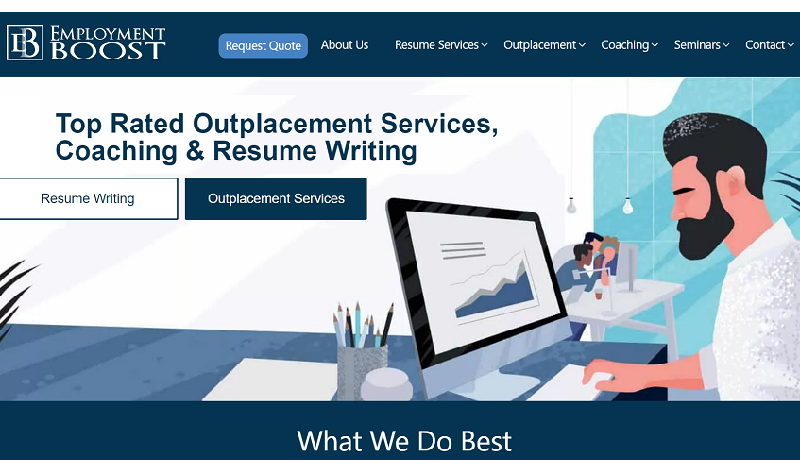 4

4
5
5
6

6
7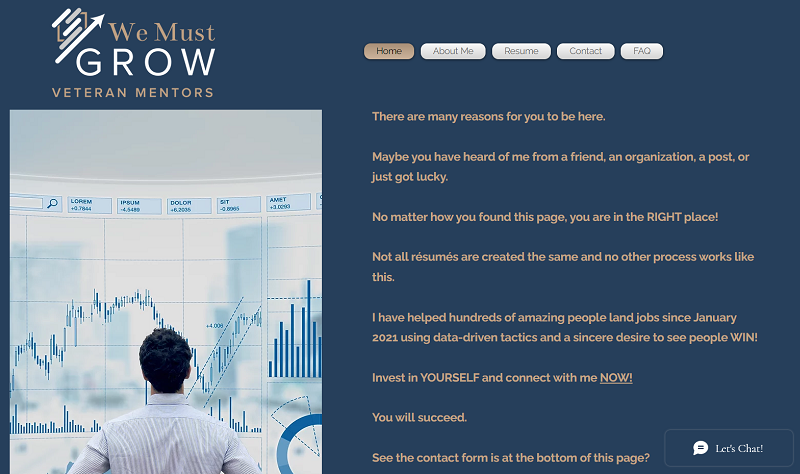 7
8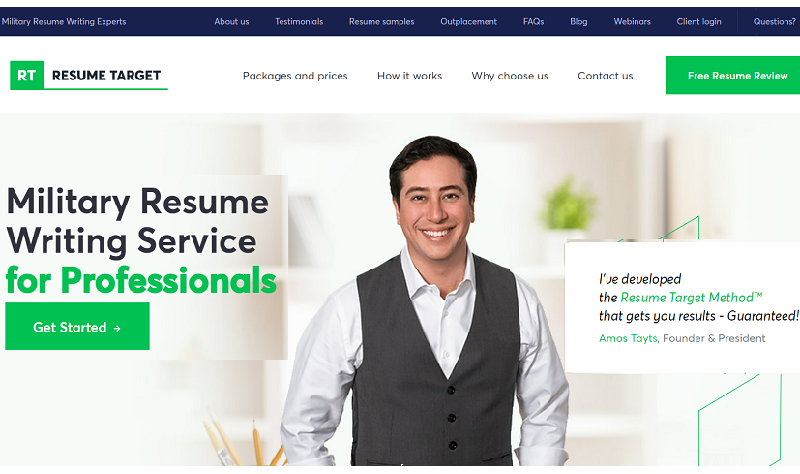 8
9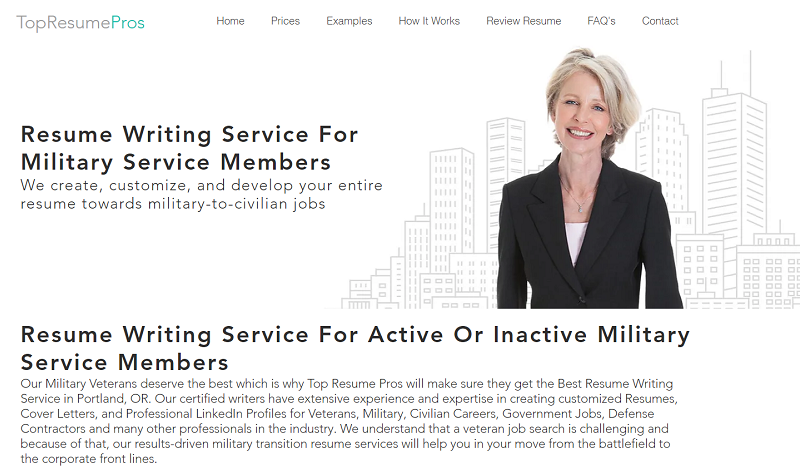 9
10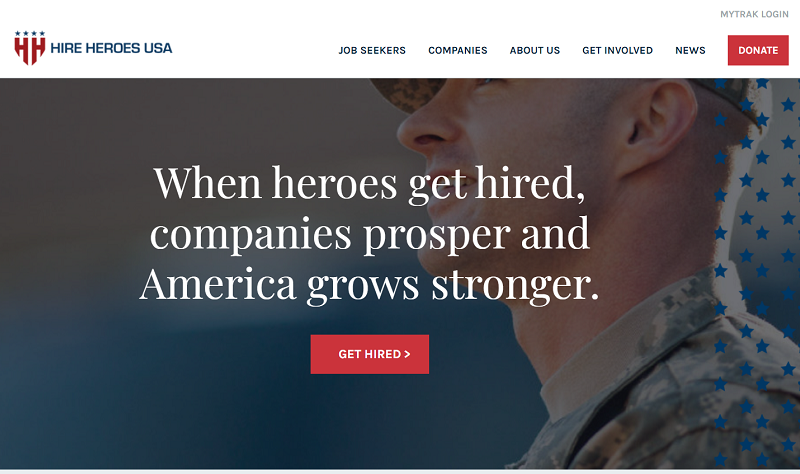 10
See more services
See less services
How We Choose Winners
Each of the resume services for military veterans below was reviewed by a Certified Professional Resume Writer (CPRW) taking into consideration the following:

Cost
The cost of the service compared to other veteran resume writers.

Turnaround
The speed at which the resume is completed.

Credentials
Overall experience, awards, and certifications.

Resume Design
The design, style, and overall look of the resume.

Customer Service
Guarantees, number of edits, and reviews.
This list was hand-curated to serve all veterans.
Average Veteran Resume Cost
Veteran
Resume Service Cost
Average Resume Cost
$1179
Resume Cost Range
Veteran Resume Writer Reviews
Find My Profession is much more than a veteran resume writing service. They are a global company whose work has been featured on sites like Forbes, Inc., Zety, Fast Company, and more.
Their elite resume writing team has experience in 85+ industries and professions. This allows them to assign you a professional writer based on your unique background and experience. Every resume also includes a 1-on-1 phone consultation with your writer.
They have successfully landed their clients positions at companies like Apple, Amazon, EA, Oracle, GM, Facebook, DoJ, Morgan Stanley, and Tesla just to name a few.
Find My Profession has 650+ 5-star reviews and offers a 60-day interview guarantee. Every resume created is Applicant Tracking System (ATS) compatible and highly customized to meet your specific needs.
PROS
You will work one-on-one with an elite and certified resume writer in the United States. Find My Profession commits to working with each client until they are 100% satisfied. Don't worry about having a limited number of edits or a set amount of time with your writer.
CONS
Find My Profession is a virtual company. While they provide services in your area, they don't have a physical office for in-person visits. You'll communicate directly with your writer via email and phone calls.
REVIEWS
5/5 based on 124 Google reviews
5/5 based on 35 Facebook reviews
5/5 based on 8 BBB reviews
4.9/5 based on 304 Trustpilot reviews
4.7/5 based on 255 Sitejabber reviews
TURNAROUND
3 – 5 business days (can expedite to 2 business days)
COST
$395 – $995
CONTACT
(831) 888-0967 or help@findmyprofession.com
Check out some of our 5-star reviews:
H. S. on April 11, 2022
Top Shelf Service
I used one of the Find My Profession writers to clean up and modernize my personal documents. The level of knowledge and know-how was stellar. The response was prompt and timely. The writer delivered the product on time and with quality. I was extremely pleased with this service and paid a fraction of what other services charge for similar products and support.
C. B. on May 2, 2022
100% Recommend
[Writer] was a pleasure to work with. This was a great experience and investment in myself and career. I always feel overwhelmed by creating or updating my resume and I had no idea how to create one that was suitable for today's automated analysis used by HR departments. I struggle to find the best words to describe what I do and what I like/dislike. In one phone call [Writer] was able to listen to me blather on and craft my experiences into an outstanding package.
M. J. on October 15, 2021
Extreme Appreciation
[Writer] created an eye-popping & creative resume tailored to my individual needs after carefully reviewing my transitional situation with me. I am extremely happy with how she crafted my beautiful resume for my specific needs. [Writer] was very professional, personable and provided me very honest and direct feedback and insight. Lastly, she kept her promises on resume delivery and follow-up timing – great communication that assured me I was in good hands.
F. J. on July 15, 2021
I Will 100% Be Back
I approached hiring Find My Profession as an investment in my future and it ABSOLUTELY paid off. [Writer] was attentive, responsive, and highly professional. After meeting with me to discuss my career history, she put my work into words that helped me shine in my job search. I'm recommending this service to everyone I know and I will 100% be back when I need this service again.
K. M. on March 1, 2022
I Am 110% Satisfied
[Writer] provided exactly what I wanted. I am 110% satisfied with the completed project which includes a resume, cover letter, and LinkedIn Profile. It was completed in the time frame that was agreed upon, and delivered more than I was expecting. Do not bother looking anywhere else, [Writer] is wicked awesome and a true professional!
C. S. on June 21, 2022
Immediate Results
On the same day I received the final resume draft, I applied to a few jobs and got an interview request the next day.
Visit Find My Profession
ResumeZest is trusted by professionals from companies like Google, Amazon, Apple, Oracle, GE, Adobe, Uber, and Facebook. Their resume writing team has written resumes for more than 75 industries. A 60-day interview guarantee backs up every resume they write. Each resume is also ATS compliant and keyword-optimized.
PROS
ResumeZest is a very well-rounded company. They offer affordable pricing and quick turnaround times. You will work with a high-quality, certified writer and receive excellent customer service. They are also members of the Professional Association of Resume Writers and Career Coaches (PARW/CC).
CONS
ResumeZest is one of the newer companies on this list. While they do a great job and their writers have many years of experience, the company was only founded in 2020.
REVIEWS
5/5 based on 50 Google reviews
5/5 based on 9 Facebook reviews
5/5 based on 3 Yelp reviews
4.8/5 based on 56 Sitejabber reviews
4.8/5 based on 52 Trustpilot reviews
TURNAROUND
3 – 5 business days (can expedite to 2 business days)
COST
$279 – $479
CONTACT
(888) 530-4911 or help@resumezest.com
Visit ResumeZest
Employment BOOST is a full-service resume writing services company based in Troy, Michigan. They help veterans and individuals in the military transition into professional roles in the civilian sector by creating high-impact resumes. They are partnered with top organizations to provide opportunities to veterans.
PROS
Each member of the resume writing services team at Employment BOOST is located in the United States. They remain on top of what's happening in the job market. All the writers have bachelor's degrees from top colleges and are Certified Professional Resume Writers (CPRW).
CONS
We could not find any information on the website about the professional resume writers or the leadership team at Employment BOOST. Also, there are no resume samples to review on the site. It would be great to be able to see the quality of work they provide.
REVIEWS
5/5 based on 204 Google reviews
5/5 based on 11 Yelp reviews
TURNAROUND
3 – 5 business days (can expedite to 24 – 48 hours)
COST
$299
CONTACT
(888) 468-6495 or resumesupport@employmentboost.com
Visit Employment BOOST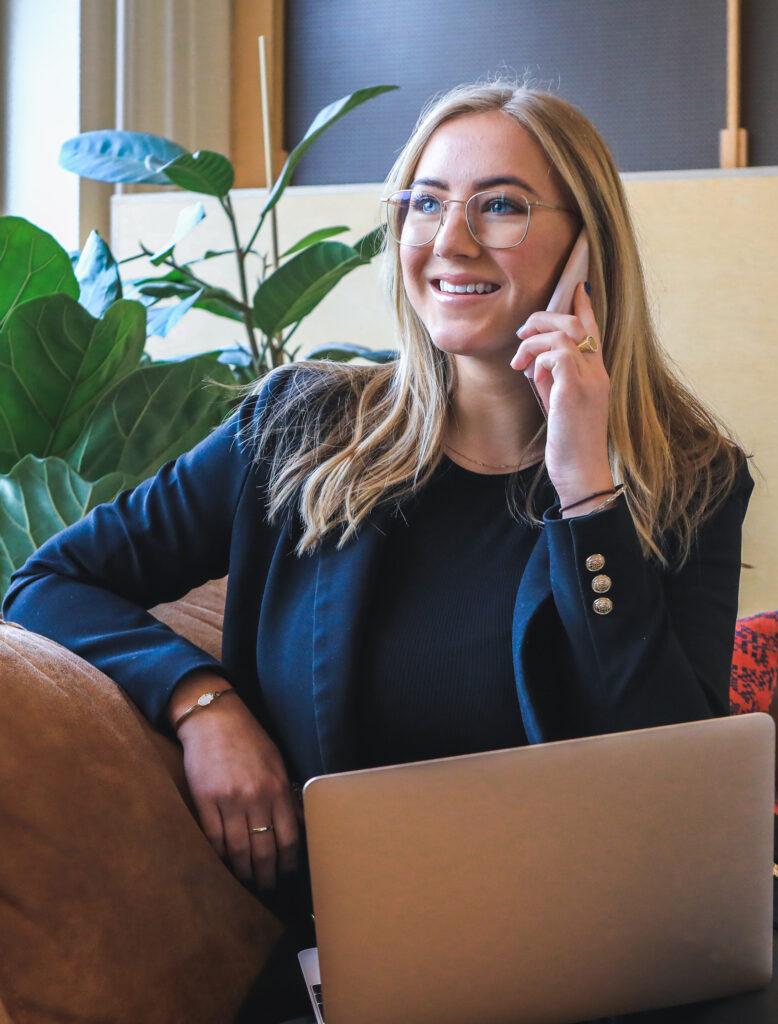 Need A Career Coach?
Have you considered hiring a career coach to help with your job search? You don't have to do it alone. Check out our list of the best career coaches in America.
Empire Resume was founded in 2011 by a former USAF captain, Dr. Phillip Steven Gold. He combines his passion for resume writing with his extensive military experience to help veterans/military personnel transition into the civilian workforce. Dr. Phillip holds a PhD in Business Administration.
PROS
Empire Resume offers a 100% satisfaction guarantee with their services. If you do not land an interview within 30 days, they will edit your resume for free. If you do not receive an interview within 60 days, they will revise your resume again.
CONS
The prices are quite affordable, but the packages are based on their services instead of career level. This could be an issue for entry-level individuals. All communications are conducted via phone. You do not have the option of interacting with your writer face-to-face.
REVIEWS
5/5 based on 187 Google reviews
5/5 based on 86 Bark reviews
5/5 based on 10 Facebook reviews
4.5/5 based on 3 Yelp reviews
TURNAROUND
3 business days
COST
$249
CONTACT
(801) 690-4085 or info@empireresume.com
Visit Empire Resume
5
Career Confidence Resume Services
Career Confidence is led by Cassie Hatcher, a Certified Professional Resume Writer (CPRW) and Certified Veteran Career Strategist (CVCS). Cassie is an Air Force "brat" with 10+ years of writing experience in military resumes. The company has worked with all military branches and across a wide range of MOSs.
PROS
Career Confidence has a 100% money-back guarantee. Their resumes balance visual appeal with an applicant tracking system (ATS) friendly design. You will work directly with an experienced military resume writer who specializes in helping service members transition into the civilian workforce.
CONS
Career Confidence Resume Services is a growing resume writing boutique that only accepts a set number of clients at a time to ensure high-quality services. If they are over capacity, you might have to wait for your resume. The turnaround time is also quite long compared to other services on the list.
REVIEWS
TURNAROUND
10 business days
COST
$699 – $2,199
CONTACT
careerconfidence@gmail.com
Visit Career Confidence
CareerPro Plus is part of CareerPro Global, which was founded in 1986. It is America's leading military transition and veterans resume writing services provider. Based in Georgia, CareerPro Plus assists ex or retiring military in their transition to civilian life and aids them in landing lucrative careers. Barbara Adams, founder & CEO, is a Master Military Resume Writer (MMRW).
PROS
Most of the team members and military resume writers are senior enlisted and military officers. Their resume services are vetted by thousands of enlisted and military officers each year. The military resume writing team has over three decades of experience working with veterans, with a 99.6% success rate.
CONS
There are no resume service packages mentioned on the site. You'll need to fill out a contact form to get an exact quote or learn more about the resume packages.
REVIEWS
4.6/5 based on 60 Google reviews
3/5 based on 7 Yelp reviews
TURNAROUND
10+ days
COST
~$500+
CONTACT
(800) 471-9201
Visit CareerPro Plus
Veteran Mentors is the brainchild of Jason Burks, a self-employed career mentor specializing in providing expertly crafted, ATS-friendly resumes to veterans. Since 2014, he has helped numerous veterans transition into civilian jobs. After serving 15 years in the US Army, Jason's current mission is to support veterans on their career journeys.
PROS
Jason is a member of the Professional Association of Resume Writers & Career Coaches. He has witnessed firsthand the many challenges that come with service members exiting the military. Jason has helped hundreds of talented people land their dream job or change careers through compelling resumes.
CONS
The prices of the resume writing services are not mentioned anywhere on the site. There is no mention of the expected turnaround time for the first resume draft. Jason does not offer any satisfaction guarantees either.
REVIEWS
5/5 based on 6 Google reviews
TURNAROUND
Not found
COST
~$300+
CONTACT
(719) 992-3450 or jb@wemustgrow.com
Visit Veteran Mentors
Resume Target is one of the highest-rated professional resume writing services in North America. They empower job search and career transition for all career levels and types of military professionals. Amos Tayts, founder and president, holds decades of experience in executive recruiting for Fortune 500 companies.
PROS
All the resume writing services are backed by their trademarked Triple Promise Guarantee, which includes 90-day interview and 100% satisfaction guarantee. You get to work with an expert team of professional resume writers who have extensive experience and background in all industry and career levels.
CONS
Although they hire experienced professionals, we could not find any useful information about any of the professional resume writers on the site. This can be worrisome since you have no clue who is actually working on your resume.
REVIEWS
4.8/5 based on 49 Facebook reviews
4.6/5 based on 339 Google reviews
TURNAROUND
3 business days
COST
$199.95 – $749.95
CONTACT
(877) 777-6805 or support@resumetarget.com
Visit Resume Target
TopResumePros is a nationally recognized expert resume writing agency based in Portland, Oregon. Top Resume Pros serves a diverse clientele, with a special focus on active duty, inactive duty, and veterans military service personnel all over the United States.
PROS
TopResumePros has a team of Certified Professional Resume Writers (CPRW) with extensive experience and expertise in creating customized resumes for veterans, defense contractors, and other industry professionals. This ensures clients a smooth transition to the corporate world.
CONS
TopResumePros serves a wide range of clients, from veterans to high school graduates and senior-level executives. But it appears that their services are not backed by any guarantees. Also, there is no information on any of the specific resume writers on the company's website.
REVIEWS
4.7/5 based on 25 Facebook reviews
4.6/5 based on 112 Google reviews
4/5 based on 39 Yelp reviews
TURNAROUND
3 – 7 business days (can expedite to 24 – 48 hours)
COST
$159 – $259
CONTACT
(800) 604-1929 or contact@topresume.com
Visit TopResumePros
Hire Heroes USA is the nation's leading veteran employment nonprofit organization that helps veterans and military spouses find new careers. John Bardis, founder and chairman, empowers US military members and veterans to succeed in the civilian workforce through personalized service and support.
PROS
Hire Heroes USA is funded exclusively through public donations and private grants, so their services are absolutely free of cost. They have built a national reputation of excellence, earning a 4-star rating from Charity Navigator and the GuideStar Platinum Seal.
CONS
They are a full-service nonprofit employment organization focused on all things career related, not just resume writing. So, the resume writing services are provided through coaching and mentoring, and not actually written for clients.
REVIEWS
4/5 based on 2 Google reviews
TURNAROUND
Not found
COST
$0
CONTACT
(844) 634-1520 or clientsupport@hireheroesusa.org
Visit Hire Heroes