Your resume is an important part of the job search. It could very well be the thing that sets you apart from your competition.
This also means that a subpar resume can set your job search back months.
Today we will be reviewing Devmyresume.com and their resume writing services.
We have taken a deep dive into the customer reviews, cost, resume samples, and writer credentials at Devmyresume. Our overall rating for Devmyresume is 30/100.
Devmyresume.com
Score
Our goal is to help you find the best resume service that will advance your career. Take a look at some other top-rated resume writing services and find the perfect fit for you!
Best
Devmyresume

Alternatives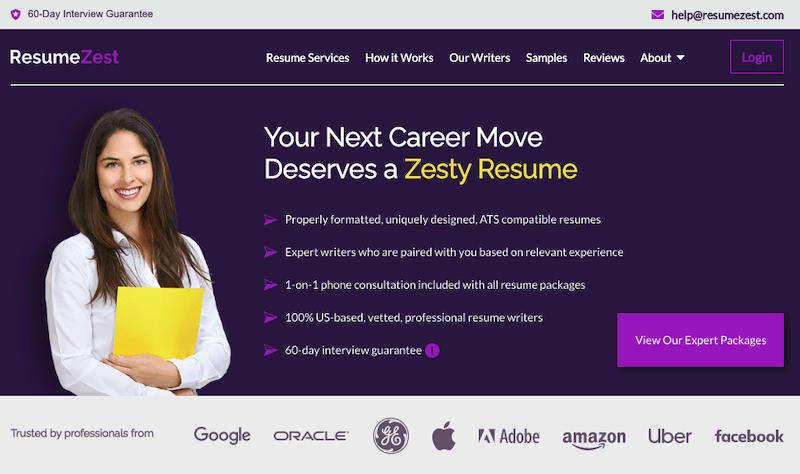 About Devmyresume
Devmyresume.com is owned and operated by DDW Corp Limited based out of Nicosia, Cyprus and founded in 2015. They offer a broad list of writing services including resumes, CVs, cover letters, LinkedIn profiles, and follow-up letters.
Beyond resume writing, Devmyresume also helps with other tasks like coaching, interviewing, help with vacancy search, CV distribution, networking assistance, and more.
The company works with their clients one-on-one to understand their requirements and help write a resume that will get results.
Let's dive right into some of the pros and cons when it comes to working with Devmyresume.
Devmyresume Pros vs Cons
As with any company, there are pros and cons. It's up to you to determine what is a "must-have" and what things you can live without.
Pros
Very affordable resume service starting at $66.99.

Flexible turnaround times ranging from 24 hours – 7 days.

All resumes come with a plagiarism-free guarantee.

Unlimited revisions until you're satisfied with the resume.
Cons
Bad online reviews from previous customers.

Website provides no information about the resume writers.

Little to no presence on reliable online platforms like LinkedIn.

No interview guarantee on their resume services.
If you are looking for a resume writing service, Devmyresume.com is a good option, but it is worth exploring other alternatives to find the best fit for your needs.
One such alternative is Find My Profession, who has a quick 3-5 business day turnaround time, write customized resumes for every client, and offers unlimited revisions.

However, Find My Profession differs from Devmyesume.com in that they have a solid 4.9/5 average rating from 900+ previous clients, are transparent about their writers, and offer a 60-day interview guarantee on all resumes.
Devmyresume Customer Reviews

Our Certified Professional Resume Writers have rated Devmyresume.com a 30/100. Additionally, Devmyresume has received customer reviews of 2.72/5 on Sitejabber, a 2.6/5 on Trustpilot, and an F rating on BBB. These customer reviews are far below what a quality resume service should be receiving.
Sitejabber shows 18 reviews with an average rating of 2.72/5. Most of the negative reviews mention improper grammar and copied and pasted information from the original resume.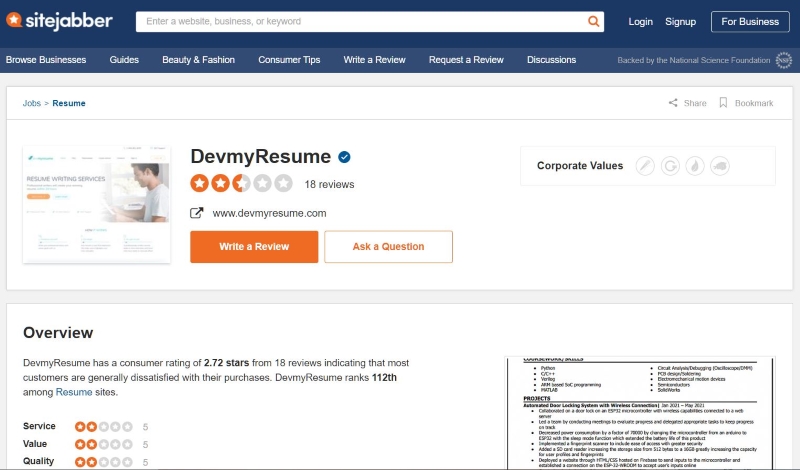 Trustpilot shows 4 reviews with an average rating of 2.6/5. We aren't sure why the rating is 2.6 when there are only 4 reviews and all are 1-star.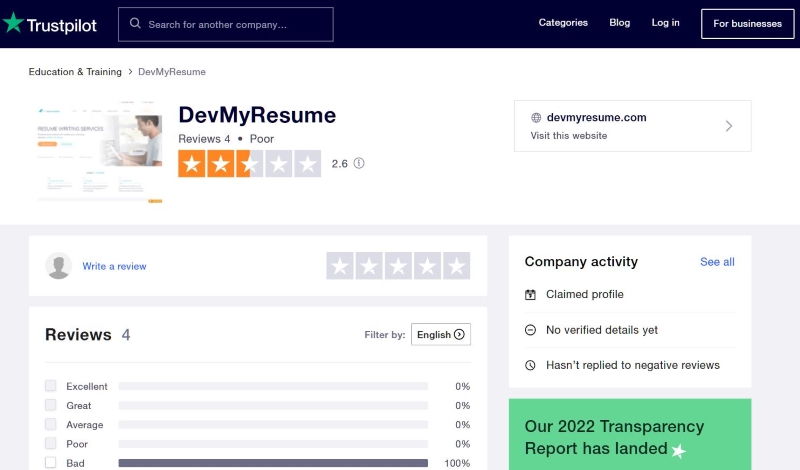 BBB shows zero reviews with an F rating. There were also two customer complaints closed in the last 12 months.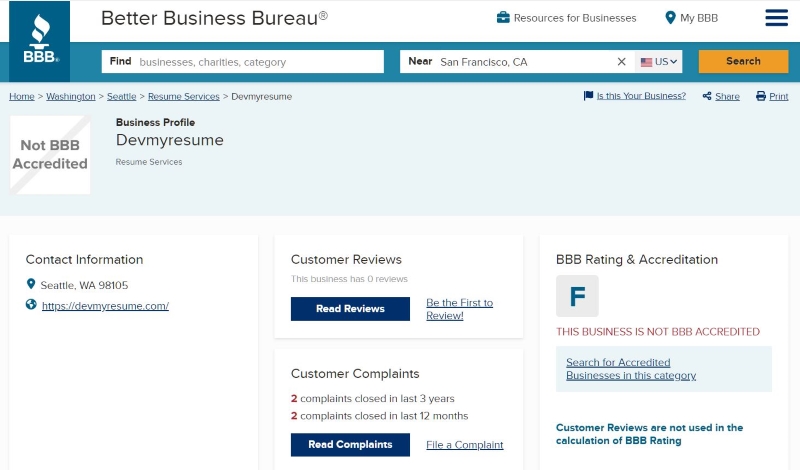 As with anything, it's important to take each review with a grain of salt. Additional research should be done beyond reading the reviews that are found online.
How Much Does Devmyresume Cost?

Devmyresume's resume writing services cost $66.99 – $184.99. This is very affordable, compared to many other resume writing services you'll find. That said, their poor reviews show that you get what you pay for.
$108.99
The company's prices for resumes vary based on career levels.
In addition, the cost can be lower or higher depending on how quickly you need your resume finished. Turnaround options include 24 hours, 48 hours, 3 days, 5 days, or 7 days.
You get to choose from three pricing options, according to your career level – Entry ($66.99 – $118.99), Professional ($83.99 – $145.99), and Executive ($108.99 – $184.99).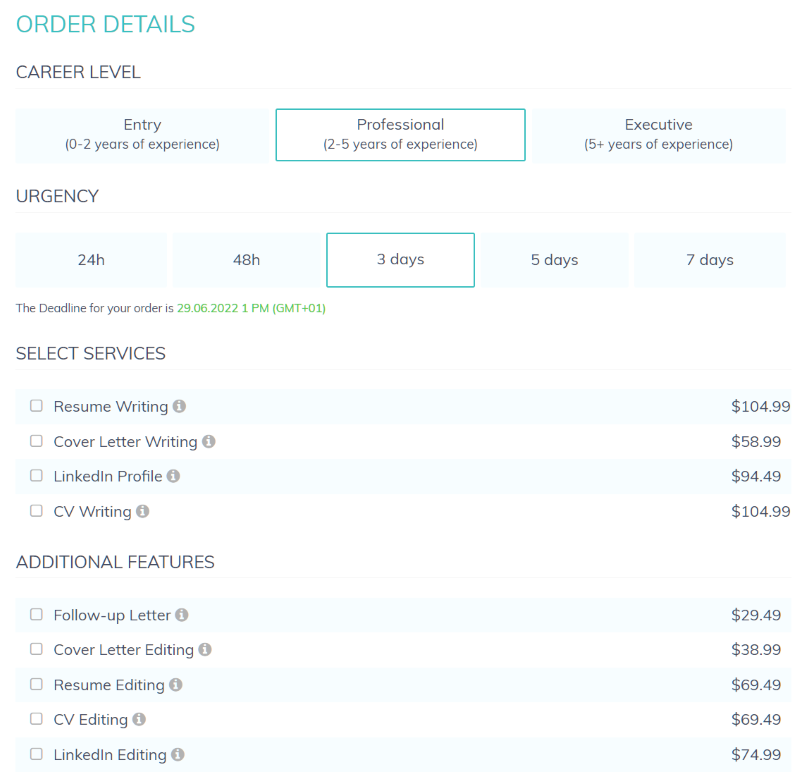 Devmyresume gives a ton of package options allowing you to mix and match the services that you need most.
For the most accurate and up-to-date details on resume service pricing at Devmyresume, we recommend that you visit their website directly.
Devmyresume Resume Sample
We wanted to see what the resume quality of Devmyresume looked like so we took a look at some of the resume samples featured on their website.
We've attached a devmyresume.com resume sample for you to review (first page only). Below, we share some of the things that we liked, and what we disliked about this resume.
The Good
 Contains color which makes it visually appealing.

 Includes lots of keywords relevant for the job target.

 Lists the career history.

 Includes education information.
The Bad
Lacks a summary and target job title at the top of the resume.

Content is poorly written and lacks substance or specifics.

The formatting does not have any structure and is outdated.

Contains the candidates full address in contact section.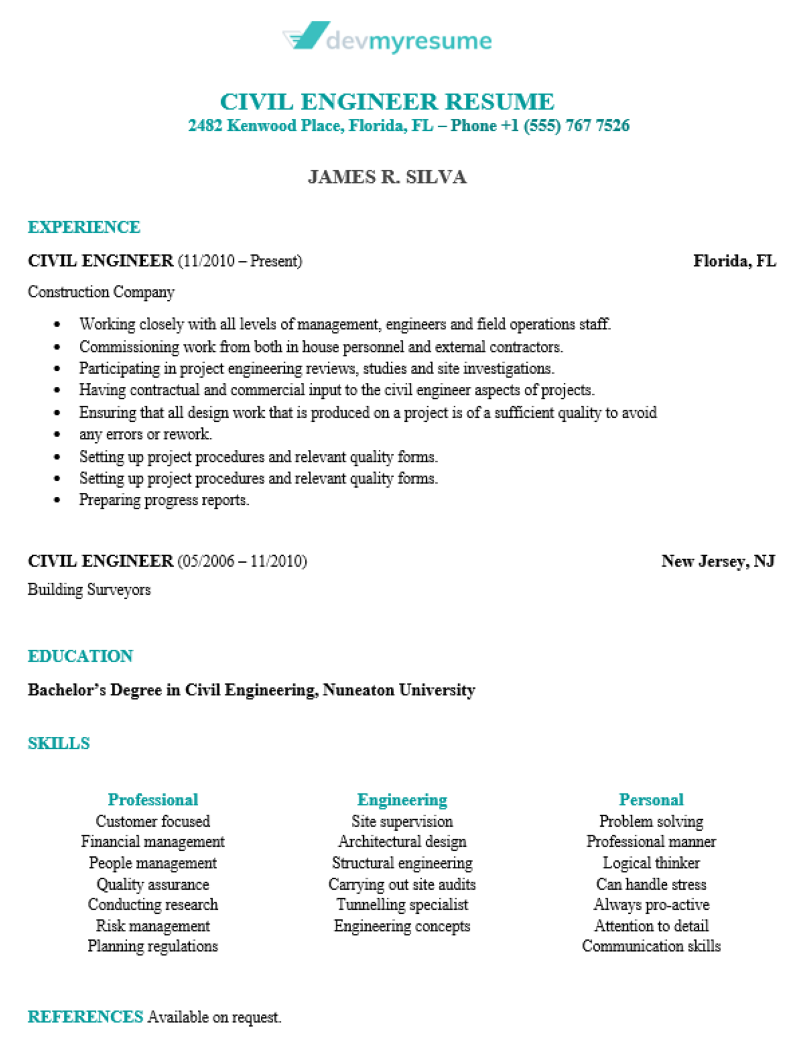 Devmyresume Resume Writer Credentials
Although they say the company has a team of 1,500+ professional writers, the website offers no information about the resume writers.
The site simply states that the team has only certified professionals and CV writers who are qualified enough to handle the toughest writing tasks.
They also mention that their team is made up of professionals from all sorts of backgrounds, including qualified recruiters, HR managers, career coaches, instructors, and so on.
As we mentioned above, we weren't able to find any information online about a single one of their writers.
This lack of information may just be an oversight or an indication that the company isn't proud of its team. From our research, we have learned that most companies that are proud of the quality of their writers, feature them on their websites.
Devmyresume Resume Writing Process
Devmyresume follows a straightforward and simple operating procedure for getting your resume written.
Let's look at the steps taken in Devmyresume.com's resume writing process below:
Choose the resume service you need along with additional services (cover letter, LinkedIn, etc.), and confirm your selection.
Place the order and complete the payment using one of the payment methods given.
Fill in a short questionnaire to provide a list of your skills and objectives.
Share some of your personal information with them to complete the order.
The team works on your resume and the initial draft is ready within 7 days, depending on your requested turnaround time.
You will get an unlimited number of free revisions to review and suggest edits for your resume.
After you're satisfied, you can download your new, completed resume.
Apart from letting you review the initial draft and request unlimited revisions, Devmyresume oversees the progress of your order from start to finish.
Is Devmyresume Worth It?
Whether or not Devmyresume is worth it is entirely up to you.
Our goal is to provide you with the most transparent and helpful information possible. But, only you know what is best for you and your career.
Here is a summary of our findings on Devmyresume.com written and reviewed by a Certified Professional Resume Writer:
Customer Reviews: 0/25
Cost to Value: 10/25
Sample Quality: 5/25
Writer Credentials: 15/25
Total Score: 30/100
As a reminder, we highly recommend reviewing 2-3 services before making a final decision.
If you're in need of a top-notch resume writing service, we suggest checking out Find My Profession. With a team of experienced reverse recruiters and a commitment to customer satisfaction, Find My Profession can help you find your dream job. And with a perfect score of 100/100, you can trust that you'll be in good hands!