While searching online for a professional resume writer, you'll find TopResume as one of the first paid ad results.
You'll also come across concerning reviews or information about TopResume.
In fact, the number of negative things being said online about the resume writing service is overwhelming.
Understandably, you are questioning whether TopResume is legit or a scam as some of the reviews suggest.
Although they are a legitimate resume writing company, there are some concerns.
In this article, we will dive deep into all the negativity around the service, dig into the customer reviews, and review all other aspects of this resume service.
TopResume Concerns
While reviewing TopResume, we have found quite a few questionable issues.
Writer Information is Lacking
While their website says they have over 1500 writers, we couldn't find details about the writers anywhere on the web.
The "About" section mentions the senior resume writer and a few other team members, but that's it.
There's no mention of any other writers.
A quick look at LinkedIn also showed us only 23 employees and many of them were from other departments.
Knowing about your resume writer before you hire them is important for professionals undergoing a job search.
Additional Costs for Services
The pricing of TopResume services is also not clearly defined.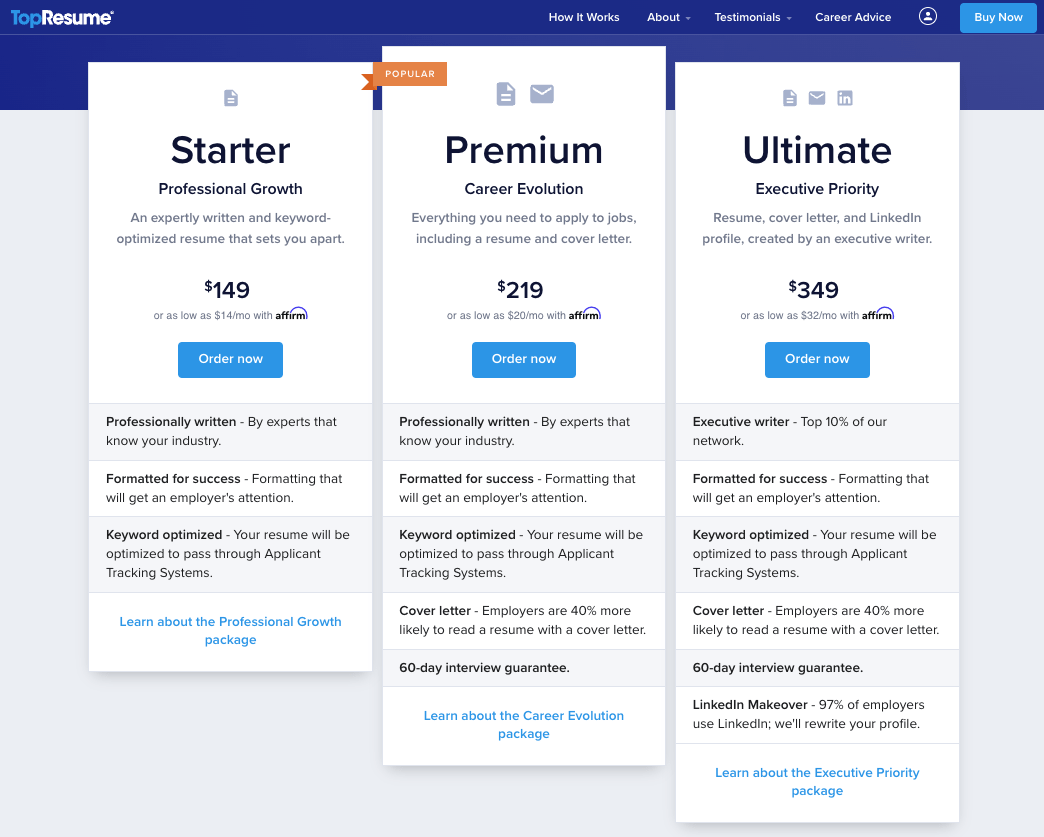 Although the package pricing appears definite, if you dig a bit deeper, you will see that the pricing doesn't cover all the services needed for an efficient resume writing process.
The cost mentioned for each of the packages seems straightforward. However, their FAQs state that none of the packages includes a phone consultation with your writer.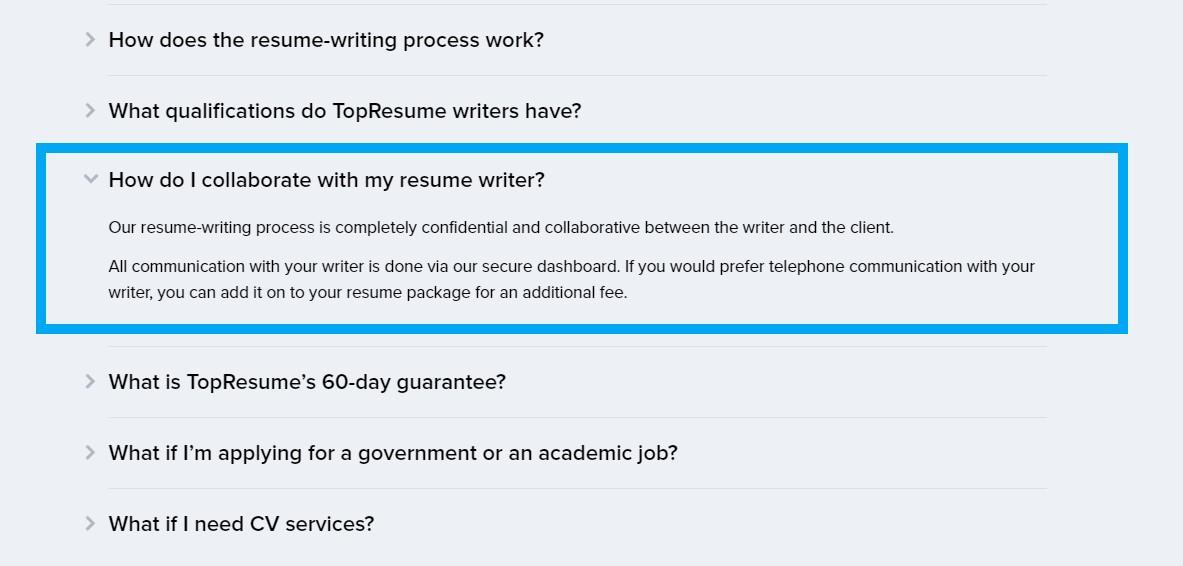 If you want to talk with your resume writer, you will have to pay extra fees.
Most surprisingly, the exact amount of the fee is also not mentioned on the website last time we checked.
This is such an important part of the resume writing process, that many other reputed resume service providers include the phone consultation within the package details and the package pricing.
While we're talking about service costs, we should mention that the price for the Professional Growth package changes often.
You'll pay a different amount depending on when you order the package. Promotions are great, but how much is the resume worth if it's discounted every other week?
Lack of a Comprehensive Guarantee
TopResume offers a 60-day interview guarantee, but not with all of the packages.
The resume-only package doesn't offer any guarantees at all, which is ironic coming from a company focused on providing resume services.
To get their guaranteed coverage, you have to buy one of the pricier packages that include other materials such as a cover letter and a LinkedIn makeover.
TopResume Alternatives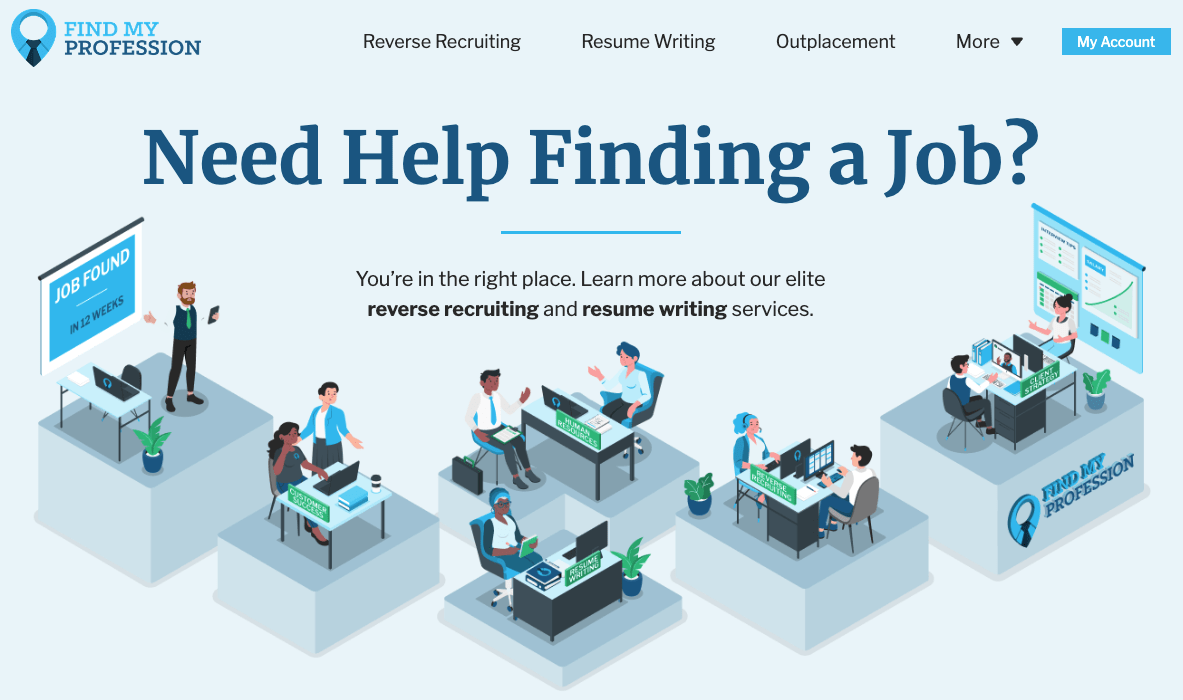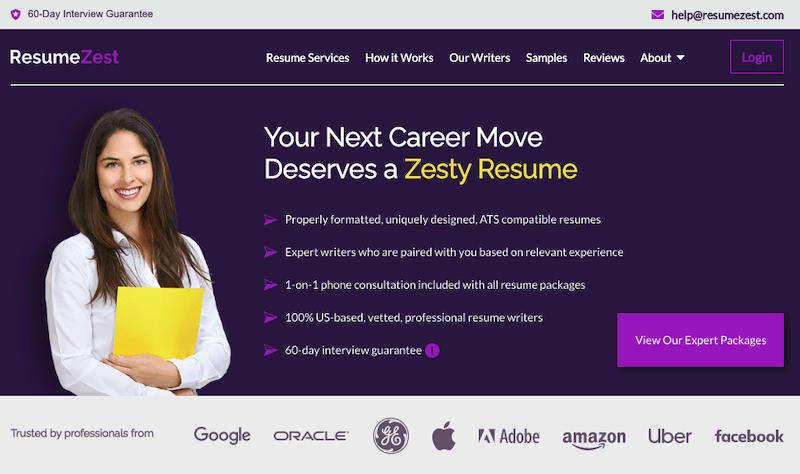 Resume Mill Possibility
Customers and third-party reviewers have also expressed doubts about TopResume and it being a resume mill.
Resume mills are low-cost resume service providers who use inexperienced writers and templates to create thousands of resumes within very short timeframes.
Their primary focus is on profit-making at the expense of quality.
The number of writers TopResume claims to have and the lack of adequate details about the writers seem to back up this concern.
Questionable Free Resume Review
TopResume's website states that their free resume critique is conducted by expert professionals.
However, many customer reviews seem to contradict this claim.
Customer reviews of the free resume review service mention that the resume review is done by software and doesn't provide accurate information.
Also, many users complained of getting the same copied and pasted resume critique for every resume they submit.
This leads to another concern that the free review service is more of a marketing ploy than a beneficial service for clients.
Unfortunately for job seekers, this process just adds time to the overall writing process as well.
Concerning Online Reviews
TopResume's customer ratings are abysmal on many reputed review platforms.
We get it. No company can get it exactly right for every client every single time. But patterns of complaints are a different story.
The company doesn't have a verified presence on Yelp, and the unclaimed Yelp page mostly has 1-star reviews.
The Better Business Bureau (BBB) has even posted an alert on the page citing a pattern of complaints concerning product quality and customer service for TopResume.

You'll also find a significant number of negative reviews and complaints on other major review platforms.
We'll go into these topresume.com reviews next.
TopResume Reviews
We have already mentioned several concerning TopResume customer reviews from reputed review platforms.
Now, let's take a deeper look at all the customer reviews of TopResume across all platforms.
TopResume BBB Reviews
The TopResume reviews on BBB are almost unanimously negative.
TopResume is now part of Talent Worldwide's BBB profile. Talent Worldwide, Inc. has a collective score of 2.59/5 for the 4 businesses on the profile. There have been 305 complaints in the past 3 years and 62 of those in the last 12 months.

When TopResume had its own BBB profile, its score was 1.07/5 based on 90 customer reviews.

On top of that, TopResume had received a whopping 438 complaints over the three-year period prior to this score, 213 of which came in during the last 12 months.
According to BBB, many customer complaints "contain some or all of the following: grammatical/punctuation errors; insufficient job history/experience; inaccurate skill descriptions."
The consumers also tell BBB that they encountered difficulties when working with TopResume's customer service department to address their concerns or request a refund.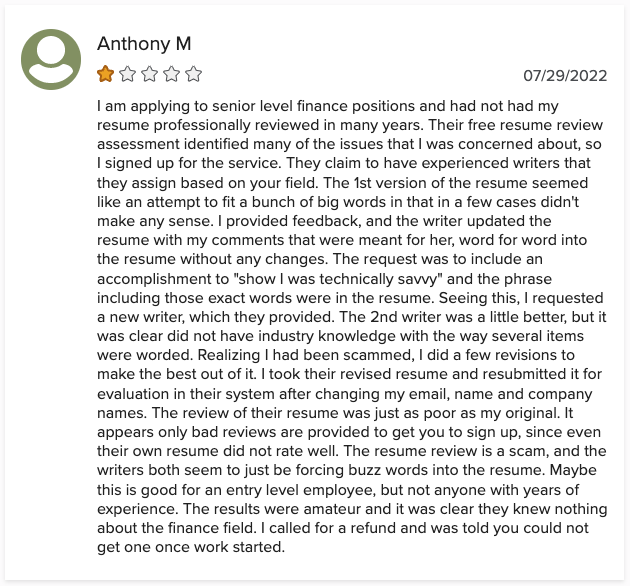 TopResume Reddit Reviews
Reddit is flooded with threads complaining about TopResume.
Redditors have commented on pretty much every aspect of TopResume services, from poor communication to poor resumes filled with errors and poor customer support.
Some have also complained that the free review returns the exact same results for many resumes. Also, the review mostly contains vague statements.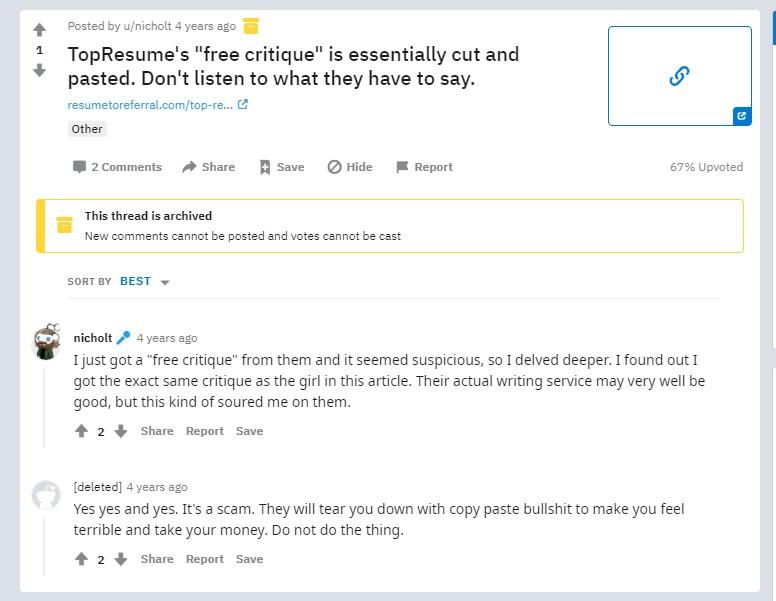 We found it very hard to find any positive comments about TopResume on Reddit.
TopResume Trustpilot Reviews
The average rating for TopResume on Trustpilot is quite good compared to other review platforms.
They have an average of 3.9 out of 5 based on 12,162 reviews.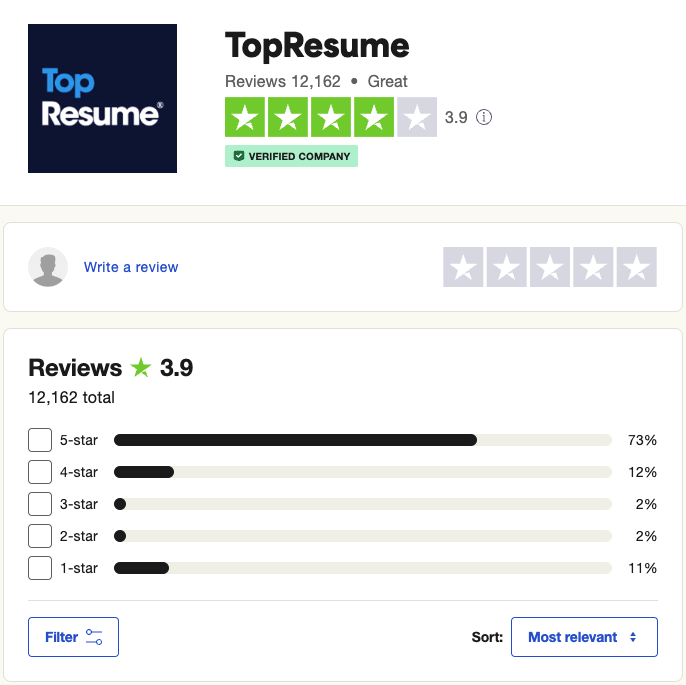 However, a significant 13% of the reviews were below average.
Many reviewers remark on the poor quality of their resumes.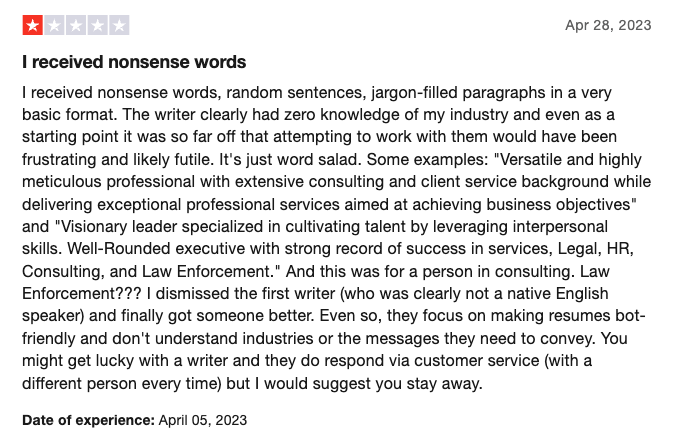 The same complaint regarding a copy-pasted and vague free resume review is also present here:

TopResume Sitejabber Reviews
At Sitejabber, the average ratings are similar to Trustpilot.
TopResume has a consumer rating of 4.31 stars from 5,046 reviews.

Among the total 5,046 ratings, a staggering 825 were 1 and 2-star reviews.
The negative reviews also echo the same complaints seen on BBB and Reddit.

The most common complaints are about receiving a poor-quality resume with grammatical errors and unresponsive customer support.
Editing periods are common with resume writing services. But the client shouldn't be spending those edits fixing grammar and sentences that don't make sense or reflect their line of work.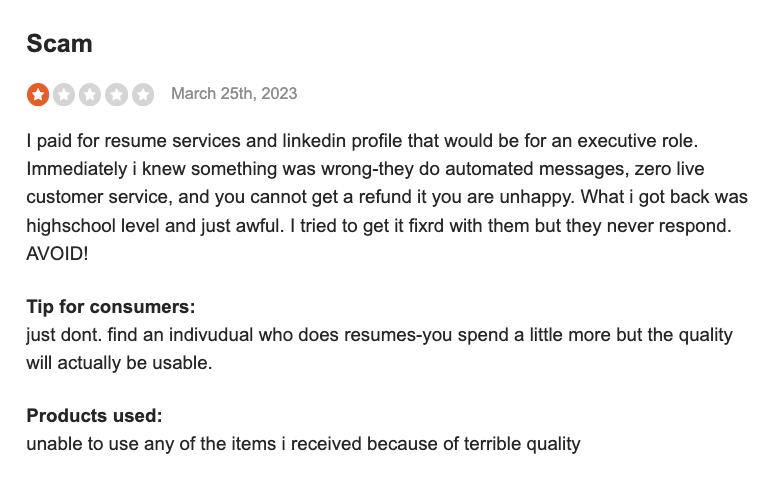 TopResume Alternatives
In short, although the company is not a scam, so many negative reviews and complaints online will naturally drive you to look for TopResume alternatives.
You should research 3 – 4 resume writing services before making a decision to find the best fit for you.
So, we would like to present a couple of great options for you.
Note: If you have encountered ZipJob while researching professional resume writers, be aware that they are part of the Talent Inc. group and have many similarities with TopResume.
ResumeZest
The expert resume writers at ResumeZest have "helped more than 25,000 professionals land more interviews and get hired faster," the website says.
At a similar cost to TopResume, ResumeZest is undoubtedly a more secure alternative with an untainted online reputation.
All their package details are clearly laid out on the site.
Each package includes a call with your writer and a 60-day interview guarantee.
Most importantly, all of the writers are US-based, experienced writers whom you can "meet" directly via the website.
Find My Profession
If you are looking for a more high-end resume service, consider Find My Profession.
Find My Profession is more suitable for senior and executive-level professionals seeking career assistance.
As with ResumeZest, all the package details are clearly laid out on the website. You will also get to see their team members.
Find My Profession also offers a 60-day interview guarantee with every package. Additionally, a phone consultation with your resume writer is included.
Most importantly, the customer reviews for Find My Profession are flawless across review platforms.
Key Takeaways
TopResume is a legitimate professional resume writing company.
The service is not a scam, but the level of their resume writing and customer service may not meet your expectations.
The vast number of online negative reviews and complaints against the company should not be ignored.
You would do well to consider other services available that may not be such a risk in terms of resume quality and service.
We would highly recommend checking out Find My Profession and ResumeZest. 
Based on your career level and professional needs, you can opt for either one of them and get high-quality results and great customer service!