TopResume and ZipJob are among the most well-known resume companies.
You've likely come across these companies while searching for a professional resume writer.
They write tons of resumes so their names are all over cyberspace, but that doesn't mean they're the best writing service for you.
A few questions will probably arise during your research:
Are ZipJob and TopResume the same company?
How do TopResume and ZipJob compare to each other?
Should you choose one of these companies for your resume or a different one?
Can you be confident about their service and resume quality?
In this article, you will find the answers to all these questions about ZipJob and TopResume. We will also take a glance at a couple of alternatives for you to consider.
Are TopResume & ZipJob The Same Company?
No, TopResume and ZipJob are not the same company.
But…
You might be surprised to know that TopResume and ZipJob have the same parent company, Talent Inc., which was recently acquired by BV Investment Partners.
Talent Inc. offers career-related services through the TopResume, TopCV, TopInterview, ResumeRabbit, and ZipJob brands.
It's important to note that both companies basically use the same network of writers and technological infrastructure to serve their clients.
However, you will find slight differences in the services each company offers.
Let's take a look at the differences between TopResume and ZipJob.
What Do The Services Cost?
The cost structure of both companies is quite similar.
They offer three different packages based on the types of services you receive.
Although ZipJob provides some of the most affordable resume pricing in the industry, packages from TopResume are also reasonable.
TopResume Cost
TopResume has three packages to choose from – Professional Growth ($149), Career Evolution ($219), and Executive Priority ($349).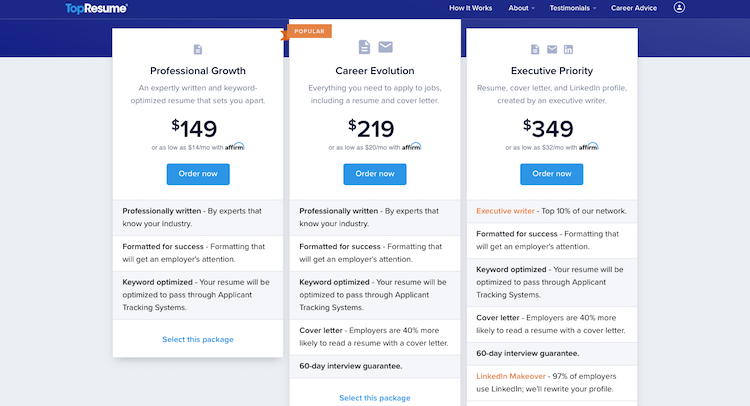 Each package offers a different level of services:
The Professional Growth package includes only a resume for $149. (We should note that we've seen this price bounce from $149 to $179 and back again in a short amount of time.)
The Career Evolution package offers a resume and cover letter for $219.
The Executive Priority package adds a LinkedIn profile with a resume and cover letter for $349.
The resume-only Professional Growth package does not include a 60-day interview guarantee.
Note: The prices above reflect those observed at the time of this article's publication. To verify updated pricing, please visit the TopResume services page.
ZipJob Cost
Similar to TopResume, ZipJob also offers three main packages to choose from – Launch ($139), Fast Track ($189), and Premium ($299). They also recently added an Executive Resume Service ($799).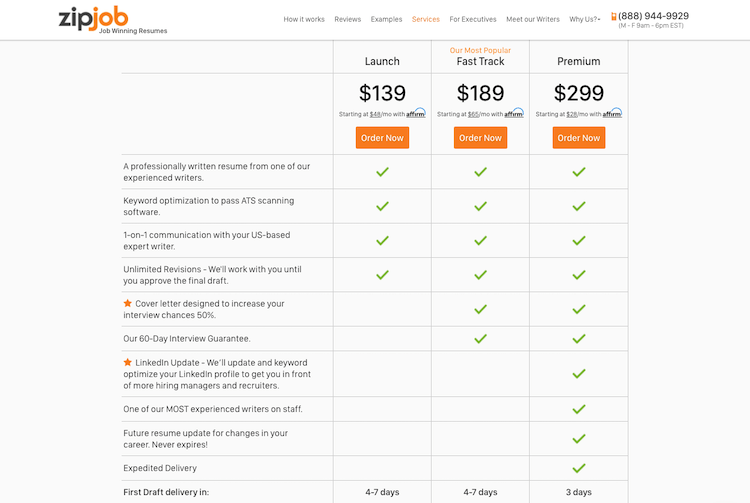 As you can see from the image above:
The Launch package includes only a resume for $139.
The Fast Track package provides you with a resume and cover letter for $189.
The Premium package includes a resume, cover letter, and LinkedIn profile for $299.
The Executive Resume Package includes a resume, cover letter, LinkedIn profile, phone call with your writer, and resume distribution for $799 ($950 value).
Like TopResume, the resume-only Launch package from ZipJob does not include a 60-day interview guarantee, which can be a bummer.
Note: The prices above reflect those observed during the time of publication. For the most updated pricing, please visit the ZipJob services page.
What Is the Turnaround Time?
The turnaround time for getting your resume done by these two resume companies is also similar.
Both services take more time than the usual industry standard of 3-5 business days to receive your first draft.
Here's how TopResume vs. ZipJob compare in terms of the turnaround time.
TopResume Turnaround Time
TopResume takes seven business days to write your resume. If you are in a hurry, you can go for the 48-hour rush service for an upcharge.
After the delivery, they will give you another week to go over your documents and ask for any needed revisions.
ZipJob Turnaround Time
ZipJob requires 4-7 business days to complete your resume.
The Premium package, however, offers a standard turnaround time of 3 business days.
You are then allowed unlimited revisions to your resume draft. Some reviews of the service have stated that the unlimited revisions are actually limited to one week.
ZipJob also mentions on their FAQ page that it may take a few more days to get your resume completed if they're extremely busy. Keep this in mind if you have a hard deadline.
What Is the Writing Process?
What's concerning to us about the resume writing process of ZipJob and TopResume is that they do not automatically include a phone consultation with the resume writer.
All communications take place via messages using the client portal.
A phone call is available as an additional purchase on all orders.
Here's a deeper look into both companies' resume writing processes.
TopResume Resume Writing Process
TopResume follows a straightforward procedure to write your resume:
You choose among the Professional Growth, Career Evolution, and Executive Priority packages.
You can add a thank you letter, 48-hour rush service, and resume distribution services for additional fees. Then, you submit your payment.
Fill out a career information questionnaire, upload a current resume, and create a profile on the client portal.
You will then get matched with a writer according to your industry and background.
The writer will write and send over the first draft of your resume within 7 business days.
You can receive up to two revisions on your resume, but it has to be within 7 business days.
All communications with your writer take place via messages. You can opt for a phone consultation for an extra fee.
ZipJob Resume Writing Process
The resume writing process of ZipJob is also very simple:
Once you place an order for one of the packages, you will get access to the user dashboard.
From there, you can upload your current resume or fill out a questionnaire (if you don't have a resume).
Next, you will answer more questions about your desired job target.
Once you've provided all the necessary info, ZipJob will match you with a suitable writer. You can message the writer through the dashboard.
The writer will rewrite your resume within 3-7 business days, depending on the package you purchased.
You can download and view the resume from the dashboard.
Here's a major difference that we can find between ZipJob and TopResume.
ZipJob promises to provide unlimited revisions with all the resume packages. They'll work with you until you approve the final draft.
On the other hand, TopResume offers only two rounds of revisions within seven days.
Who Are the Resume Writers?
As they are sister companies, TopResume and ZipJob basically share the same network of resume writers.
The writers also use the same system to get assigned and collaborate with clients.
When someone signs up on ZipJob, it goes through the TopResume portal to assign a writer.
TopResume Writers
TopResume says on the website that they have more than 1,500 writers on their team.
If you check out LinkedIn and search for "resume writer" at TopResume, you will only find 18 results.
The CEO of the company said on a Quora thread that they have both freelance and in-house writers on the team. It's common for a resume writing company to use independent contractors.
You will not find public information about the majority of their staff. The "About" section only mentions the senior resume writer and a few other team members.
ZipJob Writers
On ZipJob, we found no mention of the exact number of writers.
However, if you visit their "Meet our Writers" page, you will meet 12 different ZipJob writers and see a brief description for each. Only a handful of those writers still write for ZipJob, and some have been gone for over a year, so we're not sure how often that page is updated.
There is a bit of contradiction between the two pages on their site, though.
On the Meet Our Writer page, they say, "All of our writers are located in the United States."

On the FAQ page, however, they mention, "We do not hire writers from outside of North America or outsource resume work."

So perhaps you'll get a writer from Canada, eh? Or perhaps it's just a confusing detail that got overlooked.
Resume writers on ZipJob have backgrounds in HR, recruiting, career coaching, job placement, professional writing, and more.
What Are the Guarantees?
TopResume and ZipJob offer the same 60-day interview guarantee. Both companies do not provide a resume guarantee with their resume-only package.
To get the guarantee for your resume, ironically, you will have to buy a package that has additional services, such as a cover letter and LinkedIn profile.
TopResume Guarantees
TopResume's website states that they will rewrite your resume free of charge "if you are not receiving two times more job interviews within 60 days."
However, you need to request this rewrite within 180 days.
ZipJob Guarantees
ZipJob says something similar about their guarantee:

If you are not landing at least 2x more interviews after 60 days, we will ask you to send over a few links to jobs you have applied for. We will then assign a senior writer to review your resume against those positions … An updated resume and further recommendations to improve your application response rate will be provided.
Another difference between TopResume and ZipJob is that ZipJob offers additional recommendations along with a resume rewrite.
TopResume offers only a resume rewrite.
What Do Their Reviews Say?
If you are evaluating resume services, you definitely want to take the time to analyze customer reviews on third-party review sites and compare ZipJob vs. TopResume.
TopResume Reviews
TopResume has 14,000+ reviews, more than any other resume writing service on the market. With a high volume business comes plenty of reviews.
We researched TopResume on a variety of websites, including the Better Business Bureau, Sitejabber, and Trustpilot.
At the time of this review, we found 433 BBB complaints, resulting in a C- rating.
While they had 7,513 5-star reviews on Trustpilot, we also found 901 1-star reviews on the same platform.
We also found 2,568 5-star reviews on Sitejabber and 587 1-star reviews.
TopResume BBB Reviews
The TopResume reviews on BBB are almost unanimously negative.
TopResume has received 87 reviews on the BBB website. Their average rating is 1.07 out of 5.
To be fair, most people use the BBB site for complaints, not reviews. So pay more attention to what clients are saying about their experience with the service than the score.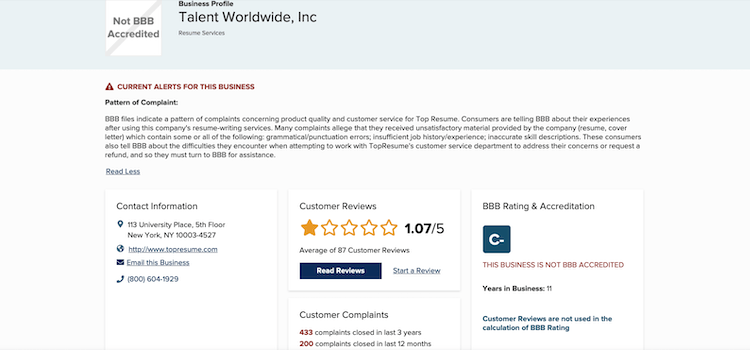 On top of that, the company has received a whopping 433 complaints over the past three years, 200 of which came in during the last 12 months.
TopResume Trustpilot Reviews
The average rating for TopResume on Trustpilot is better than the BBB platforms. Trustpilot classifies the rating as "excellent," but there are higher-rated services out there.
They have an average of 4.3 out of 5 based on 10,202 reviews.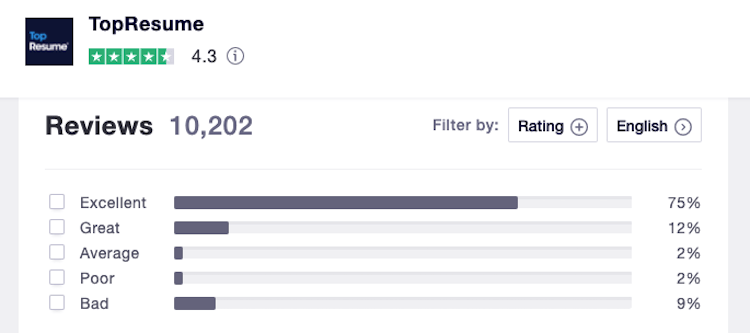 However, a significant 13% of the reviews were below average.
TopResume Sitejabber Reviews
On Sitejabber, the average ratings are similar to Trustpilot.
TopResume has a consumer rating of 4.35 stars from 3,986 reviews.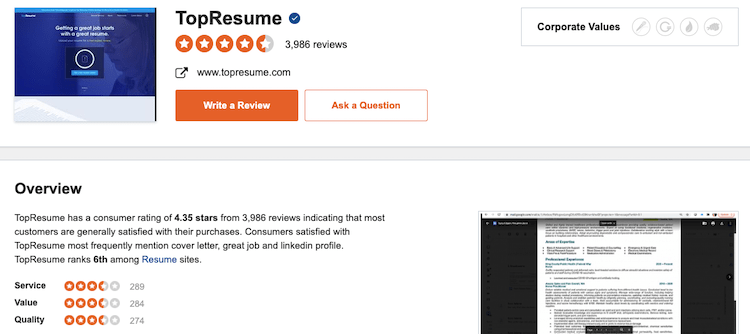 Among the total 3,986 ratings, a concerning 692 were 1 and 2-star reviews.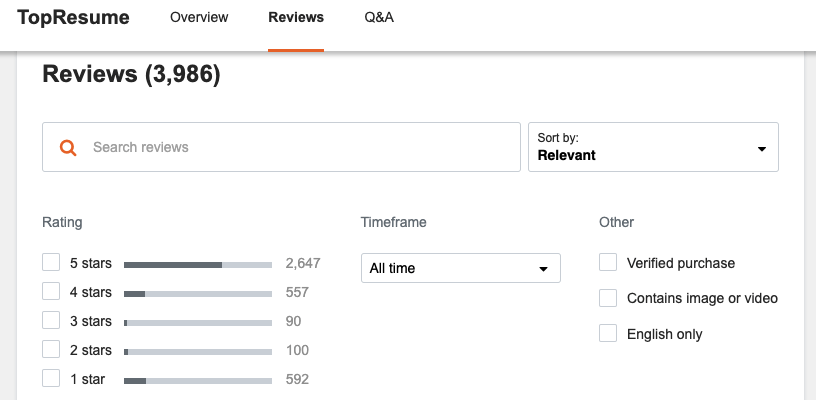 The negative reviews also echo the same complaints seen on BBB.
To read more reviews from consumers, check out this thread on Reddit and this thread on Quora. They talk about real-life customer experiences working with TopResume.
With so many negative reviews, it can be hard to know what to think.
As TopResume is a low-cost professional resume solution, you probably get what you pay for.
ZipJob Reviews
In the case of ZipJob, the overall ratings are similar to TopResume.
Although the number of reviews is far fewer than TopResume, the overall ratings seem to be decreasing as the number of reviews increases over time.
We've compiled some key reviews from trusted sites like BBB, Trustpilot, and Sitejabber.
ZipJob BBB Reviews
ZipJob is BBB accredited, and they have a B+ rating.
They have received 1.36/5 stars from 11 customer reviews. They have also received 27 complaints in the past 3 years.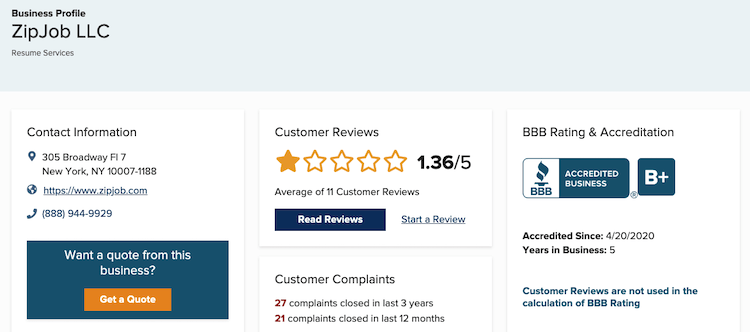 ZipJob Trustpilot Reviews
Roughly 90% of their reviews on Trustpilot are 4 and 5-stars. Only 8% of ZipJob reviews are below average.
Their average rating is 4.1 out of 5 based on 1028 reviews.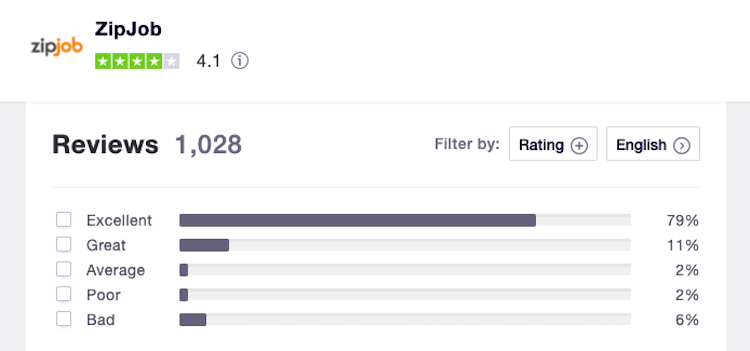 ZipJob Sitejabber Reviews
Overall, ZipJob has 4.01 out of 5 based on 102 Sitejabber reviews.
While they do have some good reviews on Sitejabber, 19 of the 21 1-star reviews were recent (2021 and 2020).
All-in-all, TopResume and ZipJob both have some decent reviews. Their online reviews definitely give you a better picture of what their services are like.
Here are separate individual reviews of both TopResume and ZipJob, if you want to dig deeper.
Alternatives to TopResume and ZipJob
If you're looking for TopResume and ZipJob alternatives after seeing so many negative reviews and complaints online, fortunately, there are other services available to choose from.
You might not want to go with a large-volume company (sometimes termed as a resume mill) and wonder if there are better resume writing options than TopResume and ZipJob for you.
We certainly think so!
Here are a couple of great options for you:
ResumeZest
Although pretty new to the resume writing scene, the expert resume writers at ResumeZest come with experience and have "helped more than 25,000 professionals land more interviews and get hired faster," the website states.
At a similar cost to TopResume, ResumeZest is undoubtedly a foolproof alternative with an untainted online reputation.
All their package details are clearly laid out on the site.
Each package includes a call with your writer so they can get to know you and your background and a 60-day interview guarantee.
Most importantly, all of the writers are US-based, experienced writers whom you can "meet" directly via the website.
Find My Profession
If you are looking for a more high-end resume service, consider Find My Profession.
Find My Profession is ideal for senior and executive-level professionals seeking personalized career assistance.
As with ResumeZest, all the package details are clearly laid out on the website. You will also get to see information on all their team members.
With every package, Find My Profession offers a 60-day interview guarantee and a phone consultation with your resume writer.
You'll find more than 200 5-star customer reviews on sites including Trustpilot, BBB, Sitejabber, and Google for Find My Profession.
Lastly, ResumeZest and Find My Profession will have your resume draft back to you within 3-5 business days and a 48-hour rush service is available.
Key Takeaways
Here's what we have covered about ZipJob vs. TopResume and their alternatives:
TopResume and ZipJob have the same parent company and use the same network of writers and technology stack.
They have a large team of writers, potentially exceeding 1,500+ writers including freelancers.
Both services offer affordable resume packages.
Their resume-only package does not include a 60-day interview guarantee.
The turnaround time for both services is around 7 business days, which is longer than the industry standards.
Both companies have a large number of negative reviews and customer complaints online.
Compared to TopResume and ZipJob, ResumeZest and Find My Profession fare considerably better in writer credentials, guarantee coverage, collaboration, online reviews, customer service, and turnaround time.
Armed with all this information, it's time for you to make a wise decision as to the best resume writing service for your career needs.
Feel free to contact us for additional information at any stage of your decision-making process.