New York City is a booming town with plenty of job opportunities.
With so much competition, it can be difficult to land your dream job on your own.
Hiring a professional to help with this process can significantly improve your marketability.
That's where NYC career coaches come in.
A career coach is a lot more than a friend to hold your hand throughout a job search.
Career coaches typically come from years of recruiting or HR experience. This experience can make them extremely valuable resources for navigating a job search.
Rather than searching through hundreds of career coaching services, we've done the work for you. Below, we've compiled a shortlist of the very best career coaches in New York City.
New York City Career Coach Criteria
Each of the New York City career coaching services below was reviewed taking into consideration the following:
Cost: Price of the service compared to other NYC career coaches.
Credentials: Overall experience, awards, and certifications.
Process: Effectiveness of the process from start to finish.
Customer Service: Guarantees, refund policies, and client reviews.
This list was hand-curated to serve all industries, professions, and career levels. While many of the services on this list are from New York City, these career coaches are virtually available whether you are in NYC, Brooklyn, Queens, Bronx, Staten Island, Long Island, or any other New York city.
Best Career Coaching Services in NYC
1. Find My Profession
Find My Profession is a leading career coaching service focused on providing actionable job search strategies that convert into offers.
Our elite career coaching services are designed to teach you advanced job search strategies. Whether you need help finding the right jobs, networking with key decision-makers, or interviewing like a pro, we've got your back.
We have successfully landed our clients positions at companies like Apple, Amazon, EA, Oracle, GM, Facebook, DoJ, Morgan Stanley, Gap, and 2U just to name a few.
Find My Profession has 650+ 5-star reviews and offers a satisfaction guarantee. Every career coaching service offered is customized to meet your specific needs.
Pros: Each career coaching session provides a clear takeaway that brings you one step closer to landing your dream job. You will learn what it takes to job search in the most strategic way possible. Our goal is to cut your job search time in half by teaching you to search smarter, not harder.
Cons: Find My Profession is a virtual/online company. While we provide services across the globe, we likely will not have a physical office in your city to meet in person.
Reviews: 5/5 based on 21 Google reviews, 5/5 based on 7 BBB reviews, 5/5 based on 23 Facebook reviews, 4.9/5 based on 46 Sitejabber reviews, 4.8/5 ba5/5 based on 124 Google reviews, 5/5 based on 8 BBB reviews, 5/5 based on 35 Facebook reviews, 4.9/5 based on 304 Trustpilot reviews, 4.7/5 based on 255 Sitejabber reviews
Cost: $175 – $199 per hour
Contact: (831) 888-0967 or help@findmyprofession.com
Check out some of our 5-star reviews.
2. Strong Coaching & Training
Strong Coaching & Training is a boutique career counseling and training service. Founded in 2004 by Mark Strong, their team has grown to six full-time career coaches. An interesting coaching service they offer is anxiety coaching. Many professionals do not want to admit that they suffer from anxiety, but if you're an anxious professional there is nothing to be ashamed of.
Pros: Strong Coaching & Training has over 15 years of experience. They have glowing online reviews and stellar client success stories. Your career will be in good hands if you go with Mark Strong and his team.
Cons: Strong Coaching & Training has several coaches at their firm. They also offer a wide variety of training. If you're looking for highly specialized service, you may want to go with a firm that focuses solely on your line of work.
Reviews: 5/5 based on 19 Google reviews, 3.7/5 based on 11 Facebook reviews
Cost: $500 per hour
Contact: (212) 647-0750 or mark@markstrongcoaching.com
Visit Mark Strong Coaching & Training
3. Maggie Mistal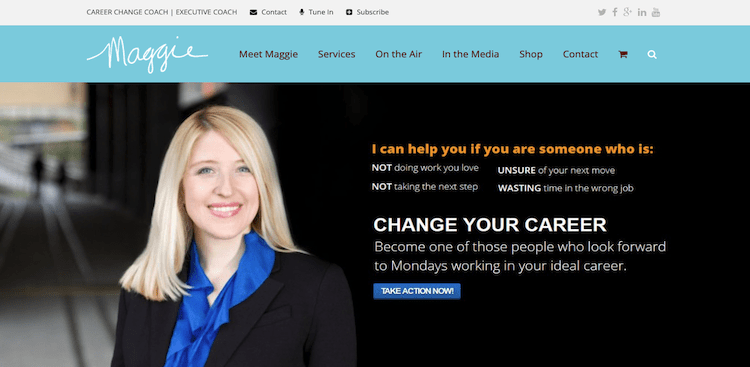 Maggie Mistal is one of the few career coaches to offer a 4-day retreat. This motivational speaker and executive career counselor has worked with the best of the best. Maggie hosted a radio show for 7 years called "Making a Living with Maggie" on SIRIUS XM, which is quite an industry accomplishment. Maggie Mistal also has a clip on YouTube of her discussing a job interview that has an astounding 5 million+ views.
Pros: Maggie Mistal focuses exclusively on executives and career changes. That is a great sign if you are in need of professional career coaching services and want one-on-one direction. Maggie will ensure that the program she develops will work for you and your career.
Cons: Maggie Mistal's services are in high demand. Check with her on her availability. You also have to purchase a complete package that Maggie offers in order to take advantage of her career coaching.
Reviews: 5/5 based on 9 Google reviews
Cost: $450 per hour
Contact: (917) 886-8029 or Coaching@MaggieMistal.com
4. Executive Coaching Group
Executive Coaching Group is run by a group of four outstanding women. This career coaching service was founded by Trisha D. Scudder in 1987. They offer several different team workshops, such as breakthrough leadership, mission control, and performance kickstart. Your career will certainly grow and flourish with these fantastic job coaches.
Pros: Executive Coaching Group ensures that you will always work directly with your career coach. Trisha has worked with over 600 top-level professionals. All of the coaches at Executive Coaching Group are highly experienced and want to help you achieve your professional goals.
Cons: Executive Coaching Group has 6- to 12-month long programs. That can be lengthy for career counseling, as many professionals would rather have a shorter program – especially if they only desire coaching while they're searching for their next job.
Reviews: 5/5 based on 8 Google reviews
Cost: Not found
Contact: (212) 245-2871 or ecg@executivecoachgroup.com
Visit Executive Coaching Group
5. Selfscription
Selfscription co-founder, John Kalinowski, is a North Carolina native that grew up with a humble lifestyle. This outlook on life has given him a unique style of coaching that allows him to guide leaders to prioritize what they want most. John also offers life coaching and speaking/facilitating services. His experience will ensure that you grow not only in your career but as a person.
Pros: John Kalinowski has nothing but positive reviews online – a great sign. He runs a fantastic professional career coaching service that few career coaches can rival. He also provides potential clients with a free video consultation call so you can see if you're a good fit for his services.
Cons: John Kalinowski doesn't have any prices listed on his website; you have to wait for John to give you a quote for his career counseling services.
Reviews: 5/5 based on 30 Google reviews, 5/5 based on 10 Yelp reviews
Cost: Not found
Contact: (707) 574-8522

Bonus: Top New Work Career Coaching Winners (2021)
Find My Profession, Strong Coaching & Training, Maggie Mistal, Executive Coaching Group, Selfscription