Houston is a booming town with plenty of job opportunities.
With so much competition, it can be difficult to land your dream job on your own.
Hiring a professional to help with this process can significantly improve your marketability.
That's where Houston career coaches come in.
A career coach is a lot more than a friend to hold your hand throughout a job search.
Career coaches typically come from years of recruiting or HR experience. This experience can make them extremely valuable resources for navigating a job search.
Rather than searching through hundreds of career coaching services, we've done the work for you. Below, we've compiled a shortlist of the very best career coaches in Houston.
Houston Career Coach Criteria
Each of the Houston career coaching services below was reviewed taking into consideration the following:
Cost: Price of the service compared to other Houston career coaches.
Credentials: Overall experience, awards, and certifications.
Process: Effectiveness of the process from start to finish.
Customer Service: Guarantees, refund policies, and client reviews.
This list was hand-curated to serve all industries, professions, and career levels. While many of the services on this list are from Houston, these career coaches are virtually available whether you are in Houston, Baytown, Pasadena, Sugar Land, Pearland, or Galveston.
Best Career Coaching Services in Houston
1. Find My Profession
Find My Profession offers a one-of-a-kind experience that goes far beyond any other Houston career coaching service on this list.
While traditional career coaches will teach you how to find a job, Find My Profession's Career Finder service will do the work for you.
This white-glove service will search for jobs on your behalf, apply for you with a customized resume to fit the application, and network with key decision-makers to secure interviews.
The only thing they won't do is show up to the interview for you. But don't worry, this service includes interview preparation to make sure you'll crush any interviews they land you.
Pros: You can save hundreds of hours searching for jobs, filling out applications, customizing your resume, and networking. Finally, you can pay someone to find you a job. Your dedicated Reverse Recruiter will create a personalized strategy to manage all aspects of your job search. Each Reverse Recruiter only works with four clients at a time, providing you with personalized attention and care.
Cons: If you're looking for a traditional career coach to help you change career paths, this service may not be a good fit. The Career Finder service is for professionals who know what kind of job they want but don't have the time or energy to find it on their own. There is also usually a waitlist of about one month.
Reviews: 5/5 based on 124 Google reviews, 5/5 based on 8 BBB reviews, 5/5 based on 35 Facebook reviews, 4.9/5 based on 304 Trustpilot reviews, 4.7/5 based on 255 Sitejabber reviews
Cost: $2,500 per 4-week period
Contact: (831) 888-0967 or help@findmyprofession.com
Check out some of our 5-star reviews.
Visit Find My Profession
2. Glenn Smith Executive Coaching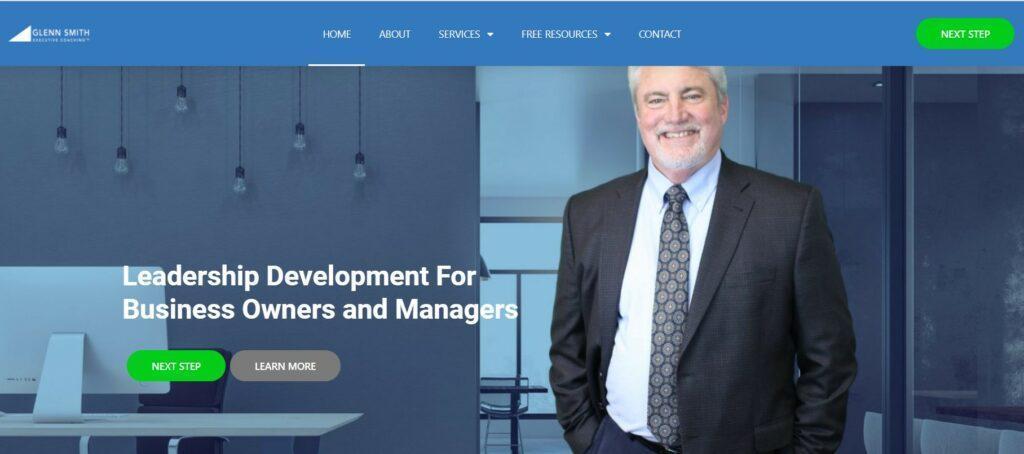 Glenn Smith Executive Coaching is run by – you guessed it – Glenn Smith. For over 20 years, Glenn Smith has been working with both business and organizational leaders from across the United States and around the world. Glenn Smith offers several different areas of focus, such as focus and productivity, change management, succession planning, team alignment, and young-professional development.
Pros: Glenn Smith Executive Coaching has a 100% money-back guarantee for their first session, meaning you will receive a refund if you are not satisfied and choose not to proceed with their services. Glenn is certified by the International Coach Federation. With over 30 years of experience dealing with leadership in different forms, Glenn has seen everything that the world has to offer.
Cons: Glenn Smith Executive Coaching is a small boutique career counseling service. Although they offer services for companies, your specific organization may be looking for a large firm with more manpower.
Reviews: 5/5 based on 12 Google reviews, 5/5 based on 1 Yelp review
Cost: Not found
Contact: (281) 635-5224 or glenn@glennsmithcoaching.com
Visit Glenn Smith Executive Coaching
3. Elephanta Coaching
Elephanta Coaching is run by an interesting job coach named Anastasia Gorianina. Anastasia obtained her degree in political science at the Baltic State Technical University in St. Petersburg, Russia. That gives her quite a different background than most Houston career coaches! Elephanta offers a range of services, from leadership development coaching and on-site soft skills training solutions, to life coaching.
Pros: Anastasia has two career coach certifications – one from Erickson Coaching International and the other from the International Coach Federation. She has the necessary training that many career coaches lack.
Cons: Elephanta Coaching only has two online reviews. They are both 5-star reviews, but you may prefer a job coach that has more history. Additionally, Anastasia does not have a lot of business experience, which can be concerning if you need to discuss niche scenarios.
Reviews: 5/5 based on 2 Yelp reviews, 5/5 based on 2 Google reviews
Cost: Not found
Contact: (713) 569-0860
4. Tina Marie & Company
Tina Marie & Company is a professional career coaching service dedicated to the evolution of humanity. Tina was at the head of an international consulting firm for almost 10 years and Houston is lucky to have a fantastic career coach at their disposal.
Pros: Tina Marie & Company has the necessary business experience to help guide your career. She is certified with the International Coaching Federation, as many other career counseling firms are. You may find that your career needs both business and holistic expertise, and that is exactly what Tina Marie offers.
Cons: The website mentions that Tina has a Master's degree in Holistic Nutrition. You're not wrong to think that seems a bit out of context and unrelated to your career. Or if that's your niche, you may be a perfect match!
Reviews: 5/5 based on 51 Google reviews, 4.9/5 based on 39 Facebook reviews, 5/5 based on 6 Yelp reviews
Cost: Not found
Contact: (888) 721-4204 or hello@tinamarie.com
5. Entre Results
Entre Results has one of the scariest founding stories that you will ever hear. The founder, Jared Polak, jumped out of an airplane at 13,000 feet when his parachute did not deploy. Thankfully, the emergency parachute worked! At that moment, he realized that he wanted to go after his dream of starting his own coaching service.
Pros: Entre Results has a ton of incredible reviews on Google, which is very affirming. Jared works with small business leaders and owners every single day. Jared certainly knows the business and industry scene in Houston. That experience can be useful, as he has surely worked with someone in a similar situation as you. It is also worth noting that Entre Results almost exclusively works with companies based in Houston.
Cons: Entre Results seems to be more focused on small-businesses than any other industry. If you are a small business owner or executive, it is a perfect fit. However, if you work at a large organization you may want to use a different career coaching service.
Reviews: 5/5 based on 84 Google reviews, 5/5 based on 3 Yelp review
Cost: Not found
Contact: (281) 808-0594

Bonus: Top Houston Career Coaching Winners (2021)
Find My Profession, Glenn Smith Executive Coaching, Elephanta Coaching, Tina Marie & Company, Entre Results