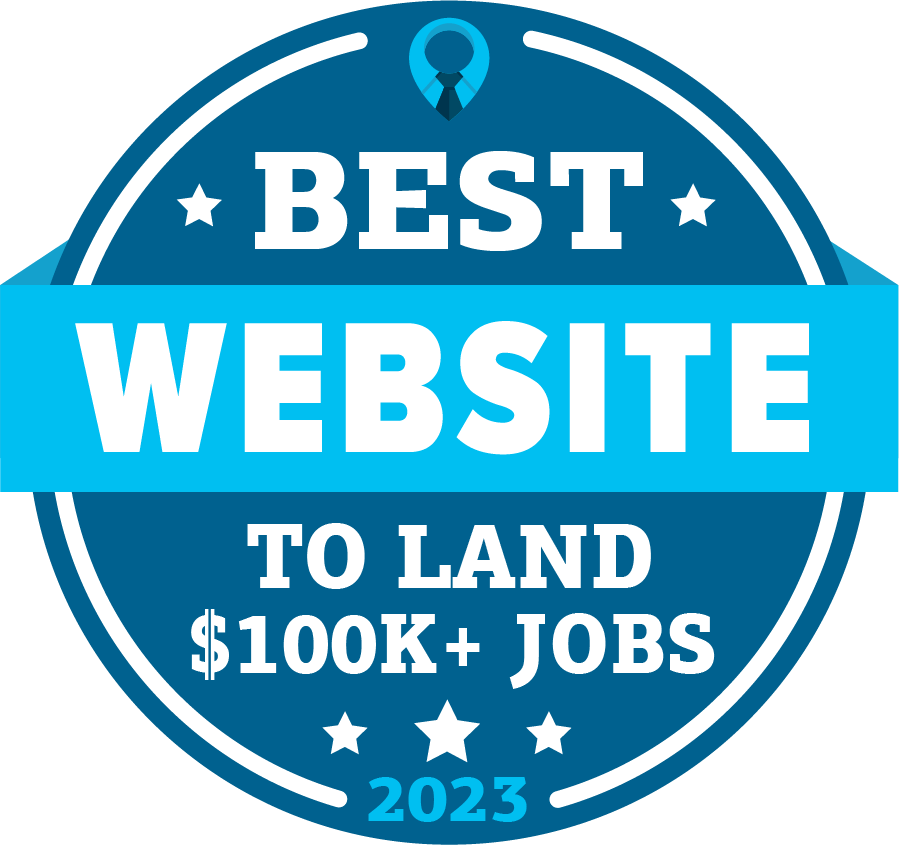 2022 Winners: Add your badge to your marketing materials.
If you haven't noticed, job hunting has drastically changed in the past ten years.
For many, this has left you feeling confused, helpless, and maybe even a little angry.
Sadly, the only option we have is to adapt and prevail.
To help, we have compiled a list of the best websites to find six-figure salary jobs.
While some of these websites do require a financial commitment, the majority of them are either free or offer free versions.
If you aren't using at least one of these sites, chances are, you aren't having any luck finding a six-figure job.
Best Websites for
Six-Figure Jobs


4
4
5

5
Website Reviews
Find My Profession is unique from any other company on this list because we are not a job board. Rather than hosting jobs on our website for you to apply to, Find My Profession provides top-notch career reverse recruiting to help land your next job.
We offer the most elite managed job search service where we manage all aspects of the job search process for you.
Find My Profession is the elite provider of reverse recruiting services for six-figure earners and executives. We save you time by showing you how to job search effectively.
Find My Profession is a premium service without a free option. You must be willing to invest some money in your future career.
Check out some of our 5-star reviews:
JC on May 30, 2022
Excellent service provided
[Reverse Recruiter] is by far the best career finder I have ever had to pleasure to work with. He truly goes above and beyond in everything he does when he works with you, and the results definitely show it. He was professional throughout the entire experience. His attention to detail, overall industry knowledge, and the way he takes care of his clients is best in class. Also, turnaround time and email responses were done very quickly. If you don't work with [Reverse Recruiter] for your career finder/job search needs, you're missing out big time! Can't thank him enough for everything he has done.
Chakib Abi-saab on May 14, 2022
Outstanding service
I had the opportunity to work with [Reverse Recruiter], and I must say the experience was excellent. The communication was great, the level of professionalism and effectiveness was very high, from identifying the right jobs to networking with the right people in LinkedIn! I highly recommend this service to anyone in a senior position who is serious about finding a new job. Take it from me, you can not do it better yourself.
Dave Curtiss on May 19, 2022
Find My Profession review
Working with [Reverse Recruiter] and Find My Profession reminds of the raptures in the film Jurassic Park. They were relentless in all aspects of my job search. I understand that your spouse or others may question the cost but it was worth every penny. ABSOLUTELY RECOMMEND!
Ife Daramola on August 30, 2021
Worth the investment
I used the Find My Profession service to rewrite my resume and to revamp my Linkedin page. I also used the Find My Profession career finder service and worked with [Reverse Recruiter] to help me apply for roles and market my profile to potential employers. [Reverse Recruiter] worked very diligently to ensure that my profile was marketed to top-level executives in my industry and his efforts eventually led to my finding the perfect role which I received a great offer and that I accepted. This is a great service and I believe it is worth the investment for those who are looking to find their next role.
Dan St Peter on July 6, 2022
FMP – landed me the job!
From the very beginning of my initial application, it was clear [Reverse Recruiter] was here to help me in the next stages of my career journey. This wasn't going to be an ordinary job search experience. Based on our enrollment conversation, [Reverse Recruiter] took the lead managing the job search process for me. She asked the right number of questions to build the search criteria specific to my interests (role, industry, location). [Reverse Recruiter] scanned the horizon weekly and staged available opportunities reducing my effort/stress and allowing focus on my personal and family obligations. Upon my giving a prospective position the green light, [Reverse Recruiter] submitted a tailored application on my behalf and followed up with the employer as necessary. Along the way, [Reverse Recruiter] freshened my resume and online profile to take advantage of today's job search criteria. She also expanded my LinkedIn presence connecting me with dozens of professionals. Above all, [Reverse Recruiter] listened carefully to my evolving needs and adjusted the job search process accordingly. It was as if [Reverse Recruiter] was personally committed to helping me find the right match (which she did!). Depending on your time and energy available, Find My Profession team members can either take full lead on the job search process or can supplement your existing plan. Don't go it alone.
Kelley White on April 12, 2022
Great service for busy…
I am so pleased with my experience with [Reverse Recruiter] at FMP. I was looking to change industries, but too busy and overwhelmed with my day-to-day to embark on the journey on my own. No only did he do the heavy lifting with applications, but was a readily available resource in coaching to ensure I nailed interviews and marketed myself in the best way possible. He was helped to give me realistic expectations without short-changing myself or my skills to get the job I wanted. Thanks to him, I was able to secure a great role at my dream company within 6 weeks!
Dan West on February 28, 2022
[Reverse Recruiter] was…
[Reverse Recruiter] was hard working and excellent and he directly led to me finding a job in 30 days! It was a pleasure to have him behind the scenes finding opportunities.
Sarah Streiffert on August 18, 2021
Excellent Service!
I started using the Career Finder service on July 16th, and a month later on August 16th, I was offered a job! I really appreciated [Reverse Recruiter's] guidance and expertise through this process. It had been 18 years since I'd had to job search, and had no idea where to start. While the price was high, I thought if this service shortened my job search by a few months, then it would be worth it. [Reverse Recruiter] was very skilled in networking, helping me find positions that were of interest, but weren't necessarily ones I would have looked for myself, applying, (and outside his job description), dealing with my emotions as I got rejections, and became frustrated trying to figure out what I was searching for. The position I landed was something that I probably wouldn't have thought to look at myself. I appreciate how fast I was able to find something that I feel like will be a great fit, and I would highly recommend [Reverse Recruiter] and this service.
Glassdoor is no doubt one of the most popular and best websites to find six-figure salary jobs. The biggest reason is their comprehensive platform. It not only features millions of jobs but also has more salary information than any other site in the world.
Glassdoor makes it easy to find six-figure salary jobs by using filters to define your salary range. While most people don't use the maximum salary range, setting a minimum can be very helpful. While many other job boards offer salary filters, they are usually inaccurate. This is not the case with Glassdoor since they have such a large database of salary information.
Also, Glassdoor is a great place to find jobs because you can view company reviews from real employees. This can be a deciding factor when you are trying to determine which company to work for. Do people enjoy working at this company? Do they approve of the CEO? You can find out all this information and more with a great looking and simple user interface.
Glassdoor makes it easy to find six-figure salary jobs. This is due to their vast salary information and convenient salary filters. Having 10 million jobs, tons of reviews, and a great UI, Glassdoor is the perfect place to start your search.
The only real negative about Glassdoor is their lack of advanced search options. They do offer a few filters such as salary, company ratings, and job types. But overall, they have fewer options than most job boards.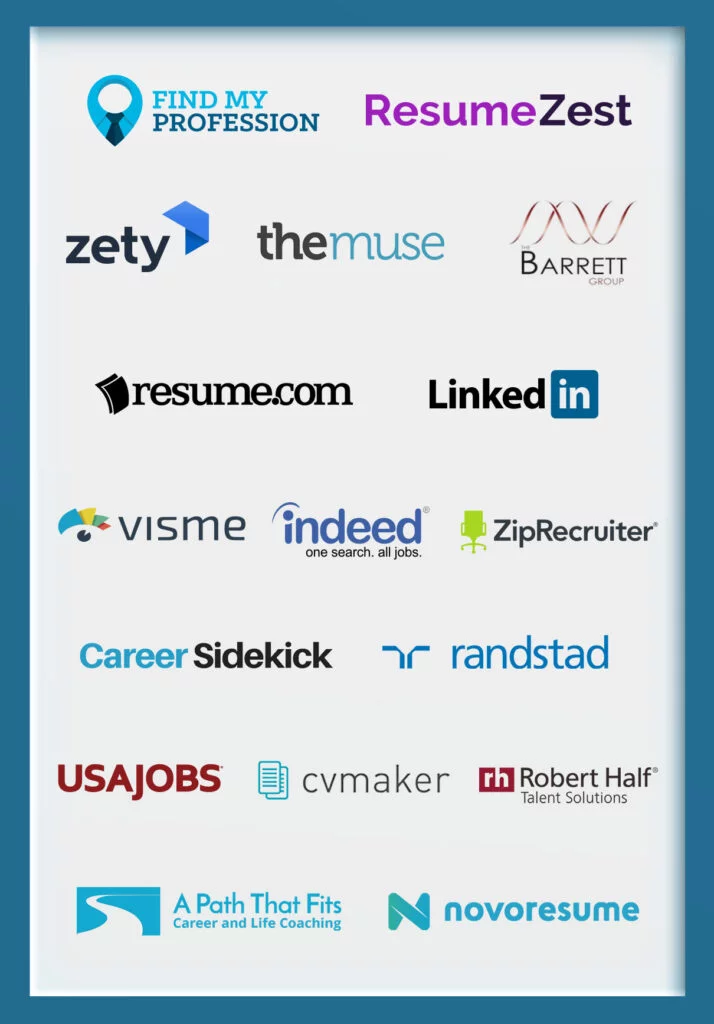 Need Help With Your Job Search?
Did you know there are companies you can hire to help with your job search? Whether you need resume help or want someone to apply to jobs for you, we've reviewed the 20 best agencies to help you find a job.
LinkedIn is the world's largest social network for business professionals. According to Statista – a company that provides statistics and studies from more than 18,000 sources – 45% of all internet users with a household income of more than 75,000 U.S. dollars used LinkedIn. Another study by Carrealism – a career advice and job search magazine – showed that 90 percent of in-house recruiters hire through LinkedIn.
With those statistics alone, it's clear why LinkedIn is a great place to find six-figure salary jobs. Where there are recruiters, there will be job seekers and vice versa. Not only can you be discovered on LinkedIn, but you can also apply for jobs. LinkedIn offers a feature that shows how you rank compared to other applicants. They will even let you apply using your LinkedIn profile.
LinkedIn is particularly great for senior and executive level professionals who are looking for six-figure salary jobs. With such a high concentration of top earners, recruiters looking for senior-level individuals turn to LinkedIn to find the best passive and active job seekers.
With the option to purchase premium features, those who don't spend money may be at a disadvantage. Recruiters are more likely to find those with premium subscriptions than someone who is using LinkedIn for free.
Ladders is a career community focused on hosting six-figure salary jobs for job seekers. They offer great features for premium members that allow you to see how you rank compared to your competition. These features show you the salary range of your competition, their education level, and other important information.
Ladders services are divided into two main plans, basic and premium. The basic membership is free and allows you to create a profile that can be found by prospective employers. A premium service costs $25 a month and allows you to apply for jobs directly.
Since Ladders focuses on six-figure salary jobs, there is a much higher concentration of high paying jobs. Avoid filtering through thousands of unqualified jobs and only search from a premium list of six-figure jobs.
The biggest problem with The Ladders is that they are charging you a monthly fee to access a job board without any guarantee of employment. This can be a challenging hurdle to overcome when almost all other job boards are free.
100KCrossing is the largest collection of six-figure salary jobs on earth. Their mission is to track down every job through research, offering: job openings from employer career web pages, jobs from virtually every public interest organization, every government office, and every job board in America.
With over 2.2 million jobs available and thousands being added weekly, there is no doubt that 100k Crossing is one of the best websites to find six-figure jobs in the U.S.
100KCrossing combines a great user interface with a focus on six-figure jobs. This site is 100% free to use and combines jobs from a ton of resources all into one place for convenient and centralized searching.
Just like Indeed or any job board, 100KCrossing is just that, a job board. Besides having a huge list of six-figure salary jobs, 100KCrossing requires time and effort to apply for these jobs.
Previous Years Winners
Job Search Website Winners (2022)
Find My Profession, Glassdoor, LinkedIn, Ladders, 100KCrossing
Job Search Website Winners (2021)
Find My Profession, Glassdoor, LinkedIn, Ladders, 100KCrossing
Most Common Six-Figure Salary Jobs
Psychiatrists
General Dentists
Chief Executives
Petroleum Engineers
Engineering Managers
Pharmacists
Marketing Managers
Natural Sciences Managers
Computer and Information Systems Managers
Sales Managers
Information Research Scientists
Financial Managers
Lawyers
Most Common Six-Figure Salary Jobs (Medical)
Surgeons
Obstetricians
Anesthesiologists
General Internists
General Practitioners
General Pediatricians
Nurse Anesthetists
Optometrists
Most Common Six-Figure Salary Jobs (No-College Required)
Construction Manager
Network/IT Manager
Air Traffic Controller
Fire Chief
Radiation Therapist
Airline Pilots
Hotel Executive Chef
Plumber
Court Reporter
Real Estate Broker
Small Business Owner
Highest Growth Potential Six-Figure Careers
Tax Manager
Data Engineer
Analytics Manager
Data Architect
Technical Program Manager
Site Reliability Engineer
Six-Figure Salary Jobs for Remote Workers
If you happen to work remotely or you'd like to work remotely, here are some of the most common six-figure salary jobs for remote employees.
Supervisory Attorney
Senior Software Engineer
Senior Medical Writer
Director of Quality Improvement
Clinical Regulatory Affairs Director
Research Biologist
Director of Business Development
Environmental Engineer
Audit Manager
Key Takeaways
Finding a six-figure salary job can be a challenging task, but with the right resources, it can become much more manageable.
The five websites listed in this article offer a great starting point for anyone seeking a high-paying career.
Keep in mind, for those who want to take their job search to the next level, Find My Profession's reverse recruiting services are an excellent option.
With their team of experienced reverse recruiters, they can help you find the perfect job that matches your skills and experience, all while ensuring that you receive a competitive salary.
Contact Find My Profession today and take the first step toward your dream career!