Looking for the best staffing agencies near you in Tampa, FL?
You've come to the right place.
Whether you reside in Tampa for the beaches, golf courses, or the Museum of Art, there's no doubt this city has a lot to offer.
But how do you go about finding work in such a competitive job market?
The answer…reach out to the local staffing agencies.
But you don't have to filter through dozens of Tampa staffing agencies listed online. We've done all the heavy lifting to bring you only the best of the best.
Tampa Staffing Agency Criteria
Each of the Tampa Staffing Agencies below was reviewed by a Certified Professional Resume Writer (CPRW) taking into consideration the following:
Credentials: Overall experience, awards, and certifications.
Opportunities: Number and variety of jobs available.
Customer Service: Guarantees and reviews.
This List Serves The Following Areas Near Tampa, Florida:
Clearwater, Largo, St. Petersburg, Lakeland, Plant City, Winter Haven, Sabring, Sarasota, Venice, Arcadia, Bradenton, Wauchula, Bowling Green, Dunedin, Tarpon Springs, Port Richey, Crystal River, Inverness, Brooksville, Zephyrhills, Lake Wales, Avon Park, and more.
Best Tampa Staffing Agencies
Before reaching out to any companies on this list, we recommend that you review your resume to make sure it is in tip-top shape. If you'd like professional help with your resume, contact the pros at Find My Profession.
And now for the detailed reviews…
1. Hiregy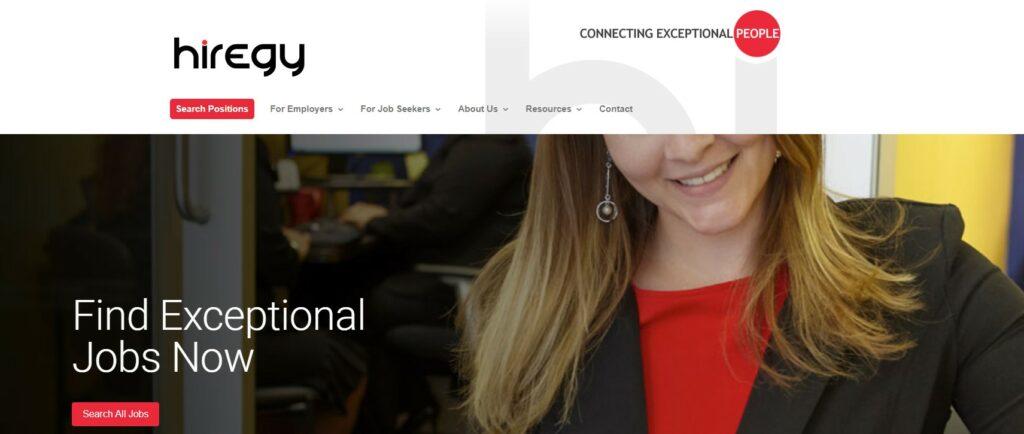 Hiregy is a Tampa staffing agency with additional offices in Orlando and St. Petersburg. The Hiregy team believes in these three core values, which they incorporate into their everyday work: integrity, exceptional service, and innovation. Each team member can be found on Hiregy's website with their individual contact information.
Job Types: Hiregy specializes in accounting, admin, clerical, customer service, marketing, and HR. The featured jobs of the website include credit administrator, accounts payable specialist, order fulfillment specialist, clinical care coordinator, customer service representative, marketing coordinator, and more.
Pros: We really appreciate that this company shows the salary range for each job posted on their website. The agency also offers free career coaching and up-to-date resources for job seekers. The online resume submission and job application process is also easy to access and use.
Reviews: 4.5/5 based on 192 Google reviews
Local Office: 5102 West Laurel Street, Suite 500, Tampa, 33607
Contact: (813) 449-4800
2. Automation Personnel Services

Automation Personnel Services was founded in 1990. Since then, they have grown into 40 branch offices in eleven states across the U.S, including one in Tampa, FL. The company is a Best of Staffing Talent Satisfaction award winner. Also, they are on Forbes' America's Best Professional Recruiting Firm list.
Job Types: The agency focuses on light industrial, technical, contact centers, manufacturing, skilled labor, and automotive sectors. Some of the jobs listed for Tampa job seekers include warehouse associate, logistics dispatcher, production associate, cable machine operator, quality assurance technician, and more.
Pros: Automation Personnel Services provides nationwide service to employers and job seekers. They are recognized as one of the "Largest U.S. Staffing Firms" by Staffing Industry Analysts. Whether you are looking for a technical position or a future-proof career, they have suitable options for you.
Reviews: 4.8/5 based on 471 Google reviews, 4.8/5 based on 6 ClearlyRated reviews
Local Office: 3904G W. Hillsborough Ave, Tampa, Fl 33614
Contact: (813) 888-7508 or apstampa@apstemps.com
Visit Automation Personnel Services
3. Ultimate Staffing Services
Ultimate Staffing Services is a division of Roth Staffing Companies. Ultimate Staffing Services focuses on administrative and clerical jobs across the country. While not headquartered in Tampa, they do have a local office to serve the Greater Tampa Area. The company has been in business since 1994.
Job Types: Ultimate Staffing Services offers jobs in administrative, clerical, production, manufacturing, and customer service categories. The jobs we found when filtering to Tampa, Florida, included project coordinator, HR manager, senior property manager, customer service rep, and more.
Pros: Ultimate Staffing Services currently operates from more than 100 locations in nearly every major metropolitan market in the U.S. The agency is considered one of the largest staffing companies in the U.S. by Staffing Industry Analysts.
Reviews: 4.9/5 based on 61 Google reviews, 4.6/5 based on 23 ClearlyRated reviews, 2.9/5 based on 27 Facebook reviews
Local Office: 4300 West Cypress Street, Suite 260, Tampa, 33607
Contact: (813) 870-6147 or tampa@ultimatestaffing.com
Visit Ultimate Staffing Services
4. HH Staffing
HH Staffing (originally named Helping Hands Staffing Services) was founded in 1988. Owner Darrin Rohr says that HH Staffing exists for one simple reason: to help people. Apart from Tampa, additional office locations include Orlando, Ft. Lauderdale, Ft. Myers, and Sarasota.
Job Types: HH Staffing focuses on commercial/residential property management, accounting, finance, human resources, office, and light industrial jobs. Some of their Tampa job postings included maintenance tech, leasing professional, HVAC technician, and more.
Pros: HH Staffing has a helpful career blog that provides useful tips for job seekers and hiring managers. Additionally, you can meet and contact all the recruiters and staffing managers at HH Staffing directly from the website.
Reviews: 5/5 based on 1 Yellow Pages review, 4.8/5 based on 154 Google reviews, 1/5 based on 1 Yelp review
Local Office: 550 N Reo Street, Suite 300, Tampa, 33609
Contact: (813) 452-6207
5. MedPartners
MedPartners was founded in 2006 with the goal of building the best staffing organization in the Health Information Management (HIM) landscape. In 2018, MedPartners was acquired by AMN Healthcare, the innovator and leader in healthcare workforce solutions and staffing services for healthcare systems.
Job Types: MedPartners is focused on providing jobs for Clinical Documentation Improvement (CDI) professionals and Health Information Management (HIM) coding professionals in all specialty divisions of the healthcare system.
Pros: MedPartners is focused on niche roles for healthcare professionals. With such a specialized focus, you can be confident that their recruiters and staff are knowledgeable about the industry and also well connected with healthcare facilities in the Tampa area.
Reviews: 3.6/5 based on 5 Google reviews
Local Office: 302 Knights Run Avenue, Suite 1025 Tampa, 33602
Contact: (866) 988-3919 or ccsa@amnhealthcare.com
6. Naviga Recruiting & Executive Search
Naviga Recruiting & Executive Search is a provider of executive, sales, and marketing recruiting services to businesses across North America. Naviga was founded in 2002 in Tampa, Florida, by CEO Kathleen Steffey and has since grown to be a multi-person company serving clients globally.
Job Types: Naviga Recruiting & Executive Search offers sales, marketing, and executive opportunities in a wide range of industries, including software and SaaS, consumer products, agency and media companies, commercial building services, industrial manufacturing, and more.
Pros: Naviga is an excellent resource for senior-level job seekers, especially if they are open to relocation. While headquartered in Tampa, a majority of their job postings are actually in other major cities across the US. For anyone willing to relocate, Naviga has plenty of high-level sales and marketing jobs.
Reviews: 4.2/5 based on 12 Google reviews
Local Office: 301 W Platt Street, Suite 327, Tampa, 33606
Contact: (866) 487-4156
Visit Naviga Recruiting & Executive Search
Bonus: Top Tampa Staffing Agency Winners (2021)
Hiregy, Automation Personnel Services, Ultimate Staffing Services, HH Staffing, MedPartners, Naviga Recruiting & Executive Search.
How Do Staffing Agencies Work?
Staffing, or employment, agencies fill open positions for the employers they contract with. The agency is paid by the hiring company, so it's a free service for the job seeker.
Staffing agencies can hire for temporary, temp-to-hire, and permanent positions.
If you are hired for a temporary job, you are usually employed and paid by the staffing agency. Some agencies offer benefits to their employees, including health insurance and retirement plans.
For permanent roles, the staffing agency essentially acts as a recruiter and will refer you to the hiring company.
Here's what we recommend when working with a staffing agency:
Browse the website to see if you find any jobs you are interested in.
Whether you find an ideal job or not, contact the staffing agency.
Provide information about yourself and the type of work you are looking for.
If you found a relevant job on their website, mention it.
The agency will take down your information and reach out if they find a relevant position.
Make as many staffing agencies as possible aware of your search. It's simply more eyes and ears out there helping with your job search.
Before you reach out to these staffing agencies, make sure you have a great resume – both in look and content. The worst thing you can do is provide a resume that won't get results to a bunch of staffing agencies.
Check out some professional resume services on our list of the Best Resume Services in Tampa.
Need more than resume assistance?
At Find My Profession, we also offer career coaching services and Career Finder, a professional job search service that manages every part of the job search, from searching for jobs for you to networking on your behalf.