Staying home to take care of your children shouldn't bar you from making a positive economic impact on your family.
There are numerous legitimate and flexible jobs for stay at home moms and dads that you can do part-time or full-time on your own schedule.
In the age of the online gig economy, it has become easier than ever to leverage your skills as a SAHM or SAHD and find online jobs.
Here are some of the best stay at home jobs:
Accounting & Finance
Artist
Daycare Provider
Engineering
Healthcare
IT
Phone & Customer Service
Research
Sales & Marketing
Teaching
Typing
Writing
In this article, we will discuss some of the best jobs for stay at home moms within the categories above and how you can find those jobs.
We will also learn about some exciting ideas about starting your own business from home.
Stay at home dads: Don't feel left out. These stay at home jobs are for you too! 
Let's dive in!
50+ Best Stay at Home Jobs
There are jobs for almost every skill and within almost every industry that you can do as a stay at home mom.
If you are finding it difficult to understand which jobs will be most suitable for you, have a look at the master stay at home job list that we have compiled here for you.
Make a list of the work from home jobs that suit you the best based on your knowledge, skills, abilities, and previous experiences.
We have divided the jobs into different categories so you can quickly find what interests you the most, or use the Table of Contents above to skip to your favorite sections.
Flexible Accounting and Finance Jobs
You have a degree or training in accounting and finance, but you are staying at home to take care of your children.
The following jobs would be most suitable for you:
1. Business Analyst
Business analysts are and will always be in demand.
Average salary: $23.77 per hour
2. Accountant
You can look after the accounting of any business right from your home.
Average salary: $20.14 per hour
3. Financial Advisor
Help people with your money wisdom. Manage finances for businesses as a stay at home mom.
Average salary: $18.24 per hour
4. Bookkeeper
Most of the bookkeeping tasks are now available online. Even if you don't have a higher degree, you can get these bookkeeping jobs from home by having some online training.
Average salary: $17.24 per hour
Artistic Jobs for Stay at Home Parents
You are a stay at home parent but an artist within.
Choose one of the following online remote jobs:
5. Graphics Designer
Do you often play around with Photoshop and Illustrator to impress your social media followers with your uploads?
Why not earn money doing what you love with remote graphic design jobs?
Average Graphic Designer salary: $17.34 per hour
6. Video Editor
Do you often add bits and pieces of your children's videos to create wonderful short films?
You can become a stay at home video editor.
Average Film / Video Editor salary: $19.59 per hour
7. Animator
Turn your ideas into life by 2D or 3D animation.
Average Animator salary: $24.79 per hour
8. Sound Engineer or Musician
Can you create music using your computer or edit audio files as you like? Become a sound engineer.
Average Sound Engineer hourly pay: $19.36 per hour.
9. Voice Over Artist
Do you have a wonderful voice and can act out emotions through words?
Voice Over Artist jobs are for you!
Average Voice-Over Talent hourly pay: $39.63.
Work at Home Daycare Jobs
It is the fastest track that you can choose.
As a stay at home mom, you already have enough resources and skills to take care of two or three more kids at home on a part-time basis.
So spread the word through social networks that you are there to help moms around you by taking care of their children for them whenever they need it.
10. Babysitting
Childcare is a great option if you are looking for flexible part-time jobs.
According to the Bureau of Labor Statistics, the median annual wage for babysitters is $22,930 at the median hourly wage of $11.02.
11. In-Home Daycare
It is another childcare option that you can expand to a licensed, full-time service, and still work from home.
According to Payscale.com, the average hourly pay for an In-Home Daycare Provider is $10.20.
Remote Engineering Jobs
There's a misconception that as a stay at home mom you won't be able to do an engineering job.
This is completely wrong.
12. Engineer
Many of the tasks of an engineering project are now done by remote workers.
It is your chance as a stay at home mom engineer to grab those engineering roles.
Average salary: $34.88 per hour
13. Assistant Engineer
The same applies to the Assistant Engineer roles. Many positions are filled by remote workers.
Average salary: $27.47 per hour
14. Mechanical Engineer
Do you have a mechanical engineering degree but want to find at home jobs for moms?
There are plenty of options.
Average salary: $27.41 per hour
15. Civil Engineer
There are plenty of civil engineering jobs that you can do remotely as a stay at home mom.
Average salary: $29.42 per hour
16. Electrical Engineer
The same goes for electrical engineers.
Average salary: $30.53 per hour
17. Architect
As an architect, you can easily work on projects remotely as a stay at home mom.
Average salary: $24.66 per hour
Healthcare Jobs for Stay at Home Parents
There are lots of opportunities available now for healthcare professionals to earn a living staying at home.
These are a few of the opportunities that you can pursue as a work at home mom:
18. Remote Doctor
Many services offer online medical advice to patients from all over the world.
You can become one of their remote doctors.
Average salary for doctors: $97.83 per hour
19. Massage Therapist
Are you a trained masseuse?
Turn a corner of your home into a massage therapy business.
Average salary: $20.20 per hour
20. Psychotherapist
Many psychotherapists see their clients in their homes.
As a stay home mom, this may be an option for you.
Average salary: $39.48 per hour
21. Counselor
The same can be done if you are a mental health professional.
Average salary: $19.02 per hour
22. Dietitian
Another great option for you as a healthcare professional is to become a dietician or a food engineer.
You can open up your own business or get into a part-time gig with a healthcare service provider.
Average salary: $27.08 per hour
Flexible IT Jobs
If you are into computer science or have above the average computer literacy and proficiency in using certain software, these work from home IT jobs are for you:
23. Online Tech Support
Do you solve all the tech problems of the household?
With a bit of additional training and certifications, you can become a tech support specialist.
Average salary: $15.95 per hour.
24. Virtual Assistant
With a bit of computer literacy and management skill, the virtual assistant jobs can be a perfect gig for a stay at home mom seeking flexible jobs.
Average salary $16.36 per hour.
25. Software Engineer
Do you know how to code? You will never be out of jobs in this world of industry 4.0.
Average Software Engineer salary: $34.88 per hour.
26. Software Quality Assurance Engineers and Tester
Another stream for computer programmers that assists in building software by testing and maintaining the quality.
Average hourly pay: $21.14.
27. Computer Scientist
If you have a bachelor's degree in computer science, you can find a lot of jobs as a computer scientist.
Average Computer Scientist salary: $30.40 per hour.
28. Web Developer
A great option for SAHMs, if you have the skills to create web applications and back-ends.
Average salary: $20.54 per hour.
29. Web Designer
Do you know HTTM, CSS, and JavaScript? You can become a Web Designer right now!
Average Web Designer Salary: $19.95 per hour.
30. UX/UI Design and Development
Are you savvy in design and well as development?
Do you know how to make the digital experience effortless for users?
You are a UI/UX designer or developer.
Average UX Designer salary: $34.81
31. Data Analyst
Are you a statistician and familiar with data modeling techniques?
Data Analyst stay at home mom jobs could be the perfect fit for you.
Average Data Analyst salary: $20.67 per hour.
32. Business Intelligence Analyst
If you have data analytics skills as well as business acumen, you are a great fit for the Business Intelligence Analyst role.
Average Business Intelligence (BI) Analyst salary: $26.83 per hour.
Remote Phone/Customer Service Jobs
Are you a pro in communications? Can you start great conversations over the phone and influence people?
Then these work at home jobs that you can do over the phone, can be a great option for you as a SAHM.
33. Survey Conductor
Talk to people over the phone, ask questions, and record their replies.
Pretty simple work and pays around $12-$20 per hour.
34. Telemarketer
Call people, brief them about products and services, and make sales or spread brand awareness.
Average hourly pay is $13.06.
35. Call Center Representative
Solve customer queries and troubleshoot problems from a distance.
Earn $13.83 per hour on average.
36. Customer Support Representative
Will require a bit more knowledge and training than a Call Center Representative. Will solve complex product or service-related customer issues.
Average hourly pay: $16.91.
37. Dispatcher
You can dispatch everything from boats to taxis to police vehicles from your home.
Dispatchers are required in safety, security, transportation, and shipping related operations.
The average salary for a dispatcher is $14.73 per hour.
Research Jobs You Can Do From Home
Do you hop into Google for any question that pops up in your mind?
You can easily become an online researcher if you need the flexibility of a work from home job.
38. Researcher
Many companies and organizations require researchers for their day to day operations and getting help for the decision making process.
Average salary: $17.59 per hour.
39. Research Assistant
If you are not confident enough to become a full-fledged researcher yet. Do not worry! You can always become a Research Assistant.
Average base salary: $15.85 per hour
Sales and Marketing Stay at Home Jobs
The field of sales and marketing was never so diverse before as it is now in this age of digital marketing.
If you know what makes a product or service tick or how to sell and market services online, pick any of these work from home marketing jobs:
40. Social Media Manager
Every business has a social media presence and they need social media managers to manage and drive their presence.
You can easily become a Social Media Manager as a #SAHM, by going through a few online courses.
Average salary: $15.59 per hour.
41. Digital Marketing Specialist
To be a digital marketer you have to make yourself familiar with the ever-changing space of digital advertising.
Average salary: $18.90 per hour
42. SEO Specialist
Search Engine Optimization (SEO) Specialists make your web pages and social presence optimized for the search engines like Google.
The skills are easy to pick up and they are in demand.
Average salary: $17.59 per hour
43. Marketing Manager
A marketing manager manages all the other members of a digital marketing team, including the writers, designers, SEO guys, and digital marketers.
Average salary: $19.37 per hour
Remote Teaching Jobs
Remote teaching jobs are great online jobs for moms.
You might have a skill that you can teach to others, so why not earn money while doing it?
44. Tutor
There are lots of e-learning institutes that recruit online tutors. Hop in!
The median hourly wage: $17.46.
45. English/ESL Teacher
English or English as a Second Language (ESL) teachers are always in great demand at home and abroad.
The average salary: $18.94 per hour.
46. Coach and Trainer
Many companies hire coaches and trainers for their employees. You can be one and coach people online.
Average pay is $16.73 per hour.
47. Career Counselor
You can become a career counselor for HR agencies or can start your own online counseling firm from home.
Average Career Counselor salary: $20.07 per hour.
Work From Home Typing Jobs
Typing is yet another flexible job category that you can start practicing and pursuing right away.
48. Typist
There are plenty of typist jobs available across many industries, from manufacturing to real estate, and the pay is also not bad.
According to Indeed.com, the average pay for typists is $14.33 per hour.
49. Data Entry Specialist
Remote data entry jobs will require a few additional skills other than simply typing.
You will have to acquire the basics of Excel and Google Sheets, but that is not anything difficult to master.
The average hourly rate for a data entry specialist is $15.21 per hour.
50. Legal Transcriptionist
Make yourself familiar with legal terminology and start transcribing pre-recorded legal proceedings for lawyers and paralegals from your home.
The hourly pay will vary somewhere between $11 to $19 per hour.
51. Medical Transcriptionist
Similar to the legal transcriptionist job, but instead of legal terms, you will need to make yourself familiar with medical terminology.
The average pay: $15.40 per hour.
Remote Writing Jobs
Do you have a passion for writing?
Always wanted to create magic with your words?
Writing provides great work from home jobs for moms.
52. Blogger
Are you passionate or knowledgable about a certain topic? Start your own blog or write blogs for others.
Blogging jobs are steadily on the rise and make for a great flexible part-time job.
The average pay: $14.90 per hour.
53. Content Writer
A specific type of writer specialized in writing for the digital world.
Average salary: $16.19 per hour.
54. Copywriter
Can you influence people's decision-making with your words?
Become a copywriter and write ads for digital marketing campaigns.
Average Copywriter Salary: $19.93 per hour.
55. Editor and Proofreader
If you are confident about your grammar and linguistic prowess, you can become an editor and proofreader.
Average pay per hour: $17.61.
56. Journalist
Do you like to stay on top of what is happening in the world and share updates on social media?
You are a journalist already!
Average Journalist salary: $14.71 per hour.
57. Translator
A great option for you if you know more than one language. The worldwide translation industry is booming and is a good option for a stay at home mom job.
Average hourly pay is $19.85.
(All of the above salary data have been aggregated from Payscale.com, Indeed.com, and the Bureau of Labor Statistics.)
This list, however, is not exhaustive.
There are many other options available to you as a stay at home mom.
You just have to know your skills and the job positions that require them.
You will be on your way to getting those stay at home mom jobs.
6 Tips to Find Stay At Home Jobs
Now that you know what jobs would be the best fit for you from the list, let's have a look at how you can find those jobs.
1. Know Your Priorities
Full-time or part-time?
Working hour flexibility?
How many hours?
How much stress?
Ask all these questions to yourself before finalizing your list of jobs to search for as a stay at home mom.
The answers will guide you towards the jobs that will be best for your work-life balance.
2. Use Legitimate Job Sites for Stay at Home Work
One of the best job search sites for stay at home moms is Google.
Type: Remote "job title" jobs in the Google search bar.
Click the blue Jobs bar in the search results.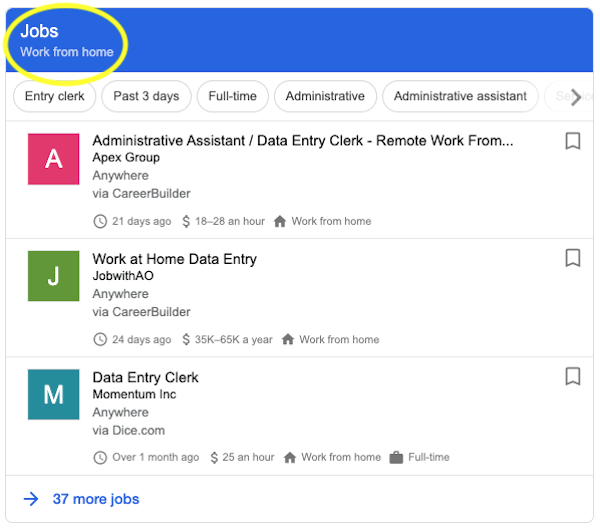 Configure your search using the filters available on the dashboard.
Activate the job alert so that you keep getting notifications each time a new job is posted that matches your search.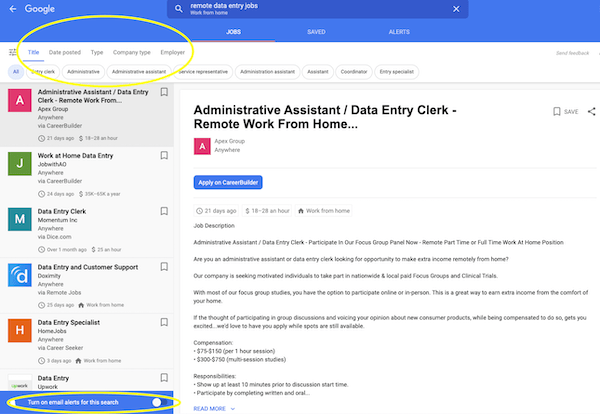 Google aggregates all the job postings from other job sites and company career pages in one single place, making it the most useful job search website for stay at home moms.
You may also use Indeed.com for your search for remote jobs.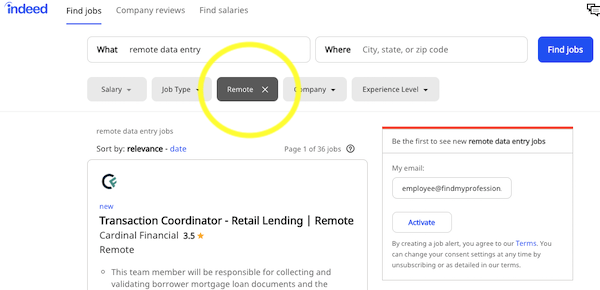 Search for the job you are interested in and change the location filter to Remote.
Even if you type "remote" with your desired job title, you will find jobs that are not remote, so read the job description. Changing the location to Remote should eliminate this.
(Learn all about the Indeed Job Search and have a look at a few more job search websites dedicated to remote jobs.)
3. Avoid Scams
The internet is filled with job scams, scams that promise to turn you into a money tree.
Earn $1000 daily or weekly just by working a few hours! No experience necessary!
If it sounds too good to be true, it usually is.
Whenever an ad or a job posting tells you to open up an online account, do separate research about the company running those ads.
Proceed only when the company has a trusted track record and sufficient online presence.
Before giving your personal information on any website, make sure that it has "https" before the web address.
And above all, if anybody asks for money for opening an account or profile or for any other kind of offering that will allow you to make money, run away quickly.
4. Network
There is no denying that networking does wonders when it comes to searching for jobs.
Stay at home parents should also not shy away from networking.
Let your social media audience know that you are looking for work from home jobs.
Specify exactly what types of jobs you want involving which set of skills.
Do not ignore LinkedIn.
Brush up and update your profile. Connect with potential companies that offer remote job opportunities.
You can also search for remote jobs directly from LinkedIn.
(Learn how to create a great LinkedIn profile.)
5. Get Support from Friends and Family
Managing the home, kids, and the job can become a bit too much at times.
We all go through such phases.
It is wise to seek support from your friends and family in those situations.
Maybe your neighbor can babysit your children for an hour or two giving you the valuable time to finish up a project within the deadline.
Ask for it!
6. Create Resumes and Cover Letters for Remote Jobs
You might be wondering whether the resume and cover letter are different for stay at home jobs.
Not much.
The standard resume and cover letter rules and best practices apply for the stay at home jobs as well.
Just keep in mind to tailor your resume and cover letter for each new job you apply for.
And, include your other remote job and freelance job experiences.
(Learn about writing a targeted resume and a cover letter to go with it.)
9 Business Ideas to Make Money Online
What if you'd rather work at home for yourself?
Some of the best jobs for stay at home moms that we have discussed so far can also be turned into your very own business that you can run from the comfort of your home while taking care of your children.
Have a look at the nine easiest and fastest routes to your own business as a stay at home mom needing a flexible job.
1. Start Your Own Blog
There must be something that has a special place in your heart. You know so much about it.
Why not share your wisdom and insights with the whole world?
Blogging is a great way to turn your passion into a business.
As a stay at home mom, you can easily set up your own blog with the help of a web designer.
It can be a highly rewarding business with several options to make money.
2. Dropship or Resell
There are plenty of businesses that allow dropshippers and resellers to sell their products and services from their own online store.
You just need to select the niche and products that you are familiar with and would like to sell.
Create your own online store and showcase those products at prices set by you.
You receive orders and the original manufacturers deliver while you keep earning the profits.
3. Begin Affiliate Marketing
Affiliate marketing is very similar to dropshipping.
The major differences are that you won't set the product prices and you will earn on a commission basis.
You set up your own website and showcase the products and services from the affiliate partners.
Each time a visitor buys from the affiliate links on your website, you get a certain percentage in commission.
4. Start Freelancing
All the jobs described above can also be done on a freelance basis very easily.
The added advantage is that instead of being an employee, you get to start your own freelance business as a stay at home mom.
Make the most out of freelance marketplaces like Upwork, Freelancer, and Fiverr.
Open up an account and start applying to jobs matching your skillset.
Gradually, open up your own online agency and start hiring more stay at home moms for your business.
5. Start a YouTube Channel
YouTubers earn in millions. Well, not all, but many. You can also be one of them!
Love cooking? Why not start a cooking channel?
Into crafts? Arts and crafts videos are also all the rage.
Whatever you are good at; don't be shy, make that first video!
6. Create Online Courses
Online course providers, like Udemy, let users upload their own courses.
If you are an expert on any skill that is in demand, it is likely that you have plenty to offer others.
Turn your skills into money-making machines by creating courses on those skills.
You can also create courses for YouTube.
7. Write Books
Do you know that you can self-publish your books through Kindle Direct Publishing on Amazon?
Yes, it is a great idea to publish your own books and become an author.
The books you publish will be available worldwide.
8. Become a Life Coach and Wellness Trainer
Life coaches, wellness trainers, and personal growth experts are in demand nowadays.
Are you a personal growth freak?
Are you familiar with all the new practices that are turning heads?
Start a personal growth website and start spreading your knowledge for a better world.
9. Become a Beauty and Fashion Stylist
Are you always browsing the latest fashion trends?
Always keeping an eye on who wore what to which red carpet event?
Become a beauty and fashion stylist from your home.
You won't even need a website for this one.
Simply spread the word on your social media profiles and observe the magic.
Reentering the Workforce After Being a SAHM
In this section, we are looking ahead to if or when you decide to reenter the traditional workforce after taking some time off as a parent.
Reentering the workforce after an absence as a stay at home mom can feel daunting.
But it doesn't have to be so.
No matter how long ago you were in the professional scene the last time, there will be jobs that match your skills and expertise.
You just have to be confident and restart your job search with enthusiasm.
Create your resume following either a functional or a combination format. These resume formats are best for highlighting your skills rather than previous job experiences and an employment gap.
Be honest about your employment gap on your resume, cover letter, and during interviews.
Customize your resume tailoring it to each job you apply for.
Utilize any skills you gained, experiences you had, new things you have learned during your time as a stay at home mom on your resume.
Top Tip
If you plan to return to work after taking time off with your kids, keep your skills and training up-to-date and you will make finding a new job much easier.
Key Takeaways
What we have learned includes some valuable information about stay at home jobs.
We have seen the list containing 57 best jobs for stay at home moms and 9 exciting business ideas.
We have also learned:
To choose the best jobs based on your skills and personal preferences.
Google Jobs is the best website to find jobs for stay at home moms.
How to write a resume and cover letter for stay at home jobs.
How to re-enter the workforce after an absence as a stay at home mom.
Good luck to you on your journey of finding the best stay at home mom job for you!