Your resume is an important part of the job search. It could very well be the thing that sets you apart from your competition.
This also means that a subpar resume can set your job search back months.
Today we will be reviewing Randstad Risesmart and their resume writing services.
We have taken a deep dive into the customer reviews, cost, resume samples, and writer credentials at Randstad RiseSmart. Our overall rating for Randstad RiseSmart is 85/100.
Randstad RiseSmart
Score
Our goal is to help you find the best resume service that will advance your career. Take a look at some other top-rated resume writing services and find the perfect fit for you!
Best
Randstad RiseSmart

Alternatives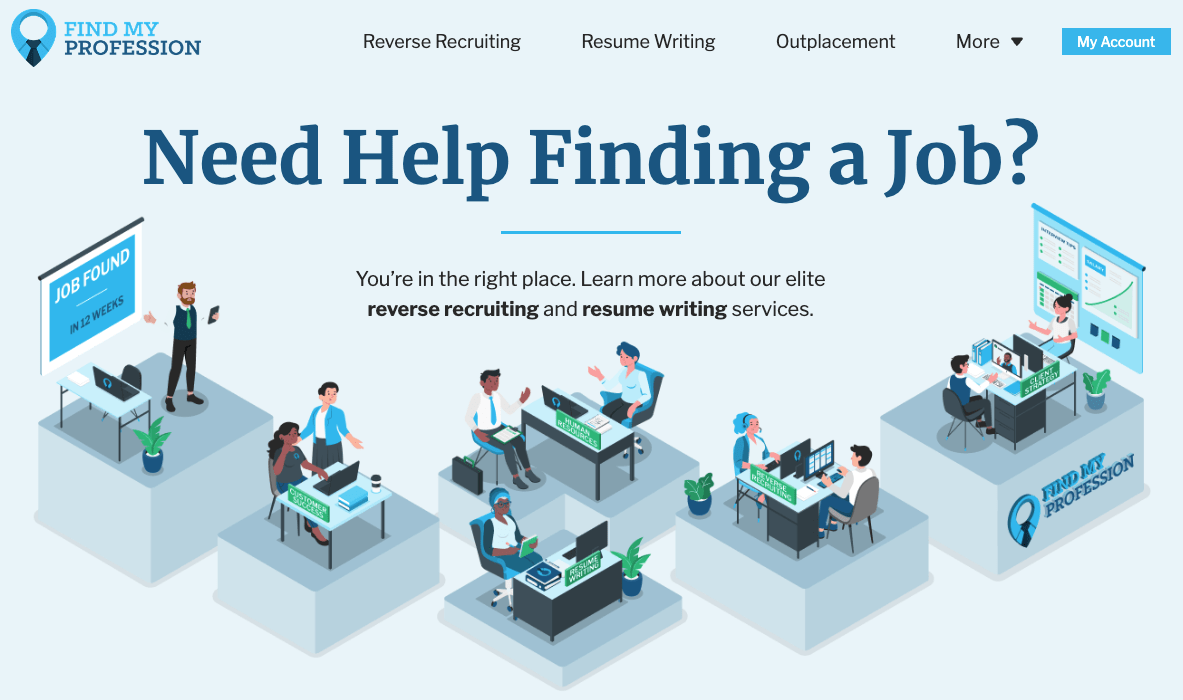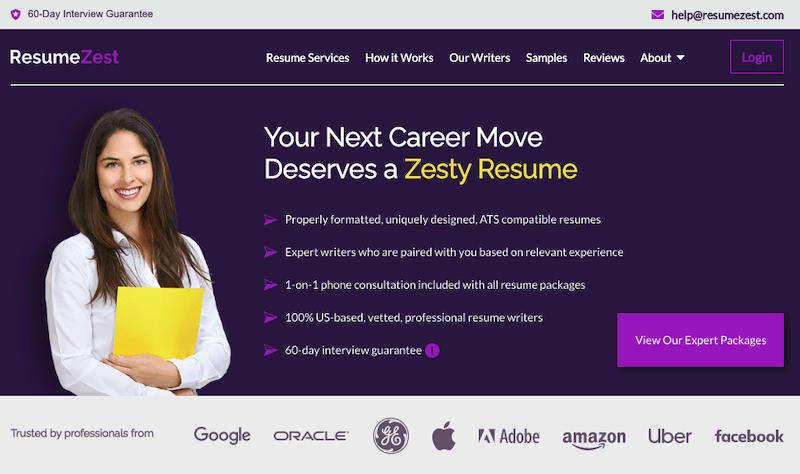 About Randstad RiseSmart
Randstad RiseSmart is a San Jose-based HR service provider co-founded by Dan Davenport in 2007.
With Dan as the CEO, Randstad RiseSmart has quickly become one of the largest "talent mobility" firms in the world, with a presence in more than 80 countries and 40 industries.
They provide a host of HR services including work life coaching, career development, onboarding, and outplacement, to mention a few. Resume writing is a part of RiseSmart's outplacement services for employees, and is our focus in this article.
Let's dive right into some of the pros and cons when it comes to working with RiseSmart.
Randstad RiseSmart Pros vs. Cons
As with any company, there are pros and cons. It's up to you to determine what is a "must-have" and what things you can live without.
Pros
Writers possess certifications including Certified Professional Resume Writer,

Academy Certified Resume Writer

, and

Certified Executive Resume Writer.

90+ writers on the resume writing team.

Experience in more than 40 industries.

Services are offered to clients in over 80 countries.
Cons
Online customer reviews aren't very good.

Resume services are available only through their employer-sponsored outplacement services.

Website provides no specific information about the resume team.

No resume samples available for clients to assess.
If you are looking for a resume writing service, Randstad RiseSmart is a great option, but it is worth exploring other alternatives to find the best fit for your needs.
One such alternative is Find My Profession who is also a global company with a team of certified resume writers with experience in 85+ industries.
However, Find My Profession differs from Randstad RiseSmart in that they have an average rating of 4.9/5 from over 900 previous clients, their website provides information about their team and resume samples, and they are available to all job seekers.
Randstad RiseSmart Customer Reviews

Our Certified Professional Resume Writers have rated Randstad RiseSmart an 85/100. Randstad RiseSmart has received 4.8/5 stars on Google, 4/5 stars on Sitejabber, 3.5/5 stars on Yelp, and an A+ rating on BBB. Not the worst reviews we've seen, but we were expecting better reviews for a service this popular.
Google shows 122 reviews with an average rating of 4.8/5. Only 14 of the reviews were below 5 stars. That is quite impressive.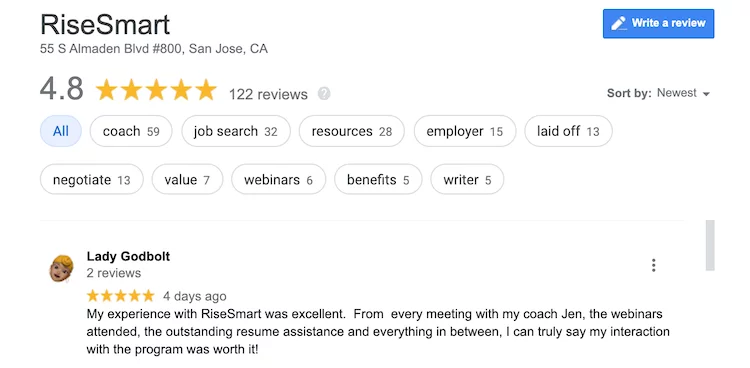 Sitejabber shows 5 reviews with an average rating of 4/5. It's hard to tell which reviews are truly for RiseSmart as none of the reviews give details about the service.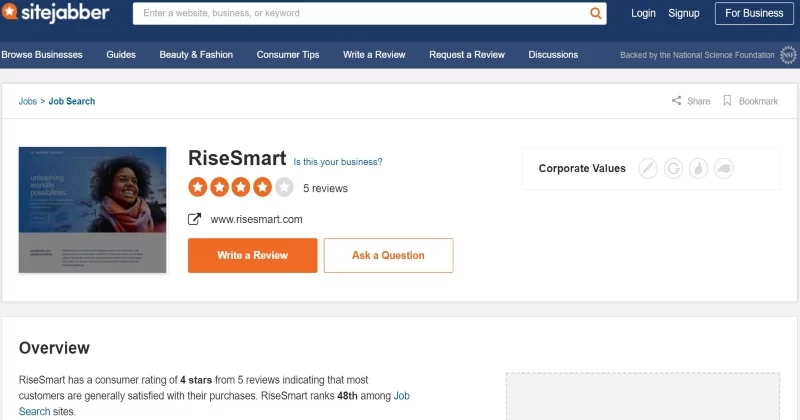 Yelp shows 5 reviews with an average rating of 3.5/5.

BBB shows that Randstad RiseSmart is accredited but they have 0 reviews.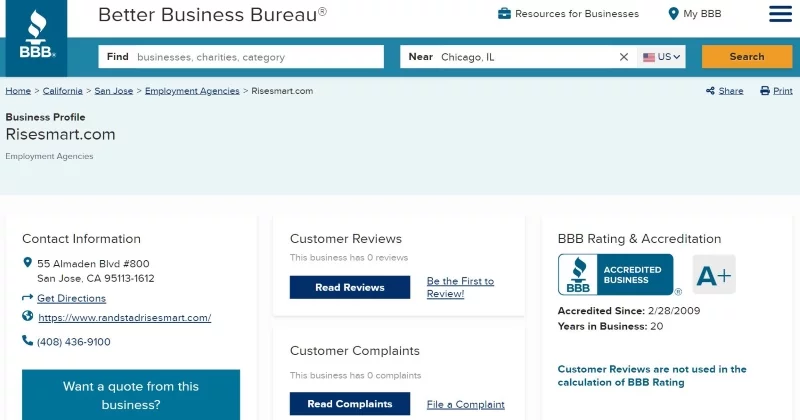 Overall, RiseSmart's customer reviews aren't very impressive, considering how popular they are in the HR services industry.
On another note, the bulk of these reviews aren't really about their resume writing services, but their HR services in general. It would've been nice to find some fantastic resume-related reviews about them, but that is not the focus of their business.
As with anything, it's important to take each review with a grain of salt. Additional research should be done beyond reading the reviews that are found online.
How Much Does Randstad RiseSmart Cost?

Randstad RiseSmart does not provide the cost of their resume writing services on their website. This would normally be a red flag for us, but in RiseSmart's defense, their resume service comes as a package with other career services such as outplacement and redeployment.
For the most accurate and up to date details on package pricing at Randstad RiseSmart, we recommend that you visit their website directly.
Randstad RiseSmart Resume Sample
We wanted to see what the resume quality of Randstad RiseSmart looked like so we took a look at some of the resume samples featured on their website.
While we couldn't find any resume samples on the RiseSmart website, we were able to find a sample in the career resources on the Randstad USA site.
We've attached a Randstad RiseSmart resume sample for you to review. Below, we share some of the things that we liked, and what we disliked about this resume.
The Good
Contains measurable accomplishments with specific numbers.

Has a clear target position and title at the top of the resume.

Includes multiple keywords that are relevant for the target position.

Presents the experience in an easy to read and follow format.
The Bad
Format lacks visual appeal, color, and creative elements.

Summary does not engage the reader or provide enough information.

Content is not suitable for a C-Suite candidate .

Does not have enough accomplishments or substance.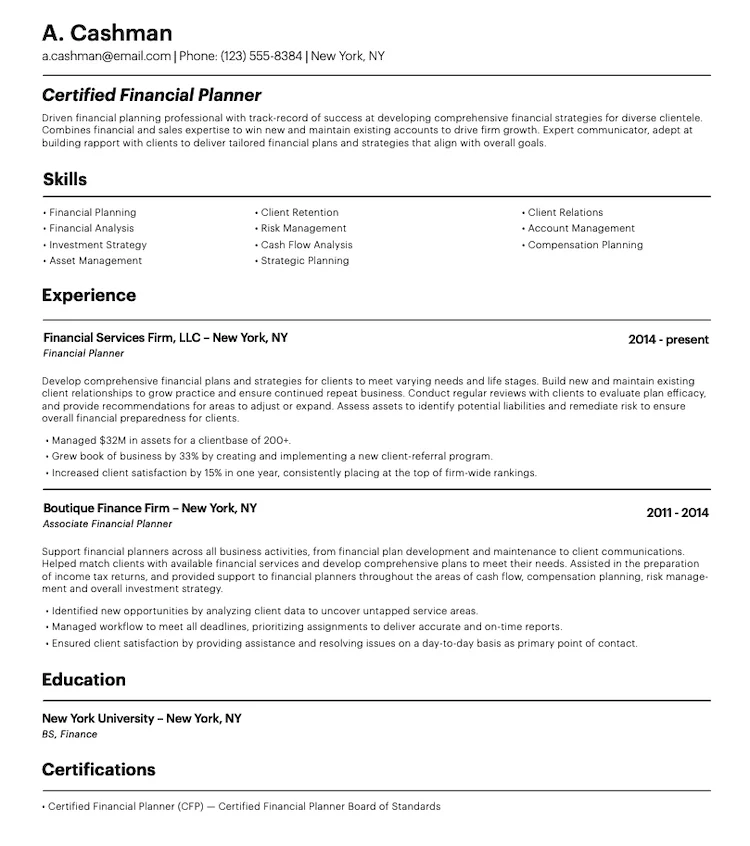 Randstad RiseSmart Writer Credentials
Just like other aspects of the resume writing service from RiseSmart, they lack information on their writing team as well.
There are no details about the individual resume writers on the website. However, upon deeper research into LinkedIn, we found the following information about RiseSmart's resume writing team:
The resume writing team is capable of writing for all levels of professionals.
The team is made up of certified professionals, former recruiters, HR professionals, freelance writers, and career specialists.
They possess resume writing certifications that include Certified Professional Resume Writer (CPRW), Academy Certified Resume Writer (ACRW), and Certified Executive Resume Writer (CERW).
You can find more about their writers on LinkedIn. We found that out of the total 1,300 employees currently on LinkedIn, 90+ identify themselves as RiseSmart resume writers.
Randstad RiseSmart Resume Writing Process
Randstad RiseSmart's website doesn't give many details about how the resume writing process takes place.
We found the following information about the writing process:
Depending on the package provided by your employer, you will receive a resume critique or a fully written resume.
You will be matched with a professional resume writer based on your career stage and background.
You will use an online portal to provide information about yourself to your resume writer.
Your writer will then write your resume in about 7 days.
As an alumni of RiseSmart you can have your resume reviewed every year.
While we would have loved to see more information on their website, we also understand that they're not looking to sell individual resume writing services. So, details about their resume writing process may not be as important.
Is Randstad RiseSmart Worth It?
Whether or not Randstad RiseSmart is worth it is entirely up to you.
Our goal is to provide you with the most transparent and helpful information possible. But, only you know what is best for you and your career.
Here is a summary of our findings on Randstad RiseSmart written and reviewed by a Certified Professional Resume Writer:
Customer Reviews: 20/25
Cost to Value: 20/25
Sample Quality: 20/25
Writer Credentials: 25/25
Total Score: 85/100
As a reminder, we highly recommend reviewing 2-3 services before making a final decision.
It's helpful to understand the different service offerings, prices, and writer credentials before choosing a resume writing service.