When it comes to choosing a resume writer, you can't be too careful.
After all, it's your career at stake.
Want to take a closer look at TopStack Resume before making your final decision?
You have come to the right place!
Our expert team of researchers has looked into every aspect of this resume service. We have assessed TopStack Resume's cost, customer reviews, writing process, and writer qualifications.
TopStack Resume – Resume Service Review
Steve Marcum founded TopStack Resume in 2018.
He is the CEO of TopStack Resume and also the owner of its parent company, SJM Ventures.
Steve is an experienced resume writer and career consultant. He started writing resumes while advising students on postgraduate career opportunities back in 2010.
Since starting formal operations, TopStack quickly became one of the fastest-growing career service companies.
Let's discuss the major pros and cons of working with TopStack Resume as part of your job search process.
Pros:
TopStack Resume has an impressive online reputation and good customer ratings across reputed review platforms.
The website offers enough details about the resume writing process and package pricing. The resume-only package is affordable.  
You can also read about all the writers directly on the website.
The ordering and communication process is simple and hassle-free. 
You also get to review resume samples on the website. 
One of the most intriguing features of TopStack Resume is their pay-later strategy. You can pay for your resume after getting it done with satisfaction.
Cons:
TopStack Resume offers a 30-day interview guarantee. This means that if you don't receive any interviews within 30 days of getting your resume, they will provide career guidance and application support free of charge.
However, the shortcoming is that this guarantee is not available with all the packages. It's not available with the resume-only package, which can hinder your chances of a truly guaranteed career process. 
Moreover, the phone consultation with your resume writer is not available with all the packages.
If you want to add phone consultation, you have to pay an additional cost of $25.
The regular turnaround time for resume writing is longer than many other reputed services.
After taking a deeper look into all the writer bios on the website, it appears that most of the writers are not certified.
Also, the website offers no career resources for job seekers, such as a career blog with helpful articles.
How Much Does TopStack Resume Cost?
TopStack Resume offers affordable resume writing services.
Their resume-only package is one of the most affordable resume services on the market. It can be a great fit for entry-level professionals.
TopStack Resume offers four packages – Basic, Standard, Professional, and Premium.

Prices of TopStack Resume packages are:
The Basic Package gets you only a resume for $115.
The Standard Package adds a cover letter with it for $165.
Professional Package offers a resume, cover letter, and LinkedIn profile for $235.
The Premium Package includes career consulting on top of everything, at a cost of $545.
As you can see, the package structure is quite straightforward. The cost increases as you add more services.
It should be mentioned once again that the phone consultation with the resume writers and the 30-day interview guarantee are not included in the Basic and Standard packages.

Also, these first two packages don't ensure the most experienced writers.
TopStack Resume Resume Writing Process
The TopStack resume writing process looks simple and straightforward.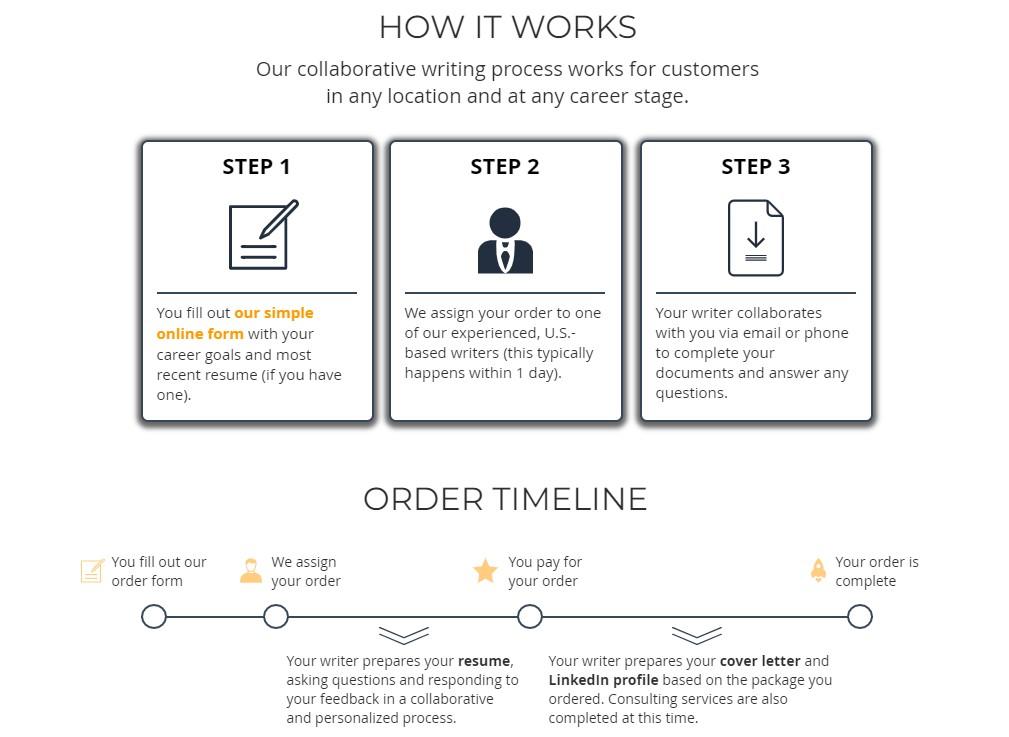 Here's the workflow for a usual resume order at TopStack Resume:
Place an order for one of the packages by filling out an online order form.
Submit your old resume, if you have one.
Get assigned to a resume writer, typically within one day.
Collaborate with your writer via email or phone, depending on your package.
Get your resume created within 1-2 weeks.
You have the expedited option of 2-4 days for an upcharge of $50.
TopStack Resume offers unlimited revisions.
Pay after they've completed your resume and you're satisfied with the work.
Before payment, you will only be able to access a watermarked, restricted version of your resume.
TopStack Resume Writing Team
TopStack Resume has a large team of professional resume writers.
The team is composed of experienced professionals from a variety of backgrounds, ranging from recruiting to the US Navy.
With this range of experience, the company is in a good position to match you with a writer experienced in your field of work.
They also have Certified Professional Resume Writers (CPRWs) on the team.
All their resume writers are based in the US.
TopStack Resume Customer Reviews
TopStack Resume has almost flawless customer ratings across review platforms.
On Sitejabber, the company has 5 out of 5 ratings based on 30 customer reviews.

On Trustpilot, only 3% of the 249 reviews are "poor" and "bad." They have an overall rating of 4.8 out of 5 on the platform.

On Shopper Approved, they have not received any 1- or 2-star ratings among 784 reviews.
The average rating is 4.9 out of 5 here.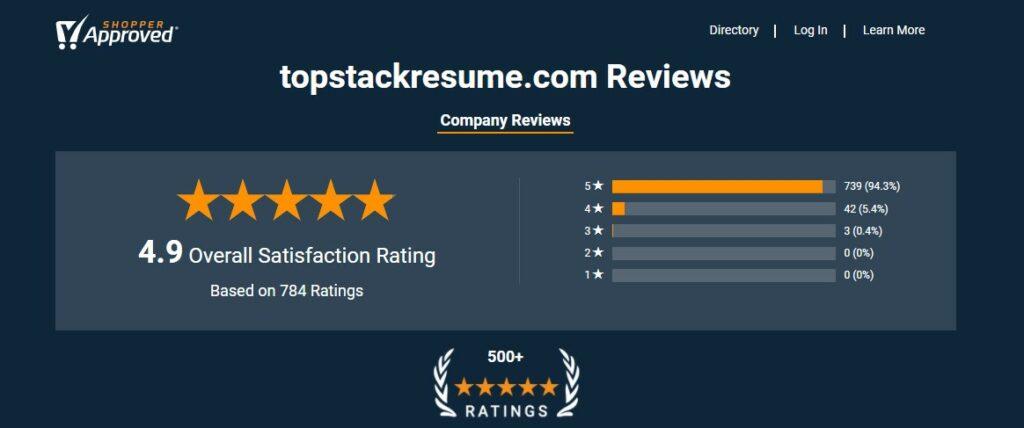 Although TopStack hasn't received many reviews on Thumbtack, the ten that are out there are all 5-star reviews.

On BBB, the company has received 24 reviews, of which 22 are 5-stars. They have an average rating of 4.7 out of 5.

The company hasn't received any complaints on BBB.
A search through online forums like Quora and Reddit also couldn't find any customer complaints.
This is a good sign when it comes to resume writing services.
TopStack Resume – Resume Sample
You can review a total of 11 resume samples on the TopStack website.
You can also specifically choose any of the formats for your resume directly from the website.
The samples featured on the website are quite good in terms of design, structure, and language.
Here's a resume sample from TopStack Resume for you to review (first page only).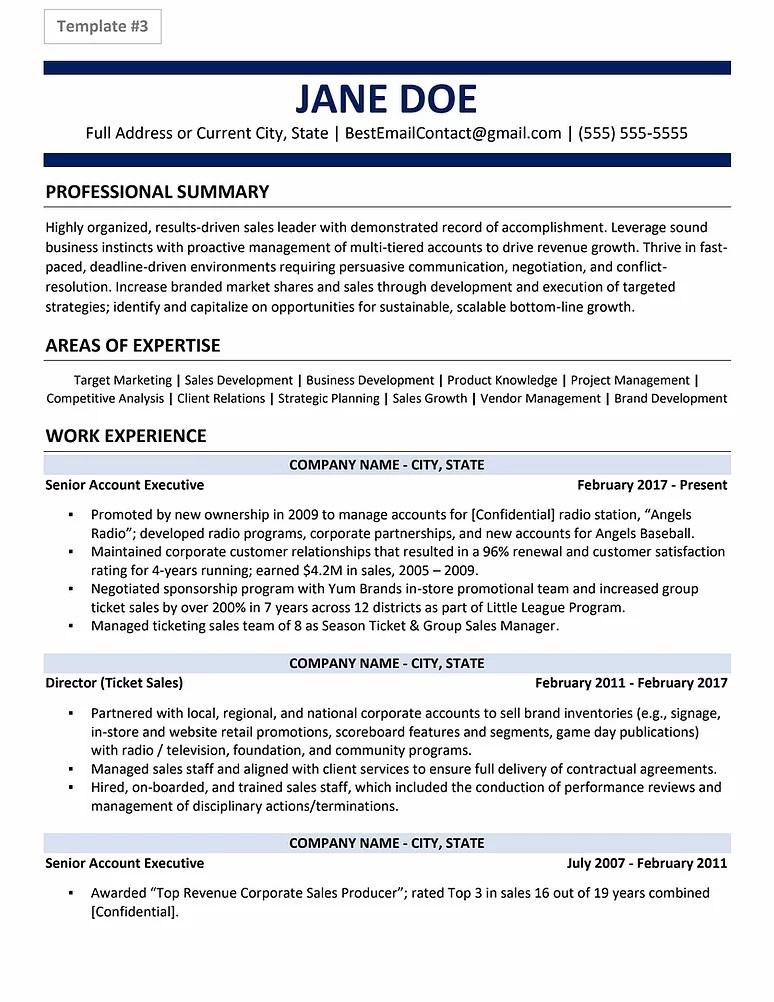 If you'd like to see all of the resume samples from this company, click on the image of the resume sample below to be taken to their resume samples page.
Key Takeaways
TopStack Resume has a strong team of resume writers coming from diverse backgrounds. The pricing is affordable and customer reviews are positive across review platforms. The overall user experience on the website and the resume ordering process are also smooth.
However, the limited availability of the interview guarantee to only certain packages and extra charge for having a phone consultation with the writer are some of the shortcomings you might want to consider.
Your resume is one of the most important documents in your professional life.
You should always review and talk to multiple companies before you make your final decision.
Are There Great Alternatives to TopStack Resume?
Your resume is a big deal.
We advise that you review at least 2-3 different resume writing services before sticking with the one that suits you and your career needs the best.
We would also recommend putting our company, Find My Profession, on your shortlist.
We have a dedicated team of US-based certified professional resume writers covering 85+ industries.
Like TopStack, we are very serious about customer satisfaction. We have more than 650+ five-star reviews on sites like Trustpilot, BBB, Sitejabber, and Google.
However, unlike TopStack, you will get an interview guarantee with all the packages as well as a phone consultation with your professional resume writer.
Please take a tour of Find My Profession services.
We are confident that our reputation and quality of service will fit your needs.