Your resume is an important part of the job search. It could very well be the thing that sets you apart from your competition.
This also means that a subpar resume can set your job search back months.
Today we will be reviewing TopStack Resume and their resume writing services.
We have taken a deep dive into the customer reviews, cost, resume samples, and writer credentials at TopStack Resume. Our overall rating for TopStack Resume is 85/100.
TopStack Resume
Score
Our goal is to help you find the best resume service that will advance your career. Take a look at some other top-rated resume writing services and find the perfect fit for you!
Best
TopStack Resume

Alternatives




About TopStack Resume
TopStack Resume is one of the top resume companies in North Carolina. Operating out of Cary, NC, they provide top-notch career services to customers in Canada, Australia, the UK, and the U.S.
The company was created in 2018 by Steve Marcum. Steve is an experienced resume writer and career consultant who has been in the biz since 2010.
He also owns their parent company SJM Ventures, and a top-rated transcription company Transcription Panda.
One thing that sets TopStack Resume apart from its counterparts is that their services are on a 'pay-after' basis.
This means that you do not have to pay for your resume until you have reviewed it and are satisfied with it. No other resume service that we know of offers this pay-after option.
Apart from resume writing, the company also offers cover letter writing, LinkedIn profile writing, interview preparation, personal statements, and career consulting services.
They have written more than 15,000 resumes since their inception. They have also landed jobs for clients at companies like Amazon, Google, Walmart, Coca-cola, IBM, and more.
Let's dive right into some of the pros and cons when it comes to working with TopStack Resume.
TopStack Resume Pros vs. Cons
As with any company, there are pros and cons. It's up to you to determine what is a "must-have" and what things you can live without.
Pros
You pay for the service only after you're satisfied.

3 resume certifications including CRW, CRS, and CPRW.

Over 1,000 5-star reviews from previous customers.

Clients have landed jobs at IBM, Amazon, Google, and more.
Cons
Turnaround period of 1 – 2 weeks is longer than average.

You don't get to pick the resume writer you'll be working with.

Phone consultations are not free, depending on the package you choose.

60-day interview guarantee is not available with all resume packages.
If you are looking for a resume writing service, TopStack Resume is a great option, but it is worth exploring other alternatives to find the best fit for your needs.
One such alternative is Find My Profession, who has great online reviews from 900+ previous clients, certified resume writers, and has landed jobs for clients at top companies including Amazon, Apple, and Tesla.

However, Find My Profession differs from TopStack Resume in that they have a quick 3-5 business day turnaround time for your first draft, phone consultations, and a 60-day interview guarantee is included with all resumes.
TopStack Resume Customer Reviews

Our Certified Professional Resume Writers have rated TopStack Resume a 85/100. Additionally, TopStack Resume has received customer reviews of 4.9/5 on ShopperApproved, 4.9/5 on Trustpilot, 4.9/5 on Sitejabber, and 4.41/5 on BBB with an A+ rating. These are near perfect reviews – the kind we'd expect from a quality resume writing service.
ShopperApproved shows 902 reviews with an average rating of 4.9/5. Almost a thousand reviews, and just four of them were less than 4 stars. Superb!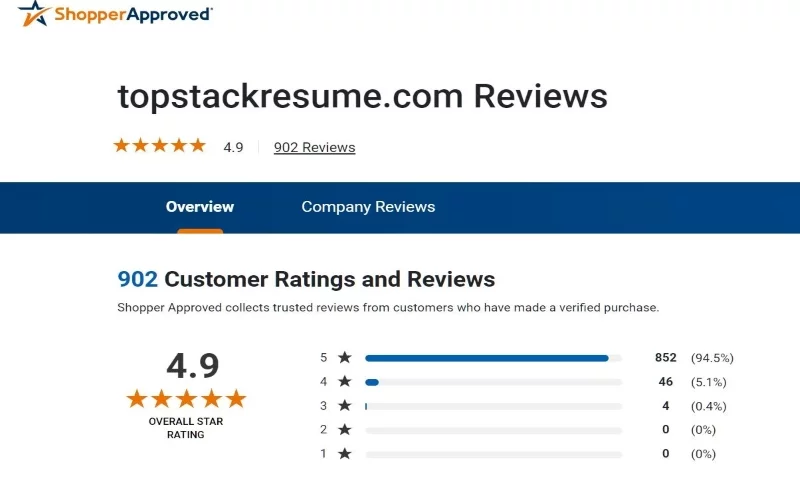 Trustpilot shows 797 reviews with an average rating of 4.9/5. It's great enough that they have a near-perfect rating from over 790 reviews. And it's even more impressive considering that around 730 are solid 5-star reviews.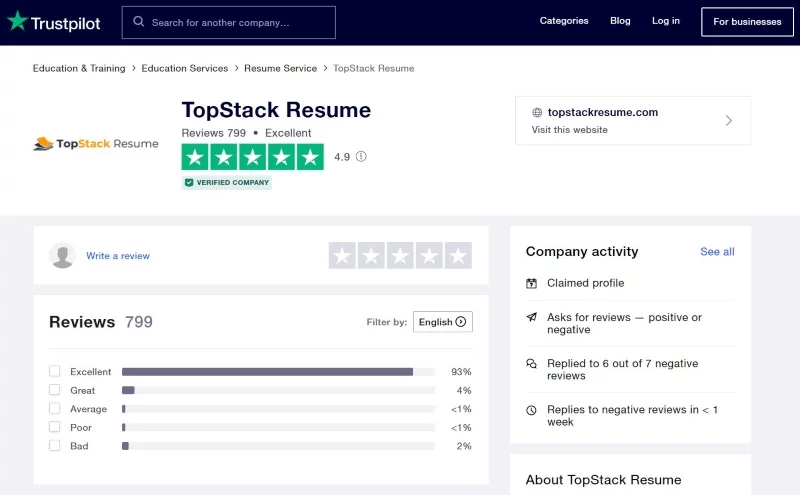 Sitejabber shows 58 reviews with an average rating of 4.9/5. Nearly all their reviews were positive. Most of them came from customers who enjoyed the process, appreciated the communication, and loved the resume they received.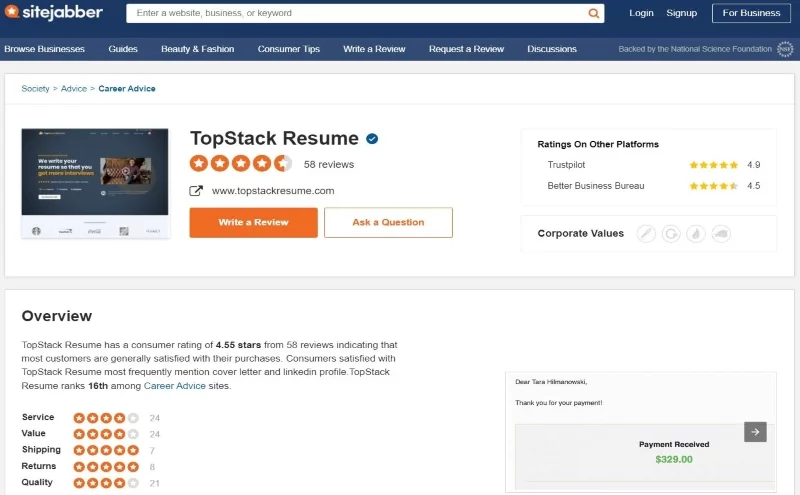 BBB shows 27 reviews with an average rating of 4.4/5. They have continued to maintain an excellent A+ rating. They've also received no complaints from customers since inception.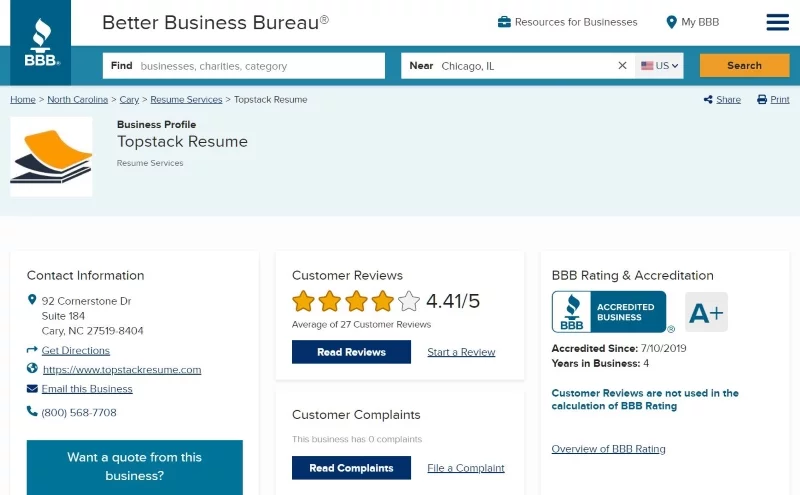 As with anything, it's important to take each review with a grain of salt. Additional research should be done beyond reading the reviews that are found online.
How Much Does TopStack Resume Cost?

TopStack Resume's resume packages cost $139 – $649. This falls within the low to average price range for a resume writing service. While there are other services that charge less and others that charge more, not a lot of those services can match up to TopStack.
$279
There are four packages to choose from – Basic package ($139), Standard package ($199), Professional package ($279), and Premium package ($649).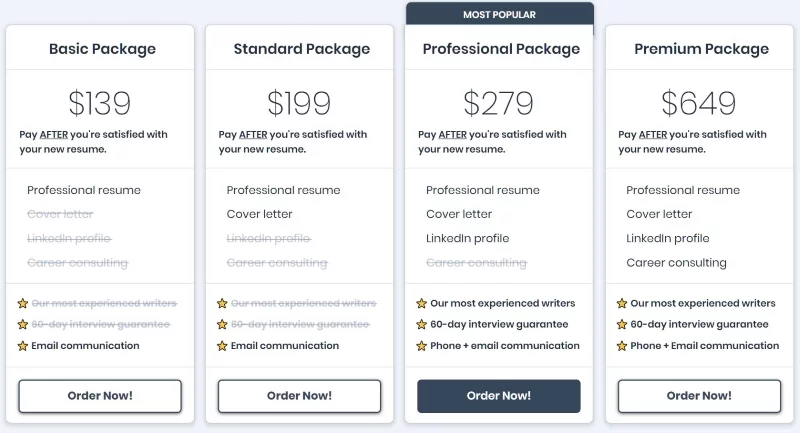 The main difference between the four packages has to do with the types of services that you receive.
The Basic package includes a professional resume, and the option to communicate with your resume writer via email ($139).
The Standard package includes everything in the Basic package, plus a Cover letter ($199).
The Professional package includes everything in the Standard package plus LinkedIn profile optimization, access to their most experienced writers, phone communication with your writer, and a 60-day interview guarantee ($279).
The Premium package includes everything in the other packages, plus Career consulting services ($649).
All TopStack Resume resume packages come with two rounds of revisions, delivery in MS Word formats, ATS compliance, and a satisfaction guarantee.
Their resume packages are also 'pay-after', meaning you are not charged until you are satisfied with the first resume draft.
They also have a returning client service which offers a discount for previous clients who would like to update their resume ($49), or give it a complete revamp ($89).
TopStack Resume's website explains that they have a lot of orders and thus, your order might be delayed. They further state that they, however, assign priorities to expedited orders.
This means that to get the quickest resume writing experience with TopStack Resume, you have to purchase an expedited delivery service ($50).
You can also purchase phone communication with your writer as an add-on service ($25), or a Federal resume add-on service ($60).
Additionally, you can order à la carte resume packages where you have to pay upfront.
Under the a la carte category, there are three options to choose from – Professional resume ($139), Federal resume ($199), and Academic CV ($219).
The Professional resume is for professionals in every industry, and it includes a 1-3 page professional resume ($139).
The Federal resume is for career professionals applying for a Federal Government job. It includes a well-written federal resume ($199).
The Academic CV is for post-graduate students, professors, assistant professors, and anyone in the medical, academic, or any other field that requires a CV. It includes a well-optimized academic CV ($219).
For the most accurate and up-to-date details on package pricing at TopStack Resume, we recommend that you visit their website directly.
TopStack Resume Resume Sample
We wanted to see what the resume quality of TopStack Resume looked like so we took a look at some of the resume samples featured on their website.
We've attached a TopStack Resume sample for you to review (first page only). Below, we share some of the things that we liked, and what we disliked about this resume.
The Good
Resume contains lots of keywords for potential job targets.

Format is easy to follow and each section is clearly titled.

Covers 10+ years of professional experience in detail.

Has a summary at the top of the resume to set the tone for the content.
The Bad
Target job title is not clear and spans too many areas.

Content is not engaging and relies heavily on soft skills and task-focused experience.

Contains no measurable accomplishments or specific details.

Includes the candidates full address, when it should be city and state only.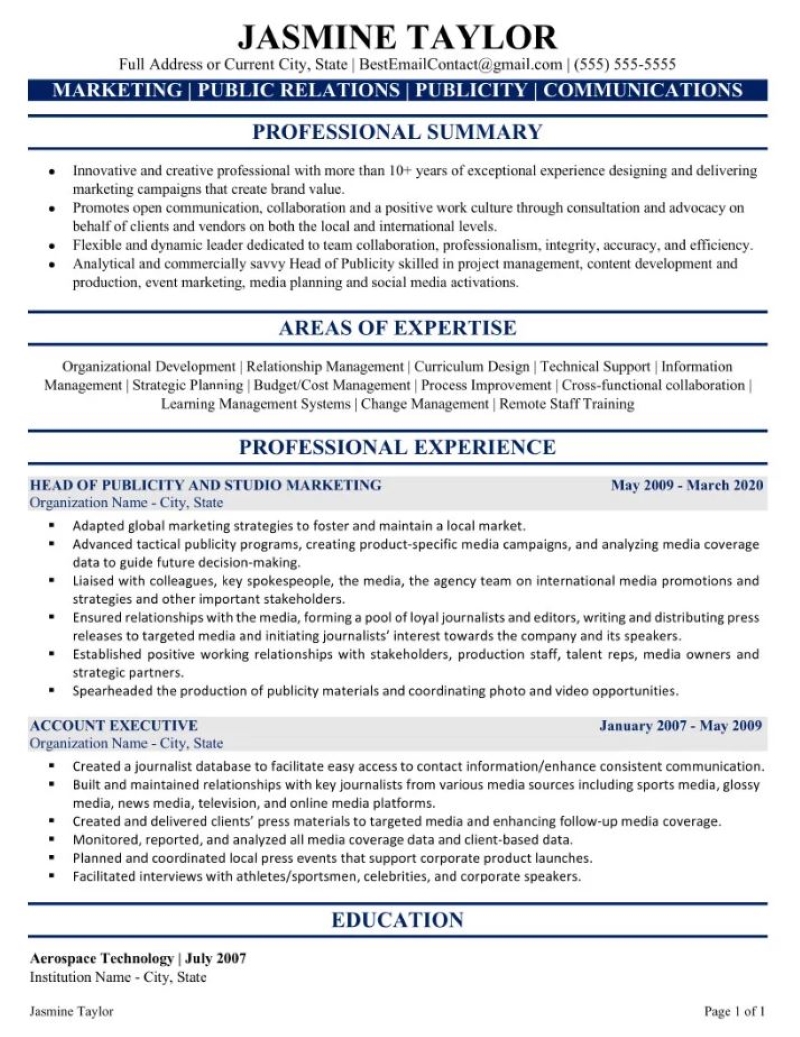 TopStack Resume Writer Credentials
TopStack Resume's team consists of 100+ U.S.-based professional writers with varying experience levels in all industries. Unfortunately, the company's website provides no information about any of the writers.
That said, we checked out their 'We Are Hiring' page and found the criteria that TopStack Resume's writers had to fulfill before they were hired.
The first requirement is that the writers have to be physically located in the U.S., but they cannot reside in California. Why? It's unclear.
Secondly, the writers need to have at least one year of experience in resume writing, or 3+ years of combined experience in the HR, professional writing, consulting, and recruiting sector.
The rationale behind this requirement is that the TopStack resume writing team is to be made up of experienced professionals who know exactly what a recruiter is looking for in a resume.
The writers also have to know about ATS compatibility and other modern resume trends.
Finally, to join the TopStack team, the writer should have prior experience working remotely and must possess at least one form of professional qualification like CPRW, NRWA, CDI, etc.
Alas, since the website provides no information about any team member, we could not confirm whether these requirements were just for show, or they were the actual basis on which their resume writers were hired.
In hopes of finding a way to confirm, we took a dive into their LinkedIn page, where we found 48 listed employees.
A look at the employees revealed not only experience in various industries but also a lot of professional certifications.
We found Certified Professional Resume Writer (CPRW), Certified Career Development Practitioner (CCDP), Certified Resume Strategist (CRS), and other industry-related certifications.
TopStack Resume Resume Writing Process
TopStack Resume follows a straightforward and simple operating procedure for getting your resume written.
Let's look at the steps taken in TopStack Resume's resume writing process below:
Fill out an order form on the website where you explain your goals, career history, most recent resume, and other necessary information.
Get your order assigned to a resume writer qualified in your industry.
Work directly with your resume writer to create your new resume via email or phone calls.
Review your first draft, and if you are satisfied with it, pay for your order.
Get the final optimized resume delivered to you.
The whole process usually takes 1 – 2 weeks.
TopStack Resume provides a 60-day interview guarantee on all Professional and Premium resume packages.
This means that if you've applied to at least 10 jobs with your Professional or Premium resume, and you do not get a job within 60 days, TopStack Resume would offer you 'personalized, 1×1 career guidance and application support free of charge'.
Is TopStack Resume Worth It?
Whether or not TopStack Resume is worth it is entirely up to you.
Our goal is to provide you with the most transparent and helpful information possible. But, only you know what is best for you and your career.
Here is a summary of our findings on TopStack Resume written and reviewed by a Certified Professional Resume Writer:
Customer Reviews: 25/25
Cost to Value: 25/25
Sample Quality: 15/25
Writer Credentials: 20/25
Total Score: 85/100
As a reminder, we highly recommend reviewing 2-3 services before making a final decision.
If you're in need of a top-notch resume writing service, we suggest checking out Find My Profession. With a team of experienced reverse recruiters and a commitment to customer satisfaction, Find My Profession can help you find your dream job. And with a perfect score of 100/100, you can trust that you'll be in good hands!