Since February 2018, Donna Svei has privately and publicly expressed disdain towards a competing resume writing service.
We believe she was involved with or aware of a variety of attacks including some fake reviews on competitors.
She has even gone so far as to contact LinkedIn Legal, Google Legal, and Amazon's Legal teams to attempt to get certain articles removed from the internet.
Donna Svei is an executive resume writer with prior experience as a retained search consultant.
Her company, Avid Careerist is a boutique resume writing shop ran by the sole employee, Donna Svei.
Throughout the past two years, Donna has made an effort to harm her competitor(s) which we will outline below.
Donna Svei Complaints – Google Legal Team
Donna Svei has falsely reported a competing resume writing service 5 separate times on Google's Lumen Database alone.
In most of the reports, Donna talks about copyright infringement stating that her copyrighted material has been used. We checked the United States Patent and Trademark Office (USPTO) and we were unable to find any evidence that this graphic was trademarked or patented.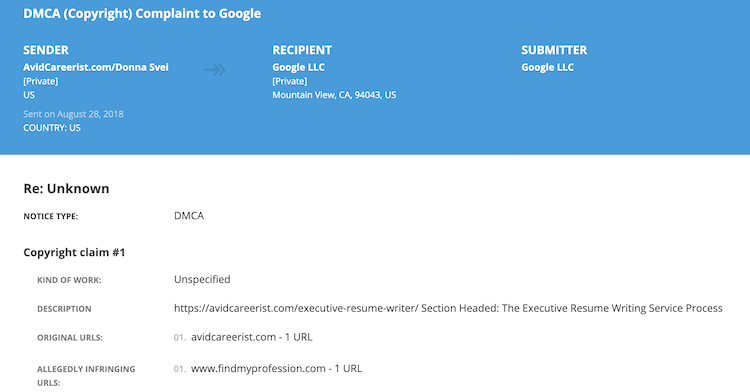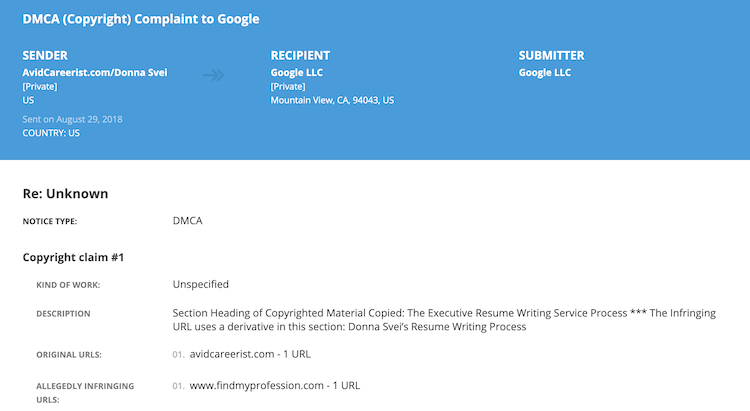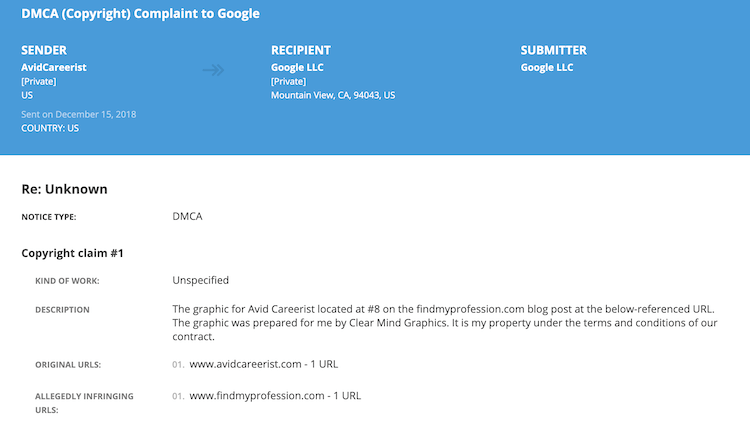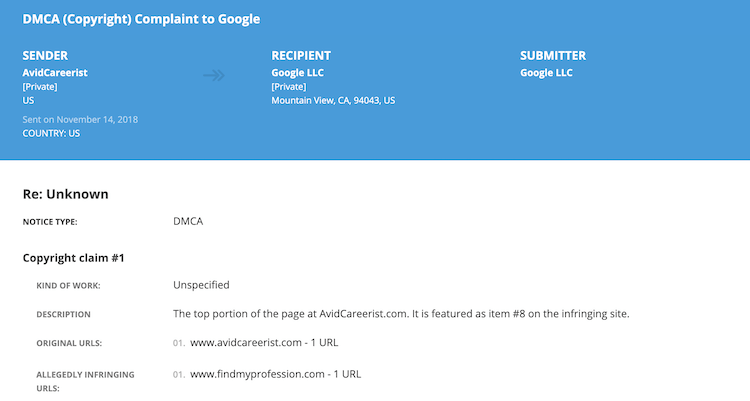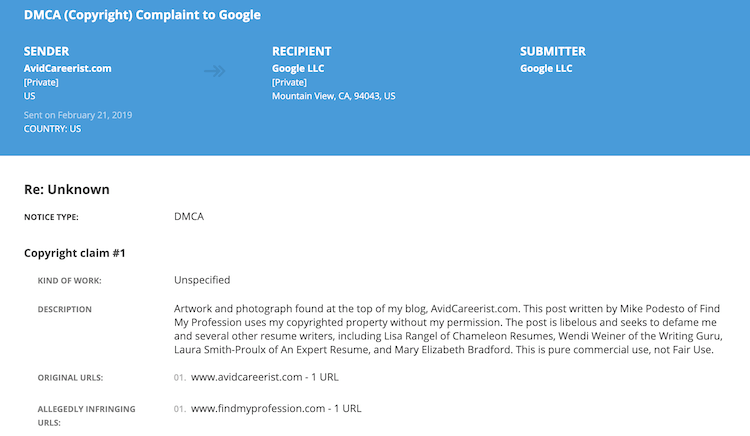 These complaints aren't new to Donna. She filed a DMCA complaint against megafotos.ru in 2013. She filed a DMCA complaint against sugarsystems.com in 2016. She filed another DMCA complaint against businessinsider.com in 2017. And yet another DMCA complaint against careeradvisor.asia in 2020.
Did you know that falsely filing DMCA notices could be considered perjury? Most DMCA reports will require you to make a statement that the complaining party in good faith believes the use of the material is unlawful. They may also require you to make a statement that the information is accurate under penalty of perjury.
We believe that Donna Svei was fully aware of what she was doing wrong by filing these false claims.
Donna Svei Complaints – Amazon Legal Team
Donna Svei was unsuccessful with her attempts to contact Google through the Lumen Database complaints.
Additional efforts were made to harass, slander, or falsely accuse her competitor by contacting the competitor's website host. We believe this was done in an effort to shut down the site or have specific material on the site removed.
Below you will see a picture of Donna's claim, under penalty and perjury that her images were copyrighted, and that copyright was infringed upon.
As we showed above, there was no copyright on the material.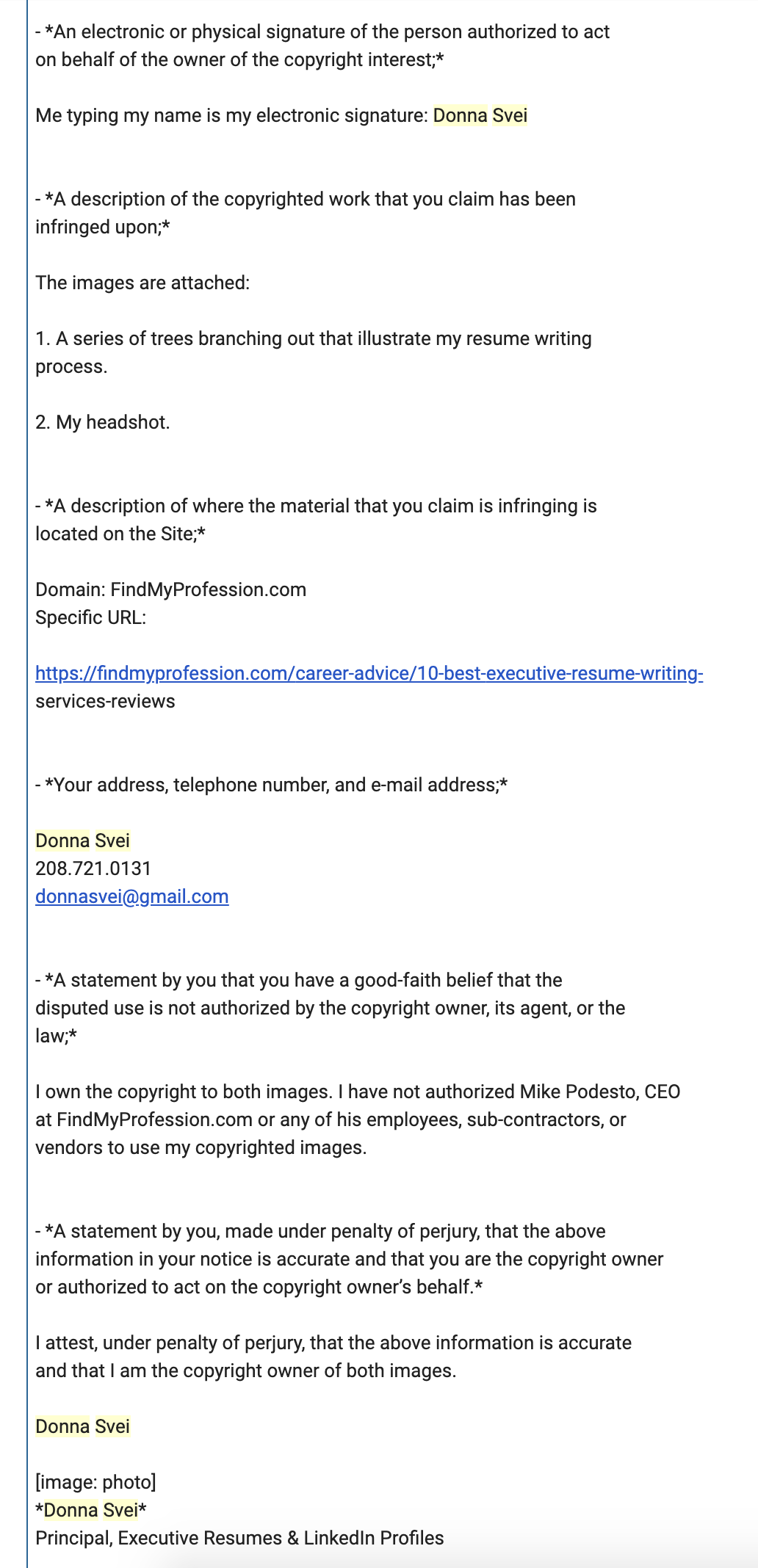 It seems that even the law will not get in the way of Ms. Svei.
Below is the "copyrighted" material that she claims is being infringed upon. It's a screenshot of her company homepage.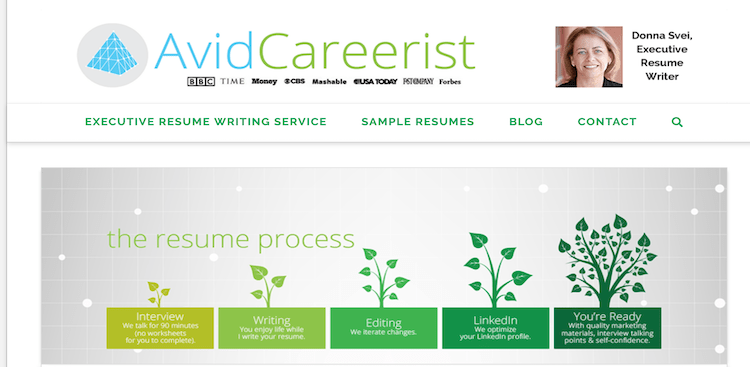 Donna Svei's Website Domain Change
Donna Svei changed her website hosting provider from Bluehost to Siteground. You might be wondering what in the world this has to do with anything?
In short, Donna had her website suspended by Bluehost for slanderous acts and the alleged infringement on a competitor companies trademark.
Rather than fixing the problem and complying with legal requests from her web host, she decided to find a new host who would be more tolerant of these types of activities.
Fake Websites Created
We have reason to believe that Donna Svei has also created or been involved in the use of websites used to impersonate their competitor(s).
The website findmyprofessionreviews.com was purchased and created to appear as if it was real customer reviews of Find My Profession. We believe this website was created and/or manipulated by Ms. Svei to divert traffic from the real Find My Profession website and harm the business reputation.
The website owner was contacted by BlueHost (the same hosting provider Donna previously used) and asked to remove the illegal material. Shortly after, the website was taken down.

Here are some screenshots from the websites that were created. They include graphics such as "Internet Troll" hazard signs and more.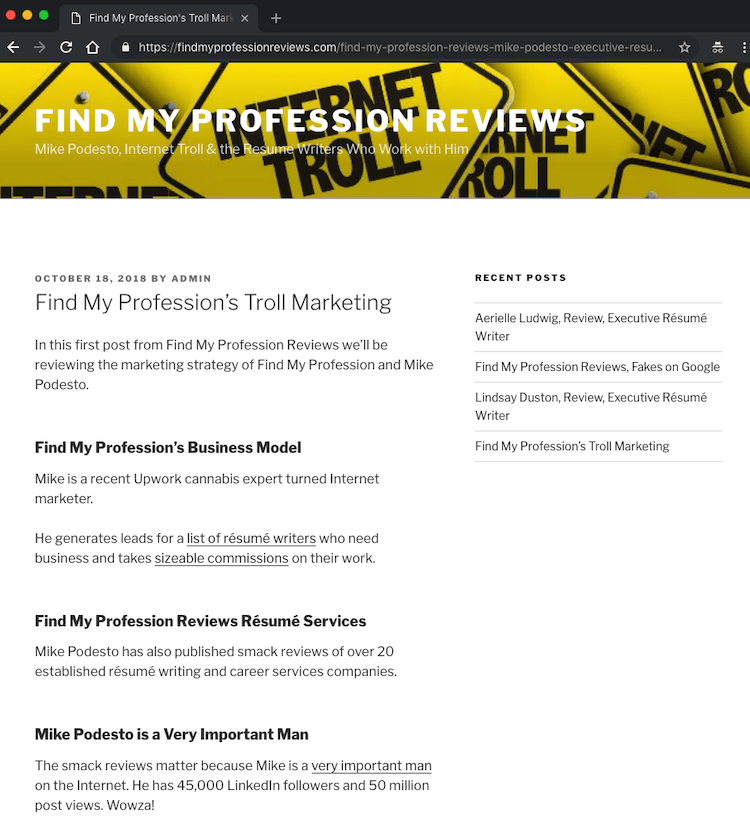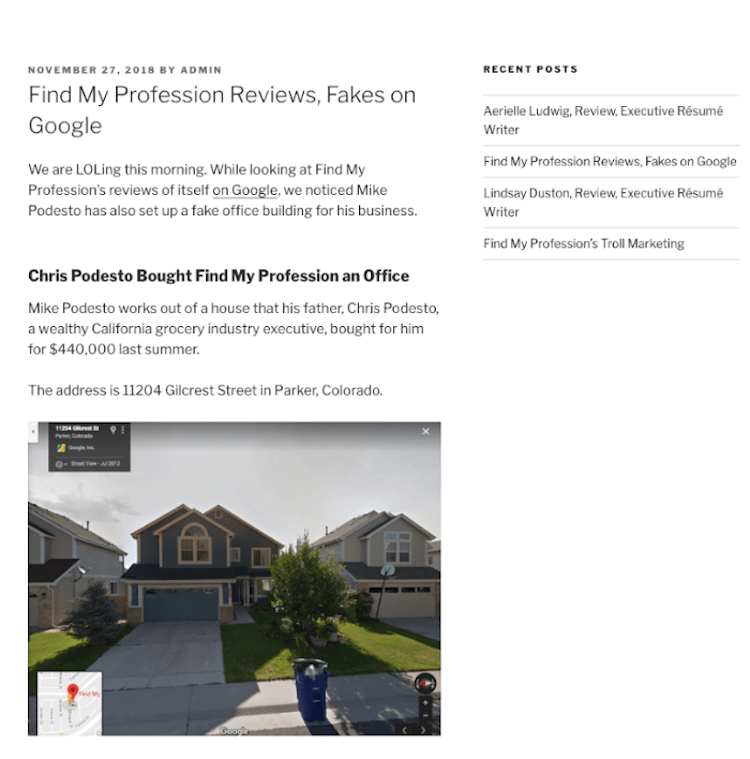 So What About the Lawsuit?
The competing company has publicly expressed dissatisfaction in the actions of Ms. Svei. They have both contacted Ms. Svei privately and expressed to common connections their desire to put this to an end.
Attached is one of the many outreaches by Find My Profession or a representative to contact Donna. No response was received.

As Ms. Svei has refused or rejected every opportunity to communicate, the competing service has no choice but to file a lawsuit.
The lawsuit is currently being discussed with attorneys and should be served to Donna before November 2020.
The lawsuit could include false DMCA claims, libel, defamation, and more.