Looking for someone to help you craft a professional resume?
If you are on the lookout for new resume services, BrandResumes is one such option…a "new kid on the block."
You might wonder, is BrandResumes offering anything contemporary, advanced, and out of the box?
Or are they failing to make a mark in the resume writing business?
You have come to the right place.
Our expert team of researchers has looked into every aspect of the resume services offered by BrandResumes. We have assessed their cost, customer reviews, writing process, and writer qualifications.
BrandResumes – Resume Service Review
BrandResumes was founded by Brandon Mitchell in May of 2019. Although Brandon founded the company in 2019, he has been writing resumes for over seven years.
Since its initial launch, the company has expanded to become a 50+ member team and has helped more than 5,000 clients from five different countries.
The resume service claims to be tech-savvy and specialized in business, information technology, marketing, legal, human resources, sales, project management, entertainment, and healthcare industries.
Let's jump into the major pros and cons of working with BrandResumes.
Pros:
There are separate resume packages for military transition, federal, and executive-level professionals.
You can get a standalone resume, as well as packages that include LinkedIn profile and resume distribution services.
The company also offers a Targeted Job Site Booster service for submitting your resume to online job applications.
The resume-only package is quite affordable compared to many other services.
This company can be a great choice for entry-level job seekers and those seeking resume distribution services.
Cons:
A phone consultation with your resume writer is not included with BrandResumes' resume writing process.
The writer may or may not call you, depending on whether they have any questions that need clarification.
There is no rush delivery option available. The regular turnaround time for executive resume writing service is also on the longer side of the spectrum.
The resume writing team does not appear to have any certified resume writers, which we found to be a particular concern for a resume writing service.
Also, most of the resume samples displayed on the website are not up to the mark.
How Much Does BrandResumes Cost?
The pricing structure of BrandResumes can seem a bit overwhelming as they offer quite a few options to choose from.
They have resume-only packages as well as several bundle packages for different career levels.
Here is the resume-only pricing from BrandResumes:
The a la carte resume-only package is priced at $499.
The military-to-civilian transition resume costs $699.
The federal resume is also priced at $699.
The BrandResumes' bundle packages for entry-level to mid-level professionals are as follows:
The Career Ready package, consisting of a resume, cover letter, LinkedIn revamp, and thank you letter template is sale-priced at $349.
Their Career Jumpstart package, currently priced at $499, adds resume distribution and career coaching to the resume and LinkedIn profile writing services. It offers a follow up email template instead of the thank you letter template.
The Career Revamp package includes the Targeted Job Site Booster service with everything else and costs $999 at the time of publication.
The executive-level packages look similar as far as the services offered, but come at a higher price.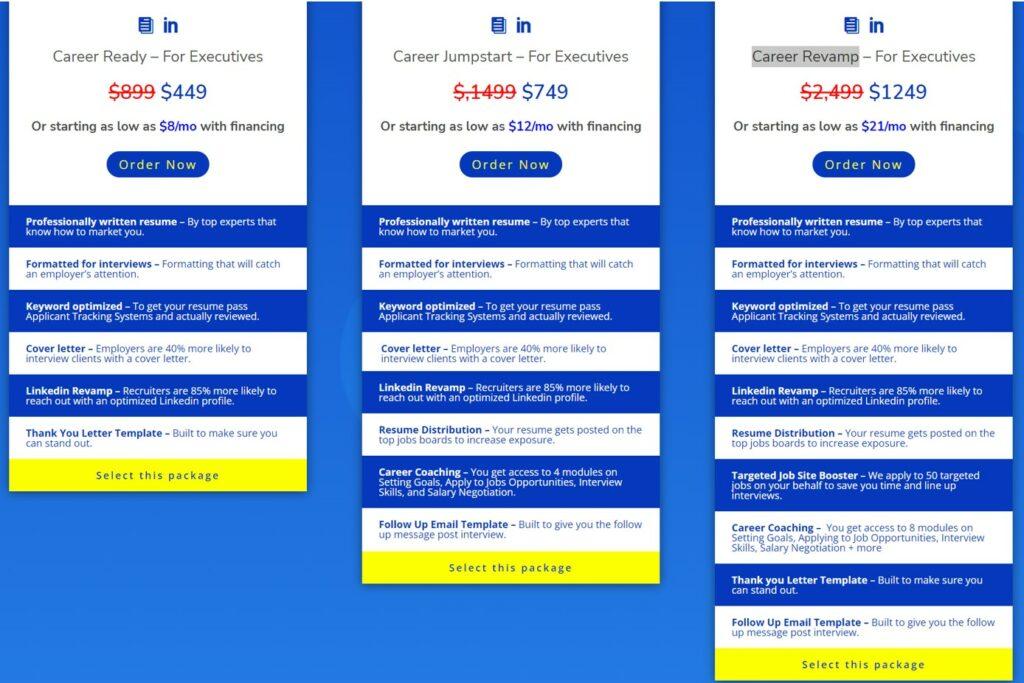 Here is the executive level package pricing from BrandResumes:
Career Ready Executive Package costs $449 (regularly $899).
Career Jumpstart Executive Package costs $749(regularly $1,499).
Career Revamp Executive Package costs $1249 (regularly $2,499).
All the packages and services from BrandResume can be purchased for a monthly payment plan with Klarna.
Note: The prices here are at the time of this publication. BrandResumes often runs 50% off sales. For updated information visit the BrandResumes pricing page.
BrandResumes Resume Writing Process
BrandResume falls behind many of its competitors when it comes to the resume writing process.
The resume ordering process is quite straightforward and simple.
However, the resume writing process offers no phone consultation with your resume writer, whereas most established resume writing services offer a phone consultation of 30-60 minutes.
BrandResumes primarily relies on the questionnaire to collect your career information.
Here's BrandResumes' step-by-step resume writing process:
Order one of the services from the website.
Get a confirmation email containing (1) a Google Drive link to upload your resume and (2) a link to a questionnaire.
Upload your resume and fill out the questionnaire.
Your resume writer may or may not call you, depending on whether they need clarification on any of your submitted information.
You will get your resume within 5 – 7 business days.
You then have 7 days to request any edits.
The turnaround time for an executive resume is 7 – 9 business days.
The resume services are backed by a 90-day guarantee that they will revise your resume if you do not get more interviews within 90 days.
Note that there is no mention of any guarantees with the executive resume packages.
BrandResumes Writing Team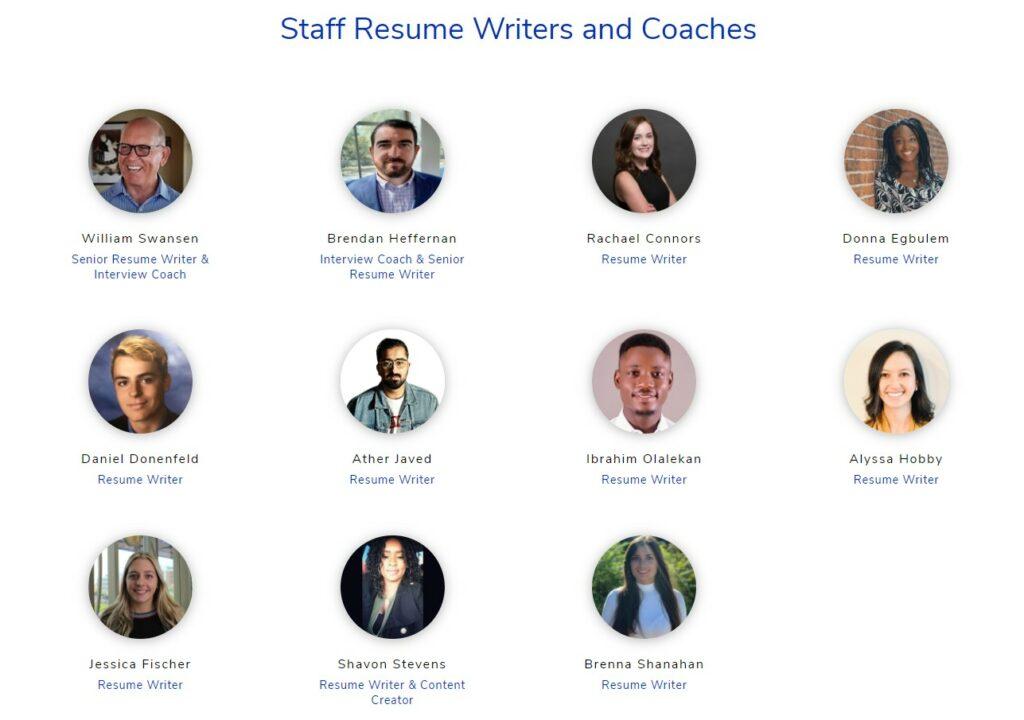 BrandResumes has quite a few experienced resume writers. The resume writing team also has writers specializing in particular industries, which is a good thing.
However, the team's resume writers do not have industry-recognized resume writing certifications.
Their writers come from various backgrounds including arts, computer science, HR, management, human ecology, and philosophy.
It should also be noted that not all writers are based in the US.
BrandResumes Customer Reviews
Despite being in business for three years, the company has not yet managed to get many online customer reviews.
On Facebook, they have received only three reviews. All of the reviews are 5 stars.

Their highest number of reviews can be found on Trustpilot. The company has an overall rating of 4 out of 5 based on 156 Trustpilot reviews.
Roughly 31% of the reviews are average and below-average ratings.
The company doesn't have any reviews on Google.
BrandResumes – Resume Sample
No resume service review is complete without critically reviewing the samples provided on the website.
So, we went ahead and examined the samples offered at the BrandResumes website.
Here's one resume sample from the website for your consideration: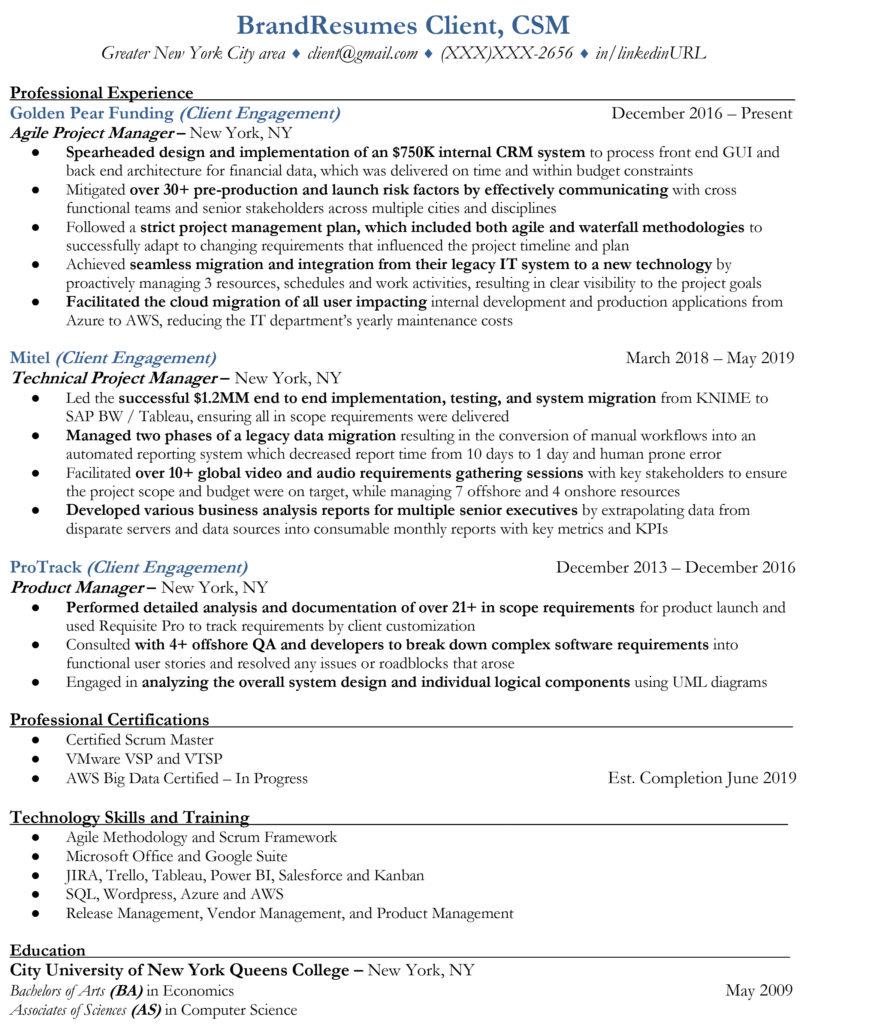 To be frank, the quality of the resume samples didn't impress us.
Key Takeaways
Our rating for BrandResumes is 8/10.
The company has a good number of experienced resume writers on the team.
The ordering process is easy and hassle-free. Also, you have many resume packages and additional services to choose from.
Moreover, they offer separate resume services for military transition and federal resumes.
On the other hand, they do not offer industry-standard phone consultations with your resume writer.
Additionally, the resume writing team lacks writers with industry-recognized resume writing certifications, and not all writers are based in the US.
Your resume is one of the most important documents in your professional life.
You should always review and talk to multiple companies before you make your final decision.
As you continue your research, the services listed above are a great place to start!
Good luck to you!
What Is a Better Alternative to BrandResumes?
When it comes to your resume, you can't be too careful.
Consider adding the resume writing services of Find My Profession to your review list.
We have a multi-certified and experienced team of resume writers. All our writers are based in the US and cover 85+ industries. We also offer a 60-day interview guarantee.
Moreover, you will get phone consultations with your resume writer with every resume package as a one-on-one strategy session.
Find My Profession has more than 200 five-star reviews on sites like Trustpilot, BBB, Sitejabber, and Google.
No matter who you choose, it's important that you feel confident in your decision. Be sure to call your prospective resume writers so that you can determine whether you will be a good match or not.