Interview Guarantee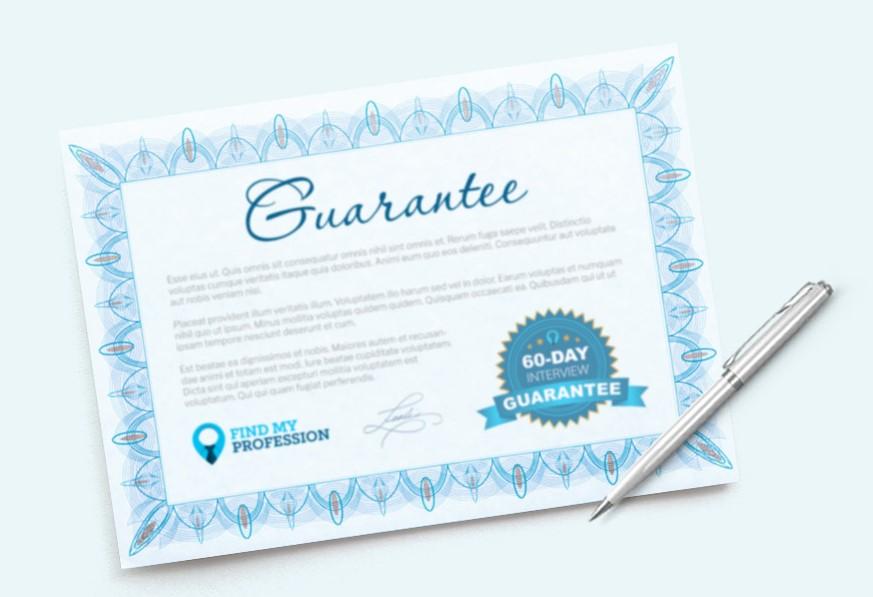 60-Day Interview Guarantee
There are a handful of companies that offer a "60-day interview guarantee" with paragraphs of microscopic font stating dozens of rules/scenarios that must take place to receive a resume rewrite. We like to keep our guarantee simple. If you don't receive noticeably more interviews in 60 days after using our resume writing service, we'll rewrite your resume one time at no additional charge. Simply send us a message or give us a call, and we'll get started on your rewrite.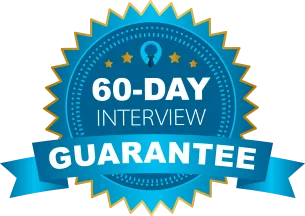 A Professionally Written Resume
by experts that know your industry
Keyword Optimization
to pass through Applicant Tracking Systems
1-on-1 Phone Consultation
with your US-based professional writer
Unlimited Revisions
for up to 7-days after receiving your draft
Final Documents
will be sent to you in Word and PDF formats
60 Day Interview Guarantee
or we will rewrite your resume for free
Executive Resume Writer
some of the most elite writers in the world
First Draft Delivery Time
3-5 business days (5-7 for federal resumes)
Check out some of our 5-star reviews:
Chad B
on
May 2, 2022
Wonderful investment
[Resume Writer] was a pleasure to work with. This was a great experience and investment in myself and career. I always feel overwhelmed by creating or updating my resume and I had no idea how to create one that was suitable for today's automated analysis used by HR departments. I struggle to find the best words to describe what I do and what I like/dislike. In one phone call [Resume Writer] was able to listen to me blather on and craft my experiences into an outstanding package. 100% recommend making this investment in yourself.
Belda Villalon
on
July 1, 2022
Thank you
My experience with the entire Find My Profession team has been outstanding. They helped me frame my resume with my experience based on the opportunities I was seeking. I partnered with [Resume Writer] and [Reverse Recruiter], who were both amazing, professional and really know what they are doing. I have already recommended their serves to a few colleagues since they know how to maneuver through the ever-changing hiring process!
Brian L
on
August 12, 2022
Was skeptical but...
Honestly, I was skeptical at first but was very pleasantly surprised by the customer service and final product. My experience didn't start off great as I paid for the service but didn't receive a response for a few days. I started to think that I had been scammed, but once I followed up with an email asking what the status was, I was told that my earlier email had been caught in their spam filter. After that, I have nothing but great things to say. Very personalized customer experience and I thoroughly enjoyed speaking with [Resume Writer] who helped me create a top-notch resume and update my LinkedIn profile. I highly recommend using this service if your resume needs an update.
John
on
August 18, 2022
Very pleased with services
[Resume Writer] was the Executive Resume Writer who updated my resume, cover letter, and LinkedIn profile. She was very professional, patient, thorough, and was very accepting of my feedback/thoughts. I'm very pleased with the level of service and the end products I was provided.
Beh
on
September 20, 2021
Professional. Experts...
I went into this not knowing what to expect. I found myself needing an expert resume writer after countless failed attempts in positions I am highly qualified for. I knew it was time that I change something and decided to contact the experts. My experience from the onset was nothing short of amazing and professional. [Resume Writer] was absolutely amazing, had great insight, very responsive and knows what he's doing! My resume received the facelift of the century! Believe me! I have recommended this service to my family and friends.
BR
on
September 4, 2022
Excellent Results
I hadn't updated my resume in a few years. Very glad I decided to use Find My Profession for some help. I got in touch with my writer, [Resume Writer], very quickly after signing up. He knew what recruiters are looking for and collected relevant information on my background. He was able to tell my success stories and highlight experience much better than I was on my own. I was so pleased, I added the linked in profile as well.
SGM
on
October 10, 2022
Great Resume Service
I had a great experience working with Find My Profession and with [Resume Writer]. The entire process was very professional, quick and well done. I had everything completed in a week and was happy with the work. I do recommend them to anyone looking to upgrade their resume.
Master of his craft
[Resume Writer] did outstanding work writing my professional Federal resume and cover letter for Emergency Management Specialist at the GS 12-13 level. Not an easy task when I had 20 years of Army service followed by 8 years of civilian work to compile and articulate. He was very professional from the first welcome email, all the way through to the final draft. [Resume Writer] responds quickly to emails and is there for you all the way. If you need a true master of his craft to write your federal resume, Look no further than [Resume Writer]. Highly recommend. Professional company with professional people!
Michelle Thompson
on
November 10, 2022
Professional Resume
[Resume Writer] from Find My Profession overhauled my decade old resume which hadn't grown with my career. She also formatted the resume to work with HR software and updated my LinkedIn profile. Due to [Resume Writer's] great work, I am now getting offers which match my current role.