A successful job search entails quite a few steps and there are plenty of factors involved in each step of the process.
If you are not getting job offers, your job search process may need to be tweaked so you get better results.
If you're struggling with any of the following, consider hiring a job search coach:
You're not getting responses to your resume.
You're not sure if you're applying to the right jobs.
You're not sure what job level to target.
You haven't searched for a job in years.
You're dissatisfied with your current career.
You don't know what career to pursue.
You're getting interviews but no job offers.
You'd like to earn more money.
A job search coach shows you how to carry out a job search in the most effective way possible.
Hiring a job coach often means getting the job you want quicker, with fewer resources spent.
If you find that any of these situations apply to you, you also need to be ready to put in some work. Hiring a job coach requires that you expend time and effort as well.
In other words, the coaching you receive can only be as good as you make it. Career coaches will not do everything for you.
To get the most out of any form of coaching, you should be ready to receive feedback, and make and implement their recommended changes.
That said, let's discuss the signs that indicate it's time to hire a career coach.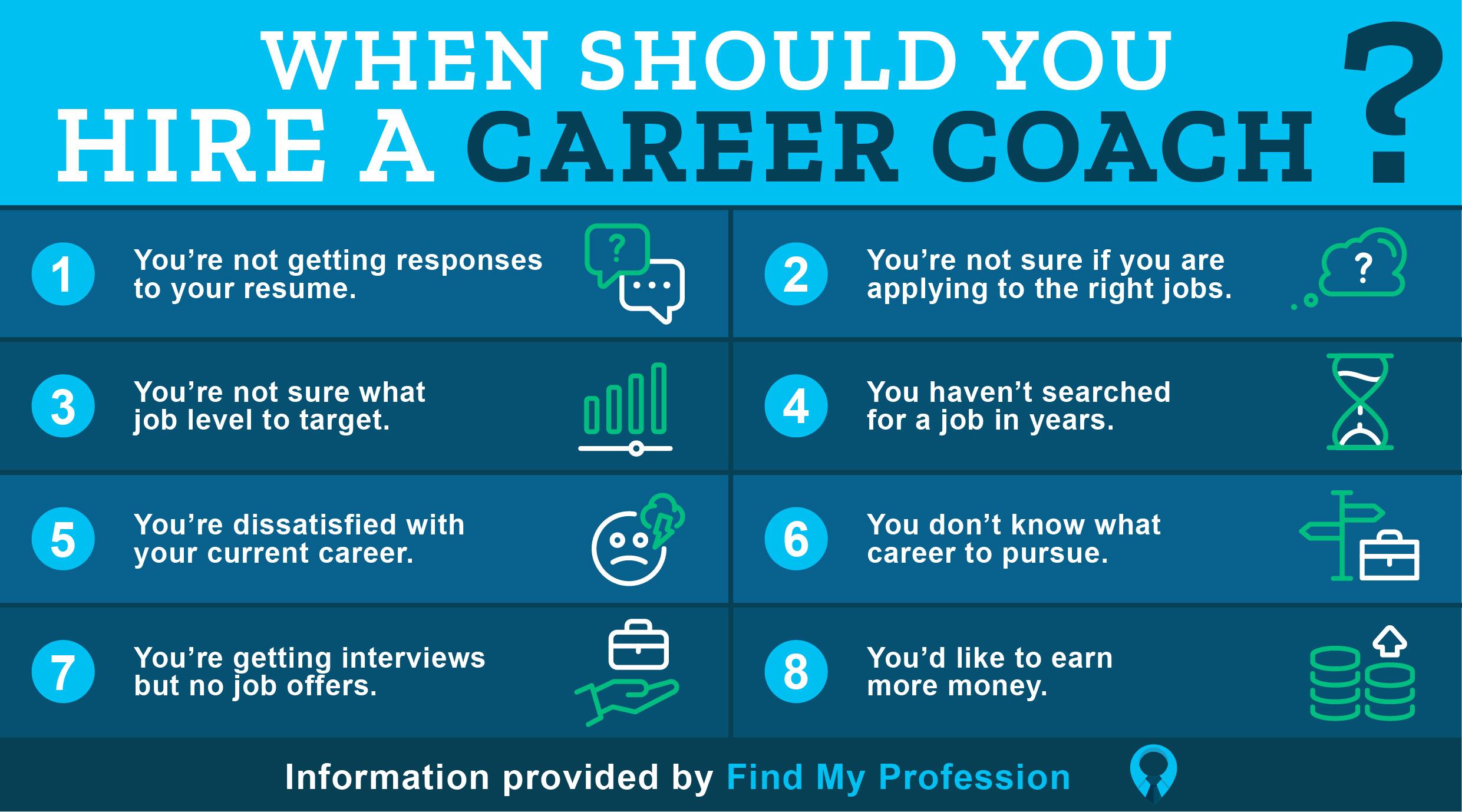 1. You're not getting responses to your resume.
Not getting any interview calls after applying for multiple jobs every week is a sure sign that you need a job search coach.
This usually indicates that your resume isn't matching up with the jobs you are applying for or it's in need of an update.
Ask yourself these questions if your resume isn't producing interviews:
Are you targeting the right jobs based on your skills, accomplishments, and experience level?
Are you sending a customized resume and cover letter for each job to which you are applying?
Are your resume and cover letter accomplishment-based and data-driven?
Are you properly using keywords for the humans and the machines (ATS)?
Are you applying through the proper channels?
Would proactive networking with the respective hiring authorities help?
If you aren't sure how to answer these questions a career coach can help.
A career coach can evaluate your skills to see if you are targeting the best jobs. They can review your resume to see how effective it is at showing off your skills. They can also teach you networking strategies to get your resume in front of the right people.
2. You're not sure if you're applying to the right jobs.
Not targeting the right jobs through the proper channels is among the top reasons for a failing job search.
Here are two steps to ensure that you are applying to the right jobs:
Know your key skills and core competencies.
Know how and where to find jobs that will match your skills and experience.
If you find it difficult to properly assess your skills inventory, past accomplishments, and experience, a job search coach can be an invaluable asset.
Job search coaches are trained professionals adept at conducting nuanced assessments of your work history and personality.
They often uncover skills, accomplishments, and capabilities that you even didn't know you had.
Especially in a career change situation, you will find such career discovery coaching sessions immensely useful.
Working with a job search coach can also offer a deeper understanding of your professional goals and objectives.
So, you might choose to hire a career coach to help you determine whether your skills and experience make you a good candidate for the jobs you are targeting.
3. You're not sure what job level to target.
Not being able to tell whether you are underqualified or overqualified for a job is another reason to seek the help of a job search coach.
Having a solid understanding of your skills and accomplishments inventory is necessary when looking for a job; however, there are a few other factors that can make this difficult.
The corporate hierarchy is not the same in all industries and companies.
You can be a great match for a CMO role at a certain company, whereas a director-level role might be the proper route to another organization.
Often, the size of the company can play another role in deciding your qualification factor.
It may be beneficial to seek the counsel of a job search coach to make sure you are targeting the correct level of jobs at the right organizations.
4. You haven't searched for a job in years.
Hiring practices and the overall job landscape have changed significantly over the last few years.
The rapid rise of technology along with ever new modes of communication have brought about many changes in the ways companies seek and recruit new talent.
Take, for example, the proliferation of industry-specific and role-specific job boards and the pervasive use of recruiter technology such as applicant tracking systems (ATS).
On top of that, many companies do not even post jobs publicly.
They tap into the pool of talent already existing in their network or in specific places such as the recruiter database or job board databases.
This means that simply having a virtual presence in the right places and at the right times can facilitate a job interview for you.
Now, compare this with the time when you were collecting newspaper clippings of job posts.
It's a fascinating change, isn't it?
That's why it's natural for anyone to feel overwhelmed if the last time you searched for a job was half a dozen or more years ago.
A coach can teach you valuable new techniques for job searches today, including Linkedin networking, targeted job boards, and leveraging recruiter connections.
5. You're dissatisfied with your current career.
If you want to change careers because of dissatisfaction but don't know how to go about it, a career discovery coaching session can be a lifesaver for you.
We hear talk about "finding your passion" as a profession nowadays.
But it's not as easy as everyone makes it sound.
A majority of the world's workers don't feel engaged with their work.
This is a problem in itself, but if that dissatisfaction becomes an outright feeling of being stuck with no end in sight, it can become a tormenting situation.
If you are facing dissatisfaction with your work, remember that there are better alternatives.
You might need to look into places you haven't considered yet…places you didn't even know existed.
That's why having an expert career or job search coach by your side can prove to be an eye-opener.
A job search coach can help you find a career that sparks your passion. Once that's determined, they can help you find the best path to get there.
6. You don't know what career to pursue.
This is a classic situation when you simply have no idea which career path would suit you the most.
It's more common now due to the increasing fragmentation of the labor market and the focus on micro-specializations.
Based on your unique skills and expertise, there can be many different options available to you. As such, narrowing down your options can prove to be a challenge.
Analysis paralysis or decision paralysis is also natural, given the importance of the decision.
After all, much of your professional life rests on this one choice.
You may need help determining what your interests are and how to employ those interests in finding a job and building a dream career.
Naturally, this task can be facilitated with expert guidance from a job search coach.
Whether you are fresh out of college or contemplating a midlife career change, career discovery coaching sessions would be a great place to start if you don't know which career you wish to pursue.
7. You're getting interviews but no job offers.
Not getting the job even after a seemingly successful job interview can be truly debilitating.
Having these experiences repeatedly during a job search can significantly lower the self-esteem of a job seeker.
But it isn't the end of the world.
You can take constructive steps to better prepare yourself for your future interviews.
This is exactly where interview coaching and mock interview services come in handy.
A job search coach or a career coach can teach you interview skills proven to lead to successful outcomes.
Additionally, a job search coach is an expert in the psychology of job interviews. They know how to help you navigate the nervousness or anxiety associated with a job interview.
Having the right mindset during the interview is a huge percentage of nailing it.
Interview coaching and mock interview sessions can help you prepare for possible interview questions and become your most confident self to ace your interview.
8. You'd like to earn more money.
Salary negotiation is one of the most challenging aspects of the job search process. Many professionals struggle with how to approach it.
On top of that, many forget that salary negotiation is a process that continues even after getting the job (in the form of raises and promotions).
So, although often neglected, salary negotiation skills have significant value throughout your professional life.
In fact, the majority of hiring managers expect job candidates to negotiate their salaries. 
If you are among those professionals feeling like a fish out of water with salary negotiation tactics, a job search coach might help you.
A job search coach can help you learn how to negotiate your salary like a pro for your next job (or for a raise).
They are also able to guide you in the area of salary trends and what your skills are worth so you can knowledgeably navigate this aspect of the job search.
A job search coach can also walk you through the psychological dynamics of negotiation to make you feel more confident when the time comes.
By evaluating your actual career situation, a coach will be able to offer customized tips and advice to make your financial growth a reality.
Key Takeaways
The job search process can be difficult. It's not only okay, but often a smart decision, to get some help.
In short, you need a job search coach if you:
Are struggling to get a job.
Want the most suitable job in the shortest possible time frame.
Want to bulletproof your job search strategy and game plan.
Can't find the right jobs for you.
Don't know which career path would be ideal for you.
Can't figure out the under and overqualification equation.
Struggle to make it past interviews.
Want to make sure you get the most profitable compensation package.
There's a common misconception about job search coaching or career coaching.
Many people assume that coaching costs a ton of money and takes months or years.
Wrong, on both counts.
There are quite a few flexible options for getting help from a job search coach based on your specific needs.
As such, the best step would be to start with an introductory session with a job search coach to pinpoint your needs. Many career coaches offer free consultation calls.
From then on, you can schedule specific sessions such as interview coaching, career discovery, job search coaching, networking coaching, or salary negotiation.
We help job seekers with these "problems" every day.
We offer job search coaching as part of our Reverse Recruiting services. Our coaching provides quick and effective solutions to get your job search headed in the right direction.
Let us know if we can help!