ResumeZest is a leading resume, cover letter, and LinkedIn profile writing service.
With so many resume writers out there, it can be hard to know who to trust.
To save you time, we will be sharing the most important info to consider before hiring ResumeZest
We will help you determine if ResumeZest is a good company.
Or if you should turn around and run the opposite direction.
To do this, we will be focusing on the following criteria:
Getting Started: What is the signup process like?
Writing Process: What is the process after signing up?
Resume Samples: Are their resume samples any good?
Interview Guarantee: Do they offer any sort of guarantee?
If you'd like to learn more about ResumeZest reviews, you can do so here.
Getting Started with ResumeZest
Every resume company will have a unique signup process. Some companies offer very similar processes, while others are completely unique.
ResumeZest is one of those services that has a straightforward signup process.
Here's what you can expect to get started with ResumeZest:
Visit resumezest.com and select one of the three packages.
Create an account and place your order online.
Select any Zesty Offers including rush delivery, thank you, and follow-up letters (optional).
Answer a few simple questions about your resume goals and target jobs.
Submit your current resume or fill out a brief form if you don't have one.
Once you've completed these steps, ResumeZest will assign you a writer. Your writer will have experience writing resumes for your line of work. Your assigned resume writer will contact you within 1-2 business days.
ResumeZest Writing Process
Like the signup process, ResumeZest has a straightforward writing process.
Here's what you can expect during the writing process:
Your resume writer will create the first draft within 3-5 business days.
You will receive a copy of your resume to review.
You can work with your writer on unlimited resume edits for up to 1 week.
Your writer will upload a final version of your resume with any edits you have requested.
You will have exclusive access to your brand new ATS compatible resume in Word and PDF.
We will store your resume files in your profile for as long as you'd like. At any time, you can log into your profile to access and download your resume files.
This is also where you will have access to any other services you ordered. For example, cover letter, LinkedIn profile, or thank you + follow up letters.
ResumeZest Sample Resumes
Now we are getting to the good stuff!
Resume samples are a top factor to consider when choosing a resume writing service.
Everything else can sound perfect but if the resume samples look bad, you likely won't be happy.
Resume samples give you an inside look into the quality of work the company does.
We found a variety of ResumeZest resume samples and have added one below.
Below is an executive resume sample written for a Healthcare Marketing Leader in New York City.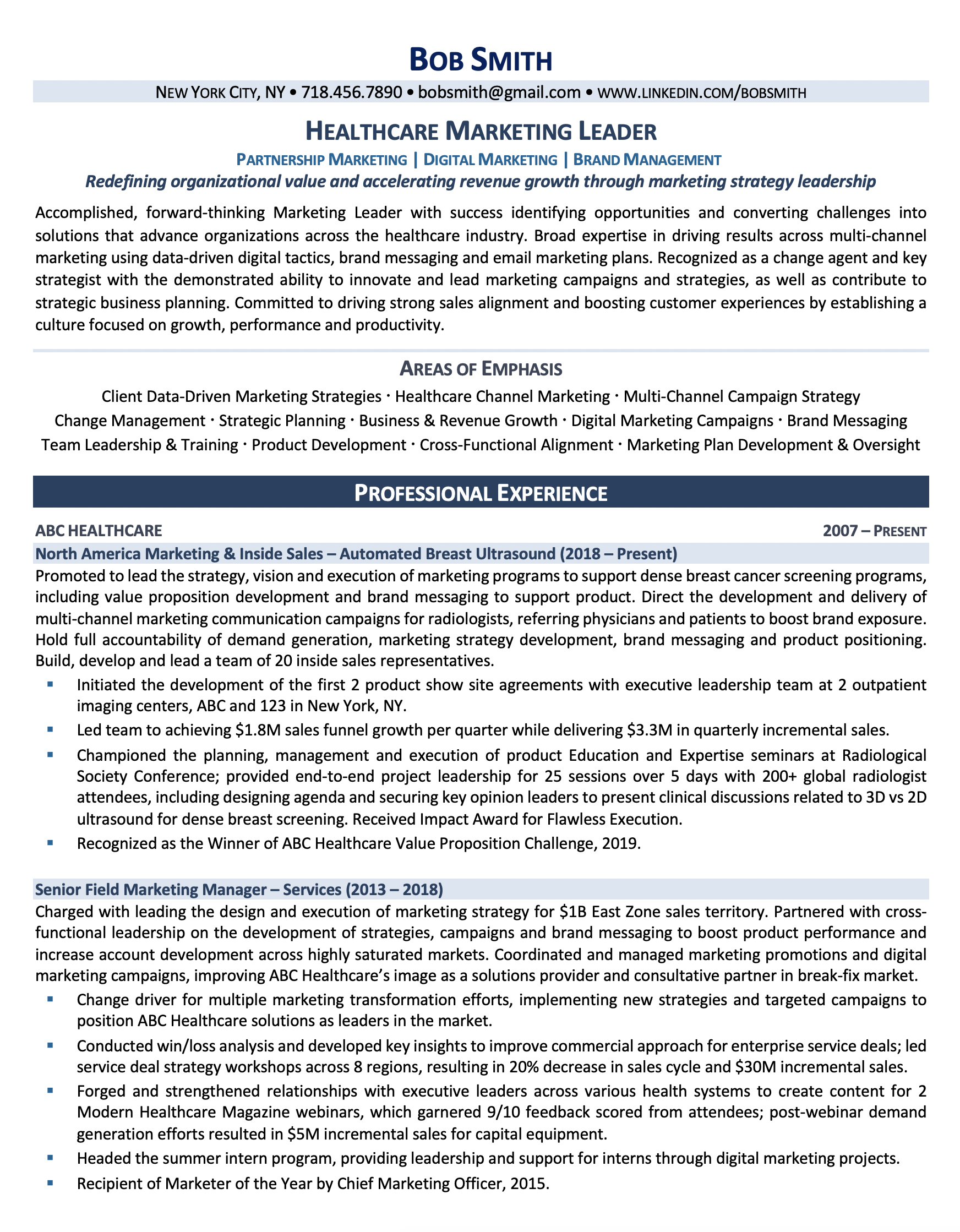 ResumeZest Interview Guarantee
It's hard enough to pick a great resume writing service. Choosing one without a satisfaction guarantee is a bit risky.
If a company is not confident enough in their work to offer a guarantee, then they might not be that good.
We are happy to report that ResumeZest offers a 60-day interview guarantee.
Their guarantee says that if you don't get more interviews within 60 days, they will rewrite your resume for free.
They take a "no questions asked" approach. If you aren't happy, they aren't happy. And they are willing to do what it takes to make it right.
Our Conclusion
We know that choosing a resume service can be difficult.
When it comes to ResumeZest, here's what you should know:
The signup process is standard and painless.
The writing process provides clear expectations and 1-on-1 access to a professional writer.
Each sample resume is well-written and designed displaying acute attention to detail.
Interview guarantees are available allowing you to shop with confidence.
All-in-all we are very impressed with the quality of services that ResumeZest provides. We hope that you found this information helpful and wish you the best of luck in your career endeavors.