Six. Seconds.
That's about how long your resume has to impress a potential employer sifting through a mountain of paper.
That's assuming your resume made it through their Applicant Tracking System (ATS).
The bottom line?
Don't look for work in The Sunshine Factory with a boring resume that has been generated by a template.
Be prepared for a dry spell that even a seasoned Tucsonan would shudder to think about.
What you need is a great Tucson professional resume writer.
That's where our list of the top resume writers in Tucson fits in.
Tucson Resume Service Criteria
Each of the Tucson resume services below was reviewed by a Certified Professional Resume Writer (CPRW) taking into consideration the following:
Cost: The cost of the service compared to other Tucson resume writers.
Turnaround: The speed at which the resume is completed.
Credentials: Overall experience, awards, and certifications.
Resume Design: The design, style, and overall look of the resume.
Customer Service: Guarantees, number of edits, and reviews.
This list was hand-curated to serve all industries, professions, and career levels. While many of the writers on this list are from Tucson, these services are virtually available whether you are in Tucson, Casa Grande, Yuma, Chandler, Oro Valley, Phoenix, or any other Arizona city.
Best Resume Services in Tucson
1. Find My Profession
Find My Profession is much more than a Tucson resume writing service. We are a global company whose work has been featured on sites like Forbes, Inc, Zety, Fast Company, and more.
Our elite resume writing team has experience in 85+ industries/professions. This allows us to assign you a professional writer based on your unique background and experience.
We have successfully landed our clients positions at companies like Apple, Amazon, EA, Oracle, GM, Facebook, DoJ, Morgan Stanley, Gap, and 2U just to name a few.
Find My Profession has 650+ 5-star reviews and offers a 60-day interview guarantee. Every resume created is Applicant Tracking System (ATS) compatible and highly customized to meet your specific needs.
Pros: You will work one-on-one with a resume writer in the United States. Find My Profession commits to working with each client until they are 100% satisfied. Don't worry about having a limited number of edits or a set amount of time with your writer.
Cons: Find My Profession is a virtual company. While we provide services in Tucson, we don't have a physical office for in-person visits. You'll communicate directly with your writer via email and phone calls.
Reviews: 5/5 based on 124 Google reviews, 5/5 based on 8 BBB reviews, 5/5 based on 35 Facebook reviews, 4.9/5 based on 304 Trustpilot reviews, 4.7/5 based on 255 Sitejabber reviews
Turnaround: 3 – 5 business days (can expedite to 2 business days)
Cost: $395 – $995
Contact: (831) 888-0967 or help@findmyprofession.com
Check out some of our 5-star reviews:
2. ResumeZest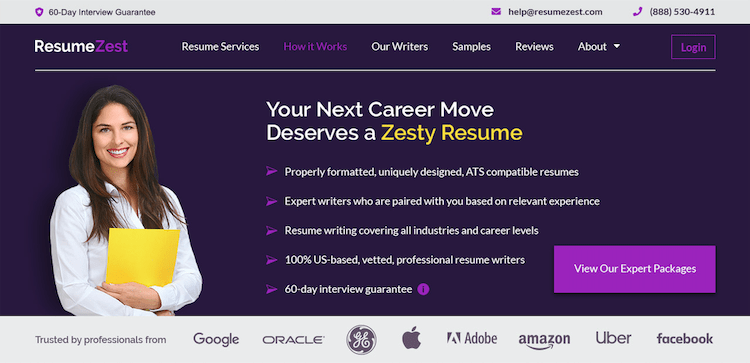 ResumeZest is trusted by professionals from companies like Google, Amazon, Apple, Oracle, GE, Adobe, Uber, and Facebook. Their resume writing team has written resumes for more than 75 industries. A 60-day interview guarantee backs up every resume they write. Each resume is also ATS compliant and keyword-optimized.
Pros: ResumeZest is a very well-rounded company. They offer affordable pricing and quick turnaround times. You will work with a high-quality, certified writer and receive excellent customer service. They are also members of the Professional Association of Resume Writers and Career Coaches (PARW/CC).
Cons: ResumeZest is one of the newer companies on this list. While they do a great job and their writers have many years of experience, the company was only founded in 2020.
Reviews: 5/5 based on 9 Facebook reviews, 5/5 based on 50 Google reviews, 5/5 based on 3 Yelp reviews, 4.8/5 based on 56 Sitejabber reviews, 4.8/5 based on 52 Trustpilot reviews
Turnaround: 3 – 5 business days (can expedite to 2 business days)
Cost: $179 – $379
Contact: (888) 530-4911 or help@resumezest.com
Visit ResumeZest
3. Virtuoso Resumes
Virtuoso Resumes was founded by Krista Morris in 2007. She has about 20 years of experience in resume writing. The company also runs a recruiting wing. The recruiting wing matches the corporate clients with the resume service clients. This makes a win-win situation for both sides.
Pros: All resumes are written by the founder Krista. You will get unlimited revisions with the resume packages. Also, the website clearly illustrates the resume writing process, leaving no room for confusion.
Cons: There are no resume samples for you to review on the website. You don't have the option to buy the resume packages directly via the site. Also, the turnaround time is quite long.
Reviews: 5/5 based on 18 Yelp reviews, 5/5 based on 4 Angie's List reviews, 5/5 based on 16 Facebook reviews, 4.9/5 based on 41 Google reviews
Turnaround: 10 – 15 business days (can expedite to 2 business days)
Cost: $225 – $625
Contact: (480) 499-3588 or info@virtuosoresumes.com
4. NimoHR
NimoHR understands that each person has their own unique needs. So they strive to offer personalized services. The company is run by Abby Nimoh. Abby has ten plus years of human resource experience in Arizona. So, she is well aware of the job market realities in your area.
Pros: Abby knows the hiring process from the employers' perspective. She utilizes her experience from the other side of the desk to provide effective resumes. In-person meetings are available.
Cons: A few resume samples on the website would have been a nice addition. Also, the website lacks details about the resume writing and revision processes.
Reviews: 5/5 based on 46 Facebook reviews, 5/5 based on 4 Yelp reviews, 4.9/5 based on 80 Google reviews
Turnaround: 3 – 5 business days
Cost: $229 – $329
Contact: (480) 861-5064 or abby@nimohr.com
5. Do My Resume.NET
Do My Resume.NET has four offices in Arizona, including one in Tucson. The company has 32 industry-specific resume writers on their staff, including Certified Professional Resume Writers (CPRWs). They have written over 25,000 resumes since starting operations in 2006.
Pros: All the resume packages come with unlimited revisions and keyword-optimization. Also, executive-level clients have the option of in-person meetings with their resume writer.
Cons: The unlimited revision period lasts for only 14 days. The identities of the resume writers are not disclosed on the website. Also, there's no guarantee offered after your resume is finalized.
Reviews: 4.9/5 based on 150 Facebook reviews, 4.9/5 based on 153 BBB reviews, 4.8/5 based on 295 Google reviews, 4.5/5 based on 115 Yelp reviews
Turnaround: 3 – 6 days (can expedite to 24 hours)
Cost: $189 – $309
Contact: (602) 819-8528 or resumecounselor@domyresume.net
6. ABC Resume Services
ABC Resume Services has been writing resumes for Tucson job seekers for over 22 years. The service is owned by Dana Reynolds. She has experience handling unique career scenarios including transitioning from military to civilian work or embarking on a new career.
Pros: This company's standard turnaround time is one of the quickest you will see in the resume writing industry. Also, Dana works one-on-one with every client.
Cons: ABC Resume Services promises a fair price for their services, but unfortunately doesn't disclose pricing in advance. You will have to call for a quote.
Reviews: 4.4/5 based on 12 Google reviews, 3/5 based on 2 Yelp reviews,
Turnaround: 2 – 3 days
Cost: Not found
Contact: (520) 575-5955

Bonus: Top Tucson Resume Winners (2021)
Find My Profession, Virtuoso Resumes, NimoHR, Do My Resume.NET, ABC Resume Services