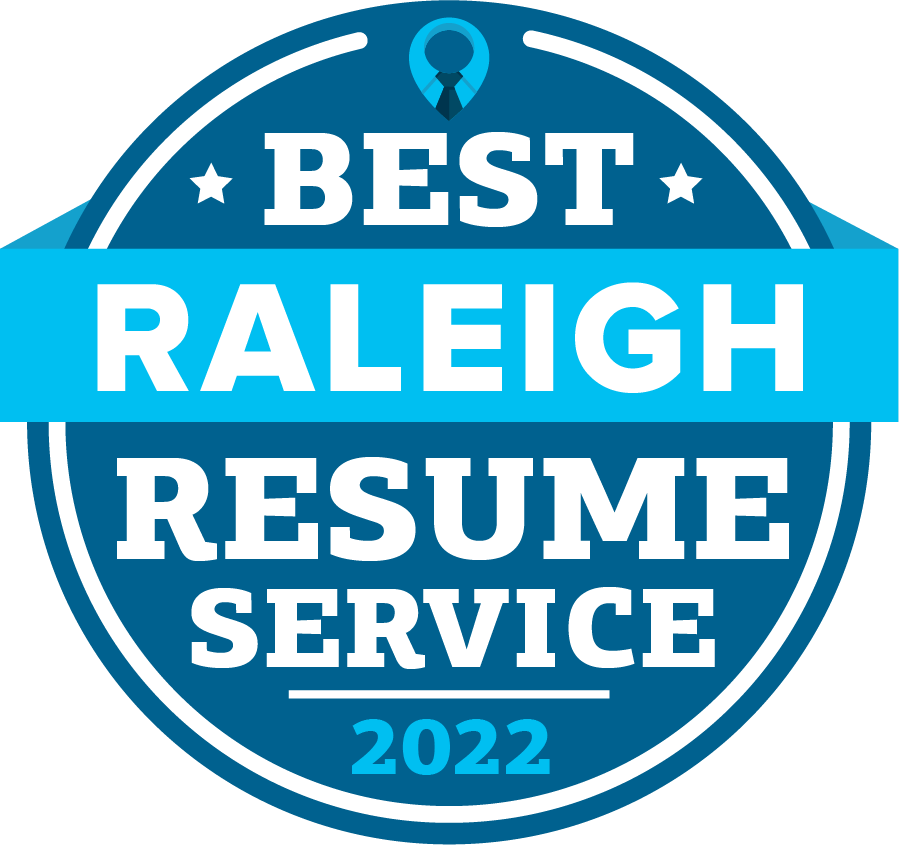 2022 Winners: Add your badge to your marketing materials.
Raleigh, the City of Oaks, is among the top 10 job markets in the US.
With companies like Lenovo, Sony Ericsson, IBM, and Cisco calling it home, no wonder it's a hot job market!
If you are in the Research Triangle Park area, we're here to help your job search.
Is the only thing that stands between you and the job your not-so-great resume?
Not anymore!
Whether you are looking for a role in technology or any other industry, we've got you covered.
We have created this list of the top resume writers in Raleigh and the surrounding area.
Best Resume Services in
Raleigh


4

4
5
5
6

6
7

7
8

8
9

9
See more services
See less services
How We Choose Winners
Each of the Raleigh resume services below was reviewed by a Certified Professional Resume Writer (CPRW) taking into consideration the following:

Cost
The cost of the service compared to other Raleigh resume writers.

Turnaround
The speed at which the resume is completed.

Credentials
Overall experience, awards, and certifications.

Resume Design
The design, style, and overall look of the resume.

Customer Service
Guarantees, number of edits, and reviews.
This list was hand-curated to serve all industries, professions, and career levels. While many of the writers on this list are from Raleigh, these services are virtually available whether you are in Raleigh, Cary, Durham, Chapel Hill, Greensboro, Fayetteville, Greenville, or any other North Carolina city.
Average Raleigh Resume Cost
Raleigh
Resume Service Cost
Average Resume Cost
$748
Resume Cost Range
Raleigh Resume Writer Reviews
Find My Profession is much more than a Raleigh resume writing service. They are a global company whose work has been featured on sites like Forbes, Inc., Zety, Fast Company, and more.
Their elite resume writing team has experience in 85+ industries and professions. This allows them to assign you a professional writer based on your unique background and experience. Every resume also includes a 1-on-1 phone consultation with your writer.
They have successfully landed their clients positions at companies like Apple, Amazon, EA, Oracle, GM, Facebook, DoJ, Morgan Stanley, and Tesla just to name a few.
Find My Profession has 650+ 5-star reviews and offers a 60-day interview guarantee. Every resume created is Applicant Tracking System (ATS) compatible and highly customized to meet your specific needs.
PROS
You will work one-on-one with an elite and certified resume writer in the United States. Find My Profession commits to working with each client until they are 100% satisfied. Don't worry about having a limited number of edits or a set amount of time with your writer.
CONS
Find My Profession is a virtual company. While they provide services in Raleigh, they don't have a physical office for in-person visits. You'll communicate directly with your writer via email and phone calls.
REVIEWS
5/5 based on 124 Google reviews
5/5 based on 35 Facebook reviews
5/5 based on 8 BBB reviews
4.9/5 based on 304 Trustpilot reviews
4.7/5 based on 255 Sitejabber reviews
TURNAROUND
3 – 5 business days (can expedite to 2 business days)
COST
$395 – $995
CONTACT
(831) 888-0967 or help@findmyprofession.com
Check out some of our 5-star reviews:
H. S. on April 11, 2022
Top Shelf Service
I used one of the Find My Profession writers to clean up and modernize my personal documents. The level of knowledge and know-how was stellar. The response was prompt and timely. The writer delivered the product on time and with quality. I was extremely pleased with this service and paid a fraction of what other services charge for similar products and support.
C. B. on May 2, 2022
100% Recommend
[Writer] was a pleasure to work with. This was a great experience and investment in myself and career. I always feel overwhelmed by creating or updating my resume and I had no idea how to create one that was suitable for today's automated analysis used by HR departments. I struggle to find the best words to describe what I do and what I like/dislike. In one phone call [Writer] was able to listen to me blather on and craft my experiences into an outstanding package.
M. J. on October 15, 2021
Extreme Appreciation
[Writer] created an eye-popping & creative resume tailored to my individual needs after carefully reviewing my transitional situation with me. I am extremely happy with how she crafted my beautiful resume for my specific needs. [Writer] was very professional, personable and provided me very honest and direct feedback and insight. Lastly, she kept her promises on resume delivery and follow-up timing – great communication that assured me I was in good hands.
F. J. on July 15, 2021
I Will 100% Be Back
I approached hiring Find My Profession as an investment in my future and it ABSOLUTELY paid off. [Writer] was attentive, responsive, and highly professional. After meeting with me to discuss my career history, she put my work into words that helped me shine in my job search. I'm recommending this service to everyone I know and I will 100% be back when I need this service again.
K. M. on March 1, 2022
I Am 110% Satisfied
[Writer] provided exactly what I wanted. I am 110% satisfied with the completed project which includes a resume, cover letter, and LinkedIn Profile. It was completed in the time frame that was agreed upon, and delivered more than I was expecting. Do not bother looking anywhere else, [Writer] is wicked awesome and a true professional!
C. S. on June 21, 2022
Immediate Results
On the same day I received the final resume draft, I applied to a few jobs and got an interview request the next day.
Visit Find My Profession
RTP Resumes was founded by Mir Garvy in 2009 after many years writing SEO web content. This experience allowed for an easy transition to resume writing. Mir oversees a team of Certified Professional Resume Writers (CPRWs) and the writing of your resume. The team has written thousands of resumes.
PROS
The resume writing process is collaborative. You will have ample opportunity to help shape the direction of your new resume. You can also review quite a few resume samples on the website.
CONS
The service doesn't offer any interview or satisfaction guarantees with the resume packages. Also, there's no option to meet your writer face to face. You will need to contact the service for a quote.
REVIEWS
5/5 based on 9 Facebook reviews
5/5 based on 6 Yelp reviews
TURNAROUND
5 business days
COST
$350+
CONTACT
(919) 589-3154 or info@rtpresumes.com
Visit RTP Resumes
Briefcase Coach is owned by Sarah Johnston. Sarah is passionate about helping people flourish professionally. She has a background in corporate recruitment. Her career expertise has been featured in many reputed media outlets including Forbes and HuffPost. She assists job seekers in Raleigh and nationwide.
PROS
There are well-designed resume samples on the website. The founder, Sarah, works directly with all clients. Your intake call will be 90 minutes and 12 – 17 hours will be spent on your resume.
CONS
You can't buy the packages directly from the website. You have to fill a form to schedule a consultation. Also, they often have client waitlists so services may not be available right away.
REVIEWS
5/5 based on 2 Google reviews
TURNAROUND
7 business days
COST
$750 – $1300+
CONTACT
sarah@briefcasecoach.com
Visit Briefcase Coach
4
Executive Career Advantage
Executive Career Advantage is a Raleigh resume writing company specializing in executive resume writing. The owner, René Hart, has over 20 years of experience working with executives. Rene is a Certified Professional Resume Writer (CPRW) and you will be working directly with Rene herself.
PROS
Executive Career Advantage offers a 30-day interview guarantee. Rene guarantees interviews in weeks, not months. Also, you won't have any lengthy questionnaires to fill out.
CONS
As mentioned earlier, Executive Career Advantage works only with executives and senior professionals. So, entry-level job seekers will have to opt for other services.
REVIEWS
TURNAROUND
5 – 7 business days
COST
$1000 – $2000
CONTACT
(919) 561-2317 or renehart@executivecareeradvantage.com
Visit Executive Career
CareerPro Inc. is a full-spectrum career and outplacement service provider in Raleigh. The company is a veteran-owned career services firm with 28+ years of experience. The founder, John M. O'Connor, is a multi-certified resume writer. He is also an established career expert with a frequent presence in the media.
PROS
Having extensive HR experience lends them the knowledge of what employers really want. Also, the promise to provide visually appealing and achievement-centric resumes.
CONS
Although there are details about a lot of team members on the site, it's not clearly mentioned exactly who are the resume writers. Also, there are no readily available resume packages.
REVIEWS
5/5 based on 113 Yellow Pages reviews
5/5 based on 91 Google reviews
5/5 based on 23 BBB reviews
5/5 based on 17 Facebook reviews
5/5 based on 5 Angie's List reviews
4.5/5 based on 17 Yelp reviews
TURNAROUND
5 – 10 business days
COST
Not found
CONTACT
(919) 787-2400 or info@careerproinc.com
Visit CareerPro Inc.
6
Silver Key Career & Business Solutions
Silver Key Career & Business Solutions has a team of diverse talents in Raleigh. That's why they can match you with a resume writer most experienced in your profession. The founder, Gigi Marie, has over 13 years of experience in human resources and technical writing. She founded the company in 2016.
PROS
You can read about all the resume writers and team members on the website. The company offers resume service for all levels of professionals including federal resumes.
CONS
There are no resume packages to order directly from the site or resume samples to review. You have to contact the service to get a quote and start the process.
REVIEWS
5/5 based on 69 Facebook reviews
5/5 based on 34 Google reviews
TURNAROUND
7 – 10 business days (can expedite to 24 hours)
COST
$195+
CONTACT
(919) 443-9049 or hello@silverkeync.com
Visit Silver Key
The Resume Fix is owned by Lena Jackson. Lena is a Certified Professional Resume Writer (CPRW). She has a team of certified and experienced resume writers. They state that the interview success rate of their clients is 97%. Each year, they write 1000+ resumes, cover letters, and LinkedIn profiles.
PROS
You can review quite a few resume samples on the website. The company offers a 60-day interview guarantee. If you do not get more interviews within 60 days, they will revise your resume for free.
CONS
The resume package comes with only three rounds of revisions. There aren't many third-party reviews yet for this service that was started in 2017.
REVIEWS
5/5 based on 2 Facebook reviews
5/5 based on 2 Google review
TURNAROUND
7 – 10 business days (can expedite to 24 hours)
COST
$299 – $399
CONTACT
(919) 307-7408 or info@theresumefix.com
Visit The Resume Fix
Resume Hub was founded by Kevin O'Shea and Paige Madtes. Their passion for professional writing came from writing individualized resumes and cover letters. Kevin has a degree in English and Communications (Business & Technical Writing focus) from ECU. Paige earned her Education degree from UNC.
PROS
Resume Hub offers a free consultation to prospective clients. You will have a consultative call with your resume writer after your resume is complete to discuss optimizing your job search.
CONS
The resume package comes with only two rounds of edits. Also, they do not have resume samples on their website. Third-party reviews are not yet available for this company started in 2018.
REVIEWS
TURNAROUND
Not found
COST
$350
CONTACT
Contact form available on website
Visit Resume Hub
ResuMe offers straight-forward career services in Raleigh. The founder, Nicole Mangiapane, has over a decade of experience in human resources, resume writing, career coaching, and employment consulting. She has a Professional in Human Resource (PHR) certification.
PROS
The resume packages are very affordable, especially for entry-level job seekers. This can be a great option for candidates applying for their first jobs. Nicole offers a referral discount.
CONS
There are no resume samples for you to review on the website. Also, Nicole does not include information about the revision process. You will need to email Nicole to begin the process.
REVIEWS
4.7/5 based on 14 Google reviews
TURNAROUND
7 – 10 business days
COST
$200 – $450+
CONTACT
resumesandhr@gmail.com
Visit ResuMe
Previous Years Winners
Resume Writing Winners (2021)
Find My Profession, RTP Resumes, Briefcase Coach, Executive Career Advantage, CareerPro Inc., Silver Key Career & Business Solutions, The Resume FixResume Hub, ResuMe, Oracle Resumes