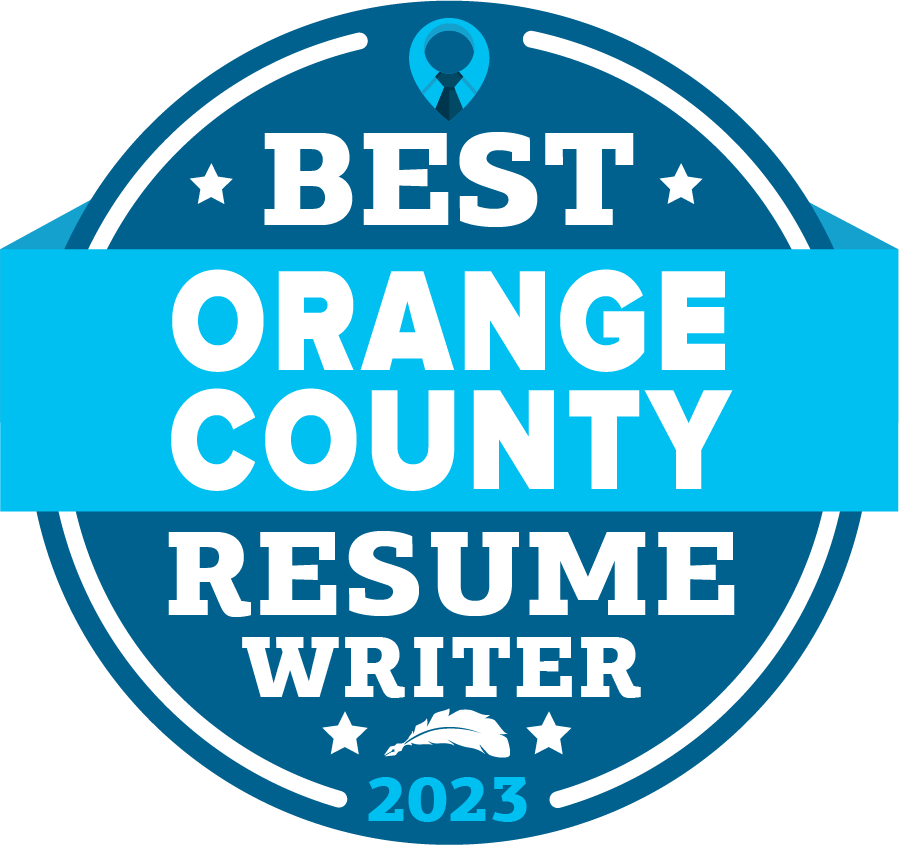 2023 Winners: Add your badge to your marketing materials.
Orange County, located in Southern California, is a wonderful city teeming with an abundance of parks and beaches, and complimented by a nearly perfect climate.
The county is the home of exciting professional sports, a plethora of tourist attractions and shopping centers, and quality performing arts venues.
Overall, Orange County is a great place to live, shop, and work.
The job market here is experiencing growth in several industries, from tourism to retail.
But the competition is also tough out there, so you really should use all the help you can get.
A professional resume writer can help you effectively position yourself for the change you seek and offer vital assistance in landing your dream job.
Here's a list of some of the best resume writing services in the OC.
Best Resume Services in
Orange County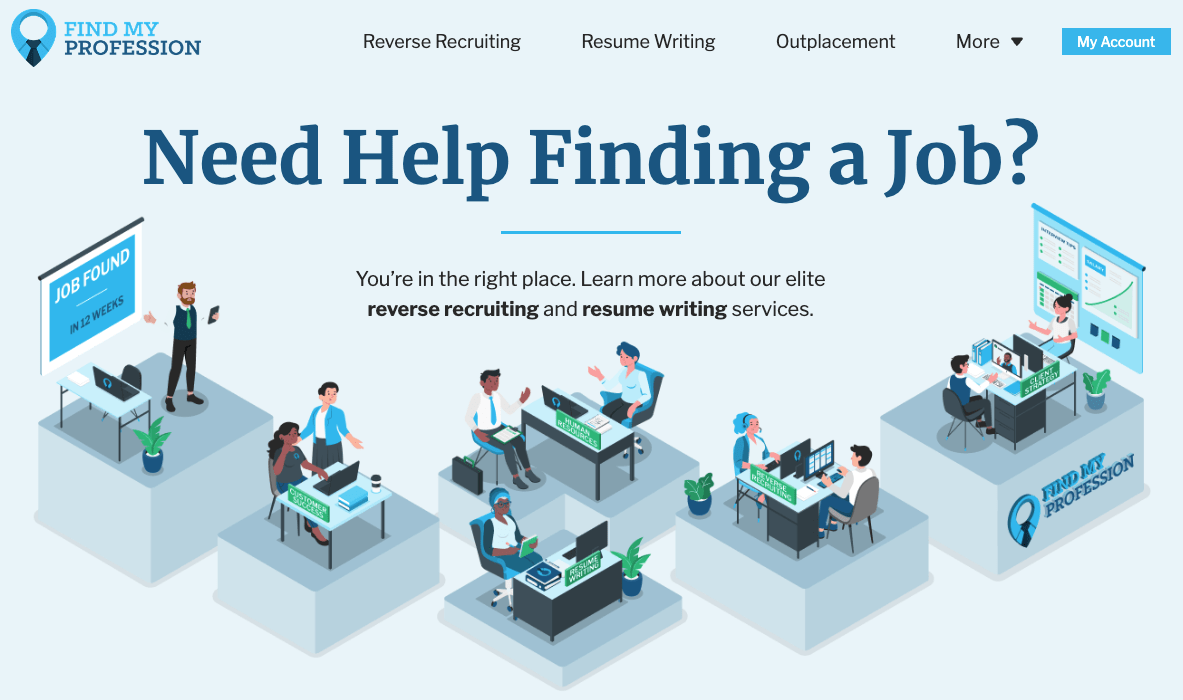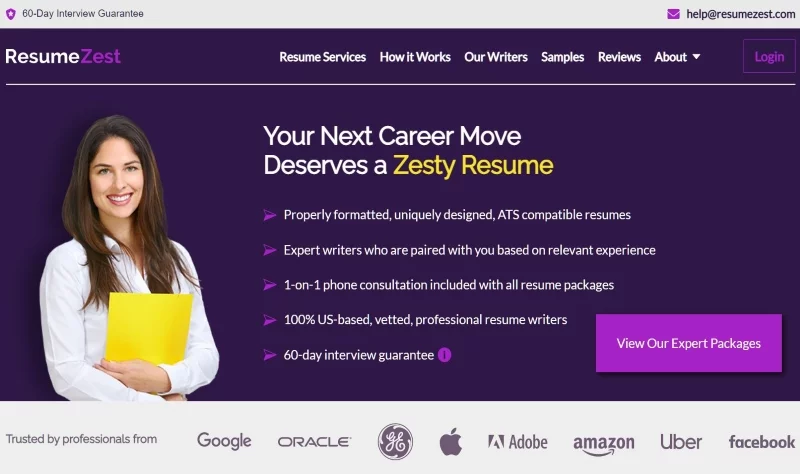 4

4
5

5
6
6
7

7
8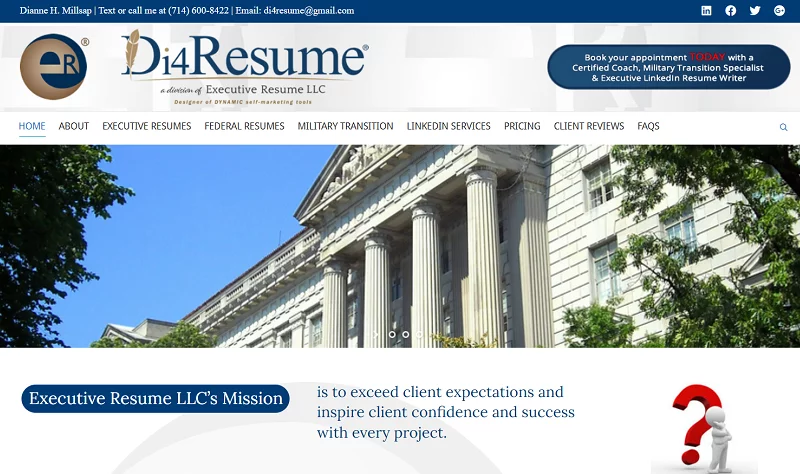 8
9

9
10

10
See more services
See less services
How We Choose Winners
Each of the Orange County resume services below was reviewed by a Certified Professional Resume Writer (CPRW) taking into consideration the following.
The cost of the service compared to other Orange County resume writers.
The speed at which the resume is completed.
Overall experience, awards, and certifications.
The design, style, and overall look of the resume.
Guarantees, number of edits, and reviews.
This list was hand-curated to serve all industries, professions, and career levels. While many of the writers are from major cities in Orange County, these services are virtually available whether you hail from Anaheim, Buena Park, Santa Ana, Irvine, Tustin, or any other city in Southern California.
Average OC Resume Cost
Orange County
Resume Service Cost
$1920
Orange County Resume Writer Reviews
Find My Profession is much more than an OC resume writing service. They are a global company whose work has been featured on sites like Forbes, Inc., Zety, Fast Company, and more.
Their elite resume writing team has experience in 85+ industries and professions. This allows them to assign you a professional writer based on your unique background and experience. Every resume also includes a 1-on-1 phone consultation with your writer.
They have successfully landed their clients positions at companies like Apple, Amazon, EA, Oracle, GM, Facebook, DoJ, Morgan Stanley, and Tesla just to name a few.
Find My Profession has 650+ 5-star reviews and offers a 60-day interview guarantee. Every resume created is Applicant Tracking System (ATS) compatible and highly customized to meet your specific needs.
You will work one-on-one with an elite and certified resume writer in the United States. Find My Profession commits to working with each client until they are 100% satisfied. Don't worry about having a limited number of edits or a set amount of time with your writer.
Find My Profession is a virtual company. While they provide services in Orange County, they don't have a physical office for in-person visits. You'll communicate directly with your writer via email and phone calls.
4.9/5 based on 394 Trustpilot reviews
4.9/5 based on 276 Sitejabber reviews
5/5 based on 147 Google reviews
5/5 based on 53 Facebook reviews
5/5 based on 8 BBB reviews
5/5 based on 4 Yelp reviews
3 – 5 business days (can expedite to 2 business days)
(831) 888-0967 or help@findmyprofession.com
Check out some of our 5-star reviews:
Belda Villalon on July 1, 2022
Thank you
My experience with the entire Find My Profession team has been outstanding. They helped me frame my resume with my experience based on the opportunities I was seeking. I partnered with [Resume Writer] and [Reverse Recruiter], who were both amazing, professional and really know what they are doing. I have already recommended their serves to a few colleagues since they know how to maneuver through the ever-changing hiring process!
BR on September 4, 2022
Excellent Results
I hadn't updated my resume in a few years. Very glad I decided to use Find My Profession for some help. I got in touch with my writer, [Resume Writer], very quickly after signing up. He knew what recruiters are looking for and collected relevant information on my background. He was able to tell my success stories and highlight experience much better than I was on my own. I was so pleased, I added the linked in profile as well.
John on August 18, 2022
Very pleased with services
[Resume Writer] was the Executive Resume Writer who updated my resume, cover letter, and LinkedIn profile. She was very professional, patient, thorough, and was very accepting of my feedback/thoughts. I'm very pleased with the level of service and the end products I was provided.
Michelle T on November 10, 2022
Professional Resume
[Resume Writer] from Find My Profession overhauled my decade old resume which hadn't grown with my career. She also formatted the resume to work with HR software and updated my LinkedIn profile. Due to [Resume Writer's] great work, I am now getting offers which match my current role.
SGM on October 10, 2022
Great Resume Service
I had a great experience working with Find My Profession and with [Resume Writer]. The entire process was very professional, quick and well done. I had everything completed in a week and was happy with the work. I do recommend them to anyone looking to upgrade their resume.
Beh on September 20, 2021
Professional. Experts…
I went into this not knowing what to expect. I found myself needing an expert resume writer after countless failed attempts in positions I am highly qualified for. I knew it was time that I change something and decided to contact the experts. My experience from the onset was nothing short of amazing and professional. [Resume Writer] was absolutely amazing, had great insight, very responsive and knows what he's doing! My resume received the facelift of the century! Believe me! I have recommended this service to my family and friends.
Brian L on August 12, 2022
Was skeptical but…
Honestly, I was skeptical at first but was very pleasantly surprised by the customer service and final product. My experience didn't start off great as I paid for the service but didn't receive a response for a few days. I started to think that I had been scammed, but once I followed up with an email asking what the status was, I was told that my earlier email had been caught in their spam filter. After that, I have nothing but great things to say. Very personalized customer experience and I thoroughly enjoyed speaking with [Resume Writer] who helped me create a top-notch resume and update my LinkedIn profile. I highly recommend using this service if your resume needs an update.
Chad B on May 2, 2022
Wonderful investment
[Resume Writer] was a pleasure to work with. This was a great experience and investment in myself and career. I always feel overwhelmed by creating or updating my resume and I had no idea how to create one that was suitable for today's automated analysis used by HR departments. I struggle to find the best words to describe what I do and what I like/dislike. In one phone call [Resume Writer] was able to listen to me blather on and craft my experiences into an outstanding package. 100% recommend making this investment in yourself.
ResumeZest is trusted by professionals from companies like Google, Amazon, Apple, Oracle, GE, Adobe, Uber, and Facebook. Their resume writing team has written resumes for more than 75 industries. A 60-day interview guarantee backs up every resume they write. Each resume is also ATS compliant and keyword-optimized.
ResumeZest is a very well-rounded company. They offer affordable pricing and quick turnaround times. You will work with a high-quality, certified writer and receive excellent customer service. They are also members of the Professional Association of Resume Writers and Career Coaches (PARW/CC).
ResumeZest is one of the newer companies on this list. While they do a great job and their writers have many years of experience, the company was only founded in 2020.
4.9/5 based on 113 Trustpilot reviews
4.9/5 based on 83 Google reviews
4.8/5 based on 68 Sitejabber reviews
5/5 based on 12 Facebook reviews
5/5 based on 4 Yelp reviews
3 – 5 business days (can expedite to 2 business days)
(888) 530-4911 or help@resumezest.com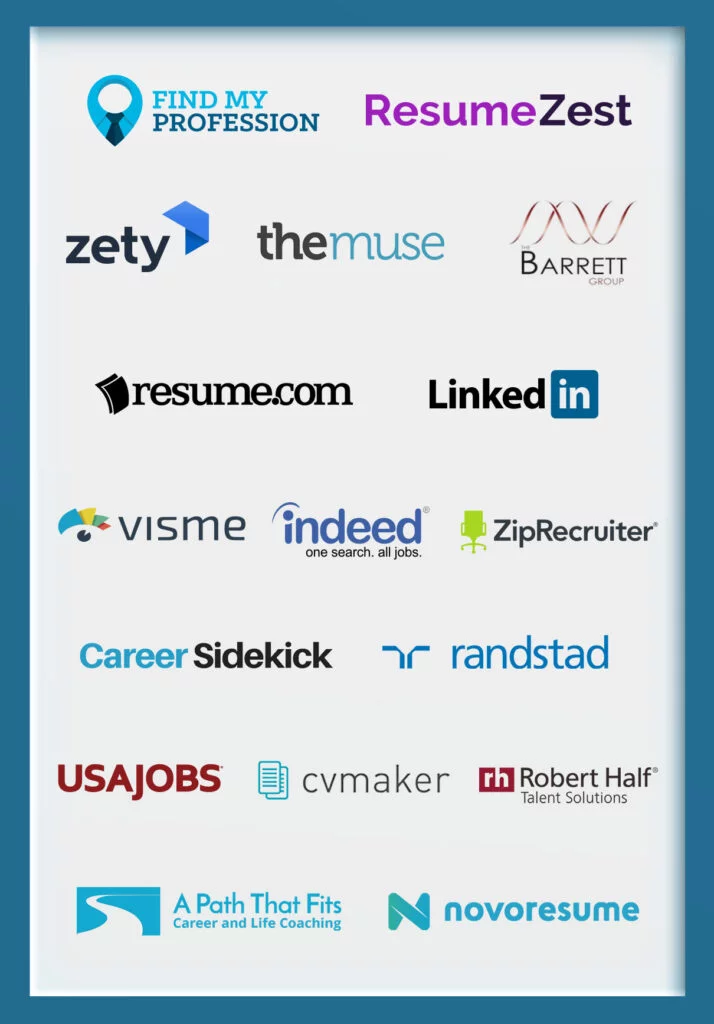 Need Help With Your Job Search?
Did you know there are companies you can hire to help with your job search? Whether you need resume help or want someone to apply to jobs for you, we've reviewed the 20 best agencies to help you find a job.
3
KStar Professional Writing Services
KStar Professional Writing Services was founded by two like-minded Orange County writers, Karl-Erik Leesment and Karen Noemi Murga. Located in Irvine, KStar offers comprehensive resume, cover letter, LinkedIn, and job application services in Orange County and the surrounding areas.
They create quality resumes in a short time, which is good for candidates who are pressed for time. KStar Professional Writing Services offer unlimited revisions, upon request, until your resume is finalized. Their services are backed by a 100% satisfaction guarantee, and they provide ATS-friendly resumes.
KStar is not an exclusive resume writing service. There are no sample resumes to review on the website. The writers have no industry-recognized certifications in resume writing, if that is one of your criteria.
5/5 based on 57 Yelp reviews
5/5 based on 13 Google reviews
(949) 501-3966 or kstarprowritingservices@gmail.com
4
AAA McKinstry Resume Service
AAA McKinstry Resume Service is not only one of America's oldest resume writing services, it was also the first employment agency established in Santa Ana. They have been providing resume writing services since 1952. AAA McKinstry serves clients across SoCal in all professions, from entry-level to top executives.
In addition to resume and business writing, AAA McKinstry is a recruiting firm for all employment levels and professions. You can meet with your writer face-to-face. Every resume is reviewed by multiple resume writers, giving you a greater chance of hitting the employment jackpot.
There are no sample resumes to review on the company website. Also, you cannot buy the resume packages directly from the site. You will need to contact the service to obtain a quote for their services.
4.9/5 based on 77 Google reviews
4.5/5 based on 64 Yelp reviews
5/5 based on 34 Yellow Pages reviews
(714) 543-9363 or info@aaamckinstry.com
CareerTuners is a close-knit team of experienced professionals who specialize in customized ATS-friendly resumes, cover letters, and LinkedIn profiles. They are located in Corona, just east of OC, and have been operating since 2010. All their writers have extensive experience working with hundreds of career professionals.
CareerTuners' clients have landed jobs at some of the world's most recognized organizations, including Google, Ernst & Young, and PwC. They offer unlimited revisions until you're 100% satisfied with the work. You also get 15-minute consulting calls every month until you land a job.
The website does not mention any details about their writers, such as their experience, skills, or certifications. The resume service cost is a bit on the higher side compared to other services on the list.
4.8/5 based on 69 Google reviews
5/5 based on 2 Yelp reviews
5 business days (can expedite to 1 – 2 days )
(714) 845-7104 or contact@careertuners.com
Enlightened is a team of experienced resume writers and certified career consultants who provide a myriad of services to help professionals at every career level grow their careers. Located in Costa Mesa, Enlightened has been helping professionals develop and grow their careers since 2010.
The resume writing process includes Applicant Tracking System and recruiter approvals. They offer unlimited revisions up to two weeks after your first draft is completed. All of the professionals at Enlightened are hand-picked and certified to help you build the career of your dreams.
There are only a few partial resume samples to view on the Enlightened website. The cost of a consultation is $50, however the cost will be deducted from a package if you move forward with the service.
5/5 based on 13 Google reviews
5/5 based on 2 Yelp reviews
(866) 721-1988 or enlightened@elcs.info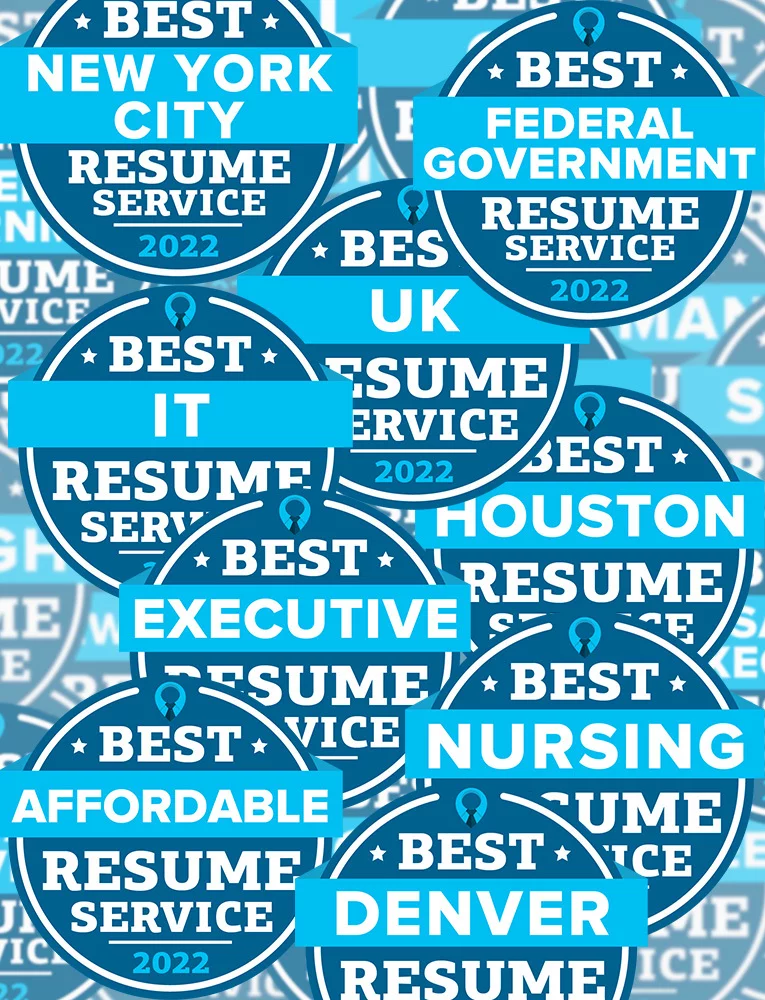 Is Your Resume Working Properly?
If you are having trouble landing interviews, it might be time to hire a professional resume writer. Check out our list of the 750+ best resume writers and start landing more interviews!
SoCal Resumes is Southern California's premier resume writing service. Ashley Milano, the founder, started SoCal Resumes in 2014 to rescue job seekers from the dreaded job hunt process. Ashley has over two decades of experience as a recruiter and hiring expert. She is an executive resume and LinkedIn specialist.
Ashley personally creates all the resumes, along with LinkedIn profiles and cover letters. Each resume is tailored to fit an individual's unique needs and is designed to make it past Applicant Tracking Systems.
You will only have one week to request up to two rounds of email revisions on the first draft. Also, she doesn't offer in-person visits. The entire process is done over the phone or via email.
4/5 based on 14 Yelp reviews
4.7/5 based on 13 Google reviews
5/5 based on 3 Facebook reviews
(951) 297-9436 or support@socalresumes.com
Di4Resume, a division of Executive Resume, is a virtual resume writing, coaching, and branding service that was founded by Dianne H. Millsap in 1987. Dianne is a Certified Professional Resume Writer (CPRW), Job & Career Transition Coach (JCTC), and Nationally Certified Online Profile Expert (NCOPE).
Dianne has over three decades of industry experience in resume writing and designing. She specializes in federal and private sector resumes. She also has extensive experience in the U.S. corporate sector. Executive Resume is a service firm with a global clientele.
While Executive Resume is a virtual service firm that serves clients in Orange County, they do not have offices for in-person visits. There are no sample resumes to review on the website. Also, entry-level candidates will likely find their services to be a bit pricey.
5/5 based on 7 Google reviews
(714) 600-8422 or di4resume@gmail.com
Julie LaCroix, as the name suggests, is owned by career counselor and former recruiter, Julie LaCroix. Julie specializes in counseling and writing resumes for entry-level professionals through their more experienced executive-level counterparts. On average, she writes about 30 resumes every month.
You will be working one-on-one with Julie. She is a member of the National Career Development Association (NCDA). She has extensive experience as a recruiter, writer, and career counselor. This service also has one of the quickest turnaround times we've found for resume writing.
Your telephone resume writing session will take place after a paid intake session. The website also explains that due to heavy patronage, it may take a day or two before they can respond to your appointment request.
5/5 based on 21 Yelp reviews
5/5 based on 2 Google reviews
(949) 554-5205 or julie@julielacroix.com
Orange County Resumes has been offering fast and responsive resume writing services to Orange County area professionals since 2009. The founder, Mir Garvy, is a Certified Professional Resume Writer (CPRW). Mir leads a small, closely-knit team of resume writers. There are two other CPRWs on her team.
Orange County Resumes has been offering fast and responsive resume writing services to Orange County area professionals since 2009. The founder, Mir Garvy, is a Certified Professional Resume Writer (CPRW). Mir leads a small, closely-knit team of resume writers. There are two other CPRWs on her team.
The team operates virtually, so they don't have offices for in-person visits in Orange County. Also, not many third-party reviews can be found online, which is not very promising.
5/5 based on 2 Google reviews
5 /5 based on 1 Yelp review
(949) 346-3045 or info@orangecountyresumes.com
Previous Years Winners
Resume Writing Winners (2022)
Find My Profession, ResumeZest, KStar Professional Writing Services, AAA McKinstry Resume Service, CareerTuners, Enlightened, SoCal Resumes, Di4Resume, Engineered Careers, Orange County Resumes