Looking for the best staffing agencies near you in Atlanta, GA?
You've come to the right place.
Atlanta is an amazing city hosting all sorts of historic places such as the Atlanta History Center, the Centennial Olympic Park, and the Martin Luther King Jr. National Historic Site.
There's a reason why so many people choose to live in Atlanta.
But how do you go about finding work in such a competitive job market?
Easy!
Reach out to the local staffing agencies.
"Easier said than done," you might say.
Well, rather than having to filter through dozens of staffing agencies, you can search the list below.
We've done the heavy lifting to bring you the best of the best.
Atlanta Staffing Agency Criteria
Each of the Atlanta Staffing Agencies below was reviewed by a Certified Professional Resume Writer (CPRW) taking into consideration the following:
Credentials: Overall experience, awards, and certifications.
Opportunities: Number and variety of jobs available.
Customer Service: Guarantees and reviews.
This List Serves The Following Areas Near Atlanta, Georgia:
Marietta, Decatur, College Park, Conyers, Alpharetta, Rome, Carrollton, Newnan, LaGrange, Griffin, Thomaston, Macon, Warner Robins, Dublin, Sandersville, Milledgeville, Greensboro, Athens, Gainesville, Augusta, Savannah, and more
Best Atlanta Staffing Agencies
Before reaching out to any companies on this list, we recommend that you make sure your resume is in tip-top shape. If you'd like professional help with your resume, contact the pros at Find My Profession.
And now for the detailed reviews …
1. TRC Staffing Services
TRC Staffing Services was founded in Atlanta, Georgia, in 1980. Since then, TRC has grown to become one of the most reputable Atlanta staffing agencies. TRC Staffing has received the Best of Staffing Talent Satisfaction Diamond Award several years in a row. In addition, the agency has a nationwide network.
Job Types: TRC Staffing Services focuses on a variety of industries including automotive, business services, finance, healthcare, hospitality, insurance, manufacturing, software & technology, telecommunication, transportation, and more.
Pros: TRC Staffing Services has received a variety of awards for their great services. As an Atlanta job seeker, you'll find hundreds of open jobs available on their website. The online job searching and application process is also easy to carry out through the website.
Reviews: 4.6/5 based on 771 ClearlyRated reviews, 4.8/5 based on 75 Google reviews, 4.7/5 based on 12 Facebook reviews, 1/5 based on 1 BBB review
Local Offices: 2 locations to serve you
Contact: (404) 261-0012
2. Hire Dynamics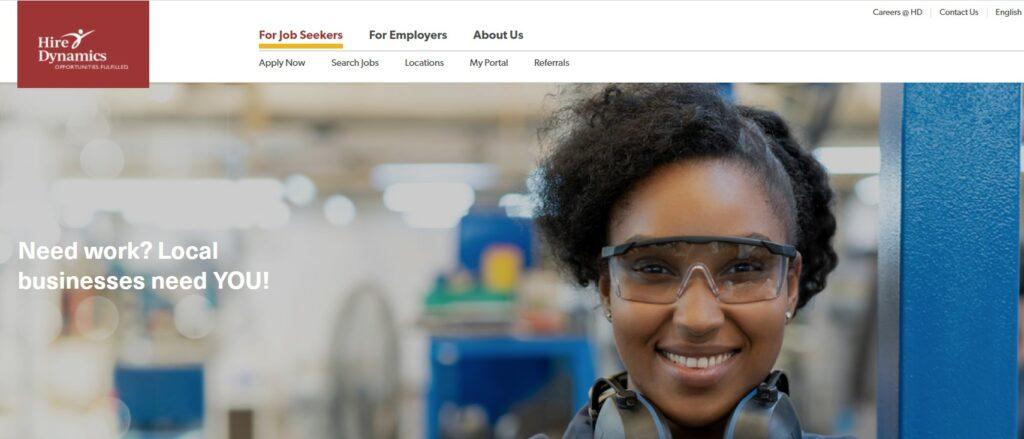 Hire Dynamics was founded in 2001 by Dan Campbell and Jon Neff in Atlanta. Hire Dynamics has grown to operate in more than 50 locations across the nation. The company has won the Best of Staffing for Client & Talent Satisfaction awards by ClearlyRated 12 years in a row.
Job Types: Hire Dynamics works in a variety of industries in Atlanta, specializing in contact centers, logistics, manufacturing operations, and office support services.
Pros: Hire Dynamics was recognized as one of "Best Places to Work" by Atlanta Business Chronicle for 12 consecutive years. They also have more offices throughout Georgia than 90% of Atlanta staffing agencies. There are plenty of open positions listed on their website.
Reviews: 4.7/5 based on 283 Google reviews, 4.5/5 based on 1,302 ClearlyRated reviews, 2/5 based on 5 Yelp reviews, 1/5 based on 1 BBB review
Local Offices: 2 locations to serve you in Atlanta
Contact: (678) 904-1648
3. Focus of Georgia
Focus of Georgia was founded in June of 1994 by Amy and Bryan Shockley, who still run the company. Amy grew up in the staffing business, working in her father's staffing firm, Crown Services. Since 2006, they have concentrated their efforts on serving the metro Atlanta market, as well as throughout Georgia.
Job Types: Focus of Georgia focuses on accounting & finance, admin & clerical, call center & customer service, and technology jobs. Whether you are looking for temporary staffing, temp-to-hire, direct-hire, or executive search services, Focus of Georgia should have you covered.
Pros: Focus of Georgia is one of the true Georgia-centric staffing agencies on this list. Many of the companies have a national or global presence but Focus of Georgia focuses only on Georgia, as their company's name so clearly implies. This allows you to work with local experts who know the area and have had time to build solid relationships within the community.
Reviews: 4.9/5 based on 121 Google reviews, 4/5 based on 4 Facebook reviews
Local Office: 800 Battery Ave. SE. Suite 100, Atlanta, GA 30339
Contact: (770) 937-0410
4. Lucas Group
Lucas Group was founded in 1970 in Atlanta, GA, as a small, one-man business. Lucas Group has now expanded into a premier recruiting firm with locations nationwide and deep experience in a wide range of industries. The company has been ranked 5th on the Forbes Best Professional Search Firm list.
Job Types: Lucas Group has a variety of practice areas including accounting, finance, human resources, information technology, legal, manufacturing, marketing, military transition, supply chain, and sales.
Pros: The company provides a special service helping military personnel transition to the civilian workforce. Also, if you are a senior-level professional looking for a management or executive-level job, Lucas Group is going to have a lot of opportunities to choose from.
Reviews: 4.8/5 based on 175 Google reviews, 3/5 based on 9 Yelp reviews
Local Office: 950 East Paces Ferry Rd NE, Suite 2300, Atlanta, 30326
Contact: (404) 239-5630
5. Labor Staffing
Labor Staffing Inc. was founded in 1999 by a team with over 30 years of experience in the staffing industry. Labor Staffing Inc. is quickly becoming one of the leading companies in providing temporary employees to an impressive variety of nationwide clients.
Job Types: Labor Staffing Inc. serves a variety of industries including hotel & hospitality, landscaping & golf course maintenance, hospital & hospice, manufacturing & warehouse, janitorial & facility maintenance, butcher shops & grocery stores, automotive repair shops, and more.
Pros: Labor Staffing Inc. is a member of the American Staffing Association and the recipient of "Atlanta's 50 Fastest-Growing Private Companies" award granted by the Atlanta Business Chronicle.
Reviews: 5/5 based on 1 Yelp review, 3.7/5 based on 6 Facebook reviews, 4.6/5 based on 419 Google reviews
Local Office: 1270 West Peachtree Street, NW, Suite 2, Atlanta, 30309
Contact: (404) 688-7168
6. Paramount
Paramount believes that building effective organizations begins with strong client relationships. Since its inception in 1998, Paramount Staffing has been assisting well-established businesses in the Atlanta area by placing top talent and exceeding clients' immediate and long-term staffing needs.
Job Types: Paramount Staffing specializes in call center, corporate, legal, and medical jobs. Some of the open positions we found include certified medication aide, litigation associate, registered nurse, medical assistant, customer service representative, and more.
Pros: Paramount Staffing is one of the few Atlanta-loyal staffing agencies on this list. The company specializes in focused divisions that offer a variety of opportunities from Fortune 500 companies to tech start-ups. Their primary focus on Atlanta allows them to build deeper relationships within the local community.
Reviews: 4.6/5 based on 160 ClearlyRated reviews, 4.1/5 based on 75 Google reviews, 2/5 based on 8 Yelp reviews, 3.7/5 based on 6 Yelp reviews
Local Office: 3575 Piedmont Road NE, Building 15, Suite 900, Atlanta, 30305
Contact: (404) 760-4800 or careers@hireparamount.com
7. First Step Staffing
First Step Staffing offers a unique approach by employing those who struggle the most to break their cycles of poverty. First Step does this by giving preference to candidates who have recently experienced homelessness, as well as to military veterans and previously incarcerated individuals.
Job Types: First Step is a light-industrial staffing agency covering five sectors including warehouse/distribution, food processing/packaging, hospitality, landscaping, and printing/imaging. The majority of their jobs are entry-level, but they also offer some skilled positions for individuals with warehouse certifications.
Pros: First Step Staffing supports a great cause. They have assisted over 7,500 individuals with their first job assignment. A significant number of them were previously homeless or at-risk of becoming homeless. Created by Greg Block, First Step is on a mission to provide a path out of homelessness.
Reviews: 4.2/5 based on 20 Facebook reviews, 3.6/5 based on 172 Google reviews, 1/5 based on 2 Yelp reviews
Local Office: 236 Auburn Avenue, Suite 203, GA 30303
Contact: (404) 577-3395 or matt@firststepstaffing.com
8. Next Step Staffing
Next Step Staffing is an Atlanta staffing agency that focuses on contingent staffing, project staffing, and professional development training. The agency is proud to be a certified Minority Business through the Georgia Minority Supplier Development Council and an accredited member of the Better Business Bureau.
Job Types: Next Step Staffing specializes in administrative/office support, food services, healthcare, IT, construction, general labor, security services, and call center positions.
Pros: Next Step Staffing offers an excellent veteran training program. In this program, you can receive logistics and warehouse safety training, as well as OSHA-Compliant forklift certifications. The agency also finds jobs for those typically deemed unemployable: disabled and non-violent ex-offenders.
Reviews: 4.5/5 based on 8 Google reviews
Local Office: 2001 Martin Luther King Drive SW, Suite 430, Atlanta, 30310
Contact: (404) 890-5815 or ericforrest@nsscorp.org
9. RGStaffing
RGStaffing is named after its president and CEO, Rosemary Gignilliat. RGStaffing has been providing award-winning staffing services for over thirty years in Atlanta. Rosemary is recognized as a member in good standing with GAPS, the Georgia Association of Personnel Services.
Job Types: RGStaffing focuses on creative staffing, medical staffing, and administrative staffing. Some recently available jobs on their site include front office director, patient account representative, certified athletic trainer, customer service representative, general manager, medical assistant, and more.
Pros: RGStaffing transparently lists the salary for each job posted. Also, an email address is provided where you can send your resume over to Rosemary herself rather than having to fill out a pesky job application online.
Reviews: 4.3/5 based on 6 Google reviews, 5/5 based on 3 Facebook reviews, 3.5/5 based on 3 Yelp reviews
Local Office: Not found
Contact: (678) 638-6153 or rosemary@rgstaffing.net
10. Premier Placements
Premier Placements is the one-stop-shop for all things property management in Atlanta. Since 1989, Premier Placements has attracted property management owners and management companies because of their experience, reputation, and numerous awards from the Atlanta Apartment Association.
Job Types: Premier Placements focuses on apartment industry jobs including HVAC, groundskeeper, leasing consultant, punch tech, EPA certified maintenance tech, and more. Just about any job you could think of that relates to apartments, Premier Placements will staff for it.
Pros: Premier Placements is located in Atlanta and focuses on apartment and property management jobs. With such a refined niche, it's fair to say that there are very few (if any) staffing companies in the Atlanta area that have such a large network of apartment jobs.
Reviews: 5/5 based on 1 ClearlyRated reviews, 4.9/5 based on 121 Google reviews
Local Office: 790 Marietta Street NW, Suite 105, Atlanta, 30318
Contact: (678) 965-5690
Bonus: Top Atlanta Staffing Agency Winners (2021)
TRC Staffing Services, Hire Dynamics, Focus of Georgia, Lucas Group, Labor Staffing Inc., Paramount, First Step Staffing, Next Step Staffing, RGStaffing, Premier Placements.
How Do Staffing Agencies Work?
Staffing, or employment, agencies fill open positions for the employers they contract with. The agency is paid by the hiring company, so it's a free service for the job seeker.
Staffing agencies can hire for temporary, temp-to-hire, and permanent positions.
If you are hired for a temporary job, you are usually employed and paid by the staffing agency. Some agencies offer benefits to their employees, including health insurance and retirement plans.
For permanent roles, the staffing agency essentially acts as a recruiter and will refer you to the hiring company.
Here's what we recommend when working with a staffing agency:
Browse the website to see if you find any jobs you are interested in.
Whether you find an ideal job or not, contact the staffing agency.
Provide information about yourself and the type of work you are looking for.
If you found a relevant job on their website, mention it.
The agency will take down your information and reach out if they find a relevant position.
Make as many staffing agencies as possible aware of your search. It's simply more eyes and ears out there helping with your job search.
Before you reach out to these staffing agencies, make sure you have a great resume – both in look and content. The worst thing you can do is provide a resume that won't get results to a bunch of staffing agencies.
Check out some professional resume services on our list of the Best Resume Services in Atlanta.
Need more than resume assistance?
At Find My Profession, we also offer career coaching services and Career Finder, a professional job search service that manages every part of the job search, from searching for jobs for you to networking on your behalf.