Looking for information technology (IT) resume writing services?
So are millions of other IT professionals who are hoping to get a leg up in a highly competitive industry.
Not to worry, though.
By commissioning the services of an information technology resume service, you can better position yourself for professional success.
After all, if you're going to make moves in your career – whether vertically or horizontally – you need to impress hiring managers.
No matter your particular circumstances, you are bound to find the perfect resume writing company from our top-rated list below.
IT Resume Service Criteria
Each of the information technology resume services below was reviewed by a Certified Professional Resume Writer (CPRW) taking into consideration the following:
Cost: The cost of the service compared to other IT resume writers.
Turnaround: The speed at which the resume is completed.
Credentials: Overall experience, awards, and certifications.
Resume Design: The design, style, and overall look of the resume.
Customer Service: Guarantees, number of edits, and reviews.
This list was hand-curated to serve all IT professions. These jobs include software engineers, cloud architects, DevOps, Data Science, IT managers, CTOs, and more.
Best Resume Services in Information Technology
1. Find My Profession
Find My Profession is much more than an information technology resume writing service. We are a global company whose work has been featured on sites like Forbes, Inc., Zety, Fast Company, and more.
Our elite IT resume writing team has experience in 85+ industries/professions. This allows us to assign you a professional writer based on your unique background and experience.
We have successfully landed our clients positions at companies like Apple, Amazon, EA, Oracle, GM, Facebook, DoJ, Morgan Stanley, Gap, and 2U just to name a few.
Find My Profession has 650+ 5-star reviews and offers a 60-day interview guarantee. Every resume created is Applicant Tracking System (ATS) compatible and highly customized to meet your specific needs. We've included a sample information technology resume below.
Pros: We have written resumes for nearly every information technology career. Find My Profession commits to working with each client until they are 100% satisfied. Don't worry about having a limited number of edits or a set amount of time with your writer.
Cons: Find My Profession is a virtual company. While we provide services in your city, we don't have a physical office for in-person visits. You'll communicate directly with your writer via email and phone calls.
Reviews: 5/5 based on 124 Google reviews, 5/5 based on 8 BBB reviews, 5/5 based on 35 Facebook reviews, 4.9/5 based on 304 Trustpilot reviews, 4.7/5 based on 255 Sitejabber reviews
Turnaround: 3 – 5 business days (can expedite to 2 business days)
Cost: $395 – $995
Contact: (831) 888-0967 or help@findmyprofession.com
Check out some of our 5-star reviews.
2. Scientech Resumes
Scientech Resumes is true to its name in that they specialize in science and technology resume writing. This top information technology resume writing service even offers a package explicitly for IT professionals. When working with Scientech Resumes, you can have the confidence that you've found a service with the chops to present your IT career well on paper.
Pros: Scientech Resumes offers a payment plan. With many Americans on tight budgets, this is a thoughtful option for this IT resume writing service. Another pricing note is that Scientech Resumes determines the pricing based on your particular needs. (However, we realize that this may also be a con for potential customers who want to know an exact investment upfront.)
Cons: Unlike many competitors, there are no 24-hour or 48-hour rush options. Scientech Resumes only offers 3- or 6-day rush options, but in addition to a long "rush" lead time, customers also incur rush fees and weekend fees if their order falls over the weekend.
Reviews: 5/5 based on 19 Google reviews, 5/5 based on 4 Facebook reviews
Turnaround: 7 – 10 business days
Cost: $395 – $1,395+
Contact: (971) 770-1460 or kate@scientechresumes.com
3. Shimmering Careers
Shimmering Careers is run by Paul Freiberger, "the force behind" this professional resume writing service. In addition to resume writing and career-building services, Shimmering Careers offers useful content free of cost, like insightful blog posts and webinars to help professionals take their careers to the next level. This level of added value helped solidify Shimmering Careers' spot on our top 10 list.
Pros: Founder Paul Freiberger is a New York Times best-selling writer and has won an LA Times Book Prize. If glitzy accomplishments like this impress you, you'll be clamoring to work with this IT resume writer.
Cons: Shimmering Careers has pricey packages for entry-level professionals. Their basic package is $599, which is not affordable for many recent grads and emerging professionals. Their reviews are also quite old with the majority of them dating back multiple years.
Reviews: 4.9/5 based on 14 Google reviews, 4.5/5 based on 60 Yelp reviews, 4/5 based on 28 Facebook reviews
Turnaround: 2 weeks (can expedite)
Cost: $499 – $649
Contact: (877) 796-9737
4. Chameleon Resumes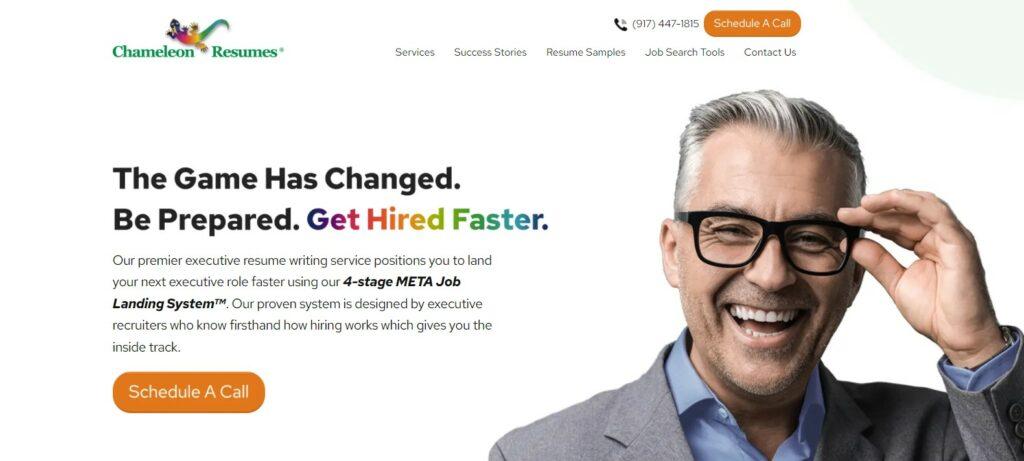 Chameleon Resumes is an executive focused resume writing service that happily works with information technology professionals. The rather high price of this resume writing service is supported by add-ons beyond resume writing, like cover letters and a LinkedIn profile makeover.
Pros: Since Chameleon Resumes is a high-priced resume writing service, they likely handle fewer resumes than low-priced resume writing "farms." If you want the comfort of having your resume getting the attention it deserves, consider working with Chameleon Resumes.
Cons: At roughly $2,000 for the lowest resume writing package, Chameleon Resumes is the most pricey resume writing service for professionals.
Reviews: 5/5 based on 17 Sitejabber reviews
Turnaround: 2 – 4 weeks
Cost: $2,897
Contact: (732) 307-9520 or lr@chameleonresumes.com
5. Quantum Tech Resumes
Quantum Tech Resumes is another resume writing service that is tailored to folks in the IT industry. As we've previously mentioned, services that specialize in information technology resumes will provide you with the expertise needed to score a resume that'll score you a job! When working with Quantum Tech Resumes, you receive a free consultation. This is always beneficial when considering whether or not to commission the services of a resume writer.
Pros: JM Auron, the founder of Quantum Tech Resumes, is a global IT resume leader, which should assure you that your resume is in good hands.
Cons: We found it a bit concerning that there is no phone number or email listed for this company. You can only contact them using the contact form on their website. Additionally, we could not find any reviews about JM Auron or Quantum Tech Resumes.
Reviews: Not found
Turnaround: 4 weeks
Cost: $997 – $1,397
Contact: There is only a contact form on the website
6. TekResume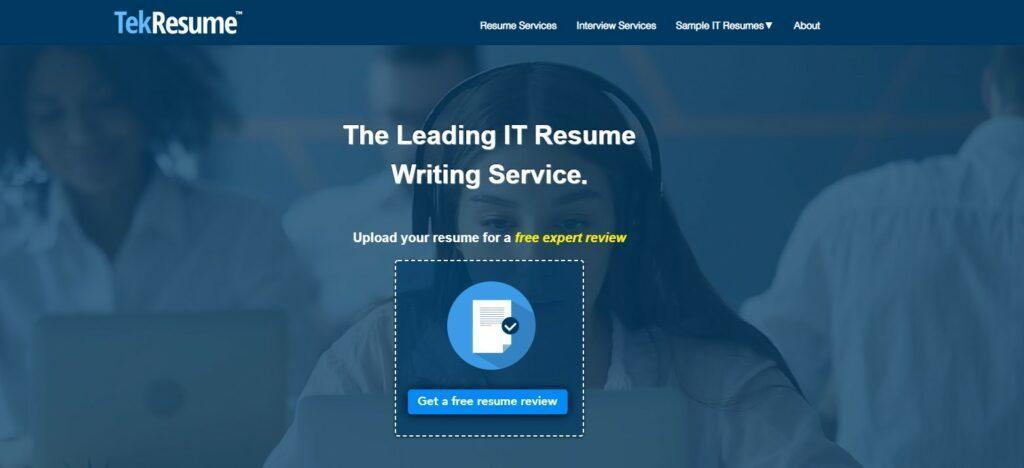 TekResume is owned by Michael Green. Michael was a technical recruiter for over 10 years before he founded this resume writing company. The technical resume writers on the team also have IT recruitment backgrounds. The company only writes information technology resumes.
Pros: The company offers the fastest turnaround time among the services on our list. You can see IT resume samples on the website. The company offers a free expert resume review to technology professionals. Also, the resume package comes with unlimited revisions.
Cons: It's not mentioned whether the resume writers have any certifications. Also, the service doesn't have many customer reviews on trusted review platforms.
Reviews: 5/5 based on 1 dexknows review
Turnaround: 24 hours
Cost: $599
Contact: (844) 835-4074 or resumes@tekresume.com
Visit TekResume
7. Information Technology Resume Service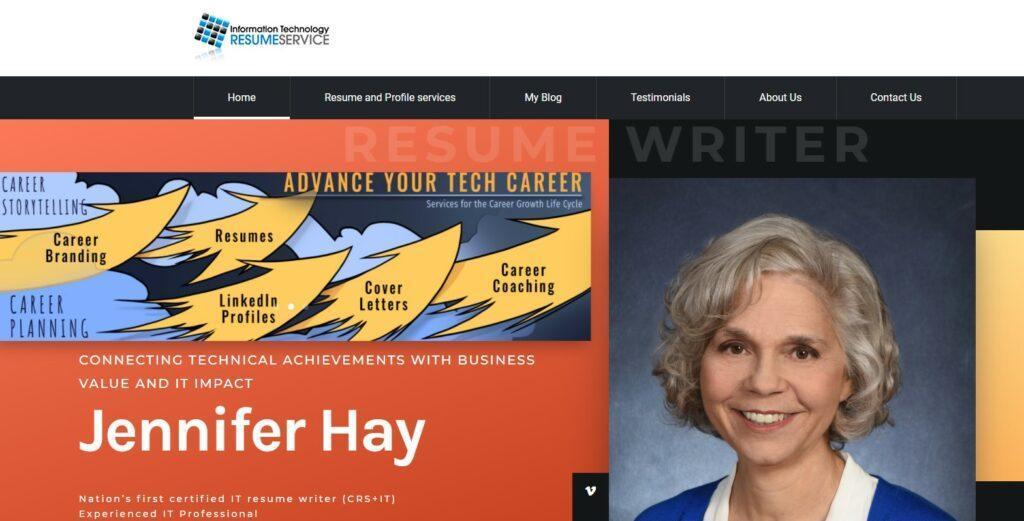 Information Technology Resume Service has the most self-explanatory name on this list, but their expertise is what solidifies them as a technology executive resume writing service that is honed in exclusively on IT resume writing. A great perk to working with Information Technology Resume Service is that they feature sample resumes right on their website. While you can Google information technology resume samples, the most reliable information technology resume examples will come straight from a source that specializes in this resume writing niche.
Pros: Founder Jennifer Hay was the first certified resume writer in information technology (CRS+IT) in the United States. She is a seasoned professional and thus has the chops to write a job-winning resume. Additionally, when working with this service, your resume will go through 3 cycles/drafts of refinement and you will have 2 months to use your final resume and let Jennifer know if you require changes.
Cons: There are no rush-order options with this information technology resume service, so if you need technology resume writing services with a quick turnaround, you may opt for a different choice. Also, there were no reviews from actual customers found online.
Reviews: Not found
Turnaround: 2 – 3 weeks
Cost: $695+
Contact: (425) 442-3706 or jhay@itresumeservice.com
8. iHire Technology
iHire Technology is a career company that handles all facets of employment. Since they work with both employers and employees, they understand both sides of the professional world – especially when it comes to human resources. In addition to information technology resume writing, iHire offers services including job searching, career advice, job posting, job ads, and more.
Pros: iHire employs some award-winning resume writers. One resume writer, in particular, won a Toast of the Resume Industry (TORI) award and came in 1st place. iHire's resume writers construct resumes for entry-level, professional-level, and executive-level employees.
Cons: There are wildly differing reviews of iHire's services, across the spectrum from extremely glowing to "buyer beware." However, the verified reviews on Trustpilot point to consistent service, and the wide range of services offered may cause a wide range of customer experiences.
Reviews: 4.1/5 based on 526 Trustpilot reviews, 1/5 stars based on 7 BBB reviews
Turnaround: 5 – 7 business days.
Cost: $395
Contact: (877) 840-6217
9. Resume Tech Guru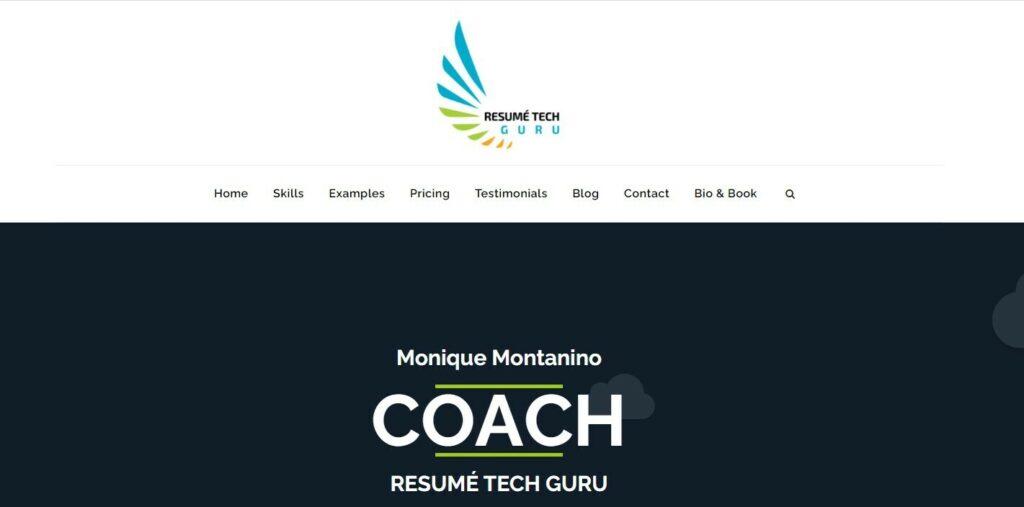 Resume Tech Guru is run by certified career coach and published author Monique Montanino. Monique is a career strategist with 20 years of Fortune 200 staffing experience and 15 years of career success at a technology company. She exclusively helps technology executives seeking career advice.
Pros: Monique's professional experience in information technology and recruitment gives her insider knowledge of what works on an IT resume. So far, she has conducted over 1,350 resume critiques and held over 700 coaching sessions.
Cons: The resume service is not available as a standalone service. All of the available packages also include career coaching. Also, the website doesn't offer much detail about the resume writing and coaching processes.
Reviews: 5/5 based on 6 Google reviews
Turnaround: Not found
Cost: $2,800+
Contact: (360) 316-9505 or monique@resumetech.guru
Visit Resume Tech Guru
10. A Resume For Today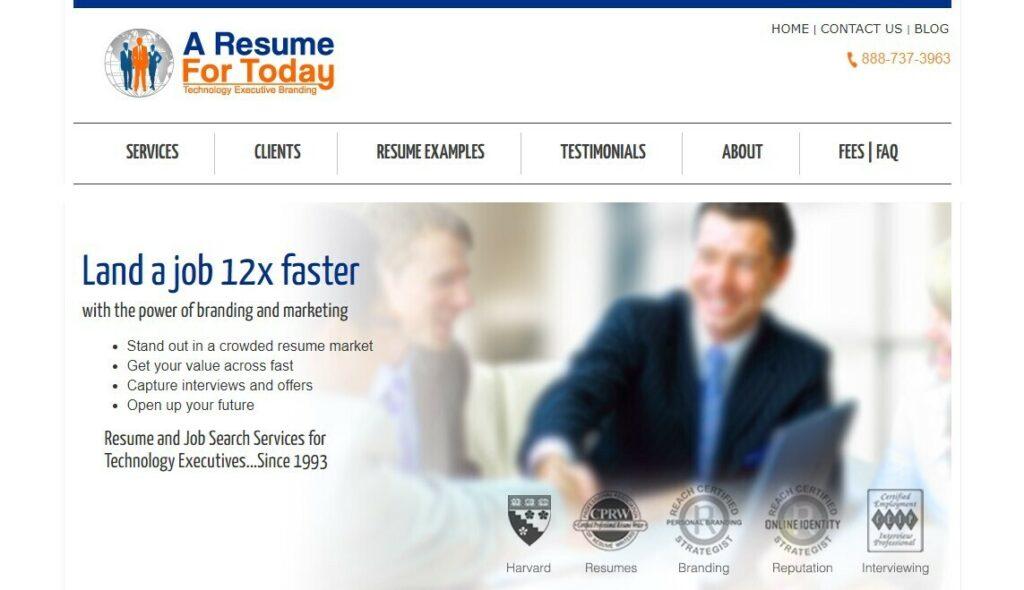 A Resume For Today is run by Tyrone Norwood, a career consultant and expert resume writer specializing in technology executive resumes. Tyrone is an award-winning Certified Professional Resume Writer (CPRW) and Certified Master Resume Writer (CMRW). He works with executives and individuals in senior managerial positions placed in technology companies.
Pros: The company provides free consultation to assess a technology executive resume requirements. Tyrone's resumes have been published in nationally distributed books. You will work directly with Tyrone one-on-one.
Cons: We couldn't find a detailed pricing structure on the site, especially for a company that specializes in IT and executive resumes. Additionally, the service does not have a social media presence anywhere.
Reviews: Not found
Turnaround: 7 – 10 business days
Cost: $995 – $1,395
Contact: (888) 737-3963 or info@aresumefortoday.com
Visit A Resume For Today
Bonus: Top IT Resume Winners (2021)
Find My Profession, Scientech Resumes, Shimmering Careers, Chameleon Resumes, Great Resumes Fast, Quantum Tech Resumes, Information Technology Resume Service, iHire Technology
IT Resume Example
We've included an information technology resume sample so you can get a better idea of what makes an IT resume great.
As you can see, IT resumes need to grab your attention with their appearance. They also need easy-to-read language that describes high-level skills.
Here is an example of an IT Manager resume. It is from the #1 pick on our list, Find My Profession. Click on the resume below to view the full resume.
Visit Find My Profession