Searching for a high-paying job has unique challenges that make it harder than a traditional job search.
The truth of the matter is, the higher the pay, the fewer jobs out there.
TheLadders.com was built to be a home for $100k+ jobs.
Instead of filtering through thousands of lower paid jobs on sites like Indeed, The Ladders focuses solely on six-figure jobs ensuring you won't get low-balled when it comes time to interview.
All of this sounds great, if it works.
Today we will be reviewing Ladders and their job search services.
We have taken a deep dive into the customer reviews, cost, and services offered. Our goal is to provide you with enough information to determine whether or not The Ladders would be right for you.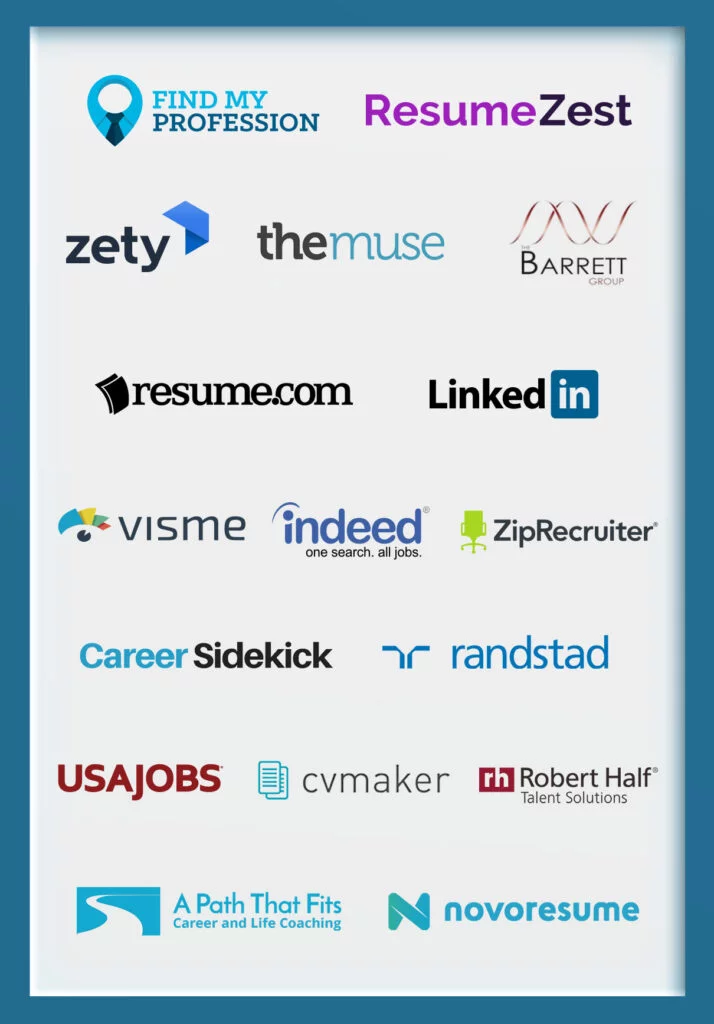 Need some more help?
Did you know there are dozens of companies that can help with your job search? Check out our list of the best agencies to find a job including our #1 alternative to The Ladders.
About The Ladders
The Ladders has been helping professionals grow and reach the next stage of their careers since its inception in 2003. The company was founded by Marc Cenedella, a leader in the world of resumes, interviews, and job search.
Ladders helps connect $100k+ professionals with high-quality opportunities and employers. Here's a list of the job roles available on the Ladders website:
Operations & General Management
Project & Program Management
Sales & Business Development
Technology
Accounting & Finance
Engineering & Construction
Healthcare
Human Resources & Legal
Science & Education
Marketing, Media & Design
The online job site also equips these high-end salary earners with the tools they need to scale their careers. These tools include a job board with over 250,000 targeted jobs, free resume reviews, info about target companies, career advice, and many more.
While there is no doubt TheLadders.com has been around for a while, the question many people ask is whether or not it is still a job board worth using (and paying for).
Let's dive right into some of the pros and cons when it comes to working with The Ladders.
Ladders Pros vs Cons
As with any company, there are pros and cons. It's up to you to determine what is a "must-have" and what things you can live without.
Pros
One of the few job boards specializing in $100k+ jobs.
Featured on Business Insider, Forbes, Inc., and more.
Free resume reviews and ease of applying with the "Apply4Me" feature.
Received a Webby Award in the employment category.
Cons
Poor online customer reviews averaging 2.4/5 stars.
One of the few job search sites that charges a fee to use.
The website is difficult and complicated to navigate.
Many people have accused The Ladders of not working.
If you are looking for a career service provider, Ladders is a great option, but it is worth considering other alternatives to find the best fit for your needs.
Find My Profession's Reverse Recruiting services provide a more comprehensive and efficient job search solution. With their services, you will have a dedicated career expert manage your entire job search process and handle everything from finding and applying to jobs to interview preparation.
Find My Profession also differs from Ladders in that they have excellent online reviews and a streamlined website and platform for communicating with your Reverse Recruiter.
Ladders Customer Reviews

Our Certified Career Experts have rated Ladders a 75/100. Additionally, Ladders has received customer reviews of 4.3/5 stars on Reviews.io, 1.2/5 stars on Trustpilot, 1/5 stars on Yelp, 4.4/5 stars on Sitejabber, 2.9/5 stars on G2, and 1/5 stars on BBB with a D- rating. These reviews may just be the worst we've seen for a job search service.
Reviews.io shows 715 reviews with an average rating of 4.3/5. Many of the reviews appeared to be reviews of jobs that were posted on The Ladders rather than actual reviews of the Ladders website. We tend to put more value on reviews from sites like Trustpilot, Sitejabber, and BBB.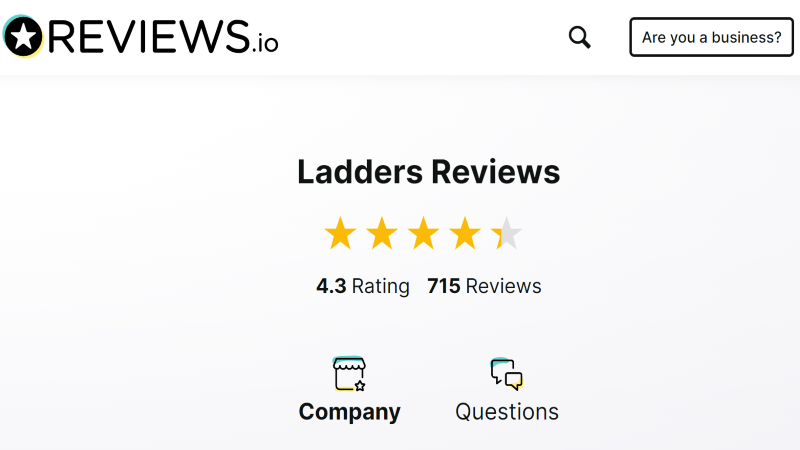 Trustpilot shows 260 reviews with an average rating of 1.2/5. Every single review they've gotten in the past three years has been completely negative. A lot of customers use terms like "scam" and "not worth the money".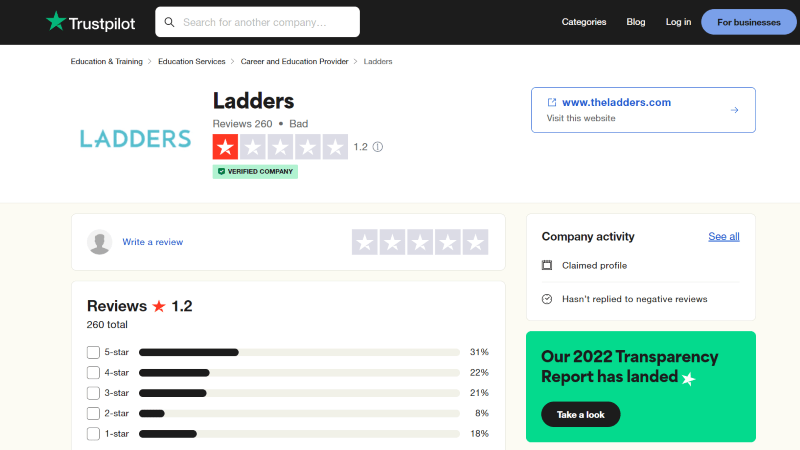 Yelp shows 52 reviews with an average rating of 1/5. Out of 52 total reviews, Ladders managed to secure just three positive 4-star reviews. The rest were 1-star and 2-star reviews from clients detailing their woeful experiences.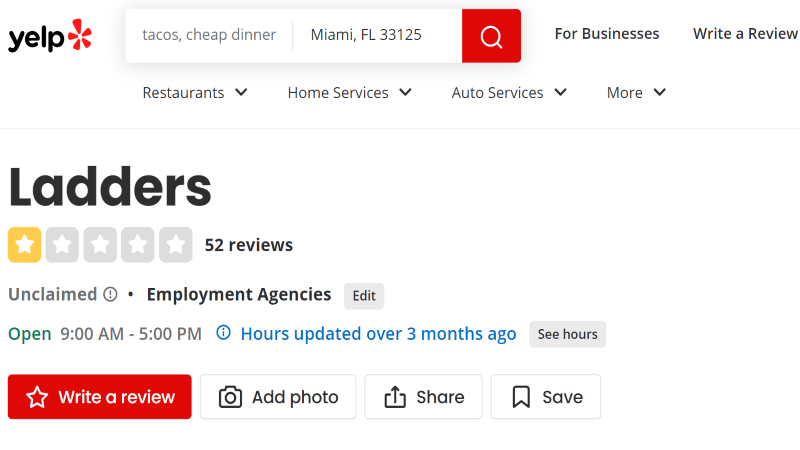 Sitejabber shows 39 reviews with an average rating of 4.4/5. Out of 39 reviews, Ladders received 26 5-star reviews from customers who felt they were doing something right.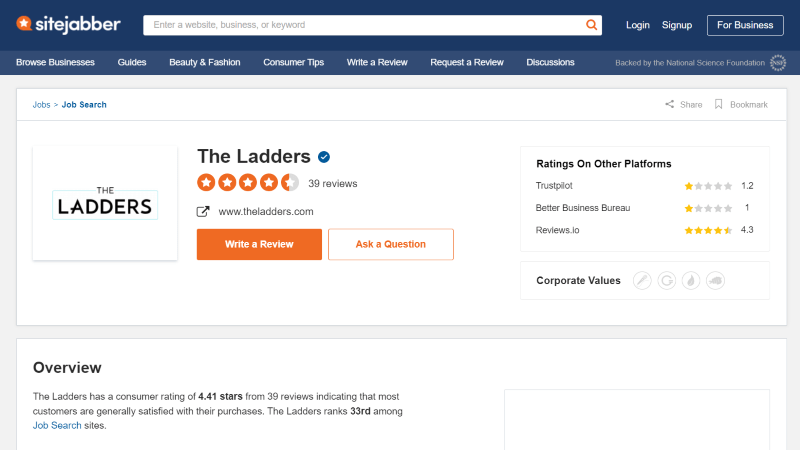 G2 shows 4 reviews with an average rating of 2.9/5. Half of these reviews were positive, with the other half being 3-star and 2-star customer reviews.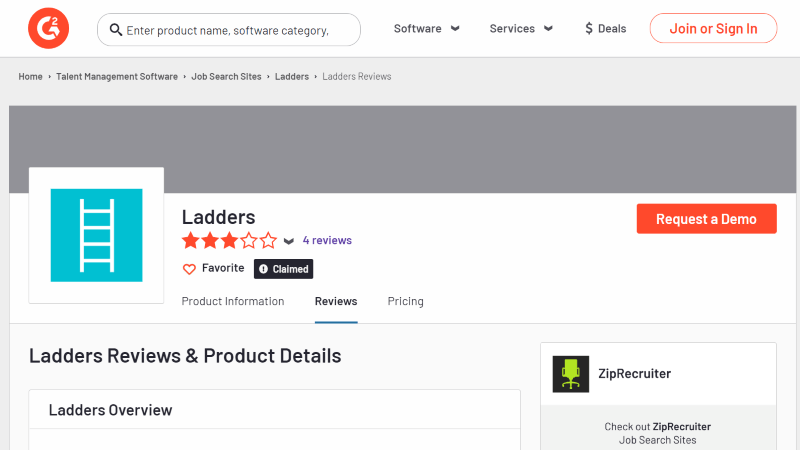 BBB shows 1 review with an average rating of 1/5. The reviewer complained about getting charged for a subscription they thought they had canceled.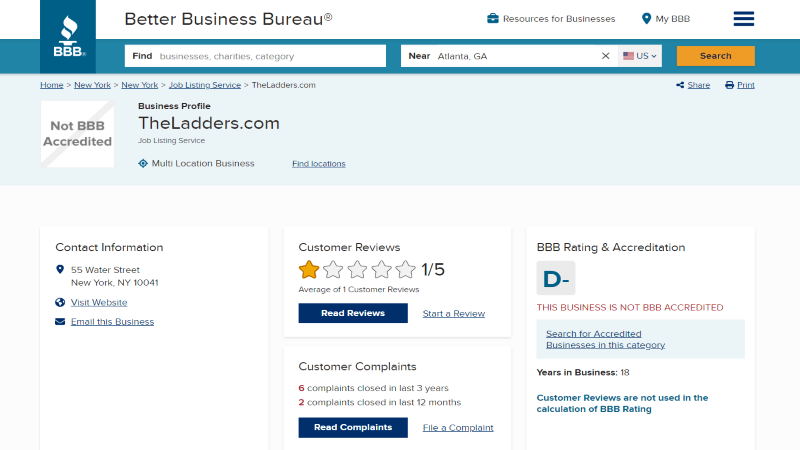 Overall, the reviews that Ladders received from its customers are downright poor.
It appears that a handful of years ago people were enjoying the service. However, in the past few years, the reviews have been primarily negative.
One angry customer in particular had a lot to say on this Reddit thread.
Read more about Ladders' sinking reputation in the "Is Ladders a Scam?" section down below.
As with anything, it's important to take each review with a grain of salt. Additional research should be done beyond reading the reviews that are found online.
Home Much Does Ladders Cost?

Ladders charges $0 (basic membership) – $49.97 per month (premium membership) for access to their job search services and resources. This is fairly affordable, since Ladders clients are $100k+ earners. But like with most things, you get what you pay for.
$24.99
Ladders uses a membership-based pricing model. So, to retain access to their services and resources, you'll need to pay a recurring fee.
That being said, they're considerate towards professionals who aren't yet willing to commit to paying said recurring fee.
That's why they also have a free membership, packed with fewer features and resources than the paid one.
There are two memberships to choose from – Basic ($0) and Premium ($49.97/month).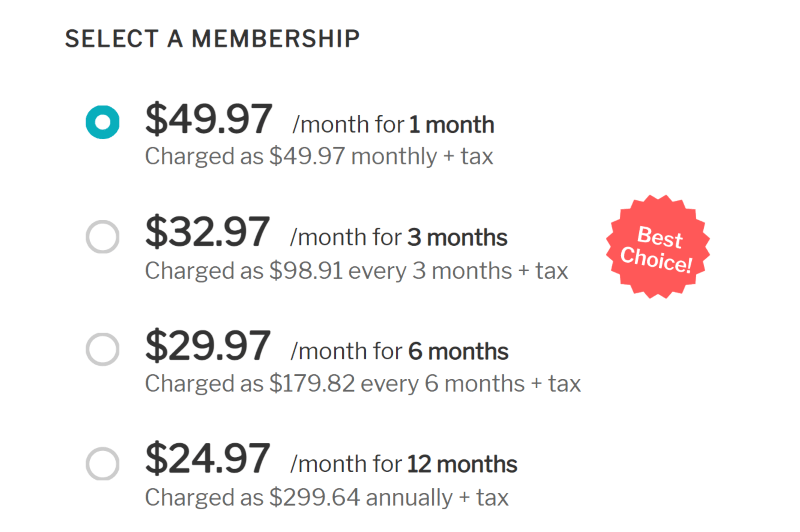 The main difference between the two membership plans has to do with the types of resources and services that you'll have access to.
The Basic membership gives you access to a search engine with tailored jobs, limited job applications, free resume reviews and rewrites, 73 free resume templates, and expert career advice ($0).
The Premium membership gives you access to everything in the basic membership plus unlimited job applications, Apply4Me, and active promotion to recruiters ($49.97/month).
Using Ladders for your job search makes you visible to over 25,000 recruiters. It also gives you access to more than 250,000 job postings. This remains true regardless of whether you're on the Basic membership or the Premium one.
While the above facts may seem to place both memberships on the same level, the premium membership's Apply4Me feature further widens the gap. More on this in the next section.
For the most accurate and up-to-date details on package pricing at The Ladders, we recommend that you visit their website directly.
Ladders Apply4Me
Apply4Me is a feature offered on TheLadders.com premium plan. Answer 18 questions that Ladders asks, and then simply click "Apply4Me" on jobs you are interested in on their website.
This is similar to "Easy Apply" jobs on Indeed or "1-Click Apply" jobs on ZipRecruiter. The primary difference is that Ladders claims to have a member of their team review the information entered on the application before it is sent off.
The Apply4Me feature will allow up to 100 applications every month. You'll receive an email confirmation for every job application that has been submitted successfully.
We wanted to find out more information about the "Ladders team member" who will be reviewing the applications. After a ton of digging around on TheLadders.com we found nothing.
Our suspicion is that these team members are outside of the US, however, we don't know this for certain.
The Ladders Team
Ladders is a fully remote workplace and as such, all their employees work virtually.
The company's website shows 16 of their team members but only provides bios about 5 of them, including the founder.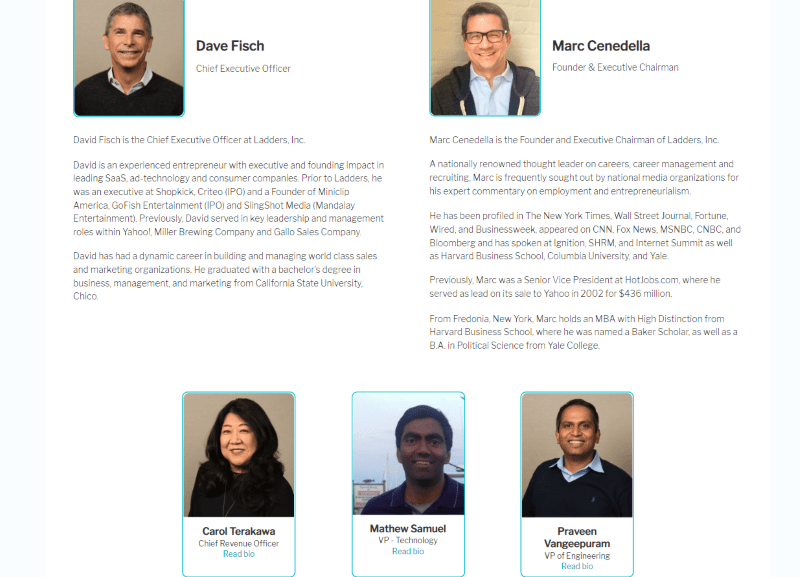 The founder (and former CEO) Marc Cenedella currently serves as the executive chairman of Ladders.
In 2022, David Fisch took over as CEO replacing Marc Cenedella. According to online reviews from past employees, this was probably a good move for the company. A recent Comparably review describes Marc as "a tyrant leading this company into the ground."
The other four team members, like the founder, have held several leadership roles in their career history. Of the four, two of them have founded and co-founded several businesses.
Upon further research into the company's LinkedIn profile, we discovered that it has 150 employees, as opposed to the 16 listed on their website.
We discovered that more than half of these 150 employees' profiles were nearly empty. In our experience, profiles like that are most likely fake/spammy.
Additionally, we discovered that some of the employees had roles like office receptionist, delivery driver, and student at Ladders. It's unclear why a company that offers job search services remotely would have such roles.
Is Ladders a Scam?
While there are hundreds of customers who would say "yes", there are also hundreds who would disagree.
To help you decide where to stand, we'll lay down some red flags that may have contributed to people thinking that Ladders is a scam.
Yes, the cost of their membership is affordable, but paying the fee would still be agitating if the company doesn't deliver results.
And that's exactly the sentiment with many of the negative Ladders reviews.
The internet is literally littered with tales of the company's incapacity and misdeeds.
The most notable of these tales is the one where Ladders got sued for defrauding their customers.
The company promised access to a job board of 250,000+ "screened jobs", all of which pay "$100k+".
Apparently, a large portion of the listings on their job board weren't screened. As a result, the jobs listed on the board were either old, did not pay up to $100k+, or did not even exist.
Another reason why people might think this company is a scam, is their awful reputation. Truth be told, Ladders' reputation has already hit rock bottom. A testament to this is their average customer rating of 2.45/5.
There are also Reddit threads dedicated to the company's ills. What's interesting is that these threads are created by not only the company's customers, but their former employees as well.
As if that's not bad enough, there's also an allegation about them selling their clients' information to insurance and financial services.
This is what we know about TheLadders.com misdeeds. It's left to you to decide whether or not you think the company is a scam.
Consider Find My Profession's Reverse Recruiting services to manage your entire job search and free yourself from job search sites. Our career experts handle everything from job searching and applications to interview preparation.