LinkedIn is the fastest growing business-focused social media site in the world.
Did you know that over 90% of recruiters use LinkedIn? Equally shocking is the fact that more than 70% off employers use social media to screen candidates before hiring?
Whether you are applying to jobs or networking, your LinkedIn profile can either make or break you.
It's not surprising that there are more than 300 LinkedIn profile writing services in the United States alone.
To help, our research team has taken the time to identify the best LinkedIn services.
What Is a Linkedin Profile Writing Service?
A LinkedIn profile writing service is an increasingly popular option for job seekers to become more marketable during their job search.
With over 70% of employers checking social media to screen candidates, it's no wonder LinkedIn profile writers are in such demand.
A LinkedIn profile writing service is essentially a resume makeover, but for your LinkedIn.
Most people who offer LinkedIn profile makeovers also offer resume writing as a service.
A good LinkedIn profile writing service will ensure that your LinkedIn profile attracts the right recruiters, uses appropriate keywords, and represents you in the best light possible.
In most cases, the best deals for LinkedIn makeovers can be found when you bundle your LinkedIn profile with a brand new resume.
For example, Find My Profession charges $649 for a LinkedIn makeover alone. However, when you bundle this with a resume, the LinkedIn profile service comes out to only $200 (~$450 in savings).
LinkedIn Writing Service Criteria
Each of the LinkedIn profile writing services below was reviewed by a Certified Professional Resume Writer (CPRW) and Career Coach taking into consideration the following:
Cost: The cost of the service compared to other LinkedIn writers.
Turnaround: The speed at which LinkedIn is completed.
Credentials: Overall experience, awards, and certifications.
LinkedIn Design: The design, style, and overall look of the LinkedIn profile.
Customer Service: Guarantees, number of edits, and reviews.
This list was hand-curated to serve all industries, professions, and career levels. Whether you are in finance, sales, HR, engineering, or any other role, these companies will provide excellent LinkedIn profiles.
Best LinkedIn Profile Writing Services
1. Find My Profession
Find My Profession is not your typical LinkedIn profile writing service. We are a global company on a mission to provide effective and keyword-optimized LinkedIn profiles that convert into offers.
Our elite LinkedIn writing team has experience in 85+ industries/professions. This allows us to assign you a professional writer based on your unique background and experience.
We have successfully landed our clients positions at companies like Apple, Amazon, EA, Oracle, GM, Facebook, DoJ, Morgan Stanley, Gap, and 2U just to name a few.
Find My Profession has 650+ 5-star reviews and offers a 60-day interview guarantee. Every LinkedIn profile created is keyword optimized for recruiters and highly customized to meet your specific needs.
Pros: You will work one-on-one with a LinkedIn profile writer in the United States. Find My Profession commits to working with each client until they are 100% satisfied. We will also do all the work directly in your LinkedIn profile (many companies simply send docs with the information for you to upload yourself).
Cons: Find My Profession is a virtual company. While we provide services in your city, we don't have a physical office for in-person visits. You'll communicate directly with your writer via email and phone calls.
Reviews: 5/5 based on 124 Google reviews, 5/5 based on 8 BBB reviews, 5/5 based on 35 Facebook reviews, 4.9/5 based on 304 Trustpilot reviews, 4.7/5 based on 255 Sitejabber reviews
Turnaround: 2 – 3 business days
Cost: $200 (when added to resume + cover letter packages) or $375 – $649 a la carte
Contact: (831) 888-0967 or help@findmyprofession.com
Check out some of our 5-star reviews.
2. Kelly Donovan & Associates
Kelly Donovan & Associates (KDA) are online seminar creators, resume writers, and LinkedIn profile optimizers. Kelly Donovan began her business in 2008 and since then she has helped hundreds of job seekers. She is a certified professional resume writer and has contributed to various career-related books.
Pros: Kelly Donovan & Associates is focused on providing lower-volume, higher quality career services. With KDA you won't experience a rushed product with a 2-business day turnaround time. KDA takes time to speak with you on a 60-90 minute consultation and will put in the time to provide top-notch service.
Cons: The biggest drawback to Kelly Donovan & Associates would be their pricing and turnaround times. We couldn't find any a la carte pricing for just the LinkedIn profile makeover but upon calling the business they stated that their minimum project cost is $1,200.
Reviews: 5/5 based on 2 Yelp reviews
Turnaround: 2 – 3 weeks
Cost: $1,200+
Contact: (909) 235-6383
Visit Kelly Donovan & Associates
3. LinkedIn Makeover
LinkedIn Makeover is not only the name of this company, but it is also the main service that this company offers. To clarify, this company is not owned by LinkedIn nor are they affiliated in any way. In addition to LinkedIn writing services, this company also offers resume writing, blog writing, and even some corporate solutions. The founder, Donna Serdula, and her team have helped over 5,000 professionals optimize their LinkedIn profiles since 2009.
Pros: This company will actually upload your resume for you. Not many services offer to log into your profile and add the information but this one does.
Cons: The overall price point could be a little steep for some job seekers. We also were not able to find any reviews online. Lastly, it does not appear that Donna Serdula writes all the LinkedIn profiles herself.
Reviews: Not found
Turnaround: 3 – 10 business days
Cost: $500 – $1,300
Contact: (215) 839-0008 or donna@linkedin-makeover.com
4. Robin Ryan
Robin Ryan is a career counselor, bestselling author, and the founder and CEO of her company, Robin Ryan. Robin does resume writing, CV writing, LinkedIn profile writing services, and can even help with your job search and interviewing. Robin Ryan has an impressive background appearing on over 2,000 TV & radio shows, and as a public speaker and career expert featured in various major publications. She is also a weekly columnist for Forbes and has written eight books.
Pros: Robin Ryan personally writes each of the LinkedIn profiles and does not outsource any of her work. This is great news because many companies who boast talented founders don't actually have their founders doing any of the work.
Cons: Robin requires a 2-hour consultation with her clients. She works on the LinkedIn profile during the consultation which allows you to see in real-time the updates being made to your LinkedIn. This could be a con for professionals who do not have a lot of time to spend on the phone.
Reviews: Not found
Turnaround: LinkedIn profile will be completed immediately after the phone consultation
Cost: $500
Contact: (425) 226-0414 or robin@robinryan.com
5. LinkedIn ProFinder
LinkedIn ProFinder is an up and coming freelance site exclusively available for LinkedIn users. It makes perfect sense that LinkedIn would promote LinkedIn profile services. If you have trouble finding these services, it's actually listed under the "Resume Writing" category. But you can notice from the picture above that "LinkedIn profile" is an option to select.
Pros: LinkedIn ProFinder is unique because it gives you the opportunity to review your writer's actual LinkedIn profile before hiring them. If you are on the market for a new LinkedIn profile, having the opportunity to research a writer and see what they consider a good LinkedIn is helpful.
Cons: ProFinder can be a bit challenging to find the best talent. Since the freelancers are usually matched based on your current location, it can be a bit limiting. After all, the odds that the very best LinkedIn profile writer is located in your city are slim. These services can be offered digitally so finding a pro who is not local may be a better option.
Reviews: Varies based on the freelancer hired
Turnaround: 1 – 2 weeks
Cost: $250 – $500+
Contact: Not stated
6. Klaxos
Klaxos employs a team of resume and LinkedIn profile writers with experience working for individuals, corporations, organizations, nonprofits, and more. They boast a combined 100 years of experience in recruiting, writing, marketing, and communications. Since 2009, they have been helping individuals in 30+ countries and 200+ industries with their resume and LinkedIn writing services.
Pros: Klaxos offers more affordable pricing than many of the companies on this list. They have one price for all career levels whether you are fresh out of college or 30 years into your career.
Cons: Klaxos does not claim to offer 1-on-1 phone consultations for their LinkedIn profile writing services. They also state on their website that "We are the only firm that installs your new profile into your LinkedIn" which sadly is a blatant lie. There are many other companies mentioned on this last that do this. It's also peculiar that there is no phone number or email listed for this website.
Reviews: 5/5 based on 3 BBB reviews, 5/5 based on 1 Facebook review, 4.9/5 based on 103 Google reviews, 4.5/5 based on 21 Yelp reviews
Turnaround: 2 – 4 business days
Cost: $399
Contact: Not stated
7. The Writing Master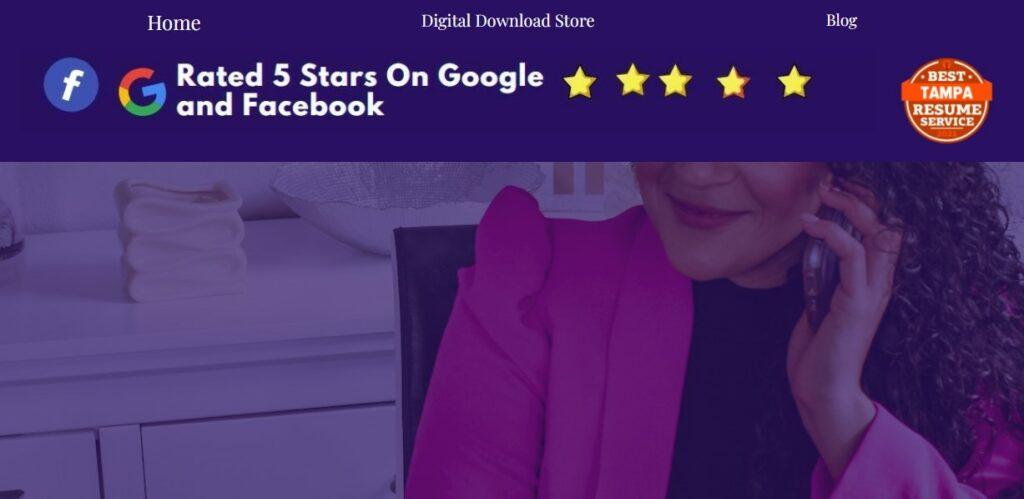 The Writing Master is run by Viviana Munoz, who is a writer with unparalleled versatility. Viviana is a web developer, a programmer, a marketer, and a writer at the same time. She also has a background as a recruiter. Viviana has a Master's in IT, a Bachelor's in Programming, and an Associate's degree in Accounting.
Pros: You will be working one-on-one with Viviana herself on your LinkedIn profile. Viviana has been helping others deliver their message and building their businesses by using creative writing for over 20 years.
Cons: LinkedIn profile writing is not Viviana's sole focus. She also offers web content writing and ghostwriting services. The website lacks details about the LinkedIn profile writing process.
Reviews: 5/5 based on 18 Facebook reviews, 5/5 based on 12 Google reviews
Turnaround: Not found
Cost: $499+
Contact: info@thewritingmaster.com
Visit The Writing Master
8. LinkedIn Profile & Resume Writing Services
LinkedIn Profile & Resume Writing Services is owned by Carla Deter. Carla has been writing LinkedIn profiles for over a decade. She is a Nationally Certified Online Profile Expert (NCOPE). All the clients work directly with Carla herself. She writes resumes and LinkedIn profiles for all career levels. 
Pros: The company offers a 60-day interview guarantee. That means if you do not receive more interviews within 60 days, they will revise your profile for free. You can also review plenty of profile samples on the website.
Cons: Phone consultation with Carla is not included with the LinkedIn profile-only package. You will have to pay extra for including the phone consultation option.
Reviews: 5/5 based on 2 Facebook reviews 4.5/5 based on 23 Google reviews
Turnaround: Not found
Cost: $499 – $1549+
Contact: carla@linkedinpro.co
Visit LinkedIn Profile & Resume Writing Services
9. Fiverr
Fiverr is another online freelancing site similar to LinkedIn ProFinder. With thousands of freelancers to choose from, Fiverr gives you complete control over finding the best LinkedIn profile writing service yourself.
Pros: Fiverr has one of the widest varieties of LinkedIn profile writers that you can find. If you have a set price in mind, Fiverr will let you search through hundreds of freelance writers to find one that is within your desired budget. You can also pay just for specific sections of your LinkedIn profile. If you only want a "summary" but not the rest of the LinkedIn profile, Fiverr has that option.
Cons: Fiverr requires a bit more work and research to find a great writer, compared to using a traditional LinkedIn profile writing service from this list. Fiverr has a ton of options, which could be considered a good thing, or a bit overwhelming to others. This site is the most likely of all the sites to leave you with a negative experience because it's difficult to know what to expect. Use at your own risk.
Reviews: Varies based on the freelancer hired
Turnaround: 2 – 10 business days
Cost: $50 – $350+
Contact: Not stated
Bonus: Top LinkedIn Profile Winners (2021)
Find My Profession, Kelly Donovan & Associates, LinkedIn Makeover, Robin Ryan, LinkedIn ProFinder, Klaxos, TopResume, Fiverr
Professional LinkedIn Profile Writers Samples
Click the links below to find some top-notch LinkedIn profile samples from our staff at Find My Profession.
Lindsay Duston – Director, Resume Services
Jen Gonzales – Digital Marketing Manager
What are you waiting for? Send us a message today and find out how we can help take your LinkedIn profile to the next level.