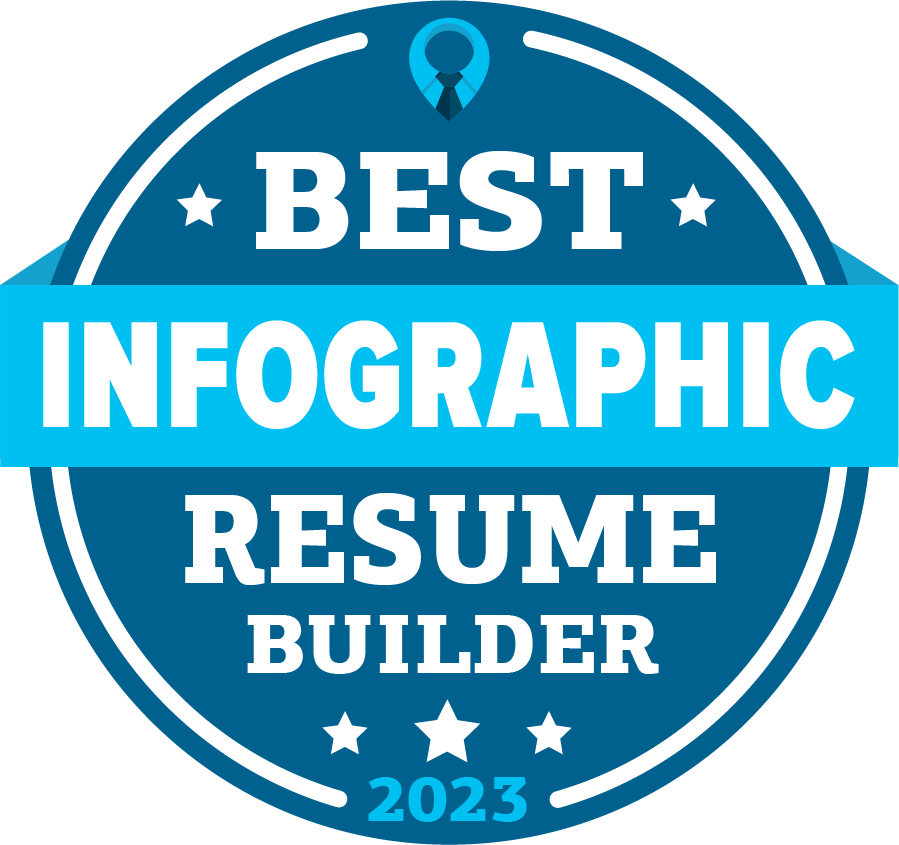 2023 Winners: Add your badge to your marketing materials.
Infographic resumes, also known as visual resumes, are a popular style that transforms your traditional resume into a visually appealing attraction.
Infographic resumes use graphics, colors, charts, unique fonts, and other eye-catching designs in order to make your resume stand out.
Visual resumes are becoming more and more popular. With such great designs, it can be tempting to use an infographic resume.
After all, you want to stick out from your competition, don't you?
But there's a reason that not everyone uses infographic resumes.
Infographic resumes are not Applicant Tracking System (ATS) compatible. So, it's important to know when to use this type of resume, and when to use a traditional resume.
Just like with most things in life, there is an appropriate time to use an infographic resume, and an inappropriate time.
Infographic resumes are not common enough yet to replace a standard resume.
If you are going to use an infographic resume, make sure to use it in addition to your standard resume.
DO use an infographic resume if you work in creative/design jobs.
DON'T use an infographic resume exclusively, without a traditional resume.
DO use an infographic resume when you are emailing or sending a direct message to someone.
DON'T use an infographic resume when you are applying to jobs online.
Best
Infographic Resume Builders



4

4
5

5
How We Choose Winners
Each of the infographic resume services below was reviewed by a Certified Professional Resume Writer (CPRW) taking into consideration the following:
The cost of the service compared to other infographic resume services.
The design, style, and overall look of the infographic resume.
How easy it is to create your infographic resume.
This list was hand-curated to serve all industries, professions, and career levels. While infographic resume services are not the perfect solution for a top-notch resume, they can definitely help creative professionals stand out.
Infographic Resume Builder Reviews
Easel.ly is the go-to website for all things infographics and the company that we consider to be the best infographic resume builder. While resumes are not their only focus, they sure do a great job at designing them. With both free and paid options, this is definitely a site worth exploring.
Easel.ly offers a completely free version that is feature-packed compared to other free infographic resume builders. Sure, you have to do some of the work on your own, inputting the data for your resume. But if you are looking for some amazing (and free!) infographic resume templates, this will be one of your best options.
Not all of the features are free. In order to download a high-quality infographic resume, you have to pay. Only the low-quality download is included for free.
Fiverr is a lot more than just an infographic resume builder. Fiverr is a platform that brings freelancers together with those in need of a service. While infographic resumes are not the company's only focus, they do have some talented freelancers who offer infographic resume writing at a reasonable cost.
Unlike any other company on this list, Fiverr actually has contractors that will write your infographic resume for you. The other companies listed simply provide templates, where you have to enter the information yourself.
As this is a freelancer site, Fiverr cannot guarantee the quality of your resume or your satisfaction with the person hired.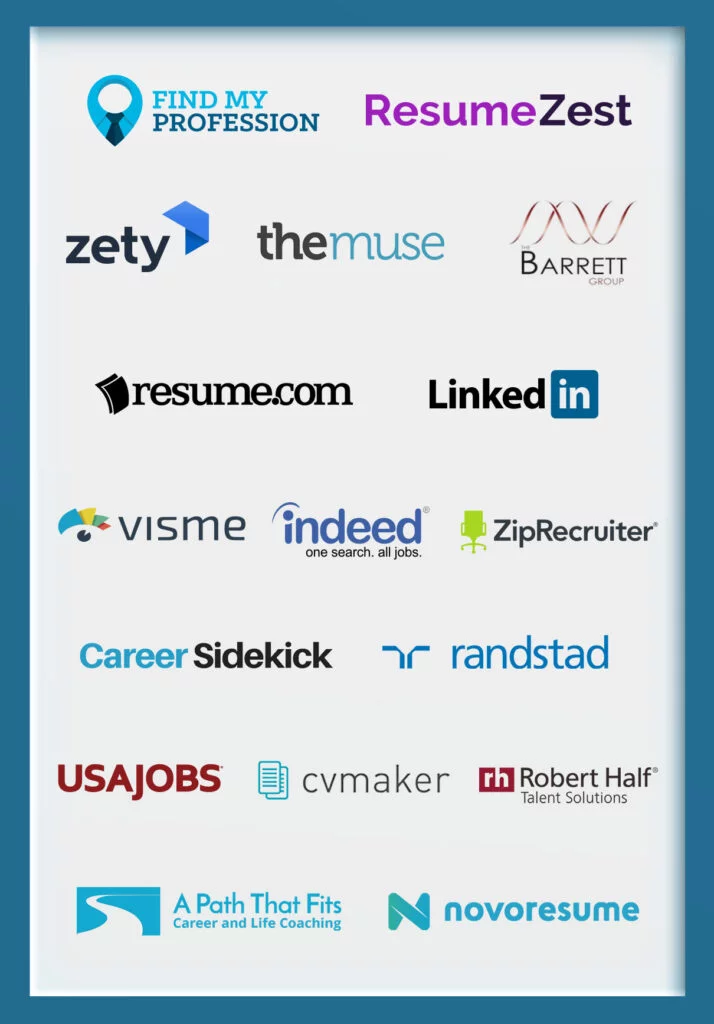 Need Help With Your Job Search?
Did you know there are companies you can hire to help with your job search? Whether you need resume help or want someone to apply to jobs for you, we've reviewed the 20 best agencies to help you find a job.
Visme is a presentation, infographic, social graphic, and web graphics creation company that offers infographic resume templates along with a wide variety of other services. They believe everyone should be able to create appealing designs with no design experience.
Visme is one of the easiest to use infographic resume builder websites on the internet. Simply sign up and search for "resumes" in the search bar. You will then be taken to over 50 different infographic resume designs to choose from. In addition to the variety, the pricing is reasonable.
Almost all of the attractive infographic resume options require a paid plan. If you are looking for a free option, Visme may not be for you.
Venngage is one of the best infographic creators on the internet. With templates ranging from infographics and newsletters, flyers and cards, Venngage offers a lot more than resume templates.
Venngage has years of experience creating infographics. With more than 80 templates to choose from, Visme has one of the largest selections of infographic resumes in the world. This company also walks you through the process of using their infographic resume creator tool, which is great if you are not highly tech-savvy.
In order to take advantage of this service's templates, you will have to pay for the service. This is not made clear prior to creating a resume.
Piktochart is a service similar to Easel.ly in that they are a graphics company first, with infographic resumes providing one area of focus. Their resume templates were designed by professional designers.
Piktochart is an expert in making high-quality visuals. They offer a free version with limited template downloads but at least you can get an idea of what they offer before upgrading to the paid plan.
You must sign up with your email before viewing templates. The website is a bit technical and hard to use. Lastly, the majority of the infographic resume templates worth downloading are under the paid Pro version.
Previous Years Winners
Infographic Resume Builder Winners (2022)
Easel.ly, Fiverr, Visme, Venngage, Piktochart
Infographic Resume Builder Winners (2021)
Easel.ly, Fiverr, Visme, Venngage, Piktochart