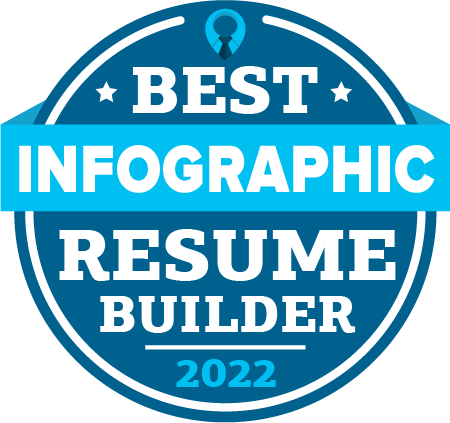 2022 Winners: Add your badge to your marketing materials.
Infographic resumes, also known as visual resumes, are a popular style that transforms your traditional resume into a visually appealing attraction.
Infographic resumes use graphics, colors, charts, unique fonts, and other eye-catching designs in order to make your resume stand out.
Visual resumes are becoming more and more popular. With such great designs, it can be tempting to use an infographic resume.
After all, you want to stick out from your competition, don't you?
But there's a reason that not everyone uses infographic resumes.
Infographic resumes are not Applicant Tracking System (ATS) compatible. So, it's important to know when to use this type of resume, and when to use a traditional resume.
Just like with most things in life, there is an appropriate time to use an infographic resume, and an inappropriate time.
Infographic resumes are not common enough yet to replace a standard resume.
If you are going to use an infographic resume, make sure to use it in addition to your standard resume.
DO use an infographic resume if you work in creative/design jobs.
DON'T use an infographic resume exclusively, without a traditional resume.
DO use an infographic resume when you are emailing or sending a direct message to someone.
DON'T use an infographic resume when you are applying to jobs online.
How We Choose Winners
Each of the infographic resume services below was reviewed by a Certified Professional Resume Writer (CPRW) taking into consideration the following:
The cost of the service compared to other infographic resume services.
The design, style, and overall look of the infographic resume.
How easy it is to create your infographic resume.
This list was hand-curated to serve all industries, professions, and career levels. While infographic resume services are not the perfect solution for a top-notch resume, they can definitely help creative professionals stand out.
Infographic Resume Builder Reviews
Easel.ly is the go-to website for all things infographics and the company that we consider to be the best infographic resume builder. While resumes are not their only focus, they sure do a great job at designing them. With both free and paid options, this is definitely a site worth exploring.
Easel.ly offers a completely free version that is feature-packed compared to other free infographic resume builders. Sure, you have to do some of the work on your own, inputting the data for your resume. But if you are looking for some amazing (and free!) infographic resume templates, this will be one of your best options.
Not all of the features are free. In order to download a high-quality infographic resume, you have to pay. Only the low-quality download is included for free.
Check out some of our 5-star reviews:
Belda Villalon on July 1, 2022
Thank you
My experience with the entire Find My Profession team has been outstanding. They helped me frame my resume with my experience based on the opportunities I was seeking. I partnered with [Resume Writer] and [Reverse Recruiter], who were both amazing, professional and really know what they are doing. I have already recommended their serves to a few colleagues since they know how to maneuver through the ever-changing hiring process!
Chakib Abi-saab on May 14, 2022
Outstanding service
I had the opportunity to work with [Reverse Recruiter], and I must say the experience was excellent. The communication was great, the level of professionalism and effectiveness was very high, from identifying the right jobs to networking with the right people in LinkedIn! I highly recommend this service to anyone in a senior position who is serious about finding a new job. Take it from me, you can not do it better yourself.
BR on September 4, 2022
Excellent Results
I hadn't updated my resume in a few years. Very glad I decided to use Find My Profession for some help. I got in touch with my writer, [Resume Writer], very quickly after signing up. He knew what recruiters are looking for and collected relevant information on my background. He was able to tell my success stories and highlight experience much better than I was on my own. I was so pleased, I added the linked in profile as well.
Ife Daramola on August 30, 2021
Worth the investment
I used the Find My Profession service to rewrite my resume and to revamp my Linkedin page. I also used the Find My Profession career finder service and worked with [Reverse Recruiter] to help me apply for roles and market my profile to potential employers. [Reverse Recruiter] worked very diligently to ensure that my profile was marketed to top-level executives in my industry and his efforts eventually led to my finding the perfect role which I received a great offer and that I accepted. This is a great service and I believe it is worth the investment for those who are looking to find their next role.
John on August 18, 2022
Very pleased with services
[Resume Writer] was the Executive Resume Writer who updated my resume, cover letter, and LinkedIn profile. She was very professional, patient, thorough, and was very accepting of my feedback/thoughts. I'm very pleased with the level of service and the end products I was provided.
Kelley White on April 12, 2022
Great service for busy…
I am so pleased with my experience with [Reverse Recruiter] at FMP. I was looking to change industries, but too busy and overwhelmed with my day-to-day to embark on the journey on my own. No only did he do the heavy lifting with applications, but was a readily available resource in coaching to ensure I nailed interviews and marketed myself in the best way possible. He was helped to give me realistic expectations without short-changing myself or my skills to get the job I wanted. Thanks to him, I was able to secure a great role at my dream company within 6 weeks!
Chad B on May 2, 2022
Wonderful investment
[Resume Writer] was a pleasure to work with. This was a great experience and investment in myself and career. I always feel overwhelmed by creating or updating my resume and I had no idea how to create one that was suitable for today's automated analysis used by HR departments. I struggle to find the best words to describe what I do and what I like/dislike. In one phone call [Resume Writer] was able to listen to me blather on and craft my experiences into an outstanding package. 100% recommend making this investment in yourself.
Sarah Streiffert on August 18, 2021
Excellent Service!
I started using the Career Finder service on July 16th, and a month later on August 16th, I was offered a job! I really appreciated [Reverse Recruiter's] guidance and expertise through this process. It had been 18 years since I'd had to job search, and had no idea where to start. While the price was high, I thought if this service shortened my job search by a few months, then it would be worth it. [Reverse Recruiter] was very skilled in networking, helping me find positions that were of interest, but weren't necessarily ones I would have looked for myself, applying, (and outside his job description), dealing with my emotions as I got rejections, and became frustrated trying to figure out what I was searching for. The position I landed was something that I probably wouldn't have thought to look at myself. I appreciate how fast I was able to find something that I feel like will be a great fit, and I would highly recommend [Reverse Recruiter] and this service.
Fiverr is a lot more than just an infographic resume builder. Fiverr is a platform that brings freelancers together with those in need of a service. While infographic resumes are not the company's only focus, they do have some talented freelancers who offer infographic resume writing at a reasonable cost.
Unlike any other company on this list, Fiverr actually has contractors that will write your infographic resume for you. The other companies listed simply provide templates, where you have to enter the information yourself.
As this is a freelancer site, Fiverr cannot guarantee the quality of your resume or your satisfaction with the person hired.
Need Help With Your Job Search?
Did you know there are companies you can hire to help with your job search? Whether you need resume help or want someone to apply to jobs for you, we've reviewed the 20 best agencies to help you find a job.
Visme is a presentation, infographic, social graphic, and web graphics creation company that offers infographic resume templates along with a wide variety of other services. They believe everyone should be able to create appealing designs with no design experience.
Visme is one of the easiest to use infographic resume builder websites on the internet. Simply sign up and search for "resumes" in the search bar. You will then be taken to over 50 different infographic resume designs to choose from. In addition to the variety, the pricing is reasonable.
Almost all of the attractive infographic resume options require a paid plan. If you are looking for a free option, Visme may not be for you.
Venngage is one of the best infographic creators on the internet. With templates ranging from infographics and newsletters, flyers and cards, Venngage offers a lot more than resume templates.
Venngage has years of experience creating infographics. With more than 80 templates to choose from, Visme has one of the largest selections of infographic resumes in the world. This company also walks you through the process of using their infographic resume creator tool, which is great if you are not highly tech-savvy.
In order to take advantage of this service's templates, you will have to pay for the service. This is not made clear prior to creating a resume.
Piktochart is a service similar to Easel.ly in that they are a graphics company first, with infographic resumes providing one area of focus. Their resume templates were designed by professional designers.
Piktochart is an expert in making high-quality visuals. They offer a free version with limited template downloads but at least you can get an idea of what they offer before upgrading to the paid plan.
You must sign up with your email before viewing templates. The website is a bit technical and hard to use. Lastly, the majority of the infographic resume templates worth downloading are under the paid Pro version.
Previous Years Winners
Infographic Resume Builder Winners (2021)
Easel.ly, Fiverr, Visme, Venngage, Piktochart