Being an executive on a job-search journey can be tough.
Not because you're not qualified or experienced enough, but because it's a challenge to find jobs at the senior level you are looking for.
One way to escape this situation is to seek the help of an executive job search site like ExecuNet.
ExecuNet specializes in executive-level job opportunities that pay $150k+.
Instead of filtering through thousands of lower-paid jobs on sites like Indeed, ExecuNet focuses solely on six-figure jobs, ensuring you won't get low-balled when it comes time to interview.
All of this sounds great…if it works.
Today we will be reviewing ExecuNet and its job search services.
We have taken a deep dive into the customer reviews, costs, and services offered. Our goal is to provide you with enough information to determine whether or not ExecuNet would be right for you.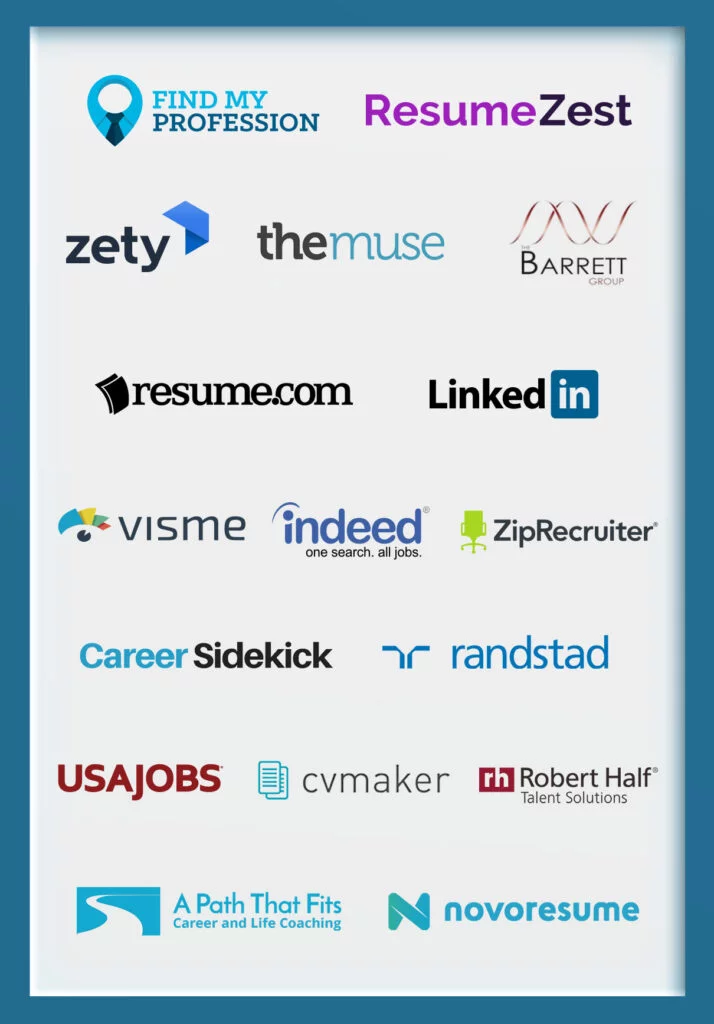 Need some more help?
Did you know there are dozens of companies that can help with your job search? Check out our list of the best agencies to find a job, including our #1 alternative to ExecuNet.
About ExecuNet
ExecuNet has been helping executives secure their dream jobs since 1988. The company was founded by Dave Opton.
ExecuNet was a product of Dave's frustrations. He had been unfortunate enough to find himself in the unemployment market at the age of 48. As a senior executive at the time, it was extremely difficult for him to get a new job.
Following this painstaking situation, he devised the idea of ExecuNet. He created the company so senior executives no longer had to struggle to find suitable jobs.
ExecuNet offers a slew of services geared towards helping senior executives advance in their career. These offerings include resume and coaching services, resume reviews, and career advice.
The company's website also has a job board with thousands of exec-level jobs that you can apply for. Some of these ExecuNet jobs include but are not limited to:
Finance
General Management
Operations/Engineering/R&D/Healthcare
Marketing & Sales
Human Resources
Information Tech/MIS
Consulting
Legal
Regulatory Affairs
ExecuNet has been on the job search block for three decades, which begs the question of whether they are still up to the challenge or not.
Let's dive right into some of the pros and cons of working with ExecuNet.
ExecuNet Pros vs Cons
As with any company, there are pros and cons. It's up to you to determine what is a "must-have" and what things you can live without in your executive job search.
Pros
Recognized by Forbes as a leader in helping senior executives find their "next great next."

One of the few job boards specializing in $150k+ jobs.

Trusted by executives at Amazon, Microsoft, Gartner, AWS, and more.

Thirty-day money-back guarantee on their membership plans.
Cons
Poor online customer reviews.

Users can't apply for jobs without a membership plan.

The website is complicated and difficult to navigate.

Customers have complained of being unable to cancel the membership.
If you are looking for a career service provider, ExecuNet is a great option, but it is worth considering other alternatives to find the best fit for your needs.
Find My Profession's Reverse Recruiting services provide a more comprehensive and efficient job search solution. With their services, you will have a dedicated career expert manage your entire job search process and handle everything from finding and applying to jobs to interview preparation.
Find My Profession also differs from ExecuNet in that they have excellent online reviews, a streamlined website and platform for communicating with your Reverse Recruiter, and the option to easily continue or cancel services every 4 weeks.
ExecuNet Customer Reviews

Our Certified Career Experts have rated ExecuNet a 65/100. Additionally, ExecuNet has received customer reviews of 4.2/5 stars on Trustpilot, 3/5 stars on Google, 2.3/5 stars on BBB with an A+ rating, and 1/5 stars on Yelp. These reviews are far from impressive for a job search service specializing in the world of executives.
Trustpilot shows 46 reviews with an average rating of 4.2/5. About 85% of the reviewers gave positive accounts of how ExecuNet helped them with their career strategy, branding, documents, and overall executive job search. The remaining reviewers mainly complained about how difficult it is to cancel their membership.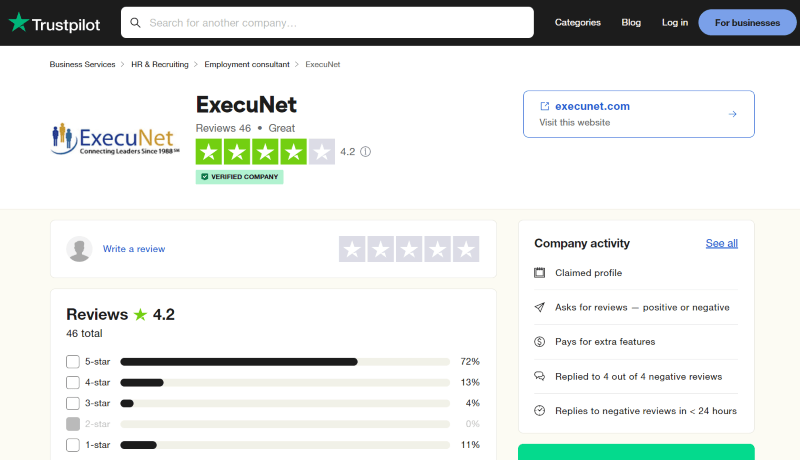 BBB shows 9 reviews with an average rating of 2.3/5. The majority of the customers complained of being spammed with emails and unable to cancel the service, no matter how hard they tried. The service was described as a scam by one reviewer.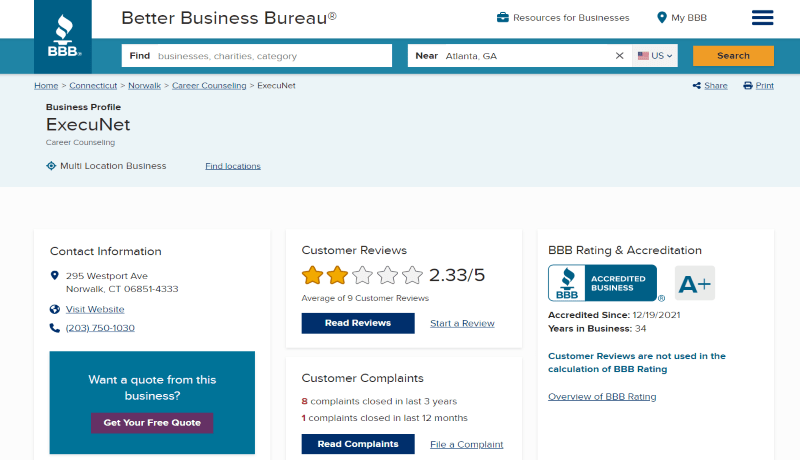 Google shows 2 reviews with an average rating of 3/5. One customer left a 5-star review and described the expertise of the ExecuNet team as "unparalleled." The other reviewer complained about paying for services and not getting any results.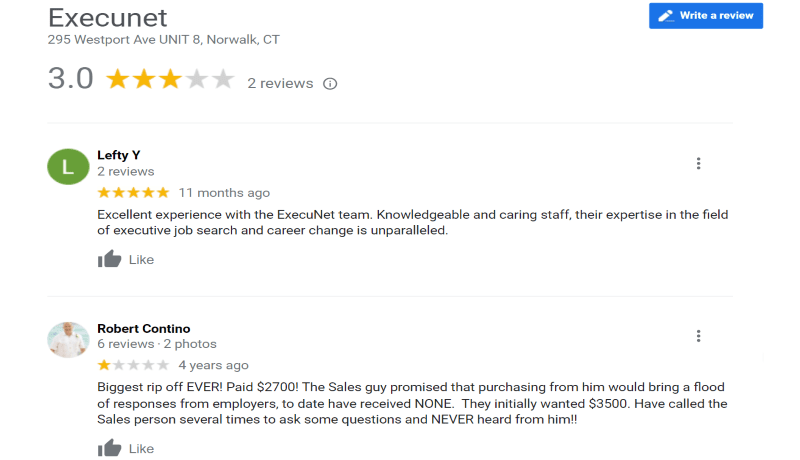 Yelp shows 1 review with an average rating of 1/5. The reviewer complained of getting spammed with dozens of emails which they never signed up for, and trying to unsubscribe from the emails multiple times.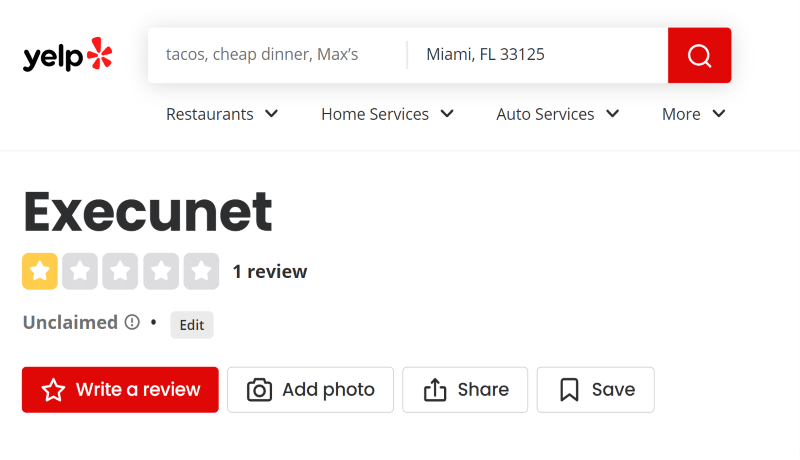 The company's CEO, Dave Opton, has received 18 positive recommendations on LinkedIn. But considering that the recommendations are all 10+ years old, it's hard to say whether his work is still as impressive as it used to be.
Overall, the reviews that ExecuNet received from its customers are unsatisfactory. We noticed that the majority of ExecuNet's positive reviews are from the past four years, while a lot of the negative ones are from before that.
This could mean that the company recently started improving in their work and success rate. So, their overall rating may increase in the near future.
As with anything, it's important to take each review with a grain of salt. Additional research should be done beyond reading the reviews that are found online.
How Much Does ExecuNet Cost?

ExecuNet charges $39 (30-day EasyPlan) – $219 (180-Day Premium Access plan) for access to their job search services and resources. This is definitely affordable, considering that ExecuNet's services are tailored for senior-level executives earning $150k+ annually.
$120
ExecuNet has offerings for professionals willing to pay for a subscription, as well as those that are not in a position to pay for membership.
If you're not a paying member, you can still access many features on the ExecuNet website for free. These features include career advice articles and videos, and an extensive job board.
But there's a catch.
If you want to view the list of jobs, you need to submit your email address. And if you want to apply for most jobs posted on the job board, you need to have premium access. This means purchasing a membership and paying a recurring fee to maintain it.
There are three membership plans to choose from – the 30-Day EasyPlan ($39), the 90-Day Premium Access ($120), and the 180-Day Premium Access ($219).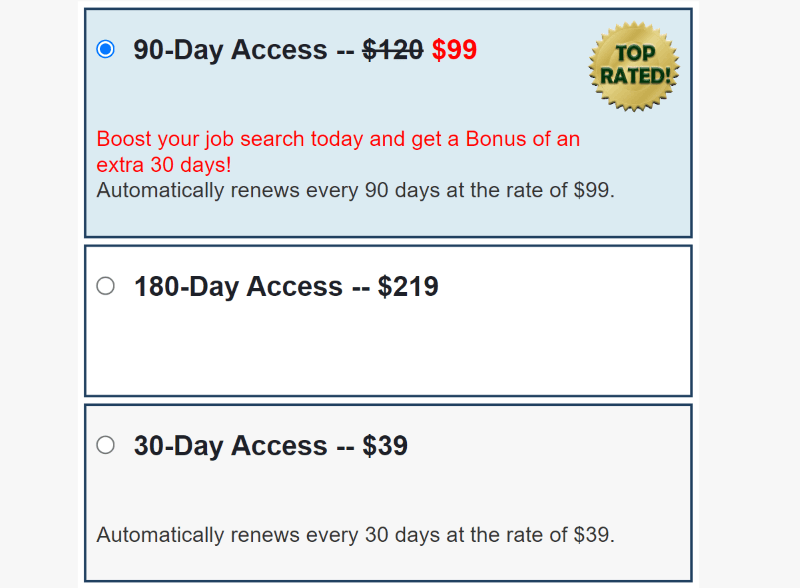 The difference between these plans is the number of days you can enjoy premium access before the plans automatically renew.
The 30-Day EasyPlan gives you premium access for 30 days ($39).
The 90-Day Premium Access plan gives you premium access for 90 days ($120).
The 180-Day Premium Access plan gives you premium access for 180 days ($219).
As a member with premium access, you can apply for $200k+ job opportunities posted by companies and recruiters.
For the most accurate and up-to-date details on membership pricing at ExecuNet, we recommend that you visit their website directly.
ExecuNet Team
The ExecuNet team is made up of seasoned career professionals, all of whom are proficient and skilled in the world of work.
We were able to find 52 names listed under the "People" page. It is, however, not clear if all 52 of them are actual employees of the service or if they're merely contributors.
The people listed consist of experienced executive coaches, management consultants, leadership consultants, franchise consultants, sales professionals, talent acquisition experts, product managers, recruiting experts, therapists, and more.
They have served non-profit organizations, billion-dollar conglomerates, and everything in between.
The website also provided details of the company's founder and CEO, Dave Opton.
Dave has experience in the HR industry and was a senior executive himself. He uses this experience to relate to and assist other executives in need of career help.
Before creating ExecuNet, Dave worked as the Vice President of International Personnel for Sterling Drug. He has also amassed experience holding several executive positions at Xerox Corporation.
As one of the industry's most recognized career experts, Dave has been featured in The New York Times, Fortune, Fast Company, The Wall Street Journal, and lots of other major publications.
A peek at the company's LinkedIn profile shows it has 65 members. Further investigation reveals that these employees are certified career coaches, talent acquisition managers, resume writers, career strategists, HR officers, and more.
ExecuNet vs Ladders
Several other companies offer similar services to that of ExecuNet. One such example that you have most likely heard of is Ladders.
Although ExecuNet and Ladders both target executive-level professionals, there are some distinctions between them.
The lower salary limit of jobs on ExecuNet is $150k, while it's $100k for Ladders.
ExecuNet's free offerings include access to career advice articles and videos, and an extensive job board of $150k+ jobs.
With The Ladders' free option, you get career advice, resume reviews and rewrites, 73 resume templates, access to their job board with 250k+ openings, and visibility to a good number of recruiters.
There is also some difference between what both companies offer in terms of the cost and features of their premium memberships.
ExecuNet is the more affordable option, with its monthly renewal being about $10 cheaper than The Ladders.
Ladders takes the win with their features. ExecuNet's premium plan only gives you access to 200k+ openings and allows you to apply for jobs whereas Ladders offers everything in its free plan, plus unlimited job applications, active promotion to recruiters, and the Apply4Me feature.
Now, onto the big question…
Is ExecuNet Worth Paying For?
Ultimately, we don't think ExecuNet is a job search site worth paying for.
First off, most career sites with job boards do not charge prospective employees for using their job search services.
This is because they've already charged the recruiters who posted these jobs, yet ExecuNet charges job seekers who want to apply for jobs posted on the job board.
To justify the fee, they point out that the positions available on their website are high-income, and the membership fees pale in comparison.
But is it really worth it?
The only real value you get for your money is the ability to apply for jobs on their website.
Granted, the company claims you get many of the best $200k+ executive jobs from recruiters and companies. However, when you consider that paying for this service does not guarantee you a job, you start to wonder if it's worth paying for.
As if that's not frustrating enough, most of the executive jobs listed on their websites do not list the salaries. Most of them are listed as "Confidential," which comes off as dubious at the least.
To further compound matters, we have seen a few online complaints from customers claiming that they continued to get charged even though they had canceled the service.
There were also many others who complained about how they kept getting spam emails from various aliases in the company. We can attest to this, since we were victims too. As we researched the company, we signed up for their service. Since then, we've been under heavy email fire.
To top it off, navigating the company's website is almost as difficult as finding an executive job position on your own.
In the end, when all's said and done, it's still left to you to decide whether or not you can afford to spend your time and money on ExecuNet's premium services.
Consider Find My Profession's Reverse Recruiting services to manage your entire job search and free yourself from job search sites. Our career experts handle everything from job searching and applications to interview preparation.